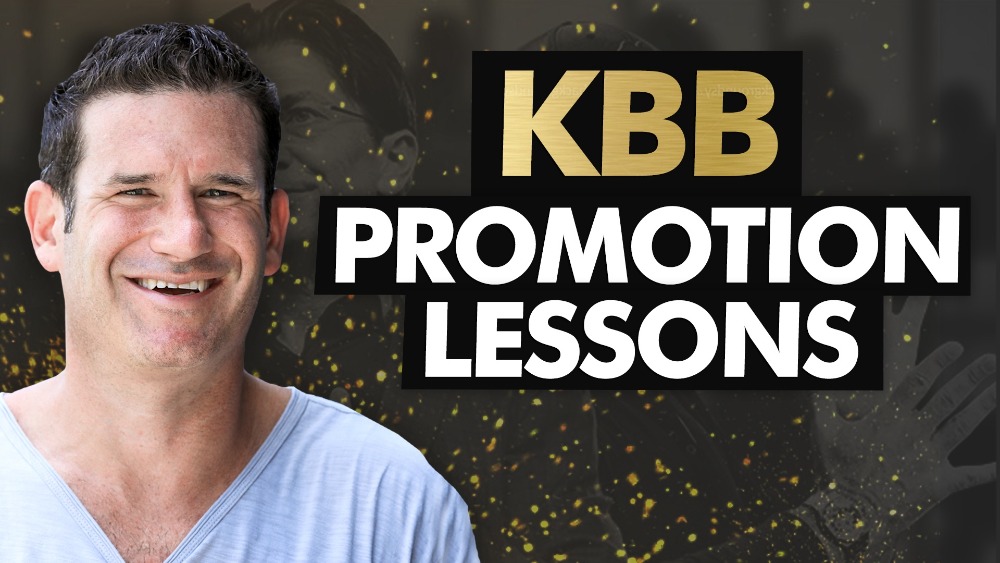 09 Apr

KBB Affiliate Insights Part 2: The Results, The Lessons and What Comes Next

Welcome to part two of my Knowledge Broker Blueprint affiliate campaign breakdown. Last week, I went over the entire KBB promotion structure, and I dove deep into the way that I set-up my affiliate campaign. The previous episode covers everything that happened before the free livecast event with Dean Graziosi and Tony Robbins. If you missed it, I suggest you listen to that episode first, and you can do that here!

Today, I'm going to talk you through the rest of the campaign, meaning everything that happened from February 27th onward. Also, I'm going to share some of the key takeaways I got from this entire campaign, as well as hint at the projects that I'll be turning to next.




This truly was an exceptional opportunity, and the experience I got from it will be priceless for my future projects. Primarily for my upcoming affiliate promotion of Russell Brunson's Traffic Secrets book as well as the marketing campaign for my brand-new survey platform, SurveyDetective.

I hope my hour-long breakdown gave you some refreshing insights into the world of affiliate marketing. There are some very cool projects I have lined up shortly, and I'm going to share my thoughts and strategies over the following weeks. 

It's going to be a very exciting period. I'm really looking forward to it, and I hope you'll come along for the ride.
The Final Stages of the Campaign and The Results
The big day finally came, and on the 27th of February, Dean Graziosi and Tony Robbins held a free 2-hour livecast training in which they revealed their Knowledge Broker Blueprint Course. They had a pretty good turn out, and everything was set for the next phase.
After the livecast, the application window for the KBB Course opened up and would remain open until March 9th. For the next two weeks, we worked on converting the leads we've acquired and get them to apply for the KBB course. The way we did that was through email sequences adapted for the four buying personas. I spoke at length about this part of the process in one of my past episodes, and if you'd like to learn more, check it out here.
The impulse buyers signed up for the course by the end of the opening night, and they accounted roughly for a third of the overall buyers. Over the following days, the messaging was adjusted to get conversions from other personas. 
In days to come, we first sent a replay of the livecast for those who missed the live event. After that, we promoted Dean's promotion breakdown video, where he answered FAQs to satisfy the logical buyers. Then we moved on to social proof videos, and as we got closer to the final two days of the offer, we started hitting the "11th-hour buyers." Trying to leverage urgency and scarcity was a particularly exciting experience.
The Biggest Takeaway From the Whole KBB Promotion Campaign
The window officially closed, the affiliate campaign finished, and it was time to take a closer look at what was accomplished. And even though we've made a ton of sales, I didn't hit all the goals I wanted. 
They were pretty ambitious, to begin with, but I always supported the notion that success has to come from within. And if you don't shoot for the stars, you're never going to end up at the very top, no matter what you do.
"Externally, I didn't hit my external goals… But internally, I feel great. I feel better than ever. I feel like I learned so much that I can take all this knowledge… And use this next time for my own products and if I promote others." – Eric Beer
Why I Should've Used SurveyDetective on My KBB Leads
If I could do it all over again, I would've definitely used my SurveyDetective platform. I kind of got caught up with all the KBB stuff, and I felt that there just wasn't enough time to do both. It was kind of overwhelming, but at least now, it's going to be on the top of my list for future projects.
SurveyDetective would've helped me with segmentation, lead generation, and it would've been perfect for warming up cold leads. The good thing is that after everything with KBB, I'm confident I'll have everything I need to promote my own platform. 
Watching Tony and Dean in the build-up stages of their campaign has been invaluable. I intend to leverage everything I've acquired and learned from the KBB affiliate campaign and implement it for my Survey Detective launch. It's going to be epic!
SurveyDetective will be launching in the third quarter of 2020.
🕵️‍♂️ Click here to request early access!
My Upcoming Affiliate Strategy for the Traffic Secrets Book by Russell Brunson
Some of you may know that I am a part of Russell Brunson's inner circle, and I pay good money to be there, too. Getting Russell's latest book called Traffic Secrets ahead of schedule was one of the perks. 
The book itself is incredible, by far the best thing I've read on traffic. But that's not the only reason why I'm deciding to promote it.
Similarly to the KBB Course, it's a fantastic opportunity for me to promote something I really believe in. What I intend to do is to build on what I already gained from the KBB experience. I'm going to nurture my list, acquire new leads, and I'll do all of it using the power of Russell's brand.
For now, I've set up a funnel page at ericbeer.com/tsbonus, but I'm going to adjust my approach a little. I'm not going to prioritize minimizing drop-offs by taking people directly to Russell's page. Instead, I'm going to focus on getting warmer, and higher quality leads, so I could create a list of leads who know me or who have at least heard of me. I want to build meaningful connections with my audience, which is something that will go a long way in helping me create future win-win scenarios.
If you'd like to get Russel Brunson's latest book along with my $23,079 in bonuses, make sure you sign up through the link below!
📗 Get Russell Brunson's New Traffic Secrets Book 
Thanks for tuning in and make sure you stick around for some more awesome affiliate insights.
Listener Love…
Warning! ⚠️

by Boz46747 from United States

Wear a helmet when you listen to the podcast. Eric will leave you feeling like you can run through brick walls. In all seriousness, this podcast is the absolute best!

Awesome

by Nevareze William from United States

Very interesting show.

FANTASTIC!!!

by cucklord101 from United States

My life changed after I discovered this podcast, 100% the number one on the platform.

Great Podcast !!

by Olivia Cousta from United States

I listen several days a week and am excited to have taken action with my first few steps. Thanks Eric!

Best Podcast

by faz12548 from United States

Thanks for everything. This show has been an amazing resource.

My favorite podcast

by Alison Riah from United States

This is my favorite podcast. I look forward to every episode and share it with everyone I know.

Awesome!!

by Brads Hook from United States

Love this show

Inspiring

by stevie h b from United States

Eric's energy, wisdom and experience get me pumped up to do more.

Eric changed my life, thank you

by Nicole Aliba from United States

Anyone who has a chance to listen, do it. Subscribe, download and listen. Eric is authentic, he truly cares about the people he comes in contact with. I know eric, I've tried to be around him and learn from him any chance I get. He's been successful in every stage of his life. Getting the opportunity to hear from him direct, how he thinks, how he goes about achieving his success, his strategies, his tactics, his outlook on life. I'm thankful he started this podcast and I'm thankful I get the chance to learn from him. I have no doubt the lessons he delivers each and every episode will help me continue to be succession my journey. Thank You Eric for making an impact on my life and making me realize I'm capable of so much more than I ever realized. Your support fuels my success. Good luck with the podcast!

Wholly Cow!!! Eric Is The Real Deal!!

by Supreme Dragon Slayer 69 from United States

Seriously.. Affiliate Marketing has been around for a LONG time.. However, it's always been associated with scams, and fly by night marketing tactics that are shady l, illegal or unethical at best. Until now. Eric runs his entire business (which is ultra successful btw) the same way he runs his life.. On pure integrity. Finally, a podcast that is teaching Affiliate Marketing based on being.. Ethical and Transparent. But the best part? This podcast is soooo much more than just Affiliate Marketing.. it's about running a successful business and successful life. So far Episode 3 is my favorite and I look fwd to each episode as soon as it comes out. Highly recommend this to anyone, regardless of where they are in their business!! Straight Gold Beb!

Dave

by Rothbone from United States

One of the best podcasts in a long time. Very insightful, had me at the first 2 minutes kept me for entire podcast. I am a entrepreneur myself and found it very interesting.

Eric Beer is a genius.

by Raera29 from United States

I've only briefly met Eric - but listening to his podcast (as well as his YouTube videos) - it's clear to me that he has an in depth understanding of how marketing should work. Brilliant podcast!!!

Beer podcast

by Bghbhhhggghugyhjjgtjporws from United States

So excited to get more info from Eric Beer to help further my career.

Great Stuff

by Dr TBA from United States

I have been a business owner and entrepreneur for over 25 yrs. I found the information both interesting and informative. I am a fan! Dr Todd Askenas

This dude is the real deal...

by gossjoh1 from United States

I'm in the internet marketing space and have heard about Eric Beer from other entrepreneurs and it's always about how much he crushes it. Over $100,000,000 in revenue... no joke. I had the good fortune to meet him this weekend at an event and he couldn't be more humble and genuine. Just listened to the first episode and it is awesome! Can't wait to learn and grow from you Eric and thanks for sharing your wisdom and experience with all of us!!

Awesome

by Archmatic from United States

Thank you Eric for all your motivation and confidence! This is a must listen. Eric is always on his game and ready for a challenge!!!'

Informative and relatable

by srg1113 from United States

I've listened to the first two episodes and found them useful and entertaining. Eric gives a lot of background to how he got to where he is in his career and the challenges he encountered and overcame along the way. He also shares his knowledge in a way that's easy to understand and would be useful both to people new to Internet marketing, and to people like myself who have some experience but are looking to expand their knowledge. I'm subscribed and looking forward to future episodes.

Outstanding!!!!

by casino exec from United States

This is an excellent podcast for entrepreneurs in any industry. Hearing Eric interview and discuss proven success stories is like getting a motivational fix within 24 minutes. Can't wait for the next episode!!!

High Five

by chris drazek from United States

This is good! Guy is well known industry veteran. In the age where it's hard to get 15 minutes with someone like that on the phone, these episodes have a permanent placeholder on my calendar. Well done and keep up the good work!

Amazing

by Rtfdghf from United States

Walked into the office inspired and motivated! Great listen.

Just discovered a GOLDMINE of information!

by ericamerica from United States

This is next-level marketing that EVERYONE needs to know. SO much value here! This is information people would be willing to pay BIG $$$$$$ to have, and he's just laying it all out here.

Insightful

by lonestar1818 from United States

Incredible insights from one of the best!

Entrepreneurial Gold

by girlfriendwithnutallergy from United States

This podcast is amazing an a must have for anyone looking to take their entrepreneurial endeavors to the next level. Whether you are interested in becoming involved in affiliate marketing, or are just a student of life looking to learn about one of the largest and least discussed industries, this podcast is for you. Eric makes his passion for entrepreneurship available to all with this podcast, and for that reason it is a must listen.

Knowledge bombs!

by Sheree Trask from United States

Eric is a wealth of knowledge, not to mention, incredibly humble! He's got the proof to show that determination, grit and perseverance pay off... and I love that he's shedding light on the world of performance (affiliate) marketing with tangible tools anyone at any point in their online journey can apply. Thanks for all you do, Eric! Excited for more!!

As Smart As they Come

by Lgoldberg1976 from United States

Eric Beer is a tremendous listen. His story telling and motivation have already driven me to work harder. Can't wait to hear what he has to say next.

Great content

by Sensei Victoria Whitfield from United States

Eric is a great guy, gives from the heart and is a wealth of powerful, profit-positive information. Rock on, brother!

So informative and easy to understand

by bergbusiness from United States

If you are serious about starting in this business this is the podcast to help kickstart your career. I highly recommend tuning in.

Powerful

by reebcire from United States

Never realized how mich money performance marketers make without taking much risk. Get excited to learn more

Eric Nailed It...

by Mark Duke from United States

You do not want to miss out on this podcast. Eric is absolutely brilliant at his craft. A MUST listen or anyone who is wanting to ethically up their game in the business + affiliate marketing space. Cheers!

I loved this podcast!

by DPG...123 from United States

I just listened to this not knowing what to expect and it was FANTASTIC! I am hooked and can't wait for more episodes. Looking forward to learning a ton from Eric 🙂

Eric's trainings will up-level your life!

by SwayBuckley from United States

Eric's level of transparency and REAL value is not only rare but transformative! Don't sleep! He's the real deal!

Got me hooked from the start

by Doc bus from United States

Hearing Eric's story and why he is looking to share his knowledge of starting a business was so motivational. Looking forward to hear what he comes out with next. Hoping I can use his coaching to take my own life and business goals/ideas to the next level.

Eric is a genius!

by Golden Oracle Ministries from United States

I had the pleasure of meeting Eric Beer in a high level mastermind that we are both a part of. I must say that every time he opens his mouth marketing gold falls out! I've made millions both online and offline, so when I hear someone talking about marketing I'm not usually that impressed, but with Eric I'm beyond impressed. I'm blown away!!! Learn from Eric, do what he say and watch your business grow.

Excellent

by JLRPS22 from United States

Very motivational!

Awesome content

by NickTheGreek83 from United States

I don't normally write reviews but this is a must listen for anyone considering starting a business. Eric thank you for taking the time to give away some of your secrets! Look forward to future podcasts.

Legend!

by Daxy111 from United States

SO excited for your content to come. You're advice and results is authentic which is rare now a days!

*****

by acrygvbh from United States

Fantastic relevant info !!!

The real deal

by Erin_Verb7 from United States

Eric Beer is one of the smartest media buying minds I know. Take this chance to learn everything you can about affiliate marketing from him. He will teach you an ethical way to make your life and your family's lives better through affiliate marketing. He's the real deal.

Genius marketing knowledge

by Nick349731 from United States

I can't wait to continue to learn rom Eric! So skilled and such a genuinely good person too. Keep putting out the great information Eric!

Great story and great info

by R-Rot from United States

This was a very interesting podcast. It was honest, informative and motivational. Eric has a great story that, everyone who is interested in starting a business, should listen to. Highly recommend!

Amazing

by Billion Dollar Cowboy from United States

I can't wait to learn more!! So so good!!

Awesome

by Eric X 2 from United States

Eric Really enjoyed listening to this. Keep up the great work!!!

Let's Market!

by hjdvikes from United States

As someone who has networked and marketed more over the past 2 years than ever before in my career, this Podcast is an absolute MUST listen for me. Eric makes it easy to listen, learn and apply.

Invaluable information!!

by lpro1111 from United States

Invaluable information. Can't wait to dive in.

Great information, tons of useful tips

by jonnygal77 from United States

These are great, so much useful information that I can use immediately and effectively. Thanks Eric

Great listen

by Xtra Medium from United States

I love listening to Eric's podcast on my way to work. Looking forward to applying some of these principles to my career.

Definitely worth a listen

by SBS776 from United States

I have had the pleasure of working with Eric and this podcast is a roadmap to success. He is a professional with years of experience and delivers results

Game Changer

by Jay Heydt from United States

Eric Beer is a game changer for your business. I had the privilege over the summer of taking an online marketing class with him. The daily interaction with Eric made me believe anything was possible as well as opened my eyes to an entire world that is online that I was missing. You will learn and earn with Beer. He is one of the best business coaches out there!

Performance at its best!

by Shm722 from United States

Eric has great ideas and insights!

Listen to a visionary....

by RobH60 from United States

Eric is a genius and visionary. Always looking to get ahead through hard work and drive to success yet he is super down to earth and willing to spend the time to share the secrets of his success with others.

Finally, coming out to teach the world

by RogerSmith! from United States

I've known Eric for quite some time and he has been the guy who is quietly CRUSHING it. I'm glad he is coming out to the masses to share all his knowledge!

Can't wait to dive into these!

by Arushi-315 from United States

I can't wait to learn from Eric so I can level up my marketing!
Transcript…
Read Full Transcript
0:00
We still did well, this was great. You know, I saw a lot of good things from it, I feel better than ever. You know, it's like we talked about this transformation. Externally, I didn't hit my external goals. So technically I failed. But internally, I feel great. I feel better than ever. I feel like I learned so much that I can take all this knowledge that I learned and use this next time for my own products and if I promote others.
0:26
I spent the last 17 years building my 8-figure performance business without using any of my own money, working with some of the most brilliant direct response marketers in the world today. Now I'm looking for entrepreneurs to join my affiliate army, built on ethics, transparency, good old hard work. Join me to change the perception of how people view the greatest business in the world, affiliate marketing, and follow along, as I learn, apply and share performance marketing strategies for working with some of the brightest people on the planet. My name is Eric Beer, and welcome to the Performance Marketer Podcast.
1:08
So we had sequences of emails set up throughout the day, morning, afternoon, all around urgency. "Six hours left... Three hours left till it starts... Get there soon so you can be part of the chat." We were able to communicate with them through Facebook Messenger. We were able to communicate with them through the Facebook group. So we had three touch points, really. We had some people on the SMS list, but I did not use that as a tactic to get people to show up. I used email, I used Facebook Messenger, and I use the Facebook group. I also use my social media where we would post and what we would do is we would post that it's going live. We also created a keyword that people could text 80800, put the keyword in like L I V E, live. And we would trigger you. If you did that to your phone, you'd get a message with a link that you can click on and go right to the webinar. So that was the focus on the 27th and we got everybody there. And they had a pretty good turnout. Pretty good turnout. But, you know, Dean wasn't so happy about how it went. He felt like he could have done better. And he's a pretty honest guy. He's really smart. He's been through this a lot. And I love his positive attitude, man. He is a... He's a good guy. He's just a good guy. And he's a good guy to be around. And, you know, he came on and he was just honest with us saying, you know, he was disappointed in how when he felt like he could have been a bit more clear on the messaging and the offer, and he felt like, he kind of, he just he could have done better. So he wasn't gonna harp on it. What he did was, so he went and he created a clarity video with Jenna Kutcher. So let me let me back up for a second and just explain to you the process here, guys. So ultimately, what happens now is from the 27th to the ninth, what you want to do is you ultimately want to create a sequence to all the buying personas the same way you would do it with emails, you're doing it with this from the 27th. When it when it happens and opens up. There's going to be a bunch of people that are going to buy that night. Those are the emotional buyers. Those are the people that are spontaneous. So about a third of the people will buy on that first night. And they're all excited and pumped up. And those are the kind of people that are just like I'm in right away, right, like, that's me. I bought on the first night. I liked it, I was into it, I bought it. There's other people that like it, they're into it, but they don't purchase. So what happens is the next day and the 28th some people didn't show up for the live webinar. So what we do is we take the replay of the live webinar and we mail that we promote that to our audience now getting people to try to watch the replay. And at the same time, Dean had done a tape with clarifying what the offer was. I like to call this the FAQs, or clarity, email. These are the people that are logical that have questions, right? They like the product, they were interested in it, but they didn't purchase. They still have some questions that need to be answered. And those are the FAQs. And what you want to do here is you want to be able to answer those questions, those disbeliefs right, those objections before they even ask the question. So the idea here is that you create a video around all the the objections and what people were upset about, and you come up with a solution ahead of time. So you record a video, you drive traffic to another funnel, where it talks about the program itself. talks about how great it is it tells you what the offer is. And it answers all the questions in it and it tries to be as clear as possible. And that's really focused on the logical buyer. And usually what happens is like on the 27th, like I said, there's a third of the people that will buy, then from like the 27th to like the eighth, that time period is going to be where it's going to kind of go down a little bit. And through that time period, there'll be another like third of the sales will come through. And those are, are really the people that are the logical people, the methodical people, the people that have questions, the people that need to see proof testimonials, and that's the next video that that's created. What happens is the 27th, it's over the 28th we do the replay. On the first two third is the FAQ video, on the third to the fourth of March. We're sending out all around the copy for social proof and we're doing this on email and Facebook Messenger and social media in our Facebook groups. And we're trying to take calls and talk to people and explain to them, you know, and get them to watch the social media, watch the social proof videos, watch what other people are doing and seeing that they're having success, right? Because these are, these are people that they like it, but now they need to see that it works for others. So the whole goal here now is to get people from this stage of emotion and sponsor annuity into now the logical, methodical people. So that's the the window that we're focusing on here. And then when we get closer to the eighth, and the ninth, that's usually where you start to close it down. And now we're getting into urgency and scarcity because when the clock hits 12 o'clock pacific time, this offer will go away. So now we start to use this tactic and we're focusing on that person that is still a little bit emotional, but more the people that are I like to call them like the 11th hour buyer. The people that just wait for last minute, for whatever reason, they just, they wait. They're not sure they kind of want to do it. They're hemming and hawing. They're not really sure. And they'll wait. Some people will wait for like 30 seconds left. I just, it's funny. I don't know why but they do. But so the strategy there was, we were still we were communicating with people through the Facebook group. We were sending out our emails, sending out our Facebook Messenger. Like I said, I really would have liked to have made phone calls to these people and connected with them and hopped on calls. I did it but I did it late. And I offered in inside the Facebook group. If anybody wanted to have a 10 minute consultation, we would sit down and talk to them and I talked to a few people and it was great, you know, and I helped them and some of them didn't buy and that's okay. Right. It was expensive. I get it. You know if I can serve these people like I generated leads and whether they sign up for the program are not isn't that big of a deal for me. Because at the end of the day, I still have those people inside my database, and I'm just indoctrinating them. Now they they have some touch points on me and they're starting to get to know who I am. Right. And if some of them start to like me, then you know, over a period of time, down the road as I start to launch more and more content and more products, eventually, maybe some of them buy, right. That's the back end play. And, you know, the whole goal for me was to get people to sign up, but really, for me to create this back end play. So the eighth, ninth came the ninth, that's when it started to pick up last day. And that's where the rush comes. And that's like the first day the next like third of the sales come at this last hour and I stayed up till like three in the morning, Eastern time. I went on Facebook Lives, I was talking to people I was just you know Trying to answer questions and be there for people as much as I can to kind of just talk them through the whole programming. You know, one thing that was a, it was a 30 day money back guarantee. So you could have signed up and tried it out. And in 30 days, if you didn't like it, you could have gotten your money back no questions, as you know, so just to know, I get it, but what if you were able to purchase it, and then start going through the course and making money now, so you can pay off the program. So just to know, guys, like when you're, when you're doing this next time, you're interested in something, but you're not really sure you want to pay for it for whatever, you know, if you find somebody that's offering some really killer bonuses, and they're willing to work with you, and help you through the program, it might be worth your time to sign up and go through the program with him. Right, get their bonuses, start working with them. And maybe just maybe you'll be able to, you know, monetize the the knowledge and the information you get so You can afford to pay off when you paid before it's actually due. So it ends up being free to you. Alright, so just some food for thought. But the ninth came and gone, was over, we had a rush, we got our buyers, we had a bunch of sales, not not as many as I would have liked. And you see that? I had some high expectations. But you know, my wife, I was like, why you're crazy. Why do you expect that? And that's just me. I like to think big. I like to dream big. I think that you're only limited to as much as you allow yourself to think you can be how you can go, what you can achieve, whether it's in sports, or in school, or at work. I truly, truly believe that it all starts from within. And, you know, if I can convince myself that I'm going to be in the top five, then I got a shot. But if I'm starting with, I'm not even going to get there. I lost already. So Can I get to the top five or 10? No. Am bummer. But I learned a bunch of amazing I mean, the training alone from going through this guy's I would have paid for. And some of the takeaways that you know I want to talk through is most of the people that were there. They have podcasts for years. Jenna Kutcher was number one right? jld has this Fire Nation podcast has been around for 10 years. Loose has been around. You know, Brian Delaney, friend of mine did a really nice job. He bought some media, but people know who he is. He did some awesome. A one time about Willy Wonka I loved. He's in my mastermind with Russell, I think he came in fifth. Who's partnered with this guy Nick Unsworth. But so most of these people that are promoting this had a touch point with a lot of the leads that they were generating. For me. All the leads that I generated were brand new, cold leads. The thing is, is that when I figured out how to crack the code on that I think I did on notes something here. You know, someone should be asking me the question, why didn't you use any surveys for SurveyDetective, because that's ultimately the whole plan. You can generate leads for a fraction of the price and you qualify people and segment them. And I thought it was too short of a period of time. I wasn't really sure what I was getting into. In hindsight, I should have, I should have used my service. I just didn't, because it just had a lot going on. It was like overwhelming for me. It was really cool to watch. And one thing a huge mistake guys, is I drove traffic to their direct pages, Tony and Dean's. And while it was great that I got more signups and it was great that I didn't have as much drop off. The people didn't get to know me. I didn't get to, to pre frame them. And that's one of the most important things and I'll tell you why. Because they were people that I was buying ads on, that would click on the ad. They landed on the webinar page or after the webinar is over, they landed on another video, they ended up purchasing the KBB. And when we reached out to the buyers, some of these buyers came back to me and said, I'm confused. I thought I signed up for Tony and Dean's offer. You know, who are you? And I please listen, you. you clicked on one of my ads, you signed up so you get access to $39,000 in bonuses. Am I crazy enough? They don't want them. People aren't showing up. So one last thing I did, I forgot. at the tail end, I realized and this is pivoting right as I'm doing this because I didn't think of in the beginning. But when I did during after the live, and we're going through the FAQs and social proof. I came up with an idea that I was going to increase the value of my offer and my bonuses around 39,000. But what I did was I came up with this program called Operation go, Eric KBB operation go and what this is another Facebook group that was going to put the buyers into a new private Facebook group, where I'm going to take the course with them, but not only going to take the course with them, I reached out to a bunch of different knowledge experts who were going to come in and add some value of their own, and walk them through the process. So I ended up getting like nine different experts that we're going to come in, and they're going to do a training, live training to be able to answer questions. So the people that bought through my program, each one of these, these experts would charge anywhere from like 2000 to $5,000 for an hour training, right? So you take that nine people, and you're talking about like 25 to $45,000 in knowledge that you're going to get for one person was going to help with, you know, trying to figure out like, what are you good at helping you kind of like get your business started. Another one was going to help you with how to build your offer out how to build your funnel, and they would walk you through the process and the steps on how to do that. Once your funnel is built, we have a Facebook ads training, we had an SMS text message training, we had a box training on how you would bring on your tribe once they're in, in house and what you can get for them and make them feel warm and fuzzy. Oh, I had my podcast team, I had my video team. The problem was, I was dealing with an audience that was cold and didn't know who I was. And they didn't see the value. And that's, that's really important lesson on who you're talking to. Because, as an example, certain things are valued to some people in one way versus to other people that are worth nothing. And as an example, like my cell phone here, right, my cell phone here, has contacts in here for business has all kinds of information in here on things that we do, has ways that you can, you know, model and mimic what we're doing and generate revenue and copyright. So someone in the internet marketing space online working space that wants to generate leads that wants to generate sales. We look at this phone in a different way than someone who doesn't care about online marketing, right to someone who doesn't care about online marketing, the value of this phone is whatever they're selling the Apple iPhone for, and it's used, so it's probably worth less, but to somebody that is in the business that would love to have access to my contacts with love to have access to all my vendors who do all my stuff for me would love to see my funnels and my creatives and all my products, this could be worth $50,000 to them, right? So it's, it's all about who you're talking to, it's all relative. And that's why it's so important to understand who your audiences I was building my list off of Tony and Dean. And what I learned was, they have a little bit of a different audience than than who I'm going after. There's some people in there that I could see myself working with, right generate a lot of leads are people that just weren't, they weren't who I wanted to work with. And, and that's okay. That's kind of what it is. But the idea is when you when you're doing this is trying to find somebody who has your audience. Right, you know, I have a list now it went well, you know, we we still have this year but the idea is all the bonuses that I gave, I gave it to a mastermind where people are going to come on now with coronavirus, who knows, you know, if the figure that part out maybe we do virtually, but um, the idea is I'm gonna I'm gonna continue to get to know these people. I'm taking the KBB course with them in operation go. So I go I watched the modules I write down my notes, I have a membership area, and I kind of do my Eric's cliff notes of the program. So anybody in the program can go and look at my notes. And you know, whether they're watching it or not, or have the time because life gets in the way. I'm there to answer questions or you can go and see what the way I perceive what what they're teaching and help you along the way. So that part's pretty cool. So I'm excited to see how everybody does but It's amazing to me that of all the people that bought a good percentage of them did not thought, the bonuses. And that's how I realized, I really need to communicate with them, I realized I got to open up those pipes immediately and talk to these people get to know them. When I do this next time, I need to drive traffic to a bridge page that I am on with me talking about the program, because the idea is you want to become relatable to the offer, right? So what you do is you drive traffic to a page where you can have a video show as a program. And Jean and Tony are there and Russell right now, there's no confusion. What happened was, there was confusion. And because there was confusion, people didn't realize I was even involved in this program. And this is I mean, this is what I do for a living. It's just now for the first time I'm promoting it myself. But for the most part my whole life I've been driving traffic just like that. How we go we go and generate leads. We generate touch points, we create reach Targeting programs where we put some content out in the marketplace we get somebody to, to engage with the content and then we create a retargeting event to the people that engaged with the content to drive drive sales, right? Typically the the people that are starting to engage are the ones that are going to end up converting. So usually, when you retarget that's, that's a big part of the success of the program. You know, getting a cold lead to click and buy right away is rare, especially when it's a $2,000 product, because it's expensive. It was expensive. But overall, this was an amazing experience. I went through this program watching them how they went about managing their affiliates how they went on different podcast shows promoting it, that I'm ready for SurveyDetective, you know, we talked about that, right? Like I didn't do a survey. So what I do now, what do I learn out of this? What are the learnings that I can do for next time? Well, right now, Russell Brunson just launched his his book Traffic Secrets the trilogy You can pre order it for free, you just got to pay for shipping and handling. Right? So I am acting as an affiliate for him to promote, I haven't really started because I need to get my pixels placed. But I'm going to drive traffic to a bridge page. So people see me that they recognize me, I might have some drop off, which means that people get to my page, and then they leave. They don't ever see Russell's page. But that's okay. Because the people that do see me and then end up signing up and going through the quality of that lead, the quality of that person will be so much higher and they will know who I am, that the long tail is much greater. So one thing is, you always want to find a way to get the user to understand what's going on and be very clear about what you're doing. If you're offering bonuses, be really clear that you're working as a partner with the product or service. When you purchase that product or service. you qualify for my bonuses. And the reason I'm doing that is because I'm getting compensated to promote my partner's offer. The one thing different here that I did was all the bonuses that I created was all around, trying to get closer to the people that purchase. I have people now that spent two grand, they want to learn this business, they want to learn the knowledge process, and that's great and I love it. And these people are, are dedicated, they spent a lot of money, they're gonna work their butts off because they spend a lot of money and I'm gonna work with them to make them successful. And the whole goal here is I gave away a two day live event I gave away a 30 minute phone consultation with me. I gave away in the bonus, the ability for them to interview me. I will give them a video testimonial that's huge, right? You guys don't realize that but testimonials are so important. You know you want to see from other people like what they think of the program or what they think that person you know, that goes a long way for a lot for the logical, methodical buyers. It goes a long way. So you know, as I get to know these people, I'm going to end up doing a video testimonial for them, we're going to come in, I'm going to let them come onto my podcast and tell their story about how they went from the start all the way to the end and talk about the KBB experience and what they went through. They're going to be successful, we're going to stay positive, they're going to be successful in talking about their success. But the whole, you know, we get to share funnels, we gave away access to my software, all the things, the goals, where now I want to take all these people and create back end revenue from this whole event. I want to try to ascend these users up the ladder, these people are now taking the kvp are they going to want to be able to know how to generate leads? Of course they are. They're perfect. They're prime candidates for using the survey platform and I know the survey platform can help them but a big mistake on my side is I need to use it. I need to use my survey platform in that scenario, you know, with the I got all caught up with the KBB and What they were all doing. But you know, I realized that all those people were working towards their, their warm audience. And that's why they were sending it directly to the webinar cuz they already had a relationship with these people. I didn't, that was a mistake of mine, but it's cool. It's fine. You know, we still did well, this was this was great. You know, so a lot of good things from it. I feel better than ever, you know, it's like we talked about this transformation. externally. I didn't hit my external goals. So technically, I failed. But internally, I feel great. I feel better than ever. I feel like I learned so much that I can take all this knowledge that I learned and use this next time for my own products. And if I promote others, so I'm promoting Russell Brunson is now his his Traffic Secrets. So now we have a bridge page. I believe the URL is www.ericbeer.com/tsbonus. So Traffic Secrets - tsbonus; ericbeer.com/tsbonus. Yeah, so I mean, we have a page there I have a video. One thing I'm doing differently versus last time is I'm gonna have my own videos to indoctrinate them. Like in the KBB I was sending traffic to pages where Dean was doing the FAQ video, Dean was doing the clarity video, Dean was doing the social proof video, Dean was doing the last call video Dean was doing all of it right so I was still kind of out of the picture. So people are still like who's Eric like, Alright, fine. I'm under his account so to speak, but like they even know I was. So a way to indoctrinate them. You don't necessarily have to talk to people, you can just get them to consume your content. So you know for the next time around, I need to create funnels the funnel stay the same. All you really need to do is just swap out the headline, and the video and keep everything else the same on the phone. Right so I got to do an FAQ video and a clarity video in a social proof testimonial video. In a close down video, and then what I want to do is I want to drive traffic from the users that signed up and haven't purchased yet, and get them to go land on my other funnels, so that they can watch the videos of me talking about the KBB and clarifying it for them. So that was that was a mistake that I made that I learned from that I'll do next time and I'm going to have it as a procedure. I mean, you should have four or five funnels for one program where you're driving traffic to the same the same page, you're really just changing the video and the headline of what it's about, and everything else is the same. But it allows you to communicate with the consumers and keep it fresh and different. Because typically, people need to see things seven times before they purchase. I mean, the emotional buyer, the spontaneous buyer, they're pulling the trigger right away, right? But the logical buyer, the methodical buyer, the people that need to have questions, so you use the FAQs, the people that need to see proof. So you use your testimonials and the people that wait for last minute people that are going to have FOMO at the end, the 11th hour buyers. So overall, this was really cool. It was it was a fun experience. I enjoyed it. If you guys have any questions about it, let me know. But uh, you know, this was, this was the whole concept of what one affiliate offer is all about, right you find an offer that's relatable to you that you can use to build your business, right. So guys, I have 30,000 names in my database now 30,000 names that I can promote to other things, right. I'm starting to build a business, a knowledge business, people that are interested in the self education business, right for Traffic Secrets. The next step is I want to build lists off of Russell's books. So when I'm going to start promoting the Traffic Secrets book, I'm going to have a page where I'm going to capture data before they get to Russell, I'm gonna start to continue to build my list. Yes, I can take the Traffic Secrets and promote to those 30,000 people. That's one thing and the majority of people that end up signing up for it. We're going to start to generate revenue for that. So I'm gonna have to pay attribution, right? That means I have to give credit to the KBB program because I would have had those leads without the KBB program. So what is the LTV, the lifetime value of a lead of a name of an asset in some database right now my goal is to try to get them to ascend the ladder. So, like I said earlier, the knowledge circle, right, I'm rolling out a program where I'm gonna go live a few times a month in a group, and I'm going to allow people to subscribe to my text platform. So that then they can receive updates and messages all around different items, different topics, different programs. If merchandise comes out, they can be the first to know and get a discount on if they buy it first. All around like if I'm if I'm at a conference like if I if I was supposed to be in Traffic Secrets event at the beginning of April, when I roll out the knowledge circle when I'm at that event, and there's only 150 people there. Anything I'm doing when I'm taking notes or I'm taking pictures or I'm videotaping, I'm learning all these things from just it's an exclusive group, my knowledge circle is going to get it, right, I'm going to I'm going to text information to people and help and teach them along the way when they're part of my little knowledge circle. So the idea is to do that where it's a lower ticket, because there are people that wanted to be a part of this, they just couldn't afford the 2000 bucks. So I believe it's live, it's $47 a month, or there's a one time fee for it. I'm not exactly sure what the numbers, but so at the end of the day, I'm trying to create products for these people. So maybe a percentage of people sign up, right, so then I generate more revenue off of them. Maybe some people show up to the mastermind, and then we get them into a higher ticket. That's the goal, guys. That's the ultimate goal. That's the one affiliate offer. That's the concept around how you go about building your business off of other people's products and services. Okay, so you know, when you guys hear like a one affiliate offer, like it's always It's like an affiliate thing. No, the idea is that it's teaching you how to find a relatable product or service that you can use their brand, their service, to build your database to build your asset to build your business. So, you know, overall, this was a fun, it was cool. I hope I gave you guys some good info. And if you guys have any questions, you know, let me know, if anybody wants to come on to the show, reach out to me, anybody wants to interview me, reach out to me reach out to my team, and love to do it. Because of this launch. I decided to push back the SurveyDetective launch and not because of the software, not because of if it's going to be ready or not in time, which I don't know if it is, it's like wild how this all works with programmers and UI and UX. It's, but it's coming out nice guys. It's really cool. It's really good. It's really, really nice. But so the reason why I'm doing it is because of me going through this process of the launch, and I'm actually watching Russell doing it with the Traffic Secrets. I need 60 to 90 days just to promote the traffic, the SurveyDetective platform, right I need I need 30 days to just hop onto different podcasts and talk to people and get in front of their audiences. I need to be doing webinars and talking to different people, showing them the power of SurveyDetective and how unbelievably amazing this is, and create that hype, create that buzz, the same way someone would do a movie. And you know, maybe I'll do another episode on that on just how you go about launching a program and the steps because I just learned a bunch about that. And I can show you guys on how I'm going to do. I'm going to get closer to it when I do it for SurveyDetective. But that's the reason I'm gonna push it back. And you know, I need to continuously start plugging it so like it becomes every day. And I want to start to use it to a point where I need to start to get other people using it and having success. Right? We have success with it, I need other people to have success with it. So you know, that's kind of the goal of what I'm doing. I'm going to start creating some some lead magnets... Guys, lead magnets, the same way with content. I'm gonna give away a wrap up report of us doing the hotels.com survey. The quiz and sign up, give me your information. I'll give you the rapid report of everything we did for this killer program where we generated I think like 17,000 leads for them and it kicked but... It did really well. And you guys can replicate the whole thing. Frankly that exact one is inside SurveyDetective so you guys can use that as well because we have share funnels in there which is pretty cool. In any event, guys... All right. I think I went longer than I wanted to but you know, this is really cool. Tons of learnings really, really, really just so valuable, what I went through, you know, ups and downs things that I would do differently. You know, that's the thing, right guys? It's... Ideally, I would have talked to somebody that In the program, who's trying to do some of the things that I was doing and learn from them beforehand, so that I wouldn't have made some of these mistakes, right? Think about that, you know, but I thought that because I'm doing it with cold traffic, no one's really doing it the way I'm doing it. So... But I still probably could have learned more from it, if I would have spoken to some of the influencers, and most people are pretty cool about talking and helping out. So that's the point about coaching. That's the point about getting a mentor that's point about getting somebody and working with somebody that already has done something, has experienced doing it. And, you know, I could have fast-tracked my performance on this if I did so. But I learned I had some goods I had some bads but moving on moving forward and excited for the next chapter. So yeah, if you guys have any questions, let me know. Otherwise, I appreciate you all. I hope I serve you today with some value and helped you in some way. And I wish you all well, during this hard time. God bless you and your family. Take care guys. Bye bye.
33:02
Would you like to learn how I built my business using other people's money? If so, then go join my 21-day challenge at performancemarketersecrets.com. I look forward to meeting you and welcome you into my family. And remember, results don't lie, but the people who don't have any tier. Thanks for listening.