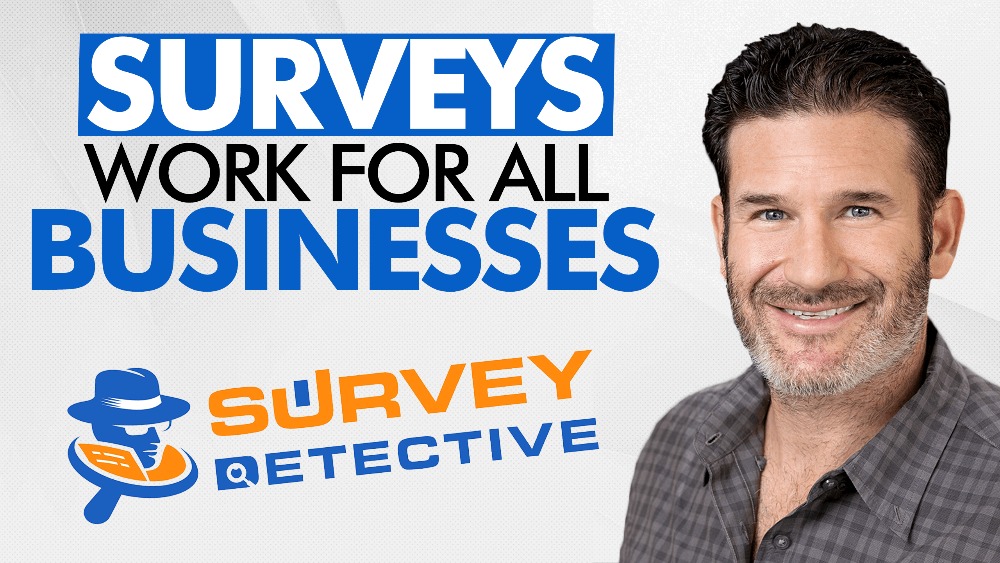 22 Oct

The Definitive Proof Surveys Can Help You Generate Leads For ANY Business

Over the years, I've heard all sorts of objections people have about surveys. In this episode, I'm going to debunk every single one!

Surveys work for ALL businesses, and I firmly believe they are the best tool for generating leads.

Throughout my 17 years as a performance marketer, I've generated over 15 million leads for companies working in entirely different industries. And in all that time, surveys haven't failed me once!

Now I am aware there are many different objections people rely on when arguing they don't need surveys. With all the research I've been doing for my SurveyDetective platform, I was able to stitch together quite a hefty list. 

Today, I'm going to break down each objection, point by point, and disprove them all, using facts.




But that's not all!

I'm also going to brainstorm a gigantic amount of topics across an exhaustive list of industries to show you just how universal and intuitive surveys actually are.

Tune into this week's episode, and if you still have any doubts, I urge you to reach out and get in touch.

I'd love to chat, answer any questions, and trust me – I WILL help you overcome any lingering challenges you might have about surveys.
The 3 Fundamental Types of Objection People Have About Your Offer
If people aren't buying your product, there's always a reason why.  
These objections can be doubts, concerns, pain points, or challenges people may have about your offer. More often than not – they aren't true. 
As a performance marketer, your goal is to figure out your audience's most common objections so you can disprove them with your message.
All objections can fall into one of these three groups:
1 – Objections About the Vehicle – concerns about your product or service
2 – Internal Objections – self-doubts and pain points people have about themselves
3 – External Objections – roadblocks stopping people from achieving their goals
Debunking the 6 Most Common Objections About Surveys
I've done extensive research on the topic of surveys in preparation for the launch of my SurveyDetective platform, and I've collected a sizable list of widespread objections.
In this section, I'm going to show you how I debunk each of them.
1 – "Surveys won't work for my market."
Here, I'd generally rely on some facts and data about the many benefits of surveys and what makes them so effective. 
For instance, how surveys increase engagement, allow you to learn about your customers, identify what's working and what isn't, etc.
2 – "Surveys won't work for my business."
This one can be debunked using common sense. 
If your customers have an opinion – you can use surveys. Their responses are relevant for your business and will help guide your marketing strategy.
3 – "I tried surveys, and they didn't work."
Not denying that could be the case, but there's plenty of reasons why it went down like that. And ALL of them are related to the way surveys were created and/or applied. 
Listing out the most common mistakes people make when creating surveys should work pretty well in this case.
4 – "Nobody knows who I am, and I don't have a list."
They don't need to, and you don't need one. 
I've generated millions of leads in situations where surveyees have never even heard about the product in question.
It's all about getting people's attention with something they care about. 
5 – "I don't have a product or service to sell."
Affiliate marketing? I've built my whole empire selling other people's products. 
If you can help your clients reach potential customers, they'll be willing to pay good money for it.
6 – "You need to be a techie to make surveys."
This is a common misconception, but sadly, it's a real dealbreaker for many. 
The truth is surveys aren't complicated at all, but you DO need to make a little effort to learn how to use them in the right way.
One of the main reasons I started building my SurveyDetective platform was to prove that EVERYONE can benefit from surveys. 
I'm confident that all of the cool features we've built will make this particular objection completely irrelevant.
Not sure what questions to ask? Check out our Question Bank. 
Are you struggling to create an email sequence? Our Copy Creator is just the tool you need!
We're working very hard to cover all the bases and create the best survey lead generation platform in the world. 
If you'd like to learn more about it, sign up for my VIP waitlist here:
🕵️‍♂️ Sign up for the SurveyDetective VIP Waitlist
…Still Not Sure Surveys Will Work for Your Business?
Then I urge you to check out the full episode because I brainstormed dozens of survey topics from various industries, and there's a very high chance your industry got covered.
If not, or if you have any other lingering concerns – please let me know! I'd love to chat with you and answer any questions you may have.
Thank you for tuning in, and I'll see you next week!
Listener Love…
Warning! ⚠️

by Boz46747 from United States

Wear a helmet when you listen to the podcast. Eric will leave you feeling like you can run through brick walls. In all seriousness, this podcast is the absolute best!

Awesome

by Nevareze William from United States

Very interesting show.

FANTASTIC!!!

by cucklord101 from United States

My life changed after I discovered this podcast, 100% the number one on the platform.

Great Podcast !!

by Olivia Cousta from United States

I listen several days a week and am excited to have taken action with my first few steps. Thanks Eric!

Best Podcast

by faz12548 from United States

Thanks for everything. This show has been an amazing resource.

My favorite podcast

by Alison Riah from United States

This is my favorite podcast. I look forward to every episode and share it with everyone I know.

Awesome!!

by Brads Hook from United States

Love this show

Inspiring

by stevie h b from United States

Eric's energy, wisdom and experience get me pumped up to do more.

Eric changed my life, thank you

by Nicole Aliba from United States

Anyone who has a chance to listen, do it. Subscribe, download and listen. Eric is authentic, he truly cares about the people he comes in contact with. I know eric, I've tried to be around him and learn from him any chance I get. He's been successful in every stage of his life. Getting the opportunity to hear from him direct, how he thinks, how he goes about achieving his success, his strategies, his tactics, his outlook on life. I'm thankful he started this podcast and I'm thankful I get the chance to learn from him. I have no doubt the lessons he delivers each and every episode will help me continue to be succession my journey. Thank You Eric for making an impact on my life and making me realize I'm capable of so much more than I ever realized. Your support fuels my success. Good luck with the podcast!

Wholly Cow!!! Eric Is The Real Deal!!

by Supreme Dragon Slayer 69 from United States

Seriously.. Affiliate Marketing has been around for a LONG time.. However, it's always been associated with scams, and fly by night marketing tactics that are shady l, illegal or unethical at best. Until now. Eric runs his entire business (which is ultra successful btw) the same way he runs his life.. On pure integrity. Finally, a podcast that is teaching Affiliate Marketing based on being.. Ethical and Transparent. But the best part? This podcast is soooo much more than just Affiliate Marketing.. it's about running a successful business and successful life. So far Episode 3 is my favorite and I look fwd to each episode as soon as it comes out. Highly recommend this to anyone, regardless of where they are in their business!! Straight Gold Beb!

Dave

by Rothbone from United States

One of the best podcasts in a long time. Very insightful, had me at the first 2 minutes kept me for entire podcast. I am a entrepreneur myself and found it very interesting.

Eric Beer is a genius.

by Raera29 from United States

I've only briefly met Eric - but listening to his podcast (as well as his YouTube videos) - it's clear to me that he has an in depth understanding of how marketing should work. Brilliant podcast!!!

Beer podcast

by Bghbhhhggghugyhjjgtjporws from United States

So excited to get more info from Eric Beer to help further my career.

Great Stuff

by Dr TBA from United States

I have been a business owner and entrepreneur for over 25 yrs. I found the information both interesting and informative. I am a fan! Dr Todd Askenas

This dude is the real deal...

by gossjoh1 from United States

I'm in the internet marketing space and have heard about Eric Beer from other entrepreneurs and it's always about how much he crushes it. Over $100,000,000 in revenue... no joke. I had the good fortune to meet him this weekend at an event and he couldn't be more humble and genuine. Just listened to the first episode and it is awesome! Can't wait to learn and grow from you Eric and thanks for sharing your wisdom and experience with all of us!!

Awesome

by Archmatic from United States

Thank you Eric for all your motivation and confidence! This is a must listen. Eric is always on his game and ready for a challenge!!!'

Informative and relatable

by srg1113 from United States

I've listened to the first two episodes and found them useful and entertaining. Eric gives a lot of background to how he got to where he is in his career and the challenges he encountered and overcame along the way. He also shares his knowledge in a way that's easy to understand and would be useful both to people new to Internet marketing, and to people like myself who have some experience but are looking to expand their knowledge. I'm subscribed and looking forward to future episodes.

Outstanding!!!!

by casino exec from United States

This is an excellent podcast for entrepreneurs in any industry. Hearing Eric interview and discuss proven success stories is like getting a motivational fix within 24 minutes. Can't wait for the next episode!!!

High Five

by chris drazek from United States

This is good! Guy is well known industry veteran. In the age where it's hard to get 15 minutes with someone like that on the phone, these episodes have a permanent placeholder on my calendar. Well done and keep up the good work!

Amazing

by Rtfdghf from United States

Walked into the office inspired and motivated! Great listen.

Just discovered a GOLDMINE of information!

by ericamerica from United States

This is next-level marketing that EVERYONE needs to know. SO much value here! This is information people would be willing to pay BIG $$$$$$ to have, and he's just laying it all out here.

Insightful

by lonestar1818 from United States

Incredible insights from one of the best!

Entrepreneurial Gold

by girlfriendwithnutallergy from United States

This podcast is amazing an a must have for anyone looking to take their entrepreneurial endeavors to the next level. Whether you are interested in becoming involved in affiliate marketing, or are just a student of life looking to learn about one of the largest and least discussed industries, this podcast is for you. Eric makes his passion for entrepreneurship available to all with this podcast, and for that reason it is a must listen.

Knowledge bombs!

by Sheree Trask from United States

Eric is a wealth of knowledge, not to mention, incredibly humble! He's got the proof to show that determination, grit and perseverance pay off... and I love that he's shedding light on the world of performance (affiliate) marketing with tangible tools anyone at any point in their online journey can apply. Thanks for all you do, Eric! Excited for more!!

As Smart As they Come

by Lgoldberg1976 from United States

Eric Beer is a tremendous listen. His story telling and motivation have already driven me to work harder. Can't wait to hear what he has to say next.

Great content

by Sensei Victoria Whitfield from United States

Eric is a great guy, gives from the heart and is a wealth of powerful, profit-positive information. Rock on, brother!

So informative and easy to understand

by bergbusiness from United States

If you are serious about starting in this business this is the podcast to help kickstart your career. I highly recommend tuning in.

Powerful

by reebcire from United States

Never realized how mich money performance marketers make without taking much risk. Get excited to learn more

Eric Nailed It...

by Mark Duke from United States

You do not want to miss out on this podcast. Eric is absolutely brilliant at his craft. A MUST listen or anyone who is wanting to ethically up their game in the business + affiliate marketing space. Cheers!

I loved this podcast!

by DPG...123 from United States

I just listened to this not knowing what to expect and it was FANTASTIC! I am hooked and can't wait for more episodes. Looking forward to learning a ton from Eric 🙂

Eric's trainings will up-level your life!

by SwayBuckley from United States

Eric's level of transparency and REAL value is not only rare but transformative! Don't sleep! He's the real deal!

Got me hooked from the start

by Doc bus from United States

Hearing Eric's story and why he is looking to share his knowledge of starting a business was so motivational. Looking forward to hear what he comes out with next. Hoping I can use his coaching to take my own life and business goals/ideas to the next level.

Eric is a genius!

by Golden Oracle Ministries from United States

I had the pleasure of meeting Eric Beer in a high level mastermind that we are both a part of. I must say that every time he opens his mouth marketing gold falls out! I've made millions both online and offline, so when I hear someone talking about marketing I'm not usually that impressed, but with Eric I'm beyond impressed. I'm blown away!!! Learn from Eric, do what he say and watch your business grow.

Excellent

by JLRPS22 from United States

Very motivational!

Awesome content

by NickTheGreek83 from United States

I don't normally write reviews but this is a must listen for anyone considering starting a business. Eric thank you for taking the time to give away some of your secrets! Look forward to future podcasts.

Legend!

by Daxy111 from United States

SO excited for your content to come. You're advice and results is authentic which is rare now a days!

*****

by acrygvbh from United States

Fantastic relevant info !!!

The real deal

by Erin_Verb7 from United States

Eric Beer is one of the smartest media buying minds I know. Take this chance to learn everything you can about affiliate marketing from him. He will teach you an ethical way to make your life and your family's lives better through affiliate marketing. He's the real deal.

Genius marketing knowledge

by Nick349731 from United States

I can't wait to continue to learn rom Eric! So skilled and such a genuinely good person too. Keep putting out the great information Eric!

Great story and great info

by R-Rot from United States

This was a very interesting podcast. It was honest, informative and motivational. Eric has a great story that, everyone who is interested in starting a business, should listen to. Highly recommend!

Amazing

by Billion Dollar Cowboy from United States

I can't wait to learn more!! So so good!!

Awesome

by Eric X 2 from United States

Eric Really enjoyed listening to this. Keep up the great work!!!

Let's Market!

by hjdvikes from United States

As someone who has networked and marketed more over the past 2 years than ever before in my career, this Podcast is an absolute MUST listen for me. Eric makes it easy to listen, learn and apply.

Invaluable information!!

by lpro1111 from United States

Invaluable information. Can't wait to dive in.

Great information, tons of useful tips

by jonnygal77 from United States

These are great, so much useful information that I can use immediately and effectively. Thanks Eric

Great listen

by Xtra Medium from United States

I love listening to Eric's podcast on my way to work. Looking forward to applying some of these principles to my career.

Definitely worth a listen

by SBS776 from United States

I have had the pleasure of working with Eric and this podcast is a roadmap to success. He is a professional with years of experience and delivers results

Game Changer

by Jay Heydt from United States

Eric Beer is a game changer for your business. I had the privilege over the summer of taking an online marketing class with him. The daily interaction with Eric made me believe anything was possible as well as opened my eyes to an entire world that is online that I was missing. You will learn and earn with Beer. He is one of the best business coaches out there!

Performance at its best!

by Shm722 from United States

Eric has great ideas and insights!

Listen to a visionary....

by RobH60 from United States

Eric is a genius and visionary. Always looking to get ahead through hard work and drive to success yet he is super down to earth and willing to spend the time to share the secrets of his success with others.

Finally, coming out to teach the world

by RogerSmith! from United States

I've known Eric for quite some time and he has been the guy who is quietly CRUSHING it. I'm glad he is coming out to the masses to share all his knowledge!

Can't wait to dive into these!

by Arushi-315 from United States

I can't wait to learn from Eric so I can level up my marketing!
Transcript…
Read Full Transcript
0:00
What's up, what's up, Performance Marketers? I hope you're doing well today. Today's episode is going to be about me talking to people who are telling me that surveys won't work for their business, and they don't need leads. I wanted to go over some funny things that I've gotten with different types of objections. And I will show you how you can overcome those objections and what surveys are right for your business. So stick around, and we'll be right back.
I spent the last 17 years building my eight-figure performance business without using any of my own money, working with some of the most brilliant direct response marketers in the world today. Now, I'm looking for entrepreneurs to join my affiliate army, built on ethics, transparency, and good old hard work. Join me to change the perception of how people view the greatest business in the world, affiliate marketing, and follow along, as I learn, apply, and share performance marketing strategies for working with some of the brightest people on the planet. My name is Eric Beer, and welcome to the Performance Marketer Podcast.
I've been talking to a lot of different entrepreneurs, different companies and a lot of the times when talking about how we could do business and lead generation, oneof the misconceptions is that surveys are only used to do research and get feedback. And that simply isn't true. Surveys are, in my opinion, the best tool to use when you're looking to build your list and generate leads. Now people will say quizzes and assessments. As far as I'm concerned, they're all the same thing. Surveys, quizzes, assessments, they're asking people questions, that people are self declaring their issues, giving you their opinions, you're then grouping them a4nd then you're creating custom targeted messages to each of them. Same thing. But so my goal is to set out to create the greatest lead generation survey platform in the world focused all around building your list. So for me, as I talk to more and more people, I want to hear as many objections as possible, I want to understand why you think it wouldn't work for your business. So I wanted to come on and just kind of tell you some of the feedback I've gotten. And some of it's funny, some of them, you know, it's legit. But the beauty and for anybody out that's listening here for your business, this is what you want to do you want to understand the market, you want to understand who you're trying to sell to and what do they want? How can we make it easy for them to buy our product or service? And the way to do that is to understand what are their objections. And typically, there's three different things that anyone is going to have a reason why they're not going to buy from you. And it comes down to either it's the vehicle, which means they don't believe in what you're doing. And whatever product or service you're trying to promote is just not in their mindset that it's going to be evaluated for them to is it there's some pain point that they're having, this may be an experience, they had something that is hurting them that is all about their own internal feelings about themselves. And three, is more about what obstacles are they having to attain their goals, roadblocks, things that are just outside your control. So I'm going to go over some of those things and give you an idea of how my customer will give me some pushback and how I go about trying to break down those objections. And then what I'll do is I'll start to tell you some different categories of who a survey is good for you generating leads, because I've written a whole list down here and I continue to write more and more as I do more and more research. So first, let's dive into some of the objections of why someone thinks that a survey wouldn't be helpful for them to generate leads in regards to the actual vehicle of a survey. People believe it's not going to work for their business a feel like it's not going to fit their market, or that they've, they've tried it and it just didn't work. Right. So when I hear those types of things, I need to sit down and think about well, how can I overcome that objection? So when someone tells me that it won't work for their market? Well, I would have a response back in that surveys, increase engagement, they allow you to understand your customer, find out what's working, and what's not working, they can help you understand the buying behaviors of your audience. And, frankly, I've generated over 15 million leads in so many different categories over my career, that I would bet a lot of money that I can make it work for your market, if they say it's not going to work for their specific business. Well, my response back to that is, does your customer have an opinion, because if your customer has an opinion, then certainly you're going to work, because they're going to tell you what they think. And then based on what they think, is how you're going to respond back to them about your product. Right? If they're saying that they've tried it before, well, there's a lot of different ways that people can make mistakes, when they're surveying their audience, creating quizzes, a major mistake is, if they're giving something away, if it's not relevant to your audience, you're going to generate low quality leads, if you push out a survey and say, I'm going to give away a million dollars, well, who doesn't want to win a million dollars, right, tons of people are going to sign up for that, and the type of person is going to sign up for that it's gonna be a low quality lead, someone's gonna think they're gonna win a million bucks. Right? And they're not necessarily relevant for whatever it is you're trying to do on the back end of your survey. So you know, that's one thing, that type of questions are asking, if you're asking the wrong questions, then you can't get the right answers. Maybe you're not segmenting. Maybe there's no continuity in when you ask your questions on what the result is, and how you transition into how your product or services evaluate. So there's a lot of different things of why it won't work, I have to look at what they're doing. But bottom line is, it works. So some of the internal things that I heard is that I don't have a list, or nobody knows me, I'm new, and I don't have any experience. Well, one, no one knew me when I got started. Two is I've generated thousands, millions of leads for companies that that person, when they woke up that morning did have had no idea what the product was what it did. And they clicked, they bought, and they went home with the product, right? So it doesn't matter if they know you're not right, if you if you can hit on the most important things, which is ultimately someone's going to learn something about themselves today, when they take that survey, and then get them with a good hook, then they'll learn about you later on. Once you show them you know what you're talking about, and that you're an authority figure if you don't have a product, okay, so I'm going affiliate marketer, right, I generate tons of revenue by promoting other people's products. So if you don't have a product, well then use a survey to promote somebody else's product. At the same time, build up your list. Now, what you're doing is, you're gonna go out and buy media, you're gonna go and drive traffic to somebody else's offer generates revenue, offset that media cost, hopefully you generate more revenue than you spent so you're profitable. And then all those leads that you generated are now yours on your list, right? So it's a good way to start building up your list without coming out of pocket. It's a way that I build my business. Right, I didn't take any investment, I was a performance marketer, I started promoting other people's offers, and over time built up my business, right, so don't have a list. Okay, so figure out how someone could take a survey, either, you can partner with somebody that has a list, you can go out to the market and tell somebody you're going to pay them for every lead that they generate for you. You can go out and buy media yourself with Facebook ads, Google search, display, native advertising, you can post on your your social profiles, you can reach out to group owners on Facebook and ask them if you can share your survey with their audience. There's a lot of different ways that you can do this. And if you're creative, you'll be able to overcome that. And we all know that you can end up generating awesome leads and it's gonna convert into crazy amount of new sales. So some other stuff on the external side is sometimes I'll get into it and they'll be like, Dude, that sounds so complicated and I fall victim to this. And I'm, I'm trying to teach people and I just run them over sometimes I've been doing this for so long and you know I've never really sat down and like taught a newbie or was able to, you know, do a step by step in such a simple basic way where people are coming in. And I might say things that are above their head and overwhelm them with information. Within the first two hours, I could talk about this all day long, right. But for people who don't know about it, I have to recognize that I can't get too techie, I can't get too much into the details, I got to focus more on the results. So it's all around how you go about it. But people feel like it might be techie. Where I'm building a platform where I'm trying to create, it's so simple that you can come in and press a few buttons and you have your survey, I have a question bank where you can go in and look for questions that you want to ask. I have, like a copy creator, that's going to help you build your own email sequence, come up with your own survey hooks, build your welcome page, build your lead, opt in page, build your outcome page, I'm literally doing it all for you. I'm leading you in a direction for you to just fill in the blanks of what is your expertise, what do you do, and everything else should really flow. If I do a good enough job, then you will be able to come in answer a few questions and have a survey in less than 15 minutes, less than 10 minutes. Right. And that's the cool part about it. It's not techie at all. But if you do still feel like you don't even want to do that SurveyDetective is going to have people that are certified people that love this stuff. people that love building surveys, love going through the platform, and creating. So the whole idea is all right. So then if you don't want to do that, focus on what you're good at your expertise. And we'll match you with a certified SurveyDetective who build the whole thing out for you, he just communicate boom, right? So I don't have a lot of money for traffic, okay, well, you don't need a lot of money for traffic, there's a lot of ways you can generate traffic, without having to spend money. We said some earlier partner, you could partner with somebody, find influencers, and barter, go and do a deal with a company where you're going to generate leads for them. And you're going to share the leads that you generate from the survey that you're going to generate to their audience, you're going to learn about their audience, you're gonna help them segment their audience, you're going to further qualify their audience, some of these influencers have 20 3040 50 million followers, and they're not all qualified buyers. So you got to figure out who is it that's going to want to buy something, who's people that just want to look, they're freeloaders versus the people that really want to go vertical with what I'm doing, and buy something, help them with that. They don't know how to use this. So go help them, you can charge them per lead, in addition to building your list, and then you can take that list and then monetize that list with promoting affiliate offers to that list. If you don't have your own product, you could do it for your own course. And so your course afterwards, tons of things. Guys, there's plenty of reasons why people don't want to do this. But these are some of the things that I was coming up with, when I was talking to people, as I'm going through this process and things that I need to break down. But so I'm going to tell you a little bit about now, like who can use a survey for their lead generation. And what I did was I kind of just I've been writing down a bunch of different ones, just to give people examples, because what I've learned is yes, it works for any industry, anywhere. But when I start to talk about certain people, certain industries, the way they did it, what their hooks were, I find that it just makes so much more sense to people than when I'm trying to actually explain it in detail. I think that's where we get into the techie like the technobabble The, the too much information. TMI, keep it simple, right? So what I did was I started to just jot down a bunch of these. So for example, let's say you're an affiliate marketer, you can promote a credit card offer. So companies like American Express, discover netspend, Capital One, what you name it, right? You create a survey, what credit card matches your spending habits. Let's say it's language learning, right? Rosetta Stone or pimsleur language learning? What language should you learn next, there's a pet monthly box, an offer called Bark Box that we've promoted, what's your dog's personality? Find out what kind of dog they have, and then match them with whatever box type makes sense for them. Home Security, there's, that's a big vertical, right Home Security cables, phone services, any service that has a very long term value for that company. And what I mean by that is, somebody who has a home security system will never changed the home security system, they will pay on a monthly basis, unless something happens and it doesn't work. But for the most part, once that company gets that customer, they have them for a very long time. Same with when you're talking about a cell phone carrier or your cable provider, there's a lot of those types of industries that can afford a lot of money to acquire a customer. So it's worth your while to promote something like that. So for example, for Home Security, you can come up with something where it's, what's the number one reason your family isn't safe at home? Right now use a little bit of a scare factor. What What mistake are you making? on why your family isn't safe? Right? dating? There's, there's things like match.com. What's your dating type? for weight loss? nutria systems? neum. The South Beach diet? Simple as what diet is right for you? Boom, right? That's the hook here. The curiosity, huh? What diet is right for me? What diet is right for your body type? What diet mistake Are you making that's causing you to gain weight? What diet aren't you using that's causing you to lose muscle, right? All kinds of different ways that you can use this. But in affiliate marketing, you can find offers all over the internet. And that can kickstart your entire business if you don't have a product. But let's say you're somebody that's got a business that's local, that's offline, for the local realtor, and you want to put something out in the marketplace, because you're looking for people that are want to buy a home, right? So what's blocking you from finding your dream home? If you're looking for sellers, we would have something on what pricing mistake is stopping you from getting top dollar for your home? Let's say it's a local financial planner. What's your money? iQ? Huh? Right. And then you take them through some questions, you see what they know what they don't know. And then you recommend they book a call for you to talk about their, their retirement, if you identify that they're older, and they're looking for more of a retirement play versus someone that wants to save for college? Right? You would have different segments? Follow me, right? Let's say to local gym, what gym is right? For your goals? What let's say it's like a hairstylist, what hairstyle matches your personality? Pretty cool, right? I don't know. And you can get funny or have a lot of fun with that with pictures and, and match people with some like, Awesome, cool, fun, cool looking hairstyles. And, you know, take it to the next level, right? Like after you show them and they're, this is the hairstyle you have. Right, you can match them with a hairstylist, and then book an appointment. Right? Book of a free blowout. Give them something free to get them in, like a dentist. Right? What type of veneer is right for your smile? Alright, so I don't know. You tell me what from near will turn you into a celebrity style. You know, have fun with it. You know, and for a local dentist. Think about ways that that you can get somebody into the office. Right? So for teeth, a free cleaning, who doesn't want white teeth? Right? So maybe it's a free session to give them some some, some white teeth, right? with whatever the services that you're doing. If you're a chiropractor, maybe a free massage, what back massage Do you need most? Right? What exercises is causing your back pain? If you identify that you're your customer is a golfer, right? What golf mistake Are you making with your swing that's causing you to have back pain? Right? Hmm, interesting. Right? So that's all around like the local businesses. There's so many others, right? We're gonna dive into, let's say consultants, right agencies, Facebook ad agency, what's your Facebook ads obstacle? podcast agency, what type of podcast is right for you? And your business? interior designer? What furniture matches your home style? If you have a YouTube agency? What's stopping your videos from going viral on YouTube social content agency? What mistakes are you making with your social content that's causing your audience to not engage? Right? You take them through some questions, you ask the right questions. You identify what group they fall in, and you give them the result. And then you transition them into whatever your goal is at the end of that survey, right watching a webinar booking a call buying a low ticket product, signing up for a live event, registering for a virtual event. I can go over that another day. But there's a bunch of different goals that you're going to have when you're starting out your survey because at the end of the day, the whole point of this is that you want somebody taking action at the end and then you want to get them To purchase your core offer, you know another one. Let's say you're you have a digital course. Right? So let's say you have a digital course on how to buy Facebook ads. What's your Facebook ad buying mistake? How to build a seven figure business? What type of entrepreneur? Are you? If you want to build your email list? What survey will attract the most amount of leads for your business? If you're let's say parenting, you've a parenting course. What's your parenting blind spot? And let's say it's a painting course. What painting style makes the most sense for you? Let's say it's relationship. What's your relationship identity? for let's say you have a course that teaches you how to write email, copy, what email marketing style fits your business goals. You want to build funnels? What funnel should you build for your business? Right now? If you're a coach, it's if it's for relationships, what relationships style fits your identity. If you're someone that coaches addicts, it could be What mistake Are you making that causing you to fall off the wagon? You know, there's, there's so many like coaching a building a business line training a pet? What dog tricks, like match tricks? With the type of dog you have? Right? If it's an offer build, it could be along the lines of what is your core offer weakness? lead gen through surveys on e commerce. I like to match the people. I like to use a matching survey. So it's a let's say you're someone that sells televisions. Right? What TV is right for your home? What flat screen television would look the best on your mantel. Let's say you your skateboards, right? What skateboard matches your personality and what skateboard can make you jump off a seven story building? I don't know. something crazy, right? safest bike right for your child. What bike fits your child's needs? What bike is the safest for your children to ride? If you're in photography, what camera makes the most sense for your business? What video camera works best for your YouTube content? You know if you're if you're someone that sells clothes, like a dress or shirt or jeans, match these jeans with your body type makeup so far does this on their site today, right? If you go to Sephora, they have makeup, they have lipstick all good jazz. They'll take you through different surveys asking people questions, and then match them with different products. Right. So what makeup matches your skin type? What lipstick looks the best on your lips? What lipstick profile? Are you treats for pets? You know? What dog type do you have? That will match our protein snack? You know what dog sweater looks best on your type of dog? What dog sweater matches your dog's personality? You know you guys get it right so online memberships This works for right so restaurants, gyms, if you're part of peloton, right? Everybody, everybody's got a peloton at home now it's the hottest thing, right? So it's what's your biking, personality? What's your biking style, weight loss clubs, reading clubs, pet owners, artists, baseball coaches, relationship coaches, confidence coaches, addiction coaches, all kinds of memberships that people can sign up for. And when you do that, perhaps your goal on the end is you give somebody like free access to your membership. So what's your reading personality? What book matches your reading style? Take them through your survey asking the right questions. Identify which segment they belong in. Right So like for reading, and maybe some people like romance, and some people like suspense and some people like thriller. So you match them into those three types of segments. And now you're going to now match them with those types of books. So now maybe then you give them a free trial into your book club so that they can read the first chapter of a book. Amazon did a great job of this when they have a membership, right Prime membership. And if anybody knows the karate kid that, like The Karate Kid, you know, was when we were kids. Yeah, 2030 years ago, here with the new Karate Kid, as Ralph machos older. And what they did was, they opened up the first two episodes for people to watch for free. But after you watch first two episodes, you had to pay if you wanted to continue to watch the entire season, right? They got you hooked, they got you to engage got you interested? If you didn't watch the first two episodes, then you don't really know what you're missing. But if they get you to watch the first two episodes, now you're like, Wow, that's awesome. If they do a good job, which four understand I don't watch it, they did that makes people want to now buy it. So the conversion rate from Hey, sign up for prime, we've got The Karate Kid show, versus the people that watch the first two episodes, and now sign up for prime. And then the conversion rate there is going to be astronomically bigger, right? But when you get them through this process, you go through and you take them through a process where it's all around. What movie should you watch next? What's your movie type? Right? And now at the end, you figure out what kind of movie type they are. And then you allow them to watch the first episode of whatever movie fits their genre. And then after the first and second show, you then say, okay, you're gonna have to purchase a membership after that. So you have a free trial, or maybe give them a seven day free trial to to, to watch whatever they want. Get them to see that your product is awesome. And now they're like, I want to I want to stay, if it's in regards to a community. Well, if you have artists that are now trying to just collaborate and talk about ideas and, and learn new things about what they're doing, they all can join your membership, right. And now you have a community where they communicate and help each other and they share. And, you know, they come in, and you have a weekly powwow. And they love it and they connect with people. And then what happens is, after a week of seeing all this amazing content, meeting great people, it just stops for them to continue on. They need to join, right? No brainer. If it's if you have a software like a SaaS platform, SAS ism, like software as a service. Right? That's what ultimately SurveyDetective is going to be. All right, SurveyDetective software, my SurveyDetective is a survey software that's going to allow you to do yourself if you want, or someone can do it for you if you don't want to do it yourself. But so survey platforms. If you have a print on demand, right, like custom ink, then you can use a survey to generate leads for people that want to use custom domain and print on demand. Let's say you have a project management tool, then use a survey to find people that could use the Asana or Trello. Right, what some what's your company's productivity score, you figure out where they're doing a good job where they're doing a bad job, and then you can now recommend different platforms to them. Right, you can promote that as an affiliate, right? You can promote Asana, Trello, monday.com. And whichever one fits their needs, you promote, right? You do the same thing for email software. There's tons of msps, right? email service providers, MailChimp, Constant Contact, Active Campaign silverpop, which IBM owns? There's tons of them, right? And they all pay out an affiliate commission. So you can go and promote those offers, right? What's your email marketing? style? What's your email marketing? profile? What's your company's? What mistakes is your company making? when sending emails? What's your email marketing strength? What's your email marketing score? In? its endless, right? So if you're someone that's trying to get people to sign up for the software, whether you are the company that wants to do it, like if you are in the marketing department for Active Campaign and you want to drive more customers, you're in charge of customer acquisition, use a survey, generate leads, understand what their needs are, what their wants are, what their objections are, then segment them, and then get them into Active Campaign. Right? Maybe give them a free trial, maybe give them a demo. You get them to schedule a demo, so you can show them how awesome your platform is. Maybe there's a webinar that you have. All of these are end goals of your survey that is going to happen after they sign up for your program. If you have masterminds, right, let's say you have a singer, an author and you have a mastermind, right so you have copywriters that are doing Gathering to brainstorm ideas all day long. Use a survey to get authors to come through your survey, answer questions and understand if they're a right fit for the mastermind that you're offering, right? Maybe it's a high ticket mastermind, if it is, well, then you're certainly not going to be able to just sell a cold lead to sign up for your mastermind, if it's going to cost them 100 grand. And the way to qualify, one is get them to come through and answer questions. But keep in mind, right, it goes both ways. When you have a mastermind, if you have somebody that's in your mastermind, which is a group of people that gather and brainstorm and talk about ideas and help each other, right and learn things, if you have somebody in there, that's going to be distracting, it kills the culture, it just the whole dynamic of the mastermind gets killed, right? So if someone's paid half a million dollars, but they're, they're really hurting the the whole concept of what the mastermind is doing the culture of what you're bringing to the table, then you want them out. So it's not as much as are they willing to buy from you? As is? Do you want them to come into your mastermind, you want to know if they qualify, right? Maybe it's more of like a business type mastermind where it's higher level. So you don't want anybody in your mastermind that has made less than $50 million. Right. And with all due respect to people that are newbies, someone that's generating $50 million, and wants to scale to 100 doesn't want to be in a mastermind with someone that's so new, that they're learning about what a funnel is, what a lead is, right? So like, bringing those people together is powerful. And how do you do it? How do you find those people? Right? And it's all starts with a survey. It's a survey is what starts the buyers journey for any business whatsoever. And the more you learn about them, the more you can customize your messaging, you can figure out what products make the most sense for them. Let's say you have 10 different digital courses. Well, which one do you promote? Take them through a survey, ask them questions, match them with the digital course, that makes the most sense for them. Let's say you have a Facebook training, you have a YouTube training, you have a funnel building training. Well, whichever one they want, you're going to sell them. If someone wants to learn about Facebook, don't try to sell them on YouTube. Even if you think it's great. You want to give people what they want in the beginning, right? You want to get them going you want to get them working with you. But guys, if you're an affiliate marketer, if you have a local business, if you're if you have any service that you sell, if you're doing anything from like b2c, right, your real estate you you're a golf coach, you you sell lessons, you you teach people on how to swing the golf club, right, this over for you? What is your swing pitfall? Right? What's stopping you from hitting the ball 300 yards? Let's say you're someone that helps people with retirement and their 401k. What's hurting your 401k return? If you're in the hotel business, and you want to get people to sign up, right, I work with hotels.com, Expedia, we did an awesome survey for hotels.com did a mean I think we generated like 17,000 plus leads for them. And it was awesome. Right? Well, hotel is right for your ski vacation, what type of vacation fits your family, figure out what kind of vacation they want. And then recommend certain hotels based on where they want to be in the world. You know, if you're if you're someone that's a stockbroker, you want to know what type of investor you want to work with. Right? So what type of investors are you? What's your investing style? What mistake Are you making that's hurting your your portfolio? Things like that, right? Like, what's your what's your stock? iQ? What's your stock score, right? That's more of a knowledge type survey, and you're finding out what they know what they don't know. So you know where to start when you want to go and try to sell them what you do and why you're awesome, right? If somebody already believes in the vehicle, right, so when I talked earlier, we talked about vehicle, the objections would be a vehicle, internal external for me the vehicle is surveys, and survey platform and surveys, generating leads, right everybody thinks surveys are for feedback and for research, which they are and it's amazing, you should use them for that. But surveys for lead generation is the most powerful thing on the internet, by far and away. I have to explain that and show you why and convince you, but maybe you already believe that. Then if you do, I don't want to talk to you about that. That's not where I want to focus. I want to focus on where you're objecting to not go and sign up for SurveyDetective me. Maybe it's that you don't think that you're taking that you can do it. Or maybe you don't have enough money. Or maybe you think that you're just you have no experience, he can't do it. All of those reasons are different. And I'm going to sell you differently, right? I'm going to create custom messaging to convince you that SurveyDetective can work for you. Got it? Make sense? Right. So you know, business, the business, let's say, a list building, right? That's what I'm doing with service tech, I'm helping you build your list, I'm helping you cast a wide web wide net, to just pick up cold leads from all over the world, and qualify them, and then convert them by nurturing them into customers. So list building is me, I have a SurveyDetective, what list building mistake are you making? In your business? Today? There are five mistakes that every marketer makes when trying to build their list. Which one? Are you making? answer a few questions. I'll tell you, right here, right now, let's say it's a you're an owner of a business. And you want to understand like your leadership, what's your leadership style, right. And now that's, you know, you understand what type of leader they are, what they're doing. And now maybe you can sell them some services that you're providing for them, whether you're a consultant, or you're helping them build systems, or you're helping them create culture, or you're helping them with scaling by hiring more people, whatever it is that you do, let's say you you're selling office materials, to businesses, you sell pens, you sell a smartboard, you sell a desk, what desk is right for your style of work, what photocopy machine makes sense for your business, what SMART Board, what smartboard, fits your business, personality, things like that, right? So it's like, you can see the trends, it's all around all of these things. Affiliate Marketing, b2b. b2c, you have a digital course, you have a mastermind, you're a coach, you're an author, you sell something, you sell products online, you have a local business, I mean, guys, I am still looking for somebody to tell me something, some business in the world that doesn't need leads, I want someone to show me that a survey would not work for them. And I will prove them wrong. Because leads are the gas that make your business grow, it makes your business go. Plus, it also helps you create you when you're building your list, and you're building a gigantic asset. But you create cash flow with your business, by being able to get people to take surveys, and then monetize that data, you're going to start to create cash flow. I meet a lot of people, some people that make you know, 234 $5 million a year. And they do it by throwing one or two events a year. And that's awesome. Amazing, right. But for the other 1112 months of the year, besides those three days at their event, they're not generating any revenue. So they have this one day where they boom, I get that that 2 million bucks. And it's amazing. And believe me, that's awesome. I hope everybody here gets that. But once you get that, right, now, you want to create cash flow. Cash Flow allows you to be able to do things in your business that would let you hire somebody by media, right? So like, by generating leads using service generate leads, massive, my main business is lead generation, right? My company's Universal MP, Universal Marketing Partners, UMP, we are a lead generation company, right? We generate leads for other companies, we do it using surveys, we've generated over 100 million dollars in revenue generating leads people that are raising their hand that needs something. So you are helping people, right? Because in one, in one side, you have somebody let's say, a coach who helps people that are addicted to alcohol. And then you find somebody on the internet who's looking for help. They need help, they need to find somebody, and this person is amazing for them. However, they haven't met yet. That's you that you're the bridge. You're the one that's bridging that gap, you're going to go and create a survey out in the marketplace. What's making you fall off the wagon. This person sees that they take their survey they they answer questions, you identify who they are, and you match them with the person, this expert who you know, can help them, they help them this person makes an impact on that person's life. The person that keeps falling off the wagon now has bought the low ticket. they've signed up for the digital course. They've joined the coaching program. They've now gone to a live retreat where they've met other people like them that are just they're all supporting each other and helping each other and they're just there's like they become a family because they're all going through the same things. They understand all of The pain that they're feeling. And they're now their entire life has changed. Maybe they join their mastermind, that all started with you creating survey to find that person and helping them to find the expert that has the answer to their problem. Guys, I can't say it enough. If you're not sure, if you have a business and you're not sure how it would work for you, ask me, send me a note, surveydetective.io. We're still working on it. It's awesome. We're just it's it's really exciting. We're just adding more and more awesome features. I'm trying to make it as simple as possible. We're having so much fun. I'm learning so much about my avatars and what they, what they need, what they don't need. It's just, it's a world of fun. And I'm really excited. When this happens. And we launch it, I just, it's just the future's so bright, this is going to be the best platform in the world. We're just focused on helping people generate high quality surveys so that they can generate high quality leads. So guys, if you're telling me that a survey doesn't work for you, I challenge you to stop me and tell me why. I just listed out tons of different industries with tons of different categories and types, I can keep going all day long. But I'm not because this would come on for hours, and you don't want to listen to me for hours. So I hope this was helpful for you, I hope I gave you some info that resonated and helped you with your business and even if you're not going to work with me, if you don't want to go and work on my platform. There's tons of survey platforms around the world, right? Use somebody's, do it. You don't want to market the same message to your entire audience. Surveys are what is going to change your business. There's tons of reasons why surveys work, do it, you will thank me. So Performance Marketers, I appreciate you listening, subscribe to the podcast. If you're not subscribed, you're not going to know when we have new episodes. We have a YouTube channel for the Performance Marketer Podcast. If you want to watch this, go to YouTube, I believe it's Eric Beer Performance Marketer, and subscribe. And you'll see the videos we have tons of videos on Instagram, I'm posting all kinds of micro content around different little like gold nuggets that you can watch. If you're don't have the attention span for more than 50 seconds, which is me. But so I'm posting on Instagram, you can go and and follow me there. It's @EricBeerOfficial. My Facebook profile. We have a Facebook group, Performance Marketer Nation, I believe. We have a membership, right a paid membership, which is Performance Marketer, where I have founding the members. Which I was charging, but I made a decision to not charge the people that are my family members and I appreciate them and I just want to work with them and help them and learn from them and just help them scale their business. But guys, there's plenty of ways that we can work together, I'd love to help you. I want to help you get your message out to the world, I want to help you make an impact. It's unbelievable to me, when I realized that all of the things that I know about lead generation can actually change the world. And I can change the world by working with experts that are making an impact and other people. I'll be able to make an impact on them because I'm going to change their business. Their whole life is going to change, they're going to generate more leads, they're going to get more sales, they're going to make more money than they've ever made in their lives, they're going to have a financial free life. And that's gonna be because we work together and I was able to share some of the things that I've learned over my 17 years. But more importantly is, one, I'm changing their lives and I'm making a difference, but they're changing other people's lives. I'm helping them get their message out to the world with people that need it. So that's exciting to me. And I just want to make an impact. I want to build a legacy just like everybody else here. So yeah, guys, appreciate you listening. If you have any questions, fire away, otherwise, be well, and I will talk to you soon.
Would you like to learn how I built my business using other people's money? If so, go join my 21-day challenge at performancemarketersecrets.com. I look forward to meeting you and welcome you into my family. And remember, results don't lie, but the people who don't have any tier. Thanks for listening.