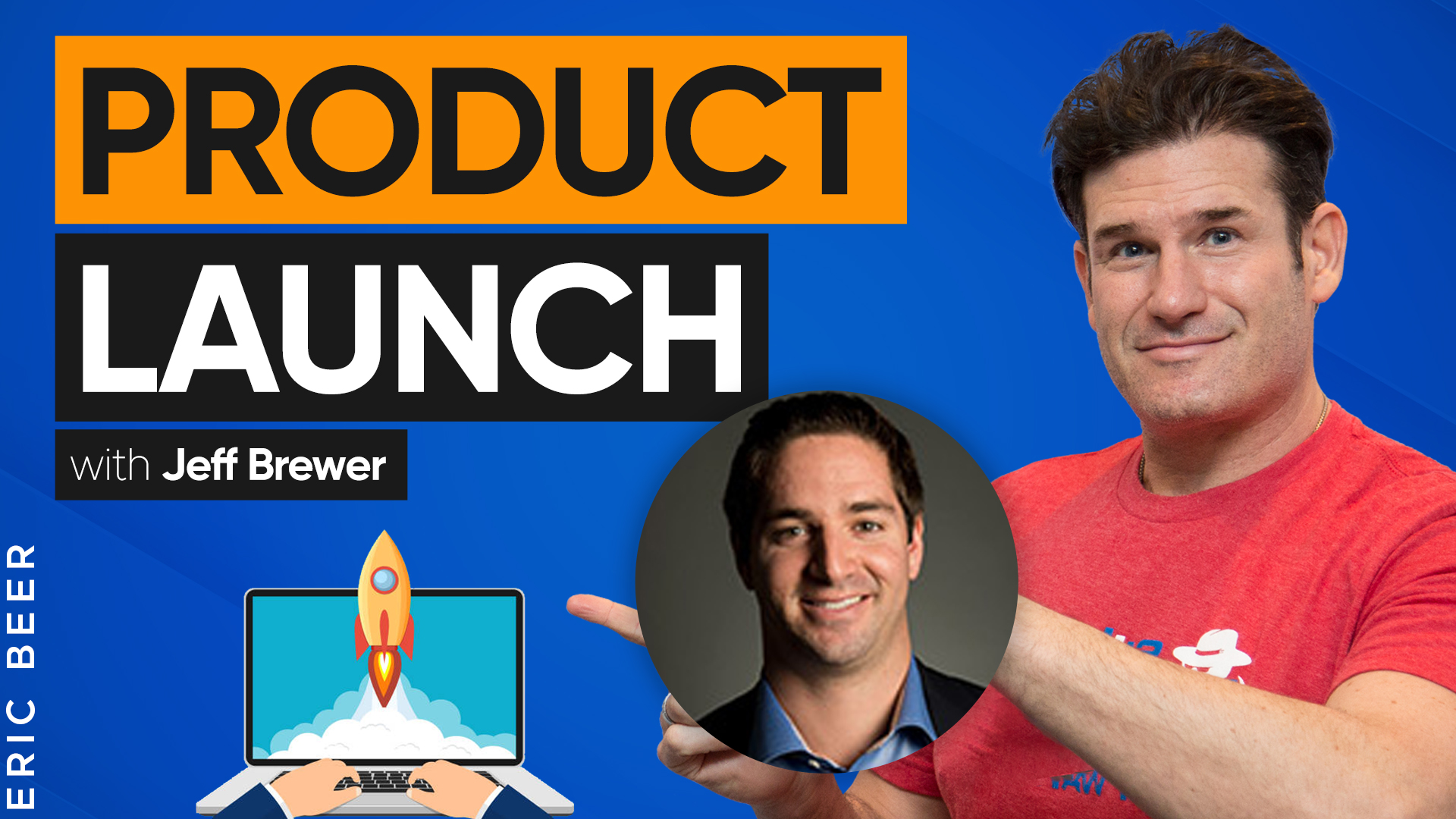 25 Mar

Product Launch Marketing Plan: Top Practices for Selling Products Online | Interview Jeff Brewer

Want to learn how to perform a fantastic product launch?

Then you're in luck! This week's episode of the Performance Marketer Podcast is practically a product launch masterclass!

I'm joined by the unbelievably talented Jeff Brewer, founder and CEO of Launch Hacker Lab. 




He is an international speaker, serial entrepreneur, and a leading expert on product launches. So far, he has managed 22+ launches that have generated more than $8 million in live launch revenue. 

Not only that, but his biggest client generated $2.1 million in less than 5 DAYS!

That's mind-blowing!

Jeff has a unique perspective on product launches. He's learned from two of the most well-known people in the online marketing space – Russell Brunson and Jeff Walker.

Over the years, he has developed a system where he merged the advantages from both of these philosophies to create a super-efficient product launch strategy. And he's going to tell you all about it in this episode!

Are you as excited as I am? Well then – let's do this!
The Perfect Product Launch Strategy: Combining the Teachings of Russell Brunson and Jeff Walker
Russell Brunson and Jeff Walker are both revered for their online marketing methods. And yet, most people exclusively follow just one of these two schools of thought.
Jeff's unique advantage lies in the fact that he's a member of both communities. He thoroughly examined both approaches in an effort to combine the two, which would give him the ultimate edge.
You see, Jeff figured out a long time ago that by adapting just the one approach, you're also closing yourself off to the possibilities of the other.
"It's not about what you like. It's about how your avatar and your customers consume content." – Jeff Walker
Both Russell Brunson's and Jeff Walker's models are optimized for a particular type of audience and their preferred way of consuming content. 
By combining these two strategies, Jeff has managed to maximize his returns and create remarkably successful product launches for his clients.
To get a full breakdown of Jeff's product launch strategy, make sure to watch the full episode here!
Free Vs. Paid Online Challenges: How to Pick the Right Option for Your Product Launch
"It's 70% easier to sell an existing customer than to acquire a new one." – Jeff Brewer
So far, Jeff has set in motion over 100 challenges for various clients. In doing so, he's gained a tremendous amount of insight into the best practices for using online challenges to launch your product.
Many entrepreneurs are struggling to decide whether to go with a free or a paid online challenge. And if you're selling to a smaller audience, Jeff has no doubts – paid is the way to go. 
It's true that people are more likely to subscribe to a free challenge rather than a paid one. But if you're not marketing to millions of people, this kind of thinking becomes deceptive.
The key benefit of running paid challenges is they get your audience to commit. People who pay to take part in a challenge are more likely to see it through, and ultimately, witness that what you're selling works. 
And when they see the value you've brought them, they're going to be far more likely to keep buying from you.
Why You MUST Consistently Follow Up With Your List
"Your list is everything." – Jeff Brewer
We've said it over and over again on this podcast – your list is your greatest asset. It's what gives your business value.
Still, it's not JUST about the size. Because if you fail to nurture your list, you're either pouring money down the drain or leaving vasts amounts of it on the table.
Both Jeff and I have had the experience of a client telling us they wait anywhere from 3 to 6 months before they reach out to their leads. And even today, whenever I hear something like this, I automatically start shaking my head in disbelief.
Because in 3 to 6 months, those leads are going to be ice cold!
Here's what you need to know. The second you get people's attention, you have to take advantage of that IMMEDIATELY.
If you don't, they'll forget you even exist.
The solution? Communicate with your audience regularly! And the best way to do it is to create email sequences tailored to their specific characteristics. 
I spoke about this very topic in one of the previous episodes. If you'd like to go back and watch it, click here!
—
Wow, what an episode! 
Huge thanks to Jeff Brewer! I've had a lot of fun talking to him, and I hope we'll soon have him back on the show.
Thank you for tuning in!
A quick reminder before you go – sign up for my SurveyDetective VIP waitlist for more Performance Marketer content!
🕵️‍♂️ Sign up for the SurveyDetective VIP Waitlist HERE
See you next week!
Listener Love…
Warning! ⚠️

by Boz46747 from United States

Wear a helmet when you listen to the podcast. Eric will leave you feeling like you can run through brick walls. In all seriousness, this podcast is the absolute best!

Awesome

by Nevareze William from United States

Very interesting show.

FANTASTIC!!!

by cucklord101 from United States

My life changed after I discovered this podcast, 100% the number one on the platform.

Great Podcast !!

by Olivia Cousta from United States

I listen several days a week and am excited to have taken action with my first few steps. Thanks Eric!

Best Podcast

by faz12548 from United States

Thanks for everything. This show has been an amazing resource.

My favorite podcast

by Alison Riah from United States

This is my favorite podcast. I look forward to every episode and share it with everyone I know.

Awesome!!

by Brads Hook from United States

Love this show

Inspiring

by stevie h b from United States

Eric's energy, wisdom and experience get me pumped up to do more.

Eric changed my life, thank you

by Nicole Aliba from United States

Anyone who has a chance to listen, do it. Subscribe, download and listen. Eric is authentic, he truly cares about the people he comes in contact with. I know eric, I've tried to be around him and learn from him any chance I get. He's been successful in every stage of his life. Getting the opportunity to hear from him direct, how he thinks, how he goes about achieving his success, his strategies, his tactics, his outlook on life. I'm thankful he started this podcast and I'm thankful I get the chance to learn from him. I have no doubt the lessons he delivers each and every episode will help me continue to be succession my journey. Thank You Eric for making an impact on my life and making me realize I'm capable of so much more than I ever realized. Your support fuels my success. Good luck with the podcast!

Wholly Cow!!! Eric Is The Real Deal!!

by Supreme Dragon Slayer 69 from United States

Seriously.. Affiliate Marketing has been around for a LONG time.. However, it's always been associated with scams, and fly by night marketing tactics that are shady l, illegal or unethical at best. Until now. Eric runs his entire business (which is ultra successful btw) the same way he runs his life.. On pure integrity. Finally, a podcast that is teaching Affiliate Marketing based on being.. Ethical and Transparent. But the best part? This podcast is soooo much more than just Affiliate Marketing.. it's about running a successful business and successful life. So far Episode 3 is my favorite and I look fwd to each episode as soon as it comes out. Highly recommend this to anyone, regardless of where they are in their business!! Straight Gold Beb!

Dave

by Rothbone from United States

One of the best podcasts in a long time. Very insightful, had me at the first 2 minutes kept me for entire podcast. I am a entrepreneur myself and found it very interesting.

Eric Beer is a genius.

by Raera29 from United States

I've only briefly met Eric - but listening to his podcast (as well as his YouTube videos) - it's clear to me that he has an in depth understanding of how marketing should work. Brilliant podcast!!!

Beer podcast

by Bghbhhhggghugyhjjgtjporws from United States

So excited to get more info from Eric Beer to help further my career.

Great Stuff

by Dr TBA from United States

I have been a business owner and entrepreneur for over 25 yrs. I found the information both interesting and informative. I am a fan! Dr Todd Askenas

This dude is the real deal...

by gossjoh1 from United States

I'm in the internet marketing space and have heard about Eric Beer from other entrepreneurs and it's always about how much he crushes it. Over $100,000,000 in revenue... no joke. I had the good fortune to meet him this weekend at an event and he couldn't be more humble and genuine. Just listened to the first episode and it is awesome! Can't wait to learn and grow from you Eric and thanks for sharing your wisdom and experience with all of us!!

Awesome

by Archmatic from United States

Thank you Eric for all your motivation and confidence! This is a must listen. Eric is always on his game and ready for a challenge!!!'

Informative and relatable

by srg1113 from United States

I've listened to the first two episodes and found them useful and entertaining. Eric gives a lot of background to how he got to where he is in his career and the challenges he encountered and overcame along the way. He also shares his knowledge in a way that's easy to understand and would be useful both to people new to Internet marketing, and to people like myself who have some experience but are looking to expand their knowledge. I'm subscribed and looking forward to future episodes.

Outstanding!!!!

by casino exec from United States

This is an excellent podcast for entrepreneurs in any industry. Hearing Eric interview and discuss proven success stories is like getting a motivational fix within 24 minutes. Can't wait for the next episode!!!

High Five

by chris drazek from United States

This is good! Guy is well known industry veteran. In the age where it's hard to get 15 minutes with someone like that on the phone, these episodes have a permanent placeholder on my calendar. Well done and keep up the good work!

Amazing

by Rtfdghf from United States

Walked into the office inspired and motivated! Great listen.

Just discovered a GOLDMINE of information!

by ericamerica from United States

This is next-level marketing that EVERYONE needs to know. SO much value here! This is information people would be willing to pay BIG $$$$$$ to have, and he's just laying it all out here.

Insightful

by lonestar1818 from United States

Incredible insights from one of the best!

Entrepreneurial Gold

by girlfriendwithnutallergy from United States

This podcast is amazing an a must have for anyone looking to take their entrepreneurial endeavors to the next level. Whether you are interested in becoming involved in affiliate marketing, or are just a student of life looking to learn about one of the largest and least discussed industries, this podcast is for you. Eric makes his passion for entrepreneurship available to all with this podcast, and for that reason it is a must listen.

Knowledge bombs!

by Sheree Trask from United States

Eric is a wealth of knowledge, not to mention, incredibly humble! He's got the proof to show that determination, grit and perseverance pay off... and I love that he's shedding light on the world of performance (affiliate) marketing with tangible tools anyone at any point in their online journey can apply. Thanks for all you do, Eric! Excited for more!!

As Smart As they Come

by Lgoldberg1976 from United States

Eric Beer is a tremendous listen. His story telling and motivation have already driven me to work harder. Can't wait to hear what he has to say next.

Great content

by Sensei Victoria Whitfield from United States

Eric is a great guy, gives from the heart and is a wealth of powerful, profit-positive information. Rock on, brother!

So informative and easy to understand

by bergbusiness from United States

If you are serious about starting in this business this is the podcast to help kickstart your career. I highly recommend tuning in.

Powerful

by reebcire from United States

Never realized how mich money performance marketers make without taking much risk. Get excited to learn more

Eric Nailed It...

by Mark Duke from United States

You do not want to miss out on this podcast. Eric is absolutely brilliant at his craft. A MUST listen or anyone who is wanting to ethically up their game in the business + affiliate marketing space. Cheers!

I loved this podcast!

by DPG...123 from United States

I just listened to this not knowing what to expect and it was FANTASTIC! I am hooked and can't wait for more episodes. Looking forward to learning a ton from Eric 🙂

Eric's trainings will up-level your life!

by SwayBuckley from United States

Eric's level of transparency and REAL value is not only rare but transformative! Don't sleep! He's the real deal!

Got me hooked from the start

by Doc bus from United States

Hearing Eric's story and why he is looking to share his knowledge of starting a business was so motivational. Looking forward to hear what he comes out with next. Hoping I can use his coaching to take my own life and business goals/ideas to the next level.

Eric is a genius!

by Golden Oracle Ministries from United States

I had the pleasure of meeting Eric Beer in a high level mastermind that we are both a part of. I must say that every time he opens his mouth marketing gold falls out! I've made millions both online and offline, so when I hear someone talking about marketing I'm not usually that impressed, but with Eric I'm beyond impressed. I'm blown away!!! Learn from Eric, do what he say and watch your business grow.

Excellent

by JLRPS22 from United States

Very motivational!

Awesome content

by NickTheGreek83 from United States

I don't normally write reviews but this is a must listen for anyone considering starting a business. Eric thank you for taking the time to give away some of your secrets! Look forward to future podcasts.

Legend!

by Daxy111 from United States

SO excited for your content to come. You're advice and results is authentic which is rare now a days!

*****

by acrygvbh from United States

Fantastic relevant info !!!

The real deal

by Erin_Verb7 from United States

Eric Beer is one of the smartest media buying minds I know. Take this chance to learn everything you can about affiliate marketing from him. He will teach you an ethical way to make your life and your family's lives better through affiliate marketing. He's the real deal.

Genius marketing knowledge

by Nick349731 from United States

I can't wait to continue to learn rom Eric! So skilled and such a genuinely good person too. Keep putting out the great information Eric!

Great story and great info

by R-Rot from United States

This was a very interesting podcast. It was honest, informative and motivational. Eric has a great story that, everyone who is interested in starting a business, should listen to. Highly recommend!

Amazing

by Billion Dollar Cowboy from United States

I can't wait to learn more!! So so good!!

Awesome

by Eric X 2 from United States

Eric Really enjoyed listening to this. Keep up the great work!!!

Let's Market!

by hjdvikes from United States

As someone who has networked and marketed more over the past 2 years than ever before in my career, this Podcast is an absolute MUST listen for me. Eric makes it easy to listen, learn and apply.

Invaluable information!!

by lpro1111 from United States

Invaluable information. Can't wait to dive in.

Great information, tons of useful tips

by jonnygal77 from United States

These are great, so much useful information that I can use immediately and effectively. Thanks Eric

Great listen

by Xtra Medium from United States

I love listening to Eric's podcast on my way to work. Looking forward to applying some of these principles to my career.

Definitely worth a listen

by SBS776 from United States

I have had the pleasure of working with Eric and this podcast is a roadmap to success. He is a professional with years of experience and delivers results

Game Changer

by Jay Heydt from United States

Eric Beer is a game changer for your business. I had the privilege over the summer of taking an online marketing class with him. The daily interaction with Eric made me believe anything was possible as well as opened my eyes to an entire world that is online that I was missing. You will learn and earn with Beer. He is one of the best business coaches out there!

Performance at its best!

by Shm722 from United States

Eric has great ideas and insights!

Listen to a visionary....

by RobH60 from United States

Eric is a genius and visionary. Always looking to get ahead through hard work and drive to success yet he is super down to earth and willing to spend the time to share the secrets of his success with others.

Finally, coming out to teach the world

by RogerSmith! from United States

I've known Eric for quite some time and he has been the guy who is quietly CRUSHING it. I'm glad he is coming out to the masses to share all his knowledge!

Can't wait to dive into these!

by Arushi-315 from United States

I can't wait to learn from Eric so I can level up my marketing!
Transcript…
Read Full Transcript
Jeff Brewer 0:00
I might have gotten that person in the first challenge launch from 0 to 75%. Whereas most entrepreneurs and marketers will just say "That person's not a buyer, I'm gonna put it back on the house list and just keep, like warming them up with new content." But that actually is your warmest prospect, right? So I'm a big believer of the fact that it's 70% easier to sell an existing customer than it is to go acquire and sell a new one. So why not try to get that person from 75% to 100, in the next launch, then try to go get new people at zero to a hundred.
Eric Beer 0:31
I spent the last 17 years building my eight-figure performance business without using any of my own money, working with some of the most brilliant direct response marketers in the world today. Now I'm looking for entrepreneurs to join my affiliate on built on ethics, transparency, good old hard work. Join me to change the perception of how people view the greatest business in the world, affiliate marketing, and follow along, as I learn, apply, and share performance marketing strategies, working with some of the brightest people on the planet. My name is Eric Beer, and welcome to the Performance Marketer Podcast.
Alright, cool. So tell us, tell us something personal about you. Give us some secrets about Jeff Brewer. By the way, our last names connect.
Jeff Brewer 1:21
I know, I was thinking about that. I was like "the Brewer is going to great the Beer", right? And a funny story about that is one of the first companies I ever invested in was this craft brewery in Orange County called town Park Brew there's like a big, you know, there's a big... There's been a big craft beer boom right started in Portland and went to San Diego then you know, Orange County is trying to... Anaheim is trying to become like, you know, the craft, the next kind of craft beer capital, and they, you know, there's Angel Stadium on the center of Disneyland but there's no real kind of like, big adult scene there. So they're trying to build out downtown there. When we invested there's like 20 breweries that were... 20 craft breweries that were going into the Anaheim area that year. So it was, it was kind of a cool opportunity to get involved. We did like all the marketing branding of the company. That was, it was fun. But yeah, I was like, you know, my last name is Brewer. I had to kind of get into the craft beer space. Ya know, kind of just long story short, you know, I went to the University of Arizona, in Tucson for college was a finance major global business minor I studied abroad in China, it was really awesome. So I started getting in the light, wanting to learn more about China and kind of doing business over there. So I did I studied abroad there. Then I worked there the following summer, and I worked for a private equity company there. And I liked it a lot. I was like, "Wow, I'm pretty unique here." Like he, the director of the private equity firm kind of took me around on a lot of the travel he did that summer. And I was like, "Wow, there's not... I'm the only like Americans still here." And this was in like 2011 or so this is pretty interesting, that I'm still pretty unique here. And it's 2011. Right? Like you think there would be more Americans and expats doing business here. So I was like, this is interesting, this could be a cool opportunity for me to come. And he offered me a job to come back and, and work for his firm there. So I was going to do that. And then I graduated December and he was like, Hey, I'm moving to a new firm, like, let me bring you over in June, it's an even bigger frame, it's gonna be an even bigger opportunity for you. So in the interim, I took like an investment banking class. And at the time, my mother was the CEO for the largest aircraft painting company in the world. So they painted planes for Southwest Delta, American Airlines Air Force One, right, all these really cool airlines. And they also owned a digital marketing agency that did all their marketing and did marketing for some other bigger brands and like local businesses, so she said, Hey, you know, the agency needs some like accounting help, you want to come in and make some extra money and just do some accounting. And I was like, Yeah, that sounds good. Like, I'm not working outside of the investigation class. So came in, just was doing some accounting, doing some help. And like, two months later, you know, I was there like, Hey, can you help us actually some project management too. So I was like, Sure. So next thing, like project managing all these accounts with agency, I like marketing, like no idea what I'm doing kind of just like learning on the fly, like, thrown into like the wolves den in the fire. And I'm like leading these calls with these big clients not trained in marketing whatsoever, kind of just like, asking questions to the team I'm learning on the fly is actually really cool, but definitely something I never anticipated doing. And then, few months later, the private the largest aircraft painting company got purchased for is a big exit by a private equity firm. And they wanted they only invested in like aviation energy and like medical companies, so they're like, Hey, we're going to spin off the agency. We're not going to buy it. So the CEOs, my mom, who's the CEO at the time, hey, what should I do with the agency and this was unlike Facebook, Twitter was just booming, kind of like how Bitcoin is now like that kind of trendy. So she was like, well, I'll buy it and pretty much you know, she got it for like, really, like a really good deal. calls me five minutes later and she's like, hey, instead of moving to China, Do you want to be a partner in this agency with me and help me grow it? And, you know, of course, I've done some entrepreneurial stuff and had the entrepreneurial bug, you know, I would be an entrepreneur at some point didn't know, it'd be the first thing I did, and that it's something that I did for my whole life. So obviously, it is an opportunity I had to take. And I was like, amazing. Let's do it. And you know, the rest is history. So we started...
Eric Beer 5:20
How old were you at that time?
Jeff Brewer 5:22
I was 22.
Eric Beer 5:24
Wow. That's crazy!
Jeff Brewer 5:26
It was, it was weird going into a leadership role telling, you know, designers and developers who were like 40, and 35, like what was a 22-year-old. But I, I think the way I approached it that I think a lot of other family-owned businesses and or people who were younger in the family come into, like a leadership role earlier on are bred to be like, groomed to be in a leadership role is they, you know, they like ego kind of misguide them. And I was super humble. I was like, approach every kind of top leadership person on the team who did all the different things. I was like, hey, I want to be a sponge, like, I'm your equal, I'm not above you, I'm gonna learn from you. I'm gonna learn this business, like Teach me everything. No, I was asking them questions, trying to learn every aspect of what they did, and leaning to them as like a considerably airy or like an advisor to me to serve the client in the best way and told him how much I value them in their time. I take him out to lunch, like individually to pick their brain. I told him all the time, like, you're awesome, you're killing it, right? So they were like, this guy is really cool. Like, he's my biggest advocate in the company. And I think approaching it that way. Let me earn the respect of the people, as opposed to come in and say, Hey, like, my name is on the door. Now. Give me the respect. So I think that helped me. And I've always been like that. I've always been like a big learner, a big student, a big, you know, somebody who's a sponge and trying to learn everything I can. So I think that's probably the thing that that really helped at work. But during that, you know, we were trying to do full-service agency, right, trying to do everything to everyone. I worked with some really cool brands, some fortune 500 brands, and it was great. But in 2015, I was trying to solve the problem of Hey, for all my clients and doing these email marketing, warming the audience up campaign, and I'm paying my designer and developer a lot of money to build these landing pages of these funnels for me, like how do I reduce the cost of this, and this is about the exact same time that Russell was taken his show on the road for Dot Com Secrets book, his book launch, talking about funnels, and ClickFunnels, and then I went to the first ever ClickFunnels Funnel Hacking Live event. So learn more about this concept of funnels and Funnel Hacking Live. at that event, I ended up joining a certification program is one of the first 50 people to ever be certified by ClickFunnels to learn it, and right away, I was like this is it. This is the way that I build funnels for a low cost in in a fast, efficient time manner. And I pretty much you know, I think a year later I went to his next Funnel Hacking Live, which was in San Diego, and he made an offer for his inner circle mastermind, I joined that and upon joining it, I really realized, hey, there's some of the top marketers in the world. In this group, every single person has the same model. It's create content for free, create front-end funnels, have a course and have some type of scalable group coaching program. It's not a done-for-you model, right. It's a scalable, build a brand, build a personal brand and on the backbone of your content, attention marketing, convert 1% of your total audience to buying your membership course. And then a sending, you know 10% five or 10% of that corresponding audience to your group coaching offer and you can generate a multi seven-figure, eight-figure business on the backbone of a small team and just scaling your marketing efforts and your ad budget to acquire more attention using Joint Venture Partners etc. So I was like, Hey, this is what I need to do. In every single person. They became the category King or they would know they were known as the best at one thing, right? So whether it was Russell Brunson and funnels, whether it was Ezra Firestone in e-commerce, right, Billie Jean in YouTube ads, you know, Alex or Mozi? in launching gyms, right? Every single person was like Dean Holland in free plus shipping funnels, right. It's just, every single person was like trying to be known as that, that the best that one thing and I was like, that's it. Because if you're trying to be everything to everyone, there end up being nothing to know, and no one's gonna remember your name and remember, who you serve and how you serve them. So I was thinking like, Okay, I'm also so at the time join Jeff Walker's group. And I was learning about product launches and the Product Launch Formula. And I was like, I'm used to doing organic SEO and trying to influence that, you know, Google algorithm doing like the hardest things and digital marketing. Then I see this like front-end funnels and webinars and Russell and like, this Product Launch Formula process from Jeff Walker, who's helping all these beginners make all this money. I'm like, this is so much easier to use this new opportunity and you can help clients make revenue faster, instead of like waiting six months, you know, 369 months for your SEO campaign, the skill, your organic traffic, right. So I was like, this is the thing. So I started doing product launches for different entrepreneurs and customers and the first person I met. It was an owner of this guy who was partnered with Doug Polk and Doug Polk is one of the most famous professional poker players. And he was one of the first millennial poker players to start creating content on social media teaching other people how to play poker. And just he had so many people messaging him like, Hey, can you give me more content? Can you give me more advice on how do I create a career out of playing poker. So Doug was making 10s of millions for playing poker. And he got kind of this inner circle of a few other pros. And he's like, Guys, we can make 10s of millions teaching everyone everywhere all over the world how to play poker, and they kind of created the first online poker brand teaching everyone everywhere how to make you create a playing poker. And they had a membership at the time. And I approached one of the partners, just in a it was my girlfriend at the time, birthday, and her friend was, he was the husband of her, and I said, Hey, you know, tell me more about what you guys do. He's like, yeah, we have this membership. It's really cool. We have this community, this audience, it's great on social, but it's only doing x and revenue. And I'm like, Well, did you know that if you did a product launch in this system, and this way, you can get a percentage of your audience to purchase $1,000 course from you tomorrow? Would that be interesting to you? He's like, absolutely. You know, how do we learn more? And how do we do this? So less than three months later, they brought me on, and I said, Hey if I can help these guys do a launch, this can be the success story that kind of launches me in this x product launch expert path. So let me serve these guys in the deepest way. And I walk them through step by step how to do a launch. And we've launched $1,000 course for their internal audience with a very small face against men. And they had $305,000 in revenue come in in less than five days from that first launch. It was the most
Eric Beer 11:36
A webinar or what you send them to?
Jeff Brewer 11:38
Yeah, so it was that same is that the main core product launch system that I do is, you know, I combined Jeff Walker's Product Launch Formula, and Russell runs my iteration of kind of both of Russell's perfect webinars to replace that fourth sales video. And that's what we did. That's the product launch isn't that we put people through? And in that three to five courses, is generative change?
Eric Beer 12:00
What is the just explain to everybody what the Jeff Walker Launch Product is?
Jeff Brewer 12:05
Yeah, so it's pretty much essentially the big, you know, Jeff Walker created this way to launch called the Product Launch Formula, which essentially is a four-part video series. And in a world where things are changing every single day, and, you know, new platforms are coming out, he's been using this product launch system since 2005. And there's been over a million people to go through his free launch workshop, his clients, and students and community have generated over a billion dollars in sales, collectively using this model, but essentially, it's a four-part video series that you take people through, in the timeframe of 12 days, the first videos, the new opportunity video, we're explaining this is the new opportunity. This is my origin story. And this is why this new opportunity in this new vehicle can help you right, then you leave them on a cliffhanger, tell them what's next. And a few days later, you invite them to attend the second video in the in the free launch workshop or the online workshop series. And that second video is about the transformation. It's about how you took the new vehicle and you used it to create your own transformation. And then who were the other clients customers that you've helped also use your take your system, your framework to develop a transformation from them. It's really true, that new vehicle to be true, right, give that social proof. And then you say, Hey, if you're interested in how to get started with this, how to get these success stories, you have to attend the next video. In the next video three, that's the blueprint video, it's where I walk through the high-level outline and explain to you I make this become real, right, I explained to you the framework, the step by step system, how this all works. So this is the longest video with the most education in it right? So you pretty much you have a course if you have a framework, if you have some type of system, you're going to walk them through the high-level outline of it, you're not going to tell them how to do it, you're just going to show them what it is so that they see that it becomes real. And then in Jeff's fourth video, which is a sales video, you're going to deliver that ownership experience, you're going to create an irresistible offer for them. And you're gonna say, hey, for those of you who've gone through this workshop so far, and I've got an immense amount of value in a wondering how do I learn more from you, and become a part of your paid program and your paid community. I take what we learned here in 10x 100 exit in this digital course. And here's all the other bonuses you get when you join the course that crush other objections that they might have. And it's this much money and you have until Friday, you know, it's Monday You have until Friday to join. And then you go into a five-day opencart campaign we're gonna be doing q&a is different themes to crush objections and enroll people into your paid program. Right. And the cool thing about this is that it works really well. So for a lot of people, but on the flip side of this, what's the best type of launch mechanism debate? A lot of people in Russell's, you know, in our community with Russell, they use his perfect webinar framework, which is hey, let's get let's run ads to a lead magnet. And then when people are on the list, let's invite them to a webinar where we do a 90-minute webinar and then try to enroll people on that one webinar. Right and then maybe we're doing some front end funnels along the way that Either builds the list or has some front end paid funnels where we're building the list for free by taking the revenue we have on the front end and reinvesting it into our ad spend, or we're getting paid to then sell people into our core offer, right? So most people are in both communities. I mean, because I'm the only person in the world using both Russell's and Jeff's community. I found everyone in Jeff's is doing just smile and everyone in Russell's for the most part is doing Russell's. But what I found is they're making that decision based on how they prefer and like to deliver content or who in their inner circle respective communities is influenced them to do that, right, what is the expert they follow, most do, but what I found is that if you pick one over the other, you're automatically putting an artificial cap and ceiling, on the amount of customers you can bring in and revenue you can make. Because it's not about what you like, it's about how your, your avatar and your customers consume content for so for example, people who prefer the longer format, higher, you know, cinematography more, more movie like effect of the longer format videos, and their Product Launch Formula. Those are the people who like binge watching Netflix video, you know, seasons, they like consuming longer format YouTube videos. But on the other end of Russell, it's more of the impulse buyer, right, I'm gonna get on the webinar register, I'm gonna jump on and I'm this decide either I want this, I'm gonna buy it, and I'm gonna go through it, or I'm gonna have someone else on my team go through it and kind of pull out the golden nuggets framework consistent from it, and then incorporate it into our business. So that type of buyers more of like the impulse buyer, people that are scrolling through Facebook and Instagram quickly they stop they opt in and they put their email in for for a lead magnet, Rachel, there's different types of people who consume content in different ways and buy products in different ways. So I've always thought, why would I segregate or choose one over the other when it's about how people consume content and make a buying purchase, either being a longer format Product Launch Formula buyer or a front end funnel buyer or a webinar buyer, that's more of an impulse buyer. So what I did ever since the origin of me helping entrepreneurs do product launches, is I combined the two strategies together. So instead of on Jeff's way of really just running ads to lead magnets and investing to build a list and then having the single point of monetization be when you do the big launch, I'll roll out lead magnet funnels with upsells, right, so you can sub liquidate the ad spend of that investment to drive people to lead magnets, and or front end funnels like free plus shipping funnels. The biggest launching type of front end funnel I'm doing right now is the challenge launch. So I'm enrolling people into a 37 to $97 challenge where we haven't, you know, an average cart value of $75 to $100. And then you're having people pay you to then sell them your course right, so you're monetizing on the front end. And then if they don't buy on that challenge, you're inviting them to this longer format online launch workshop where they see the three pre-launch content videos. And then on the fourth video, instead of it being a pre-recorded sales video, I'll invite people on the best graduation training before the live graduation training that enrolls them into the program. And because it's live, more people attend, and because it's live is more genuine, and you get a greater amount of attendees and a greater amount of purchases, doing things like offering fast action bonuses, and things like that. And then I always believe that you're gonna have more people enrolling using the open cart strategy of only having a five day maybe seven day Max, I love five days, it's only what I always do, open cart where I pick a different theme of each day in opencart. To give people who are still consuming the content, a new bonus anyone announced bonus a different reason right? I'm the first few days you're gonna have your emotional buyers, right? So the biggest brand evangelists, the people who are buying on emotion purchase, right? Then you're gonna have on base three and four, your logical buyer. So like, I understand this is good, but I need to sleep on it, I need to understand what's the ROI? What am I going to make my money back? How much money am I going to make from this? Is this worth my time? Maybe I think the money is a no brainer. But is this worth my time to invest in this right? So you have to then we change the messaging from selling people emotionally to then selling people logically in explaining what the ROI is on this of their time in and money, right. And then the final day, we then transition into the urgency and scarcity closes. Right. So we've talked about what will it mean to have six months 12 months from now Your life is still the same? How will you lose out on that? You know what's going to how's it negatively going to impact if you lose out on that opportunity cost of taking action now, what is it going to mean for you if you have to keep moving forward on this journey alone without a coach without a mentor and without a community of other like minded individuals like you. So as you take them through this logical process that they move forward through, you're going to get different buyers with those emotional logical and then urgency and scarcity closes. And that's how we really maximize revenue, combining those two launch strategies and then having different themes that opencart and then there's a lot of different strategies you can do in between those bigger launches. But that's how I really have combined the two strategies and kind of made it my own iteration and starting the product launches are the top marketers in the world who were implementing these individual strategies on their own. For the last three years plus I've been taking you know golden nuggets from this guy golden nuggets from that woman and then building into this What I think is a next level, you know, proprietary product launch system. And that's how I hope and sort of my clients in the deepest way,
Eric Beer 20:07
A dream team of product launches the best of the best of everybody. Right?
Jeff Brewer 20:11
Yeah.
Eric Beer 20:12
That's cool. What, um, you were saying something about if they didn't take your offer, after the challenge, you would take them into what would that be? afterwards? You said like, is that a free like five day challenge? Or what is what is that?
Jeff Brewer 20:28
Yeah, so typically, that's, that's one way, I think you're seeing a lot of experts with these big audiences do these free five day seven day challenges. It's a cool model that I think everyone should test what I found, because I've done over 100 challenges up until this point, with different clients that either manager there my group coaching programs, etc. and help them do it live and then automate and evergreen, I've just seen it scale as a percentage, it's easier for like beginners, intermediates and experts to do a PE challenge. So a PE challenge and a longer duration. So I typically recommend people to do a PE challenge, where the front end of that challenge is anywhere from 37 to $97, to join the challenge, and then you're putting them in a paid 1421 or 30 day challenge, I skew toward the 1421. Because I think it's easy to keep people engaged for that long. But I really believe people who paid pay attention, right, we prioritize our time based on the things that we invest. So I think you get a lot of people, you get a lot more people to join a free challenge. But I think your content consumption and participation rates of those challenges go down. So that's what I mean, it's easier for like the people that have millions of people on their audience because of the numbers. But if you only have like 2550 100 people getting an A free challenge, if you're losing that many people by day five, you're not going to have a lot of people. And so that's why I think it's better to have you know, if you're getting in a smaller audience is better to have them paying because they pay attention, we're seeing less like attrition on a pay challenge. Yeah, that way, you can get people to pay then you can have upsells, right. So like, our average cart value is always in that, I would say $70 range is pretty typical. When you then upsell like a $47 upsell, 190 $7 upsell to maybe an order bump, right, then you're getting people to pay and best to be part of a community where you can deliver them a micro transformation in that short amount of time, they're then going to say, hey, this person believed in me more value for the lowest lowest cost I've ever invested or paid someone, and I'm getting their actual time to coach me in a group setting, which no one else ever does, in regards to your competitors, right? Most people that actually get your coaching, it has to be, you know, 10k Plus, even if it's for a longer duration of time, so you're getting more people paying attention, because you actually group coaching them everyday as a part of the challenge. And it's making it more likely that they're gonna get a result, right. So once you help them get that result, that transformation, and you're going to say, Hey, we're doing this live graduation training, which essentially is your webinar at the end. But that invites everyone who joined the challenge submitted a success story, you know, as participating and active getting their challenge badges for doing activities. And the big thing I do with each day of the challenges, I'll go live for, you know, anywhere from 10 minutes, 30 minutes, typically, it could be longer if you want. And I'll I'll teach something, and then I'll say, hey, based on what I taught you, here's the action, here's the assignment for you to then go and do. And then after you complete this assignment, come back and prove that you completed it. And then you'll get your challenge participation badge for this day's activity, right. And then once you do that, you're gamifying it to get more people being not just consumers of content, but they're interacting, they're in momentum, and they're executing on the strategies you're teaching them, that's bringing them closer and closer to actually achieving a transformation. So where most marketers and entrepreneurs are just talking at people, this makes it like, Hey, we're getting involved and actually taking action as a community, day by day. Now you're in momentum, because I got you to take action day one and day two, and you're 1000 times more likely to get to day 14. Having done day one and twos work than just saying, hey, consume this content in two weeks check back and hopefully, you'll, you'll want to invest in the next thing. So then I'll invite them to the lab graduation training on that lab graduation training, I'll make them an offer to then invite them to become a part of our core offer, which is normally the course the mastermind it could be a group coaching as well. And then if they don't buy, right, then I'll then potentially down sell them into the next challenge that we're going to do the next month, the next two months. And I equate this to saying, hey, when you join a membership, they always give you a free personal training session. And just because you don't after the free personal training session, want to invest in the personal trainer, doesn't mean you want to cancel your membership, right? So we actually get a lot of people who will down sell into buying another digital product or who will join the challenge the very next month, because just the same reason that they joined, it's the best bang for the buck thing we offer. It's just like that in the next challenge. Maybe they didn't complete all the assignments, right? There's an abundance of reasons that they would join again, maybe they don't have the budget to invest whatever it is, you could still do that as a down sell. And then you have more that challenge and out becomes worth even more to you and you could even do things like refer a friend programs or it's like hey, if you prefer Three people that say you brought your challenges free, right? So you kind of have that like bio growth hacking element to it where you can have your your challenges because your soldiers in your army that then go and win the battle for you and bring more of their friends, family colleagues into your challenge, which is really, really cool. But yeah, what I do what I think a lot of people don't, as I'll lead with the challenge launch, because it's the easiest to do the least financial investment in terms of asset creation for the launch, and the fastest to implement. And I think it has the most like viral element of getting the most people on that are going to pay to pay attention. And then if they don't buy then either the upsell to the core offer or the down sell to the next challenge. I'll then you know, put them in a sequence where I then will invite them to my free online workshop, which will be the bigger launch, which is the three pre launch content videos with the webinar with the five day open cart that sells them that same core offer but with a unique pre frame, right. So there's people who love just consuming content, there's people who love participating, paying to participate in challenges. But if you only do one pre frame, and that's it, you're always going to have only the people you're bringing in that are new to your audience that want that specific product. So the same way that we all that I was talking about how you pick one launch mechanism of Product Launch Formula over the the webinar, the same exists in different pre frames. So that's a big thing I'll do when I like merge and stack launches is I'll just split test different pre frames in front ends to get people into that same core presentation that sells them to the same core offer. And now you're hitting people on your list, buying the same product, because you just introduce a different pre frame, as opposed to only getting new people on your list who want your same existing thing. That's why you see a lot of people who start they'll make revenue, they'll kind of plateau. Because they'll say like, they're just trying to do the same thing to the same people over and over again, instead of split testing different pre frames. And I found that, that allows people to merge stack launches and scale in any unique way that they haven't been able to show you just ultimately selling the same thing, but you're taking a different angle on it to the same group of people. Yeah, you're warming them up in a different way. And it's kind of like, I might have gotten that person in the first challenge launch from zero to 75%. Whereas most entrepreneurs and marketers will just say that person is on a buyer, I'm gonna put it back on the house list and just keep, like warming them up with new content. But that actually is your warmest prospect, right? So I'm a big believer of the fact that it's 70% easier to sell an existing customer than it is to go acquire and sell a new one. So why not try to get that person from 75% to 100 and the next launch, then try to go get new people at zero to 100. Right? So...
Eric Beer 27:40
How many emails do you send to your list in a month? You said your house list? And then there's a sequence? If what happens? Do they end up being on the general house list? And if they opted into two challenges? Are they in three different sequences at that point?
Jeff Brewer 27:54
No you... So the house list is for like just the non buyers who don't take any upsell or down sell after a sequence is over. And then when you initiate a new launch, like pre frame or warm up, you can give the opportunity for that houseless to like re opt into that pre launch sequence, right? So you see, you see a bunch of marketers who were like, hey, if you don't want to receive content about this specific topic, you can unsubscribe here, it doesn't unsubscribe me from the full list, it just unsubscribes you from like, the pre launch in content about that one type of product launch. Right. So I think it's you know, a lot of people to I'll say, like I've had, I've had clients that came to me, and they're like, yeah, we we run ads to this lead magnet. And then when they get on our list, we don't email them until three months or six months later when we do this launch. But it's like, Hey, you didn't realize that you just let that person who was one go cold, instead of putting them in a 30 day, 60 day, 90 day, even 120 day automated evergreen sequence where you're just on evergreen, inviting them to join some type of new pre frame or pre launch that sells them into your core offer. Or even like I'm a big believer, too, that your buyers and your audience, people have different levels of desire, right. And what I mean by that is some people desire money over time. So if you design money over time, you would rather invest less money, save more money in less, invest less money now and then invest more time to reach that desired transformation. So for that person, but do it yourself course is going to be perfect because it's probably the least expensive thing you can offer. That's gonna give it your entire framework to them, right? They just get to go through the videos on their own in a private community, then there are those you know, you me people who join masterminds, we would rather invest we have a greater level of desire and our time than money so we would rather invest more money now to reduce our time that it takes to hit the transformation and or pay someone so that we don't waste time stepping in the same landmines that they did, right. Russell's the pioneer in his industry. He has All the arrows in his back. That's why a lot of people in his program have reached even results close to him or surpassing him, in some ways, in a shorter timeframe that he has. So in theory, every entrepreneur, every expert, your students should be more successful than you are some of them, because you're allowing them to reduce the timeframe to success based on everything you've done and found that works and doesn't work in the past. So a lot of people who value their time over money will invest in the high ticket program. Right right away. So for both Jeff and Russell, I invested in Russell's book, his certification, which was relatively inexpensive the first time and then I joined his, his, you know, $25,000, which a year, which is now a $50,000, a year mastermind. And I, you know, with everything has invested over 100,000, within the last five years, same thing with Jeff Walker, right. I've never bought his Product Launch Formula course, he was an affiliate for Jeff. And he was the number one affiliate for his.com secrets book. And I was like, Who is this guy who's, you know, older, right on stage at Russell's event in Vegas, and he was the number one affiliate in this newer digital marketing world. Like who has the longest standing product launch system that helps entrepreneurs grow and launch the business, I got to know who this guy is not in his list. A couple months later, he sold me a $97.05 $100, whatever was ticket to his live event, I went to his live event, I saw all these beginners talking about how they were making hundreds of 1000s of dollars, like real easily real quick, and I'm like, these guys can do it, I can do it. And right away, I joined his his $12,000 group coaching program, and I'm, you know, on the list to join his his highest level mastermind, which no one ever leaves. But you know, I've been an app for five years, too, right. So if they were only marketing their course to me, right, and not making an opportunity to have people who bought the course to come to a virtual event, or live event or sell a ticket to that separately, or try to get people who were in their sequence on to apply, get on a phone call, and then get sold into their group coaching program, you're leaving so much money on the table. And even more importantly than that, you're able to serve your highest ticket community on a deeper level at a greater percentage of the overall group, then your course because they're paying you for greater attention. So as a as a percentage of that audience, you're gonna get more success stories from your highest Ticket program than you will from your course. Right. So any impact in purpose driven entrepreneur, the way that you can only give the greatest impacts, and have people impacted them at their deepest purpose level is through a high high ticket program. So that's why I found it's, you know, you need to have your full value added builds out.
Eric Beer 32:43
Yeah, you were mentioning how people don't follow up on email. I used to run a big list management company. And we used to trigger these autoresponders. And we got to a point where we triggered so many autoresponders that the API's were shutting down the ESP. So we had to change it from real time to doing it every three minutes in batches. And the difference in the performance from three minutes to real time was astronomical. So to your point of what you're saying, and that's just we're talking about, like literally triggering an email autoresponder real time reading your inbox Five minutes later doing it again, and then the performance went down. The point is like people's attention span, you have it, you got to take advantage of it immediately. If you're waiting, if you're waiting 30 to 60 days, the amount of emails and things that are doing the amount of impressions. I mean, it's like you're wasting your money. That's, uh, that's like, when I'm when I'm working with advertisers and generating leads, you know, I always, I always tell people, because you were saying, like, you could do this, right? It's a skill set, right? And I could generate a lead for you and I can generate lead for somebody else. And if you know how to close and this guy doesn't, it's the same exact lead this client I fail with you are kicking butt, right? It is really all about your partnership and understanding how to go about working that lead. Once you get it. Right, you make some really good points there. So, you know, don't hold on to that. Let that list is everything you got. You got to keep just communicating with these people.
Jeff Brewer 34:11
Your list is everything. And I think people forget that and they forget, hey, if you in 2012 had a Facebook page that had 2 million followers in 2013, you know, you were in 2012 used to be able to reach all those people in 2013 and 2015. You could reach none of them, right because Facebook became a pay to play space where you're organically reaching less than 1% of your audience without the organic posts you're making. So if you're not trying to siphon your audience on the social platforms where when they launched that you get great organic following and a great organic reach a lot tik tok now, Clubhouse podcasts, still YouTube SEO if you're if you're doing it right even LinkedIn organic there's actually like the biggest boom now of organic reach in the market since Facebook early Facebook like 2012. And I think even groups is still kind of the new resurgence of Facebook in the messenger as well if you're keeping people within that 24 hour window. But digressing back, if you are not trying to incentivize financially or through content, your audience to then give you their email, get on your messenger list, get on your SMS text list, you are leaving yourself open to the platform, taking away your audience overnight, when they move it from an organic to a pay to play space, which every platform does, because they raise money, they have shareholders, and they have a fiduciary duty to the shareholders to deliver revenue and drive valuation of the business, right. So it's just, even if these companies want to start out only being like organic, they're eventually pressured into driving a profit for their investors. So it's up to you to be the smart marketer, because your email list your SMS list, it's the only real thing in your business online, that you own yourself, right? No one can take it from you. And that's the intellectual property that joined back to like driving valuation your business. If someone wants to acquire, you require your assets, and you have an email list of 50,000 people or someone who has an email list of 5000 people, your company is worth way more to that to that potential acquisition partner, than the person with 5000 people. And I think the biggest mistake people make is they're like, Oh, I ran ads got that lead for $3 per lead, and then don't want them up, warm them up or keep them warmed up. It's like that isn't a lead. That's just something you it's invested $3 in threw away. And most people like the amount of free content that's out there is amazing today, and it's making it more like it's not about information. It's more about insights now. So I think people care less about like, consuming really long formats of content. And it's more like, how do you save me time by giving me the things I need to make a better business decision, which is time is our most valuable asset. And you look at all these companies like, you know, Uber, podcasts, etc. Like, the reason why they're blowing up is because they figured out a way to deliver the end user a greater transformation and save them time at Airbnb, a lot of secondary markets, right? It's the same thing. They're, they're not saving people as much money as much as they're saving them time. And that's the as busy as people aren't as much content there is people value time more today than they ever have. So it's like, how do you give people the insights over the information to save them time to allow them to make the best decision for themselves and for their business as possible. And then if you do that at a level that's deeper than any other one, online or in your business and continue to add value, warm them up over time, they're eventually going to want to do business with you instead of someone else. So don't forget to warm people up, develop that long term relationship with them. And I've seen a lot of my clients, you know, people come into their high ticket program, three months, six months, nine months down the road, because they've continued to warm them up First, and most marketers and entrepreneurs are like, Oh, they didn't buy from me in the first few weeks. Let's start messaging them. Right?
Eric Beer 38:01
Right. Right. People feel like they're, they're afraid to communicate with these people. They're gonna unsubscribe. Wow, man, my brain is like, the amount of information you just gave is like, unbelievable, like, someone should send money and I should just send checks to you. So why don't you tell everybody how they can get in touch with you if they want to work with you.
Jeff Brewer 38:21
So I now am putting out a video per day on social it's kind of my new initiative I'm super excited about but I'm about to get like really active on posting just a lot of you know, my best working remote. Everything I'm talking about. It's something I'm preaching now. So it's I tried to put out as the best valuable content I can in every format. So I'm putting out a video every day. So I would say follow me on Instagram @Jeff_Brewer. And then at the time of this launching, I have a brand new personal site that's going to be live at jefferybrewer.com that's kind of like the hub it talks about all the different destinations where I put out content and all the different like free things I'm putting out more in depth guides I can talk about things in more detail like the challenge launch. I'm spending a lot of time now on Clubhouse I think that's the new just like podcasts are blown up I think it's real hot platform that a lot of people can come on and you know educate particularly get a lot of value from and I'm going to be spending a lot of time there in doing my own club and like inviting a lot of other top product launch experts to share product launch strategies there but yeah, I would say follow me on Instagram because you will see the video per day on Jeff_Brewer and then my personal site jeffreybrewer.com will kind of be that all Jeff Brewer content hub for you moving forward.
Eric Beer 39:37
Awesome. Yeah, Clubhouse man, that is a... That's a crazy animal, huh? Like, I haven't really been using it that much. But I see everybody in the in the mastermind saying how unbelievable it is. It's really just, you know, could we be hypothetically, doing Clubhouse right now while we're talking?
Jeff Brewer 39:54
Yeah, I mean, that's one thing I'm going to start doing actually is I'm going to, you know, be simultaneously like Doing recording podcasts and streaming it on there. I think right now we're seeing a lot of people do is kind of doing these like live q&a panels doing q&a, like a bigger moderator crew, and then bringing some people from the audience up to ask questions. And so it's a lot of real time content. But I think the same way they're able to like leverage your time and add value in podcasts and focus on like one individual and go deeper with fewer people. I think clearpass allows you to go like not as deep with a lot of people who were on moderated speakers on your panel and then you can you know, you can focus on a few mods or do you know, go deep with one person for 10 minutes then go deep with the next person for 10? I think that's cool. But yeah, I think you're gonna see the the format's that have worked really well on podcast start coming over to Clubhouse in a deeper way. Because so many people right now, they're trying to be early adopters. There's 2 million at this at the time of this podcast, Andreessen Horowitz just came in for the first big round being the lead investor along with 180 other private investors investing 100 million dollars at a billion-dollar valuation into the platform. And one thing that they're going to be seeing is how do we grow the platform from 2 million active listeners and followers per week to, you know, 10 2200, they have, they're still only on iOS, they haven't even launched on Android. So this is really just the beginning. So if you're listening and I'm not in Clubhouse, I would highly encourage you to be an early adopter there. And that's a big thing for me is I never was a first-mover shaker early adopter on like YouTube, Facebook, Instagram, anything. So I know that I've seen this before. And I'm definitely not going to lose out on the opportunity for it now. And then what I found too, about Clubhouses, like I've been on for about 10 days, and I've gotten 7000 followers in just 10 days.
Eric Beer 41:45
Wow, How'd you do that? That's crazy!
Jeff Brewer 41:47
Just really, it's about adding value to other moderators and speakers who were in the room. And I have a whole guide on kind of like, Hey, here's the road, I took the 10,000 followers, once I get there, then I'm gonna roll out for free. But it's really about adding value when you get your shot to the moderators and the speakers and get them to continue to invite you up to be one of the experts on their panel for the rooms that they open consistently. And then most people in the audience will follow the entire speaker moderator panel in like adding value. So when you get your shot to speak, like delivering value, because there's always a way higher proportion of people because you also there's no way to like like comment share, once the room is ends, it's that contents gone. So a lot of the call to action now is like you also can't just message people there. So but you can connect your Instagram. So a lot of it is like trying to get people to direct message you to either get something else for free or add value to them. So I've had with the 7000 people that I've had follow me and Clubhouse at the time of this interview, I had 1000 of those people follow me on Instagram, and in hundreds of them direct messaged me, like ask a follow-up questions, say how much how appreciative they were with the value they got, or, you know, in some cases, offer them a free asset that I followed up with them when they direct message me. So it's about, you know, again, like I was saying, add value on these new platforms where you have great organic reach as you can, and then try to siphon them on to other audiences where you own that, you know, that audience and that attention there?
Eric Beer 43:13
How do you become a moderator if you don't have a network of people?
Jeff Brewer 43:18
So as you can start your own room, right? Be I think you could try and like what I did was I just saw people that I followed and knew that had other rooms who knew me? And they brought me up to either ask a question or be a speaker. And then when I got my shot, I added a bunch of awesome value and kind of over-indexed myself as somebody who adds value and has great responses to the audience question. So that way, even though the one person who knew me out of 20, moderators and speakers on the panel, all other 19 people who moderate and have their own rooms at different times in different days, they're like, hey, that guy has fired. Yeah, so when I come came in their rooms, they would bring me up. So it's kind of like and you also can start your own rooms as a moderator. So if you just have people follow you, and you're speaking in other people's rooms, you then never start your own club and moderate your own rooms. There's no way for you to go like more detail with your audience. So that's the biggest thing. It's like, try to add value when you can on bigger people's audiences or stages. If it starts with you just asking a question and kind of adding value as you're asking your question, do it if you can dm someone on Instagram and try to lead with value for them. But then the next time you come in their room, they recognize you right and they came up so lead with value is the short answer. But once you build your audience start showing up more and the more consistent you are with showing up, the more these moderators and speakers will recognize you and bring you up. So when you get your shot, shoot your shot and add value so people remember you right, you never get a second chance to make a first impression. So take advantage of that first impression. But then once you start growing your audience do like moderate your own rooms and invite other speakers that do this. other rooms that come into yours and leverage your audience on other platforms, right? So if you have an email list messenger lists, other social following, you can share the link to rooms, you're going to start in advance to promote that room to get people to come on and follow you there. Right? So I think those are the two ways I would really do it. But you'll always see the top moderators and speakers who were the ones like leading the room, asking the questions to the other modern speakers, they'll always get a disproportionate amount of followers compared to everyone else. So like, the one or two months are leading the q&a, leading the room talking pretty much a lot. They get pretty much everyone that comes in and out of the room to follow them. And then the rest of the Mazda speakers will get people to follow who's following everyone, but they'll only get people to follow them at scale when they talked and give value.
Eric Beer 45:46
Yeah. Sounds like it's just like the same. Same concept, different format for like when people are doing those summits, and getting everybody together and just kind of letting them mail each of their platforms and scrolling all this value together. And personally, I think sets it up.
Jeff Brewer 46:01
I think the model is not new, because it's been done with like teleconferences and virtual summits before just like you said, but the ability like the timing, right timing is everything, the timing and like the addictiveness of it and like the access so randomly, I'll go into a room with some people that are awesome, not know what's going to be something big or crazy. 30 minutes later, you have great cartoon Daymond, John Tai Lopez Lewis Howes in there. And you're like, What just happened? Right? So there's not a lot of big... And I'm speaking just an entrepreneurship space, because that's the space that I play. There's not a lot of like big people doing a lot of it. Like there's less competition, I would say, for these bigger... So if you go in there and you start creating content, and you kind of suck... That's the other thing, too is, there'll be people who in there who have like 30-40,000 followers, where it's like relatively to everyone else, right now, the time of this interview, that's a lot. But they'll have rooms where it's like only 50 or 100 people. So there's... And then there's people who like started a room. But there's a great kind of clickbait headline that has a lot of other value and good speakers in there with people who had 100 or 500 or 1000 followers who started the room, but it kind of a bunch of people started joining. And then people stayed and the more people that stay, the longer the game goes on. And the more people that join the continue to stay, the bigger the room gets, right. So there's been people that have a lot of followers that have small rooms. And there's been people that have small followers that have really big rooms because the room kind of went viral. So it's less about the numbers on this platform, which I think is really cool than other platforms, right? Where it's kind of like you have to get big to actually accumulate a large audience. They are like, had a video that goes viral and TickTock or something like that. So definitely it's the space I recommend everyone to try and over-index their time in now.
Eric Beer 47:53
Yeah, cool. Man, I could talk to you for hours. Holy moly, man. You are awesome. Jeff Moore. Appreciate you coming on here. You guys got a treat with this guy? Man. You're cool. So Alright, buddy. I'm gonna let you go man because...
Jeff Brewer 48:08
Thank you so much for having me on, Guys, this is Eric. Eric is my man, listen to everything when he says I'm super appreciative and super grateful to come on and add value to your community. And hope you guys can circle back stay in touch with me shoot me a direct message on Instagram to an adjunct room and let me know what your biggest takeaway from this interview was and I love to hear from you guys and see what the number one thing that you got most out of it was and I'm really active on my DMs and check them all the time. So I'd love to see what everyone's feedback and thoughts of it were. So Eric, thanks again for having me, man. And I really appreciate it. And we...
Eric Beer 48:39
Totally, I gotta tell you... The intro here has got to be - bring a notebook and a few pencils and a sharpener because the amount of value bombs you just dropped here is unbelievable. This is amazing. Really. Thanks again. Appreciate it.
Jeff Brewer 48:53
Awesome, man. Thank you so much for having me. I hope everyone has an awesome day, week, month, and a great 2021. So thanks everyone. Yeah.
Eric Beer 49:02
Would you like to learn how I built my business using other people's money? If so, then go join my 21-day challenge at performancemarketersecrets.com. I look forward to meeting you and welcome you into my family. And remember, results don't lie, but the people who don't have any tier. Thanks for listening.