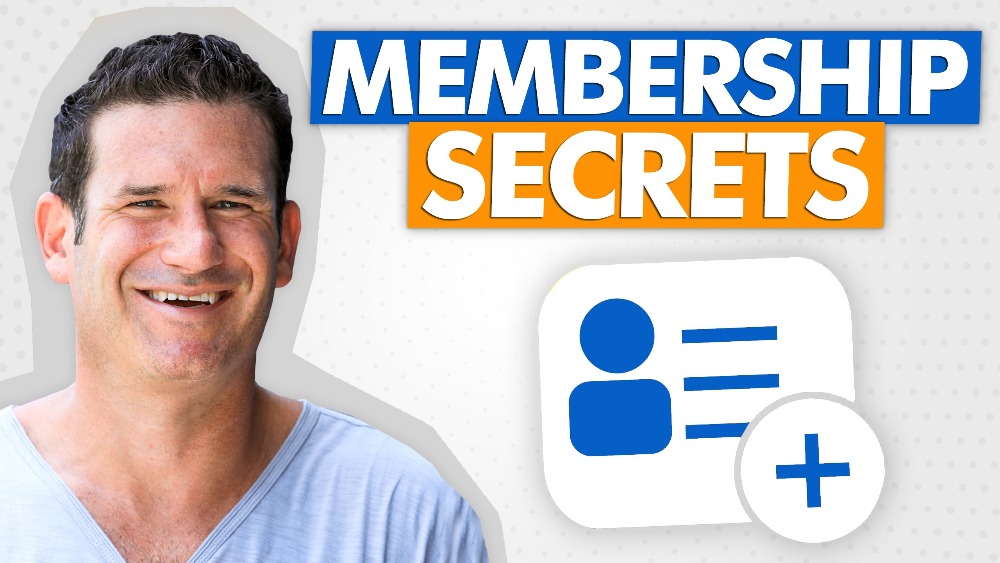 05 May

Membership Secrets With Stu McLaren

For this week's episode of the Performance Marketer Podcast, I had the pleasure of welcoming Stu McLaren, an expert in the field of creating recurring revenue with online memberships.

Stu was one of the co-founders of WishList Member, the world's leading membership platform for WordPress. Throughout his career, he has developed a unique perspective about the membership and subscription markets. And the insights he's pulled together over the years apply to virtually every market out there.




Today, he's going to share some of the top membership secrets out there, go over a bunch of examples, and solve problems on the go. This conversation is a masterclass on membership, and I was delighted to be a part of it. Trust me – you do not want to miss this episode.

At the moment, the applications for Stu's free workshop on membership are still open. It's called the TRIBE Workshop, it's held once per year, and there's not much time left, so make sure to check it out right now!

👉 Save a Spot at the TRIBE Workshop for FREE
Top 3 Home Run Indicators for a Membership
Every business stands to benefit from a membership program. However, some may find it easier than others to prepare unique, engaging offers. But if you're willing to get creative – there are no limits to what you can accomplish.
Stu shared the three major indicators that can help you determine if your market is compatible with a recurring membership model or not.
1 – Are You Solving an Ongoing Problem?
Some problems require ongoing investments, and any attempts to fix them would require long-term engagement. If your offer is helping people deal with this kind of problem (e.g., weight loss), then there's a strong chance an online membership model is an excellent idea for your business.
2 – Are You Teaching People a New Skill?
The self-education industry is at an all-time high. Plus, with the current pandemic and self-isolation measures, people are more determined than ever to use this time to better themselves by learning. Since there are different levels of mastery to acquiring any skill, you can use that to tailor your offer in a way that encourages people to sign up for a recurring membership.  
"In our communities, memberships are booming. Because people are hungry to learn." – Stu McLaren
3 – Are You Creating Convenience for People?
If you can help someone avoid a hassle, save time, or make their lives easier in any way – why wouldn't they want to be a recurring customer? Creating a membership program for a service that provides customers convenience makes it a no-brainer for them, and it's something you should definitely cash in on.
The Benefits of Implementing Recurring Monthly Memberships to Your Business
There are plenty of reasons why you should focus on turning one-time buyers into recurring customers via online membership.
For starters, you're creating guarantees of future business, and in doing so, you're protecting it. And this now more important than ever. With the unpredictable day-to-day changes in the market caused by the pandemic, having a membership business model could be the difference between remaining profitable and having to close up shop.
Another benefit of membership programs is that they incentivize additional purchases. Take Burger King, for example. They offer a $5 monthly membership that gets you one free coffee per day. Stretched out over 30 days, the price of each cup costs only 17 cents. But the whole point of the deal is to get customers through the door. And when they do, chances are they'll buy other items as well.
Lastly, in creating a membership program, you're betting on something inherently human. 
"We know that people strive for two things – love and status." – Eric Beer
Selling memberships is not just about creating added value for your customers, but it's also about making them feel valued. Creating a VIP-type monthly program will enable you to build rapport and establish long-term relationships with your customers.
What Is the Free TRIBE Membership Workshop All About?
Stu organizes TRIBE workshops once a year, where he teaches thousands of people about the power of memberships. And he has structured them in a way that allows him to guide attendees point by point to help them develop their own membership strategy.
First, he helps you identify if your market is compatible with a recurring membership model. After that, he goes over different types of memberships and teaches you how to pick one that is suitable for your business and offer.
The second part of the workshop is all about creating a success path. It's a crucial component of every successful membership model, but even seasoned pros sometimes overlook it.
Part three walks you through the five key areas, including your foundation strategy, content strategy, marketing strategy, retention strategy, and your growth strategy. At the end of the day, what Stu is showing you here is how to find people, how to serve them, and, most importantly, how to keep them.
"The membership game is all about… keeping people happy". – Stu McLaren
As I mentioned, the applications for the TRIBE Workshop will be open for just a little while longer, so make sure to check it out right now and save your spot!
👉 Save a Spot at the TRIBE Workshop for FREE
Listener Love…
Warning! ⚠️

by Boz46747 from United States

Wear a helmet when you listen to the podcast. Eric will leave you feeling like you can run through brick walls. In all seriousness, this podcast is the absolute best!

Awesome

by Nevareze William from United States

Very interesting show.

FANTASTIC!!!

by cucklord101 from United States

My life changed after I discovered this podcast, 100% the number one on the platform.

Great Podcast !!

by Olivia Cousta from United States

I listen several days a week and am excited to have taken action with my first few steps. Thanks Eric!

Best Podcast

by faz12548 from United States

Thanks for everything. This show has been an amazing resource.

My favorite podcast

by Alison Riah from United States

This is my favorite podcast. I look forward to every episode and share it with everyone I know.

Awesome!!

by Brads Hook from United States

Love this show

Inspiring

by stevie h b from United States

Eric's energy, wisdom and experience get me pumped up to do more.

Eric changed my life, thank you

by Nicole Aliba from United States

Anyone who has a chance to listen, do it. Subscribe, download and listen. Eric is authentic, he truly cares about the people he comes in contact with. I know eric, I've tried to be around him and learn from him any chance I get. He's been successful in every stage of his life. Getting the opportunity to hear from him direct, how he thinks, how he goes about achieving his success, his strategies, his tactics, his outlook on life. I'm thankful he started this podcast and I'm thankful I get the chance to learn from him. I have no doubt the lessons he delivers each and every episode will help me continue to be succession my journey. Thank You Eric for making an impact on my life and making me realize I'm capable of so much more than I ever realized. Your support fuels my success. Good luck with the podcast!

Wholly Cow!!! Eric Is The Real Deal!!

by Supreme Dragon Slayer 69 from United States

Seriously.. Affiliate Marketing has been around for a LONG time.. However, it's always been associated with scams, and fly by night marketing tactics that are shady l, illegal or unethical at best. Until now. Eric runs his entire business (which is ultra successful btw) the same way he runs his life.. On pure integrity. Finally, a podcast that is teaching Affiliate Marketing based on being.. Ethical and Transparent. But the best part? This podcast is soooo much more than just Affiliate Marketing.. it's about running a successful business and successful life. So far Episode 3 is my favorite and I look fwd to each episode as soon as it comes out. Highly recommend this to anyone, regardless of where they are in their business!! Straight Gold Beb!

Dave

by Rothbone from United States

One of the best podcasts in a long time. Very insightful, had me at the first 2 minutes kept me for entire podcast. I am a entrepreneur myself and found it very interesting.

Eric Beer is a genius.

by Raera29 from United States

I've only briefly met Eric - but listening to his podcast (as well as his YouTube videos) - it's clear to me that he has an in depth understanding of how marketing should work. Brilliant podcast!!!

Beer podcast

by Bghbhhhggghugyhjjgtjporws from United States

So excited to get more info from Eric Beer to help further my career.

Great Stuff

by Dr TBA from United States

I have been a business owner and entrepreneur for over 25 yrs. I found the information both interesting and informative. I am a fan! Dr Todd Askenas

This dude is the real deal...

by gossjoh1 from United States

I'm in the internet marketing space and have heard about Eric Beer from other entrepreneurs and it's always about how much he crushes it. Over $100,000,000 in revenue... no joke. I had the good fortune to meet him this weekend at an event and he couldn't be more humble and genuine. Just listened to the first episode and it is awesome! Can't wait to learn and grow from you Eric and thanks for sharing your wisdom and experience with all of us!!

Awesome

by Archmatic from United States

Thank you Eric for all your motivation and confidence! This is a must listen. Eric is always on his game and ready for a challenge!!!'

Informative and relatable

by srg1113 from United States

I've listened to the first two episodes and found them useful and entertaining. Eric gives a lot of background to how he got to where he is in his career and the challenges he encountered and overcame along the way. He also shares his knowledge in a way that's easy to understand and would be useful both to people new to Internet marketing, and to people like myself who have some experience but are looking to expand their knowledge. I'm subscribed and looking forward to future episodes.

Outstanding!!!!

by casino exec from United States

This is an excellent podcast for entrepreneurs in any industry. Hearing Eric interview and discuss proven success stories is like getting a motivational fix within 24 minutes. Can't wait for the next episode!!!

High Five

by chris drazek from United States

This is good! Guy is well known industry veteran. In the age where it's hard to get 15 minutes with someone like that on the phone, these episodes have a permanent placeholder on my calendar. Well done and keep up the good work!

Amazing

by Rtfdghf from United States

Walked into the office inspired and motivated! Great listen.

Just discovered a GOLDMINE of information!

by ericamerica from United States

This is next-level marketing that EVERYONE needs to know. SO much value here! This is information people would be willing to pay BIG $$$$$$ to have, and he's just laying it all out here.

Insightful

by lonestar1818 from United States

Incredible insights from one of the best!

Entrepreneurial Gold

by girlfriendwithnutallergy from United States

This podcast is amazing an a must have for anyone looking to take their entrepreneurial endeavors to the next level. Whether you are interested in becoming involved in affiliate marketing, or are just a student of life looking to learn about one of the largest and least discussed industries, this podcast is for you. Eric makes his passion for entrepreneurship available to all with this podcast, and for that reason it is a must listen.

Knowledge bombs!

by Sheree Trask from United States

Eric is a wealth of knowledge, not to mention, incredibly humble! He's got the proof to show that determination, grit and perseverance pay off... and I love that he's shedding light on the world of performance (affiliate) marketing with tangible tools anyone at any point in their online journey can apply. Thanks for all you do, Eric! Excited for more!!

As Smart As they Come

by Lgoldberg1976 from United States

Eric Beer is a tremendous listen. His story telling and motivation have already driven me to work harder. Can't wait to hear what he has to say next.

Great content

by Sensei Victoria Whitfield from United States

Eric is a great guy, gives from the heart and is a wealth of powerful, profit-positive information. Rock on, brother!

So informative and easy to understand

by bergbusiness from United States

If you are serious about starting in this business this is the podcast to help kickstart your career. I highly recommend tuning in.

Powerful

by reebcire from United States

Never realized how mich money performance marketers make without taking much risk. Get excited to learn more

Eric Nailed It...

by Mark Duke from United States

You do not want to miss out on this podcast. Eric is absolutely brilliant at his craft. A MUST listen or anyone who is wanting to ethically up their game in the business + affiliate marketing space. Cheers!

I loved this podcast!

by DPG...123 from United States

I just listened to this not knowing what to expect and it was FANTASTIC! I am hooked and can't wait for more episodes. Looking forward to learning a ton from Eric 🙂

Eric's trainings will up-level your life!

by SwayBuckley from United States

Eric's level of transparency and REAL value is not only rare but transformative! Don't sleep! He's the real deal!

Got me hooked from the start

by Doc bus from United States

Hearing Eric's story and why he is looking to share his knowledge of starting a business was so motivational. Looking forward to hear what he comes out with next. Hoping I can use his coaching to take my own life and business goals/ideas to the next level.

Eric is a genius!

by Golden Oracle Ministries from United States

I had the pleasure of meeting Eric Beer in a high level mastermind that we are both a part of. I must say that every time he opens his mouth marketing gold falls out! I've made millions both online and offline, so when I hear someone talking about marketing I'm not usually that impressed, but with Eric I'm beyond impressed. I'm blown away!!! Learn from Eric, do what he say and watch your business grow.

Excellent

by JLRPS22 from United States

Very motivational!

Awesome content

by NickTheGreek83 from United States

I don't normally write reviews but this is a must listen for anyone considering starting a business. Eric thank you for taking the time to give away some of your secrets! Look forward to future podcasts.

Legend!

by Daxy111 from United States

SO excited for your content to come. You're advice and results is authentic which is rare now a days!

*****

by acrygvbh from United States

Fantastic relevant info !!!

The real deal

by Erin_Verb7 from United States

Eric Beer is one of the smartest media buying minds I know. Take this chance to learn everything you can about affiliate marketing from him. He will teach you an ethical way to make your life and your family's lives better through affiliate marketing. He's the real deal.

Genius marketing knowledge

by Nick349731 from United States

I can't wait to continue to learn rom Eric! So skilled and such a genuinely good person too. Keep putting out the great information Eric!

Great story and great info

by R-Rot from United States

This was a very interesting podcast. It was honest, informative and motivational. Eric has a great story that, everyone who is interested in starting a business, should listen to. Highly recommend!

Amazing

by Billion Dollar Cowboy from United States

I can't wait to learn more!! So so good!!

Awesome

by Eric X 2 from United States

Eric Really enjoyed listening to this. Keep up the great work!!!

Let's Market!

by hjdvikes from United States

As someone who has networked and marketed more over the past 2 years than ever before in my career, this Podcast is an absolute MUST listen for me. Eric makes it easy to listen, learn and apply.

Invaluable information!!

by lpro1111 from United States

Invaluable information. Can't wait to dive in.

Great information, tons of useful tips

by jonnygal77 from United States

These are great, so much useful information that I can use immediately and effectively. Thanks Eric

Great listen

by Xtra Medium from United States

I love listening to Eric's podcast on my way to work. Looking forward to applying some of these principles to my career.

Definitely worth a listen

by SBS776 from United States

I have had the pleasure of working with Eric and this podcast is a roadmap to success. He is a professional with years of experience and delivers results

Game Changer

by Jay Heydt from United States

Eric Beer is a game changer for your business. I had the privilege over the summer of taking an online marketing class with him. The daily interaction with Eric made me believe anything was possible as well as opened my eyes to an entire world that is online that I was missing. You will learn and earn with Beer. He is one of the best business coaches out there!

Performance at its best!

by Shm722 from United States

Eric has great ideas and insights!

Listen to a visionary....

by RobH60 from United States

Eric is a genius and visionary. Always looking to get ahead through hard work and drive to success yet he is super down to earth and willing to spend the time to share the secrets of his success with others.

Finally, coming out to teach the world

by RogerSmith! from United States

I've known Eric for quite some time and he has been the guy who is quietly CRUSHING it. I'm glad he is coming out to the masses to share all his knowledge!

Can't wait to dive into these!

by Arushi-315 from United States

I can't wait to learn from Eric so I can level up my marketing!
Transcript…
Read Full Transcript
Eric Beer 0:00
What's up Performance Marketer Nation. How are you doing? It's Eric and I've got a treat for you today. I've got a gentleman named Stu McLaren, who's coming on today, who is an expert in membership sites. I always talk about this with you guys - recurring revenue. Cash flow is king. The important thing in any business, as you guys can see with what's going on in the world today is that you want to have continued revenue coming in all the time. You want to work towards the ability for you to get paid month in month out, be able to predict revenue coming in so that you can be not only financially free but your lifestyle changes dramatically. And your stress levels go down. If you lose a big client, you don't have this, things like that. Right. So we have Stu McLaren coming on. He was the co-founder of WishList and now he's been around membership sights for years. He has seen them from all different categories in so many different verticals and niches. And he's going to talk about how you can build your own membership. And you're going to be surprised that it's not what you think you can build a membership site with. If you own a paint store, if you have a restaurant, it's all the niches including, you being online and being able to create a membership site, even if you're an affiliate, or you're somebody that buys media on Facebook. So you're going to want to listen in today because he is now opening up a free workshop for his TRIBE program that opens up only one time a year. So we're going to talk about what that's all about how you can be a part of it, and how you can soon be generating recurring revenue for your business, and I know I'm gonna do it. I know I want it. I'm really excited about it. I mean, talking to him was amazing. I learned so much all the notes I took, so you guys are gonna want to listen in. This is really great. And if you're interested in his free workshop, you can access it by going to ericbeer.com/tribe, or you can text to 80800 the word "TRIBE" and what will happen is, they will then send you a link to your cell phone, and you'll be able to access the free workshop there to check out Stu's, TRIBE membership course. So guys, tune in and don't forget to if you haven't subscribed, subscribe to the podcast. Check us out at my YouTube channel, because we're always playing the videos of what we're doing with the podcast on our YouTube channel. So check that out. It's Eric Beer, subscribe and you'll never miss anything that we're putting out in. So let's dive in right now and listen to me talking to Stu and him dropping so much value, that you guys are gonna walk away with this realizing that you really can have a membership, and you could start generating recurring revenue today. So let's listen.
I spent the last 17 years building my eight-figure performance business without using any of my own money, working with some of the most brilliant direct response marketers in the world today. Now I'm looking for entrepreneurs to join my affiliate army, built on ethics, transparency, and good old hard work. Join me to change the perception of how people view the greatest business in the world, affiliate marketing, and follow along as I learn, apply and share performance marketing strategies working with some of the brightest people on the planet. My name is Eric Beer, and welcome to the Performance Marketer Podcast.
Stu McLaren, welcome to Performance Marketer.
Stu McLaren 4:17
Thanks, man!
Eric Beer 4:18
It's really nice to have you here. So let's do this. Let's get our five fun facts. What's your favorite color?
Stu McLaren 4:25
Favorite color would definitely be blue. I like different shades of blue but I like bright colors. So I could go with blue, green, yellow and orange. I like brightness and happiness.
Eric Beer 4:36
Favorite movie.
Stu McLaren 4:37
Oh, man, that's a good one. I got to go back to the classic of Braveheart. Like there was just something about that you know, like that rawness that realness and, and just like fighting for something that you know he really believed in. So I love that movie.
Eric Beer 4:52
Freedom.
Stu McLaren 4:53
Yes, exactly.
Eric Beer 4:54
Is it that what cash flows all about? That's cool. Family, what do you got? So,
Stu McLaren 5:01
I have been married to my wife now for 12 years, but we were together for seven years before that. So it took me seven years to convince her that I was the man of her dreams. But it was the best sale that I ever made Eric! Best sale I've ever made. And we have two young kids. I have my daughter, Marla, who is nine. And then our son, Sam, who we adopted from South Africa, he is six. And so they're growing like crazy. And what I love, and I'm very grateful for is just being able to have a business that we can spend time together and so just watching them grow together, travel together. It's just it's an absolute joy.
Eric Beer 5:39
That's awesome. And where do you live?
Stu McLaren 5:40
So we live just south of Toronto, so we're, you know, I'm a Canuck. And yeah, we love it. You know, I'm, we moved a little closer to the city because I'm a country boy by nature. You know, I grew up you know, cows on one side, you know, corn on the other type thing. And, but my wife, she's, she likes The city so we've compromised when we move closer. So we're still not in like, you know, like downtown Toronto, if you will. So but we're, but we are certainly closer to the city and I've actually grown accustomed to it, you know, like the way she sold it to me was, you know, because I played competitive soccer and she's like, Look, you're gonna be closer to you know, the competitive soccer leagues are gonna have to travel as far and I was like, Okay, so then now that I'm here, I definitely do like it.
Eric Beer 6:27
Wow! So I guess the fifth question I'll have for fun facts is, what position do you play? And tell us about your soccer? That's great.
Stu McLaren 6:36
Yeah, so I played. I played really competitive I played it at university we won two national championships. A lot of the guys that I played with went on to play pro or played for a national team. And I was usually a left or right midfield way on the outside. So I was doing I was a lot of I was doing a lot of running, you know, back and forth. And I've still stuck with the soccer you know, even after graduating and many years ago. Later now I still play twice a week primarily indoor like I play indoor soccer. I love it because the smaller fields a lot faster action and a lot more chance to score goals I love scoring goals. But the other thing that's got me now is the peloton like I'm addicted to this peloton like they just do a such a great job of gamifying it and so forth. So that's the thing that's got me now.
Eric Beer 7:23
Yeah, that's awesome. I played soccer also, I remember my freshman year I made varsity and I got put into the game and on a rebound, I scored under the lights in front of these and I just till this day I still remember I was a lefty I could only kick with my left foot and like and I was good with headers but soccer. But if you're still playing soccer that tells me you're in shape because that is people don't realize how much running you're doing in soccer. That's a serious sport.
Stu McLaren 7:50
It's definitely been for me. I've just carried through to I was kind of like after I graduate University. I just didn't want to stop because I just didn't want to you know, get out of shape. I figured it was gonna be a lot harder to get back into shape and it was just to maintain. So yeah, I've definitely continued to play and I've always done some type of athletic
Eric Beer 8:08
Not to mention, by the way, that they make more money than anybody...
Stu McLaren 8:14
Over in Europe for sure. Yeah...
Eric Beer 8:15
I mean, they're there. They're raking it up and I heard a really cool story just before we get into that, I just I heard a cool story on how in Europe how they do it is at a young age, the coaches that coach the soccer players when they develop the players as they get older if they make it professionally those coaches get a percentage of their earnings for life.
Stu McLaren 8:40
Yeah, it's kind of crazy right?
Eric Beer 8:41
It's interesting when you think about it, because like here in the US, like, you know, you got a dad that's like, I just want people my kids and we're going to coach but they don't really know a lot about soccer, whereas like you have real professionals that are there and they're hoping they find the next Pele because all right, that'll...
Stu McLaren 8:55
And it started... It starts real early over there. Like you know, it gets like six, seven, like, they're just getting hardcore, recruited by all these different clubs and coaches. And yeah, it's it's a real thing.
Eric Beer 9:06
That's cool. So we're gonna have to get a video of you juggling the ball, and the time that you can go. So cool. All right, great. So let's transition into you. Tell us about how you got started. Talk to us about your background talking about TRIBE.
Stu McLaren 9:18
Yeah, so for me, like, the long story short is I knew I was a square peg in a round hole. You know, I went through university to get my honors business degree and they were basically positioning us to jump into the corporate world. And I knew like I just for me, I was not a shirt and tie kind of guy was not a, you know, cubicle kind of guy. And, and so I went out on my own right away right out of university, and I began my career as a speaker. So I was going around to high schools and colleges, and I was teaching kids how I would fail that in my first year university to graduating top of my class name Most Outstanding Male. And so I was like I was speaking but speaking had its limits because I couldn't He speaks so many times a year, schools could only afford so much. So you just multiply the two together. And that was my cap in terms of what I could earn that year. And so I wanted to get beyond that. And so that's when I started to learn a lot about, you know, information publishing, like how to package what I knew, in other ways to be able to generate more income. And that led me online and long story short, I started, you know, experimenting with a variety of different products and services that I was selling. I was doing a lot of, I was still speaking schools, and then I started to consult businesses at that time about how I was, you know, marketing, my speaking engagements online. And that started opening up a whole bunch of doors. And then that got me funny enough into affiliate management. So I was managing affiliate programs for some pretty high-level businesses. You know, in the direct response world, you probably know like, you know, Glaser, Kennedy, they were one of my clients. You know, Alex Mundos, in Armand Morin, there was like, you know, some pretty big names at the time. So I had built a pretty successful affiliate management business. But it got to the point where the writing was on the wall for me. So when I say that I say it because I was up early, I was up so late, I was burning the candle at both ends, I had just gotten married. And my wife Amy and I were looking at starting our family and I was like, something's got to change. Because I can't keep doing this. I'm not going to be a present husband or father, if I'm like burning the candle at both ends like this. So I was talking to one of my friends about it, and he said, you should start a membership site. And this was in 2008. And I said, What do you mean a membership site? Like I don't understand, he said, Well, think about it this way. So it's do all that you're doing for your clients one on one, what if you taught that in a members area people pay to access it, and instead of, you know, you working one on one now you can teach one time and you can help hundreds if not thousands of people simultaneously and really succeed? Gail, what it is that you're doing. And I was like, that sounds amazing. So I looked into it, and I started to try to build it. But to be honest, Eric, it was like a nightmare. The tech then was not what it is today. So I was like, way over my head and things like ht access files and server settings. And I was just way above my paygrade. So I was a moaning and groaning into a friend of mine, his name was Tracy. And I said, Dude, I just want to teach like, I don't want to have to mess with all this stuff. And he said to me, he's like, Well, why don't you create your own solution? And I was like, Hello, like, are you not hearing me? Like, I'm sitting here telling you that I'm struggling with a tech like, there's no way I'm going to be able to program something myself. So he said, Well, there's a programmer that I've been working with for years, why don't we team up and we create it together. So we did and this was in August of 2008. And we had a beta version of this software, which has now become known as WishList Member and we started selling it then just Oh, just over a month out. That October 22 2008, was the day that we went on sale I remember vividly and then that company just took off. Because it was right product right time, you know, people were looking for a simple software solution that enabled them to create a membership. And we went on to power when I sold my shares. Several years later, we were powering over 70,000, online communities, and memberships. So I had this tremendously unique perspective of being able to see, you know, across all kinds of markets, you know, what the sites that were growing year over year were doing differently than everybody else. And that's what I paid attention to. And so I started to see like these guys and gals, they were doing things that were completely counterintuitive, counterintuitive as it related to their content, their marketing their the way they retained members. And so I got passionate about that. And long story short, it's led me to where I am now where every single year I teach thousands and thousands of entrepreneurs how to add recurring revenue to their business through membership sites. And it's taking those best practices and making it simple so that anybody can replicate it.
Eric Beer 14:07
Yeah, that's awesome. I mean, I talk about this all the time, cash flow is king cash flow is is freedom, freedom from life freedom from financial. You can make millions of dollars in the market, but then what right but what you're doing is you're able to now create this, this constant flow of cash, which is from a financial perspective is huge and creates the opportunity for you to do other things. But from an impact perspective, you're also making it meaningful, when that's, that's
Stu McLaren 14:36
Well, and what's so rewarding about this Eric is like watching what kind of markets people are in that would shock you like, there's a woman Her name is Holly George, so she launched a membership last year. She ended up welcoming just over 400 members right out of the gate. She was generating $6,000 a month right away. And the market she's in just hit Just it makes me smile and laugh because, you know, I get to see these all the time. But she helps balloon artists, you know, like people who make like balloon animals. So you can imagine like she started this community. She called it the Twister hood. And she's got more than 400 plus members in there right out of the gate generating $6,000 a month. I literally just, we reached out to her a couple weeks ago to catch up and she's grown it she's now generating $7,000 a month. And she said like, it's been the greatest thing for her business because her husband's in the Air Force. So he's gone a lot. So she's at home with two young kids. So she says for her like, this is a perfect business. You know, she works a couple of hours a day, but then she has the time to take care of her two young ones. And she said like, again, she's helping people learn how to you know, become a balloon artist, you know, and this is the fun part for me is just like seeing how memberships are serving all kinds of different markets from photography and calligraphy to fitness and finance and music and art and health and dogs. Training and so many more. And then the ripple effect that that has with the people that they're therefore impacting, just like you were saying, it's it's just it's so much fun.
Eric Beer 16:08
Yeah, that's cool. So let me take you through this, then because a lot of the listeners here are performance marketers, right? So people that and including myself, I never even realized that I could make an impact, until probably a year ago when I saw somebody crying to rustle that I was like, Oh, my God, what I do can actually help somebody that then they can share their message with the world. And that's when I got into this, right. But for the people here, they're their Facebook buyers, they're buying native, but how would they create a membership? Like, how would they go about doing that? What's the framework around how someone could use what you do with TRIBE to leverage all of your knowledge?
Stu McLaren 16:46
Well, there's really three home-run indicators for when you're looking at markets that you want to serve. One is are you solving an ongoing problem? So what's an example of an ongoing problem? Let's just say like loose Weight is an ongoing problem. You don't go from being overweight to the perfect weight like that, you know, that's a that's a problem. There's a process to solving that problem, but it takes time. And that's why membership is a perfect fit for that. Another perfect example of a ongoing problem is like a dog that's wildly out of control. You don't go from our control dog to the perfect puppy like that, like that's a problem that takes time to solve, which is why it's a perfect fit for a membership. So that's number one. are you solving ongoing problem? Number two, you know, are you teaching people a new skill? So when I think about like, you know, some of the markets you just mentioned, like ad buying, like you don't go from not knowing how to buy ads effectively to becoming like a great ad buyer like that. Like that is a journey to mastering that skill. And even when you've mastered it, there's always things that are happening in the marketplace to deepen that level of mastery. So just like you know, in a black belt in karate, you don't go from a white belt to black belt like that. It takes time there's a journey to it and even when you become a black belt, You still, there's levels to the mastery of that material. And so if you're teaching people a new skill, that's another home run indicator. And right now, I will tell you the markets are booming like in our communities, memberships are booming because people are hungry to learn. Like there's never been more people online than right now. And there's never been more people spending more time online than right now. And in fact, there was a research study that was done out of the UK, where they asked 2000 people that had been quarantined, and they said, you know, what are you looking to do, you know, during this time, and of the respondents, 69% of them said that they were looking to use this time to learn a new skill, whether it be you know, coding, whether it be gardening, whether it be painting, whether it be a new instrument, a new language, whatever it is, they were looking to use it to improve themselves, they want to come out of this a better person than them when they went into it. That's number one. Number two, as they said 57% of the people said that they were looking forward to using this time to pursue passions that they had had time for before. And so we're seeing this represented in our TRIBE community where memberships are booming right now the sales are tripling in many cases because people are investing they want to use this time to use those to learn those skills. So whether you are helping solve an ongoing problem, that's number one, or you're teaching people a new skill, that's number two, those are homerun indicators. The third homerun indicator is when you are creating convenience for people, you're saving people time you're making their lives easier. So what's a good example of that? Well, there's a gentleman over in Australia, his name's Andrew Kraus, you got your market, your audience would appreciate this. His membership, specifically, it's the higher price membership $350 a month and he creates Facebook ad templates for real estate agents. And so a real estate agent, they don't want to become a Facebook ad expert. They just want to be able to use Facebook to be able to advertise their homes, they want to focus on selling their homes. And so what he does is he takes the thinking out Have what to do. And he creates these Facebook ad templates that are plug and play for those real estate agents. And they're more than willing to pay for the convenience of having that given to them. So they don't have to think. And at the end of the day, the return on investment isn't a no brainer for them. Because if these ad templates help them sell one new home in the entire year, the whole membership has paid for itself. And so that's an example where he's giving them templates, saving them a ton of time. And there's many examples of this. Like, we have many teachers in our marketplace that provide lesson plans for other teachers. And so what does that do? That's, again, saving time for people because the teachers don't have to waste their evenings and weekends lesson planning. Instead, they just get these lesson plans, and they can roll right into the classroom with those or there's another site called teen life ministries from Paul Evans. And what he does is he provides youth ministers PowerPoint presentations, so that the youth minister normally has a full-time job during the week and then they're scrambling on a Saturday to prepare us Sunday sermon. And so what he does is he gives them a PowerPoint presentation. So they have it pretty much done. They're just gonna make a couple tweaks, it saves them time. So again, this is another example of a market where you're creating convenience. So if you are solving an ongoing problem, if you're teaching people a new skill, or there's an opportunity to create convenience for people, those are three homerun indicators for a membership.
Eric Beer 21:23
Yeah, I love it. And you said something that was really interesting that I want to point out, which is, you talked about someone who does Facebook ads, and that's where I see people get confused. And what you just demonstrated is that you niche down into real estate, right? So you could be a Facebook ad buyer who knows that well, now you just got to find any market that you're interested in, to now focus on And to your point, a real estate agent doesn't want to go online and deal with the Facebook ads, but they know they need to be there. So that's that's really smart. That's genius. Now,...
Stu McLaren 21:55
Well, and let's just build on that for a second. Like, just think about it in other markets, like, let's just say you've got a knee problem, who do you want to go see? Do you want to go see your general doctor? Or do you want to go see a nice specialist, right? So it's so much easier to sell what it is that you do when you do get locked into a niche like that. And the other the ironic part about it, especially for you know, your audience and ad buyers and so forth is realizing that, like, it's the same skill, you could take that same thing, and you could repackage it for real estate agents, you could package it for financial investor, financial advisors, you could patch it in a whole bunch of different ways that what you're doing is the exact same thing, but because you've narrowed it down to real estate agents or financial advisors, whatever, it is so much more attractive, and they're willing to pay an even premium, because it is tailored toward them.
Eric Beer 22:46
Yeah, it's even for affiliates. people that aren't even tech-savvy can do something similar to that. So that's cool. Now, let's think about it. We're in this crazy time right now with the Coronavirus. It's scary, right? A lot of people are struggling juggling that have these retail businesses talk about someone who has a restaurant and from the three that you just described to me right I would say convenience makes the most sense from that realm of the world but to create cash flow for people like that give an example of how someone that owns a restaurant we do this.
Stu McLaren 23:19
Well restaurants can do it in a variety different ways like one would be certainly giving their okay let me back up let me give you an example. Okay, so a buddy of mine, Mike he owns a Pita Pit franchise. I don't know if everybody listening has experienced this kind of like a subway. So he owns Pita Pit franchisee called me up and he said, Stu, like I know you're doing this like online marketing stuff. He's like, how would I use it for you know, my restaurant? I said, Okay, I said, here's what I want you to do. When people are checking out at the counter. I want you to ask them if they want to join your free VIP group. You said okay, and the only thing they got to do is they got to submit their name and email address. I said when you get to 1000 emails, give me a call. So we got to 1000 emails. Then he says, Okay, I've got 1000 emails, what you want me to do is okay, well, let's design a quick little email campaign. So it was a very simple email campaign. So basically, we went out to that list, we said, Hey, you know, great to have you as a VIP, we got great news. Tomorrow, I'm going to send you a message that is going to let you know about something very special that we've got going on on Tuesday. So whatever you do, all I want you to do is just mark down Tuesday on your calendar, because this is going to be you know, something incredibly special, you're going to want to come into the restaurant. And so I said to Mike, I said when is your like lowest hours like the worst time, you know, when sales are the lowest? He said normally from 10 am to 12 pm. I said perfect. So then I wrote the email campaign for him and I said basically, like, the next day, the next email was okay, here's, here's why, what's going on on on Tuesday, we've got a two for one special meaning you can come into the restaurant. You can buy as many pizzas as you want, and you get two for one and And I said like, yes, even our most expensive Peters, you know, like I was it really planted up. So anyway, then the day before on the Monday, we sent another email, don't forget, tomorrow's the day. And then on Tuesday morning, I sent an email. He called me at 11am Eric, and he's like, Dude, this is crazy. And I'm like, What are you talking about? He's like, we've had more people in the store than ever. He's like, this is our second highest record day already. And we haven't even got to our normal busy times. So I said, perfect. So then I quickly drew up another email and sent it out. And I said, This is crazy. We've had more people in the store than ever before. This was so ghetto in the way that we did this. We just kept it simple. We told people the way to redeem this two for one offer was to literally print out the email and bring it into the store. Like we didn't have some fancy like coupon mechanism or nothing like that. It was just print out the email. So this was super simple, just seeing if it works, but it's direct response at its finest. And so when I think about Restaurants I think about, they're very passive in the sense that they're always hoping that people are going to come back and buy from them again, what I'd love to see is I'd love to see restaurants take more ownership over how they can intentionally bring people back into the restaurant on a more regular basis. And so whether that is through like a free VIP thing, that's not a monthly subscription, but you could take an example like Burger King, Burger King of all restaurants, okay, or Burger King has a monthly subscription, you pay $5 a month and you can get unlimited coffee. Now, why would Burger King do that? Are they known for their coffee? No, not at all. But it's like a loss leader. Yes, it's generating recurring revenue for them each month. But when people come in to get that coffee, are they going to be much more likely to buy something extra as well? Of course, so what they're doing is they're increasing the frequency upon which people are coming into the restaurant and buying more often. So the membership is a way certainly to create that monthly cash. flow. But it's also a way to bring people back into the restaurant on a more frequent basis and drive up those average transactions. So there's a whole bunch of ways that restaurants can get creative, but you just got to start thinking about it. Another way is just with deliveries, you know, instead of like, I know, for us, like we, as a family, we have a weekly pizza night, you know, imagine if the restaurant instead of like, hoping that we were going to come back and buy from them again, what if they put us on a weekly thing? We would do it, you know what I mean, and save a few bucks, that'd be a home run. Like, I just think, right now is the time to begin thinking creatively. And, you know, my, my wife and I, we buy these cold-pressed juices, and we love these cold-pressed juices, and we buy a lot of them. And we call it when we call the company up recently, you know, to place our order, my wife said, Is there any way that like, we could just put this on a subscription? Like instead of having to, like, you know, each week, come and place the order. Can you just like send that to us automatically? And they're like, Oh, no, no, we don't do that. And I'm just like, My gosh. Like, why make it easy for people? Like, let me give you money on a regular basis? You know what I'm saying?
Eric Beer 28:07
Here's my workshop is at three o'clock. Come on, come on.
Stu McLaren 28:12
I just think that, you know what this has done more than anything is the whole Coronavirus has just exposed businesses to their vulnerabilities. And what I want to encourage people to do is that there is so many ways that you can shore up those vulnerabilities, especially when you start thinking about memberships and recurring revenue. And so it's about taking somebody from a one time buyer and turning them into a recurring buyer. Sorry, if you hear my dog, this is...
Eric Beer 28:42
All good.
Stu McLaren 28:42
He's getting excited about working from home.
Eric Beer 28:46
No, it's all good. You know, it's um, another thing that creeps into my mind when I think about memberships is people want to feel like they're part of something and they want to feel important, right? So when you bring up VIP, we know that people strive for two things, love and status. Right? So when you're part of a membership, the ability to have some special things that they get that no one else gets is powerful and people want to be a part of something. They want to feel like they're part of something, right? A tribe, right?
Stu McLaren 29:17
Yeah. Well, it's interesting too, because we're starting to see in the last year, we started to see a lot of membership models in the e-commerce space like product seller space, emerge. One of them is just really simply modeling amazon prime. You know, you think of Amazon Prime, we pay an annual fee, that's a membership. And because And for that, we get a bunch of different products, we get faster shipping, we may get slight discounts, but we're starting to see a lot of our people in our community who are like e-commerce or product sellers, utilizing this VIP model, where again, their members are paying either monthly or annual basis, but it gets them access to perks like the faster shipping like exclusive access to certain products, like the ability to pre-order products before Anybody else? All that kind of stuff and people are willing to pay because just like you said, they like having that, you know that VIP privilege or access. And so again, this is just about opening up our minds. You know, I think of Beth, you know, she is she owns a pet grooming business. And so of course, like this whole Coronavirus thing has just like, like, brought everything to a screeching halt. So she started thinking creative, like, Okay, how can I take this membership idea and apply it to my market? And she said, What's their number one pressing problem right now? Well, if they're like us, they've got a shaggy dog that is a mess that needs to be groomed. And so we're just chomping at the bit like when can we get into that, you know, pet grooming salon, so she sent out an email to her clients and she said, we're starting a new service. It's essentially a VIP service. And basically so people are paying on a monthly basis and it will put them on a you know, where they can have regularly scheduled appointments that are all automatic, she said The most important thing is the moment that we can open doors, all of our VIP members will have priority access to getting their pets groomed first. So that's what happened was she created this cash, you know, surge, she generated just over $31,000 in month number one from these customers. I mean, that's going to be close to $400,000 in annual revenue just from that initial promotion. And so there's absolutely ways to get creative with this. You just got to start thinking about how to take a buyer from a one time purchase and turn it into a monthly recurring membership.
Eric Beer 31:34
So funny. I just had I literally gave my dog a haircut and it was a disaster, and I got hair everywhere. And you know, I would say for Beth, because I had this idea. She should go get a van and then she should show up in the driveway and allow somebody to give them the dog. She does her thing. And then we get our dog back. You know, it's like, the whole thing is I'm afraid to go to the place you know, and who knows what this world's gonna be all about. So that's pretty cool. But it's genius man. All right, so let's talk about how we can help people to now start to learn more about this. I know I set up your link, I have it at ericbeer.com/tribe. Or you can also you can text 80800 the word "TRIBE", and we will send you a link to your free workshop. Tell us about your free workshop where people will learn.
Stu McLaren 32:27
Well, we do this one time a year, and this is it. And we help thousands of people for free during this workshop. And essentially what we do is we break it down. And so in the first part of the workshop, this is really about identifying like, Okay, well, is my market going to be a good market for a membership and we walk you through like the characteristics of a great market? And you know, I gave three homerun indicators today, like, are you solving an ongoing problem? Are you helping teach a skill? are you creating convenience, but there are characteristics of a market as well, that help inform us Okay, yeah, my market is going to be a homerun. on here, and then the question becomes, okay, what type of memberships should you create? Because there are a whole bunch of different types, you know, saying like some of the new models that have emerged are in the e-commerce space. But in the info publishing space, there's a whole bunch of different types of membership models. And we walk through each of those, helping you get clarity about which one is going to be the best fit for you and your market. And the second part of the workshop, this is where we break down the number one piece of content that you should absolutely include in every membership. People mess this up all the time, even seasoned pros, but this is one of those, you know, coming from my experience of working with 10s of thousands of membership site owners, I can tell you, if you don't have this one component, and it's called a success path, then it's you're you're dramatically going to see results drop in terms of the number of members who stay not just for like a few months, but like you know, for a lot. We want people to stand for a long time. And so you'll see retention drop if you don't have this, you'll see poor results if you don't have this. So with this We walk you through it and we show you what to provide inside of a membership, like what do you actually provide inside of our membership. That's all in part two. And then in part three, we zoom up. And we talk about, like how all the pieces of the puzzle fit together for a successful membership. And we walk you through the five key areas, starting with your foundation strategy, your content strategy, your marketing strategy, your retention strategy and your growth strategy. And essentially, at the end of the day, Eric, what we do is we show you how to find people how to serve them, and how to keep them. And the membership game is all about not just getting people in but keeping people happy. If they are happy and making progress, that's where the lifetime value of that member skyrockets. And so oftentimes, you'll hear people say, Oh, yeah, but they only say part of a membership for three to four months. That is total BS. I am behind the scenes of 10s of thousands of memberships. When you have a proper content strategy when you have a proper marketing strategy and retention strategy, you don't see members stand for months. You see them staying for years. I was just talking to Tracy shear, and she owns a membership site. And she specifically helps fitness professionals who are working with women with pelvic problems after pregnancy. I mean, talk about like a super niche here, right? Yeah. And she, she reached out to me and she was just saying like how grateful she was for the fact that she has her online membership because her and her husband also have a chiropractic business that they've had to shut down during this whole Coronavirus thing. She said, But fortunately, we have this online membership. And it's absolutely bridging the gap for us. She has over 800 plus members in this membership. Now the amazing thing is in that conversation, you know, we were just chatting back and forth and she was sharing like what's happened. And over the last year, she has only lost eight members. She has more than 800 and she's only lost eight. So when I hear people say, oh, somebody only stays for three to four months. All that tells me is they just Don't have a proper content strategy. They don't have a proper marketing strategy or retention strategy. And so when you've got these things in place, boom, the lifetime value of that member skyrockets. And that's what we walk you through in part three. So really at the end of the day, we talked about how to identify whether your markets a good fit, to talk about what to provide that market so that they are raving fans. And then we zoom out and we talk about the five key strategies foundation content, marketing, retention and growth that are really going to help you grow and scale that membership.
Eric Beer 36:30
That's so awesome. I love it. I mean, I'm in I want I want to be a part of it immediately because I want for me memberships are everything and clearly it's all about adding value. Right? So that's awesome, man. Well, still listen, I really appreciate you coming on. I know you're busy. It's a it's happening right now. This is the time this is the one time of year that we have this opportunity. So like I said, if you want to go check out to ericbeer.com/tribe or text 80800 "TRIBE", and you will get access to this man right here. Stu, thank you so much. It's a pleasure. Stay safe. keep your family safe. Have some fun, and hopefully we'll get together in person one day.
Stu McLaren 37:12
I appreciate it, Eric. Thanks so much, buddy.
Eric Beer 37:14
All right, buddy. Take care. Bye-bye.
So there you have it, guys, Stu McLaren, I told you he is a really, really good guy. And you could tell he cares. And I know for me, it makes me want to be around him. It makes me want to work with him. It makes me want to do things with him because he's got so many ideas. He's smart, he's experienced, and he's helped so many people. And you could tell that he gets a kick out of seeing how he can take what he knows and give that to you. And when you succeed, he gets excited. And I get it. I'm looking to do the same thing. So if you guys are interested in trying to create a membership, if you want to try to create some recurring revenue for your business and you want to learn more from Stu, you can go to ericbeer.com/tribe or you can also text 80800, text that number and put in the word "TRIBE". And what will happen is you'll get a message back with the link for you to go listen to his free workshop, where he talks about membership sites and how to do it and how to launch it and all that good jazz. And I highly recommend you do it. I've been watching him. I've been reading his content, watching his content. He knows his stuff. I could tell that he knows this stuff because even when I'm talking to him on this podcast, I was asking him questions that he could not prepare for, and the answers he gave me tell me that he knows what he's doing. So I'm excited for you guys. Go check him out. And don't forget to subscribe to our podcast. Also, subscribe to our YouTube channel, Eric Beer is my YouTube channel, and you won't miss a beat on all the things we're putting out. And I wish you guys well and stay safe during this time and talk to you soon. Thanks for listening and be well. Bye-bye.
Would you like to learn how I built my business using other people's money? If so, go join my 21-day challenge at performancemarketersecrets.com. I look forward to meeting you and welcome you into my family. And remember, results don't lie, but the people who don't have any tier. Thanks for listening.