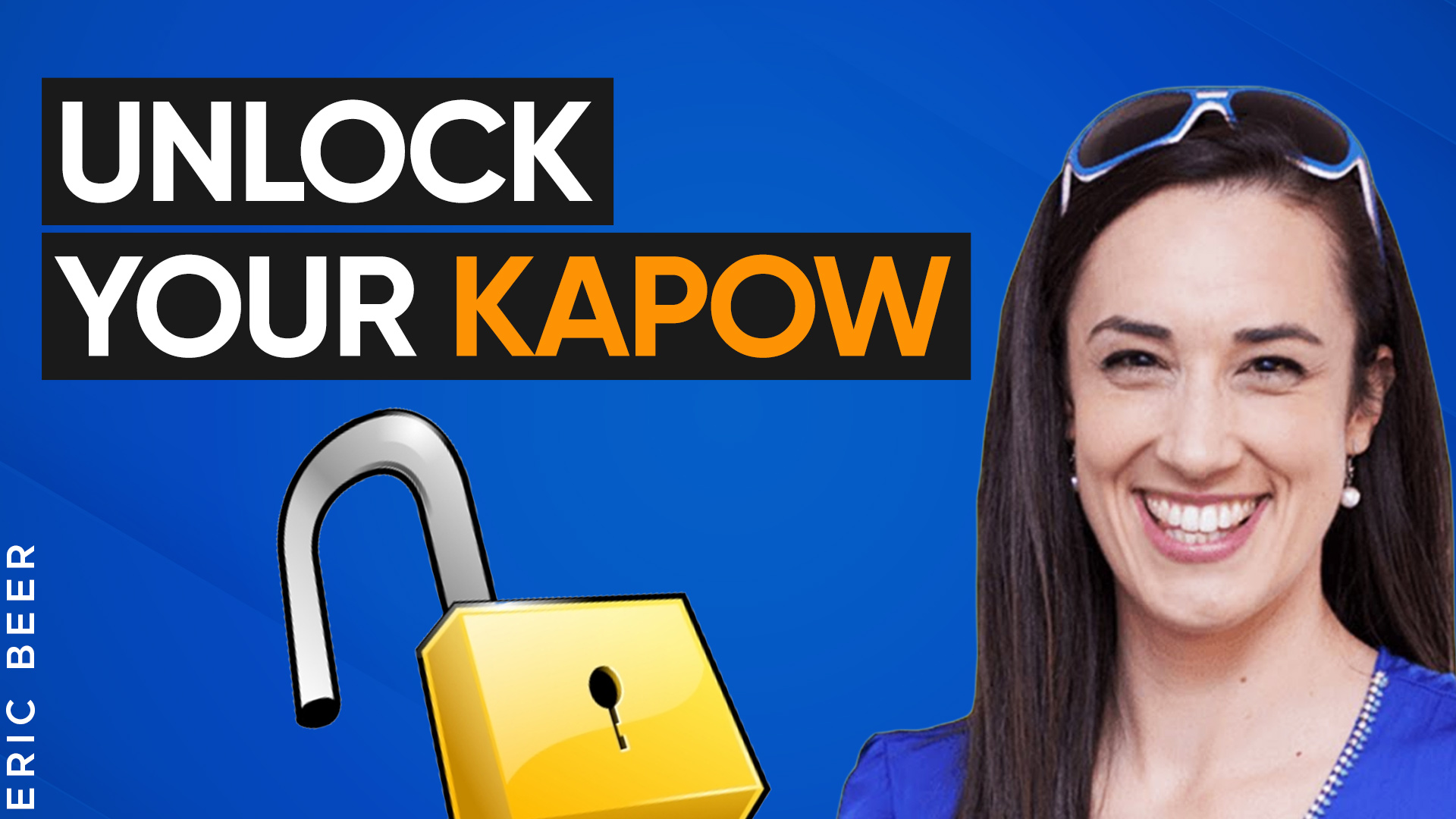 01 Sep

Liz Benny The Queen of Kapow: On Business and Life

Building a business that makes millions of dollars doesn't mean giving up happiness.

Contrary to popular belief, you can earn money while having fun at the same time. That's one of the few things we'll get to learn from our amazing guest for today – Liz Benny.

Liz is a life and business coach, and she helps entrepreneurs and business owners grow their businesses exponentially while living their best lives through her signature KAPOW method.

If you need a light-hearted talk for inspiration or if you're looking for someone who can help you with your entrepreneurial journey, make sure to tune in to today's episode of Performance Marketer!

Let's dive in!
From Employee to Queen of Kapow
As entrepreneurs, our unspoken belief in ourselves is what pushes us past the doubt and keeps us working towards achieving our goals.
No one knows this better than our guest for today, Liz Benny.
Liz was stuck in a job that was draining her soul day by day. She was busy making tons of money for the company as if she was the secret sauce. But it turns out she was her secret sauce!
So after careful consideration, she finally decided to leave her job and set out for a better life, as most of us would.
Being the empath that she is, it was even more challenging for her to transition immediately from her current job to building her name. She had to consider everybody else in the process before bringing down the curtains.
She asked for her working hours to be reduced to two days instead of five a week while she slowly built her company on the side. 
And from then, she never looked back. Liz has been an entrepreneur for the past fifteen years, helping fellow entrepreneurs and business owners achieve their dreams using her signature Kapow pathway.
Liz's Superpowers
Liz also had her fair share of challenges. And it was during one of those moments when she received a divine answer to her question, "God, what do you want from me?".
Two words – HELP PEOPLE!
It was those two simple and impactful words that changed the course of her life. So her whole life has been about helping people. It's what fills her up. It's what gives her that sense of bliss, purpose, and fulfillment.
She breathes and lives to make this world better by helping entrepreneurs succeed in all the important areas of their lives.
But she's not just out there telling entrepreneurs what or how to do things.
She taps into your inner self and shows someone how to connect to their heart. And the success of her clients would speak for that.
Unlock Your Kapow 
Kapow isn't just exclusively for Batman and Robin. It is actually a way of life, as Liz would describe it. It's a method that allows you to have the perfect F'ing balance with family and friends while living a fun, faithful, fit, and fulfilled life.
And one day, hopefully, more people will realize that you don't have to sacrifice happiness on your quest for wealth. 'Coz the truth is, my friends, you can make money while living the life you want. You don't have to choose only one!
So if you're stuck where you are right now and want to achieve a well-rounded, successful life, then make sure to tune in to the full episode of today's episode of Performance Marketer and unlock your inner kapow!
You don't wanna miss this!
—
If you have any questions or you want to suggest a topic for the podcast, shoot me a message on social media or in my text community (917-636-1998) and let me know!
If you'd like to get bonus Performance Marketer content, sign up for my SurveyDetective VIP waitlist!
🕵️‍♂️  Sign up for the SurveyDetective VIP Waitlist HERE
I'm looking forward to hearing from you! 
See you next time!
Listener Love…
Warning! ⚠️

by Boz46747 from United States

Wear a helmet when you listen to the podcast. Eric will leave you feeling like you can run through brick walls. In all seriousness, this podcast is the absolute best!

Awesome

by Nevareze William from United States

Very interesting show.

FANTASTIC!!!

by cucklord101 from United States

My life changed after I discovered this podcast, 100% the number one on the platform.

Great Podcast !!

by Olivia Cousta from United States

I listen several days a week and am excited to have taken action with my first few steps. Thanks Eric!

Best Podcast

by faz12548 from United States

Thanks for everything. This show has been an amazing resource.

My favorite podcast

by Alison Riah from United States

This is my favorite podcast. I look forward to every episode and share it with everyone I know.

Awesome!!

by Brads Hook from United States

Love this show

Inspiring

by stevie h b from United States

Eric's energy, wisdom and experience get me pumped up to do more.

Eric changed my life, thank you

by Nicole Aliba from United States

Anyone who has a chance to listen, do it. Subscribe, download and listen. Eric is authentic, he truly cares about the people he comes in contact with. I know eric, I've tried to be around him and learn from him any chance I get. He's been successful in every stage of his life. Getting the opportunity to hear from him direct, how he thinks, how he goes about achieving his success, his strategies, his tactics, his outlook on life. I'm thankful he started this podcast and I'm thankful I get the chance to learn from him. I have no doubt the lessons he delivers each and every episode will help me continue to be succession my journey. Thank You Eric for making an impact on my life and making me realize I'm capable of so much more than I ever realized. Your support fuels my success. Good luck with the podcast!

Wholly Cow!!! Eric Is The Real Deal!!

by Supreme Dragon Slayer 69 from United States

Seriously.. Affiliate Marketing has been around for a LONG time.. However, it's always been associated with scams, and fly by night marketing tactics that are shady l, illegal or unethical at best. Until now. Eric runs his entire business (which is ultra successful btw) the same way he runs his life.. On pure integrity. Finally, a podcast that is teaching Affiliate Marketing based on being.. Ethical and Transparent. But the best part? This podcast is soooo much more than just Affiliate Marketing.. it's about running a successful business and successful life. So far Episode 3 is my favorite and I look fwd to each episode as soon as it comes out. Highly recommend this to anyone, regardless of where they are in their business!! Straight Gold Beb!

Dave

by Rothbone from United States

One of the best podcasts in a long time. Very insightful, had me at the first 2 minutes kept me for entire podcast. I am a entrepreneur myself and found it very interesting.

Eric Beer is a genius.

by Raera29 from United States

I've only briefly met Eric - but listening to his podcast (as well as his YouTube videos) - it's clear to me that he has an in depth understanding of how marketing should work. Brilliant podcast!!!

Beer podcast

by Bghbhhhggghugyhjjgtjporws from United States

So excited to get more info from Eric Beer to help further my career.

Great Stuff

by Dr TBA from United States

I have been a business owner and entrepreneur for over 25 yrs. I found the information both interesting and informative. I am a fan! Dr Todd Askenas

This dude is the real deal...

by gossjoh1 from United States

I'm in the internet marketing space and have heard about Eric Beer from other entrepreneurs and it's always about how much he crushes it. Over $100,000,000 in revenue... no joke. I had the good fortune to meet him this weekend at an event and he couldn't be more humble and genuine. Just listened to the first episode and it is awesome! Can't wait to learn and grow from you Eric and thanks for sharing your wisdom and experience with all of us!!

Awesome

by Archmatic from United States

Thank you Eric for all your motivation and confidence! This is a must listen. Eric is always on his game and ready for a challenge!!!'

Informative and relatable

by srg1113 from United States

I've listened to the first two episodes and found them useful and entertaining. Eric gives a lot of background to how he got to where he is in his career and the challenges he encountered and overcame along the way. He also shares his knowledge in a way that's easy to understand and would be useful both to people new to Internet marketing, and to people like myself who have some experience but are looking to expand their knowledge. I'm subscribed and looking forward to future episodes.

Outstanding!!!!

by casino exec from United States

This is an excellent podcast for entrepreneurs in any industry. Hearing Eric interview and discuss proven success stories is like getting a motivational fix within 24 minutes. Can't wait for the next episode!!!

High Five

by chris drazek from United States

This is good! Guy is well known industry veteran. In the age where it's hard to get 15 minutes with someone like that on the phone, these episodes have a permanent placeholder on my calendar. Well done and keep up the good work!

Amazing

by Rtfdghf from United States

Walked into the office inspired and motivated! Great listen.

Just discovered a GOLDMINE of information!

by ericamerica from United States

This is next-level marketing that EVERYONE needs to know. SO much value here! This is information people would be willing to pay BIG $$$$$$ to have, and he's just laying it all out here.

Insightful

by lonestar1818 from United States

Incredible insights from one of the best!

Entrepreneurial Gold

by girlfriendwithnutallergy from United States

This podcast is amazing an a must have for anyone looking to take their entrepreneurial endeavors to the next level. Whether you are interested in becoming involved in affiliate marketing, or are just a student of life looking to learn about one of the largest and least discussed industries, this podcast is for you. Eric makes his passion for entrepreneurship available to all with this podcast, and for that reason it is a must listen.

Knowledge bombs!

by Sheree Trask from United States

Eric is a wealth of knowledge, not to mention, incredibly humble! He's got the proof to show that determination, grit and perseverance pay off... and I love that he's shedding light on the world of performance (affiliate) marketing with tangible tools anyone at any point in their online journey can apply. Thanks for all you do, Eric! Excited for more!!

As Smart As they Come

by Lgoldberg1976 from United States

Eric Beer is a tremendous listen. His story telling and motivation have already driven me to work harder. Can't wait to hear what he has to say next.

Great content

by Sensei Victoria Whitfield from United States

Eric is a great guy, gives from the heart and is a wealth of powerful, profit-positive information. Rock on, brother!

So informative and easy to understand

by bergbusiness from United States

If you are serious about starting in this business this is the podcast to help kickstart your career. I highly recommend tuning in.

Powerful

by reebcire from United States

Never realized how mich money performance marketers make without taking much risk. Get excited to learn more

Eric Nailed It...

by Mark Duke from United States

You do not want to miss out on this podcast. Eric is absolutely brilliant at his craft. A MUST listen or anyone who is wanting to ethically up their game in the business + affiliate marketing space. Cheers!

I loved this podcast!

by DPG...123 from United States

I just listened to this not knowing what to expect and it was FANTASTIC! I am hooked and can't wait for more episodes. Looking forward to learning a ton from Eric 🙂

Eric's trainings will up-level your life!

by SwayBuckley from United States

Eric's level of transparency and REAL value is not only rare but transformative! Don't sleep! He's the real deal!

Got me hooked from the start

by Doc bus from United States

Hearing Eric's story and why he is looking to share his knowledge of starting a business was so motivational. Looking forward to hear what he comes out with next. Hoping I can use his coaching to take my own life and business goals/ideas to the next level.

Eric is a genius!

by Golden Oracle Ministries from United States

I had the pleasure of meeting Eric Beer in a high level mastermind that we are both a part of. I must say that every time he opens his mouth marketing gold falls out! I've made millions both online and offline, so when I hear someone talking about marketing I'm not usually that impressed, but with Eric I'm beyond impressed. I'm blown away!!! Learn from Eric, do what he say and watch your business grow.

Excellent

by JLRPS22 from United States

Very motivational!

Awesome content

by NickTheGreek83 from United States

I don't normally write reviews but this is a must listen for anyone considering starting a business. Eric thank you for taking the time to give away some of your secrets! Look forward to future podcasts.

Legend!

by Daxy111 from United States

SO excited for your content to come. You're advice and results is authentic which is rare now a days!

*****

by acrygvbh from United States

Fantastic relevant info !!!

The real deal

by Erin_Verb7 from United States

Eric Beer is one of the smartest media buying minds I know. Take this chance to learn everything you can about affiliate marketing from him. He will teach you an ethical way to make your life and your family's lives better through affiliate marketing. He's the real deal.

Genius marketing knowledge

by Nick349731 from United States

I can't wait to continue to learn rom Eric! So skilled and such a genuinely good person too. Keep putting out the great information Eric!

Great story and great info

by R-Rot from United States

This was a very interesting podcast. It was honest, informative and motivational. Eric has a great story that, everyone who is interested in starting a business, should listen to. Highly recommend!

Amazing

by Billion Dollar Cowboy from United States

I can't wait to learn more!! So so good!!

Awesome

by Eric X 2 from United States

Eric Really enjoyed listening to this. Keep up the great work!!!

Let's Market!

by hjdvikes from United States

As someone who has networked and marketed more over the past 2 years than ever before in my career, this Podcast is an absolute MUST listen for me. Eric makes it easy to listen, learn and apply.

Invaluable information!!

by lpro1111 from United States

Invaluable information. Can't wait to dive in.

Great information, tons of useful tips

by jonnygal77 from United States

These are great, so much useful information that I can use immediately and effectively. Thanks Eric

Great listen

by Xtra Medium from United States

I love listening to Eric's podcast on my way to work. Looking forward to applying some of these principles to my career.

Definitely worth a listen

by SBS776 from United States

I have had the pleasure of working with Eric and this podcast is a roadmap to success. He is a professional with years of experience and delivers results

Game Changer

by Jay Heydt from United States

Eric Beer is a game changer for your business. I had the privilege over the summer of taking an online marketing class with him. The daily interaction with Eric made me believe anything was possible as well as opened my eyes to an entire world that is online that I was missing. You will learn and earn with Beer. He is one of the best business coaches out there!

Performance at its best!

by Shm722 from United States

Eric has great ideas and insights!

Listen to a visionary....

by RobH60 from United States

Eric is a genius and visionary. Always looking to get ahead through hard work and drive to success yet he is super down to earth and willing to spend the time to share the secrets of his success with others.

Finally, coming out to teach the world

by RogerSmith! from United States

I've known Eric for quite some time and he has been the guy who is quietly CRUSHING it. I'm glad he is coming out to the masses to share all his knowledge!

Can't wait to dive into these!

by Arushi-315 from United States

I can't wait to learn from Eric so I can level up my marketing!
Transcript…
Read Full Transcript
Eric Beer 00:00
To me, that the whole empathy sort of thing, it's not that I'm having like voices in my head or stuff like that. It's just like, well, I care because I feel things. Yeah, to a ridiculous degree, like it hurts. And, but then by the same token, make sure you're looking after yourself because that's my message, you've got to actually look after yourself along the way here.
Eric Beer 00:18
I spent the last 17 years building my eight-figure performance business without using any of my own money, working with some of the most brilliant direct response marketers in the world today. Now, I'm looking for entrepreneurs to join my affiliate army, built on ethics, transparency, and good old hard work. Join me to change the perception of how people view the greatest business in the world, affiliate marketing, and follow along as I learn, apply, and share performance marketing strategies, working with some of the brightest people on the planet. My name is Eric beer, and welcome to the Performance Marketer podcast.
Eric Beer 01:00
Ladies and gentlemen, Liz Benny lives and breathes the philosophy of life is for living. She got more energy than 50 energizer bunnies and compounds her way through each and every day as if it's her last day. People say that she has a magnetic and engaging personality. And you can't help but believe in yourself when you're around her. Liz has a raw and real approach to her work and is focused on positively impacting as many people as possible through her KAPOW movement. It took Liz a while to find business success, even though she earned a master's with distinction from her work in Positive Psychology. She's in my head. After this, ironically, Liz found herself stuck in a job that was draining her soul. So she made the decision to set out to create a better life like we all want to do, a life she'd always dreamed of. She firmly believes that everyone is capable of living rewarding, fulfilling, successful lives. And as a business and life transformation specialist, she spends her time assisting entrepreneurs to reach their full potential. Liz's superpower is helping entrepreneurs and business owners close the gap between their dreams and achieving them. She does that with her signature KAPOW pathway, which ensures that success in all the important areas of life occurs because, as Liz says, there's no point in making millions and millions of dollars. If you're not happy in the process. We have the one and only Liz Benny was my friend. How are you?
Liz Benny 02:48
I'm great. It's good to have you here. It's good to have you. How was that? Was that? Okay? That was awesome. That was awesome. Can we get a kapow from you like, I can get a good kapow? Kapow, Liz Benny here.
Eric Beer 03:00
Awesome. So Lizzie Lizabeth. So every time I talk to you, it's like I could sit here and talk to you for hours. I feel like, you know, I've actually, I don't think you've ever met in person. But I feel like like you're a good friend of mine that I can sit and talk to about anything. You just started that person, right? And I could see why everybody loves working with you. Because you just bring out pure energy. You bring out happiness, you bring out the best in people. So one, I'm just thankful you're here today, so I can get happy. But yeah, tell us a little bit what's going on with you. What's going on with life today?
Liz Benny 03:34
Dude, so many things are going on. Very, very, very excited that New Zealand is now open to the world. Which means that I'm able to travel to the United States again. So I'm very excited about that. And just really, really, really focusing at the moment in on helping people with like, I think now more than ever, people have done a lot of the money gig, they've done a lot of hey, I you know, I want to make a million. I want to make a squillion dollars. And then a lot of people have started to think of life differently. Largely because of the last couple of years people are going, what do I really want and they're searching for a deeper a deeper meaning a more meaningful life, and I don't know like I'm just I'm really helping people with I'm loving and I'm adoring this journey that I'm getting to help take people on, and it's just it's intoxicating to be really fricking honest with you. I go, I'm in this world. I love it!
Eric Beer 04:32
How long have you been doing this? When you... so you left your job. When did that happen? What stage? How long ago was that?
Liz Benny 04:38
Dude, ages ago? So I've been now an entrepreneur for gosh 15 years. I don't even know, but I remember being in that job and just going, what the hell am I doing like they are busy selling me in a proposal, was making a crap ton of money as if I'm the secret sauce. Took me a while to wake up and realize that I was my own secret sauce, and I didn't have to be somebody else's secret sauce. And, and yeah, just run with it. But I mean, I've never, I've never looked back like I could never have a job again, period. That's it.
Eric Beer 05:10
When you did that, did the business go under? Did you get fired? Or did you walk in and leave?
Liz Benny 05:19
I love that question. So I'm a person, I'm very, very, very, very, very empathetic and how I do things, I don't want to hurt people along the way in my journey, like, that's just the way I am. So when I, when I make decisions for myself, I actually also consider everybody else in the process, like how might they feel? What do they need to feel safe, secure? So I actually walked in, and I said, look, I want to start something of my own, I don't want to just leave you in the lurch. I would like to reduce my hours. And I asked for asked to be able to work there for two hours, sorry, to two days per week instead of the five. And, and like they fought for a little bit more, I was like, it's just not gonna work, because I knew that I needed to invest time and energy into growing up my own company. And eventually, it was actually quite funny because, I mean, just the difference between going to quote-unquote, work, and being there for two days, it became toxic to my body over time. So eventually, I was just like, I can't do, I can't even do these two days anymore. So over time, I whittled that down and.. and left.
Eric Beer 06:27
Well, that's brilliant. I mean, if you think about it, that one, it's funny, your, your mindset goes to, you don't want to leave people hanging, my mindset goes to, you got to create cash flow while you're building your business. So by staying for two days, you still have at least some income coming in while you're working on your business so that you don't have as much financial pressure. And you know, if you're doing a solid for them, that's great. But if they, yeah, I know. When I did it, yeah.
Liz Benny 06:54
100%. So so, that's kind of like looking at it from a not a male-female standpoint, but masculine feminine energy standpoint. So the feminine part of it, part of me is like, Oh, wow, look, I really need to look after these people are a choose to look after them in the process. Because I can, I'm not just a… an arrogant piece of crap, who just only hears about myself and the process here. But by the same token, I fully agree with you, and I'm in my coaching and in my consulting, I am not a burn the boats person, I'm not a person like I don't feel comfortable with, with all of a sudden having zero cash flow, because cash flow. I mean, you can have millions of bugs. But if you've got no cash flow, it starts to feel a little tight. So cash flow is actually a gorgeous component.
Eric Beer 07:39
I couldn't agree more. It's. It's funny you say that, right? Like, you could have millions and millions of dollars. But the minute cash flow dries up, you start to get anxious when you're when you're dipping into your own money. Which sounds so silly, but you know, I know that feeling I do. It's funny. And it's not like you're struggling financially, but still, there's something about it, that creates some just.. just anxiety that you gotta, like, get something going and get it like moving. Plus, like when you want to, you want to take somebody out to dinner, you want to do something you feel good when you like, your money's coming in, and you just feel like you're just kind of using that money to have fun. While you have some money working for you, you know,
Liz Benny 08:20
Yeah. And I actually now turn that into a game. I'm like, Look, there's all this there's this wad of cash. This is what have capital here. I want all these things over here. Experiences, things, and all that sort of good stuff here. I'm like, how do we make this an incredible game to actually like gamify the process of getting things with new money with new cash flow with new stuff? Yeah. And then yeah, leaning off the back of the resources that are already there from a capital and equity standpoint if need be, but not dipping into the.. into the... into the gold pot.
Eric Beer 08:52
Yeah. So, sorry. So you leave, which is God bless you. Amazing. I didn't my company went out of business. I was always still today. Thank God I have been able to just leave. And I like to think I would have, but the company went under, right? I didn't have a choice at that point. But you decided to do it, which is really powerful. It's a hard thing to do this. And it's scary. For sure. Right? So you go, and you do that. Now you start with what how are you making money. What are you doing? Coaching? Courses?
Liz Benny 09:25
It's really funny how things come all the way.. all the way around. Because what I actually did was I went to... I went to the seminar, and I was like, right, I know who I am. I know what I want, and you know, all that sort of good stuff. And I was like, I just want to make the world a happier place. I want to help connect people with their hearts in their heads and help people with that because, you know, depression has become a massive thing, and way back then, I wanted to assist people in ways that I didn't see other people assisting people. And I've always felt like that was my calling. Like I've had some big, big, big, big, big lows in my life, and at times when I've, you know whether you believe in God, spirit universe, big hairy unicorns guy, like I like to keep absolutely open to, you know all of people's religious and spiritual belief systems. So whatever your belief system is like, hopefully, you can hear what I'm about to say. I remember one day I was super down in the dumps, I was like, What do you want from me? Like God? What do you want from me and I just received two words back - help people. So my whole life has been about helping people, I just want to help people. And that's genuinely what fills me up. It's what gives me this sense of bliss, of purpose of fulfillment. And the pathway that this has all gone on has been quite crazy. So I wanted to do that. And then someone, when I went to that seminar, said, no, no, like, that's, it's really hard to make money in personal development don't do that. Is any other skills that you can sell? And I was like, ah, and he said, I said, I'm really good at social media. It's what I did for my, you know, these other people over here. He goes, Oh, cool. Well, go do social media, teach businesses about social media. So then I got up, and I actually like, I genuinely put together these events. And I invited these businesses along, and I told them about, you know, Facebook, and Instagram, and Twitter, and all these great things and how to grow your email list. And I, like accidentally, I built an agency because I will be teaching people how to do it. And they were like, Oh, I love that you understand how to do it? Can you now do that for me, please? I'm like, No. I wanted to teach you how to do it yourself. It just so happened that they kind of liked me. And they kind of liked the fact that I knew what I was doing. So accidentally, I created a social media marketing agency. And then that turned into, you know, a bit of a roaring success and I 700% growth my company in year two, I'm like, this is don't culus, and the profit was crazy. Like looking back, the profit was crazy for a year to company, like ridiculously crazy. And I built it with just one, one computer and me getting out there and like doing my best. And… and then from there, I actually decided that I did not want to have employees. I do not want to have employees, like I was like, No, thank you. So how else can I grow my revenue? How else can I grow my wealth because I want to, you know, I want to build a big legacy here? And I want to contribute back to society, I want to contribute back to people. And that takes a lot of like income like money, like, you can help a lot of more people when you are incredibly financially well off, at least that's my belief system. And so that's actually where Russell Brunson. I hired Russell Brunson and helped him, well, helped him, yes, in cool ways, but also was, had the opportunity to be served by him, and then accidentally made a million dollars, accidentally made more millions, accidentally went out there and kind of did some cool stuff. That's kind of where we're at now.
Eric Beer 12:50
So cool. It's taking back years ago, when I went through my little world to get here, and I started listening to Russell's podcasts and then signed up for the… for the inner circle, you were on the cover of that, set that funnel, your video of you was there when I filled out the application that was then submitted for me to be considered for the inner circle. And I remember I was in... I was in Jamaica, at the time, I was sitting in the gym working out, I was listening to play, I'm like, Yeah, you know what, let me try this, let me go check it out. And then boom, you popped up, your big picture of you. And you. I don't know if there was an interview, or just you just talking in there, like, you know, got cameras in your office, following you around.
Liz Benny 13:40
That was... I was in Boise, Idaho. And I ca… I can tell a funny story about that particular video. Because it was it was a lot of fun. And that that video has changed a lot of people's lives, not just because they jumped into the inner circle, but also because they.. that... that testimonial video now is actually used as a baseline for how to get a testimonial that inspires your prospects to trust you even before the sales process. So I mean, I know that video is left, right and center is there's mastery in that video. It's great.
Eric Beer 14:21
It's unreal, right? So just for people that don't understand the self-education space, you can go take that video and reverse engineer it, put a framework together and literally go sell how to create testimonials, the company's using Liz Benny's video, and the bigger royalty..
Liz Benny 14:41
That well 100%. And I've actually considered teaching people how to do this because there was magic in that, and I think a lot of like people… people hire me and they're like, oh, I want you to help me make bla bla bla bla bla or whatever it is. The to me, and they're like, oh, teach me your secret. It's well, the secret is giving a crap. Yeah, the secret is actually caring enough to understand that people actually have these wants these desires. They have deep, deep, deep, deep, deep, limiting beliefs around their ability to do that. They're trying to prove stuff to mommy and daddy, and you know, even as a 50-year-old dude, like they're trying to get the approval of their dad. And you know, a lot of this along the way, I think. Yeah, I mean, if I was to teach, commonly, what I teach people in my coaching programs, is how to connect to the heart, how to connect to your heart, and how to really understand and speak to the avatar in a way that gets past all the mumbo jumbo reptilian stuff, and they go, Oh my gosh, and more commonly than not what I hear is like Liz Benny cares. I'm like because I actually genuinely do. And then I exude that in how I show up.
Eric Beer 15:59
Yeah, that's powerful. If you had to put a framework together and how to do it more look like you're on the spot right now. I got you made a friend one for that. Yeah. Just like right now, if you had to put a framework someone wants to go do it, boom, you're someone wants to go show someone how smart you are, are you 30 In your head
Liz Benny 16:19
First. Firstly, I'm not gonna, I don't do the whole ego-driven stuff. So I'm not going to try to show anyone how smart I am, I'm going to show someone how to connect to the heart. So honestly, like, it really doesn't matter. What your product is? What matters most is how a person feels. whilst they're looking at your… your marketing, all the way through the sales process when they get that when they get access to your product, or your service or your thing. On that first meeting with you on the first taste of it on the first delicious, it is all about an experience. How does your customer feel throughout the journey, and we've heard these words like customer journey, and we… you know, a lot of the time people logically walk them walk themselves through this offices, the customer journey, this part, you need to feel this and this part, you need to manipulate this and this part here, put in this and then put some urgency in here and put some scarcity in here. And look, all these things are great. And NLP has a massive place in transforming people's lives. I honestly, I don't use templates anymore. I just don't. I just speak from my heart. So actually, last week, I was… I was on a coaching call with one of my clients. And they were, they were like, gosh, Liz is like I'm helping people with their finances. Like, I've got this incredible thing that's just happened here with my clients. And I'm like, dude, now's the time, lean in. And this is a webinar. This is a case study. And this is exactly what I would be doing right now. And I dropped down into how the avatar was feeling. So you're looking for the framework, I dropped down into how the ideal ever to hell would be feeling… feeling like a useless piece of crap, feeling guilty, feeling full of shame, feeling riddled with fear a person with the finances in such a horrible situation, a person with this incredible, amazing business, they might have all the revenue, but there's no profit. And you know, they're shelling out all these expenses. And at the end of the day, they've got this business that's taking them backwards. That comes with a lot of heavy emotions. So one of the first things that I say to them is tap into their. Feel that understand that that person there is feeling like a useless piece of crap. They are so scared they might even be being secretive towards their husband, their wife, their spouse, or their partner because of how much shame that they're experiencing. And once you get down into that, then speak directly into the camera and speak it out. I know that you are likely feeling full of shame and riddled with fear right now. If you've come here looking for a way to genuinely have profit in your business, and I don't care where your business is right now, if you want to feel safe with your finances, if you want to feel that profit coming in again, and feel the sense of ease with the cash flow being positive cash flow instead of negative cash flow, then this presentation is for you. And that what I just did there is like tapping in was that perfect? You know what? I modify that slightly? Yes.
Eric Beer 19:23
Yeah, but you're touching. You're touching on something really, really just profound and serious. And, you know, people don't talk about their feelings. So when you have somebody that can relate to you, it's really, it's actually what we do at the end of our surveys, the whole idea of segmentation and understanding these people so that you can customize messaging, but it's all around just, you know, connecting with somebody, you know, just, you know, showing somebody that they're being understood. Right. And when you feel understood, it's just, they want to be around you because nobody is talking to you in that way.
Liz Benny 19:57
100% When When people feel seen for the very first time in their life, Oh, yeah. It's like, oh my gosh, what do you see me? Thank you. I trust you, can you please help me? And I think that in this day and age, like people are seeking connection, people are seeking community, people are seeking these things. But they don't really know where to go to get them.
Eric Beer 20:22
That's the problem. Right? The problem is that they're buying something because there's nothing else available. They're dying for you to do that. They're dying for you to just cut. They're like, Please, somebody come up with something, right? It's like, you don't go after the diehards, you go after the people that are just, they're there. But they don't love what they're doing. Right? They're those that's the target market for you. And then when you start to talk to them in a way of what you're describing, I mean, that person who will become a customer for life if you if you really have the deeds to help them. So powerful, really so powerful. You got me thinking like about 10 Different ideas right now that I'm not going to bring up. Whenever I'm with you, you just like you do it. Dammit, you do.
Liz Benny 21:07
But here's the point, dude, like, like, living a meaningful life, we've got to ask ourselves the big questions because you can make a crap ton of money. It's amazing. Like money is gorgeous. Like, sometimes I think people think that I might be demonizing money. Oh, hell no, I love money. Oh, yeah, I really, really, really do. And just the pursuit of money is can be one of the most toxic things in the whole entire world.
Eric Beer 21:34
I was just having this conversation. So, my daughter, Ashley, is going to college. She's gonna be a senior next year. So right now is the time where she has to start writing up an essay for colleges like that's a big part of it. And you have to come up with something, and it's like, how do you how do you demonstrate, you know, your character who you are, what you're about, in, you know, 600 words. And, you know, how do you go about doing that now, our boyfriend's over, and he's applying to some school for like business, and he needs something in a business. And he said, You know, it's like, we're all like, kind of sitting down talking about it. And they're coming up with things. And it's just funny, like talking to these, like 17, 18-year-olds, you know, in one sense, they're, they're so just raw, right? They're just coming up and raw. And just like, they're, they're like, they could be a sponge. Like they could be like, you could shape them in such a great way if they're into it. But at the same time, like, it's like, the like, the basic things. It's like, okay, well, if you were to present to me a business plan, what would that look like? Forget about like the essay, forget about like you getting into school? Forget that'll all come, right? But just if it has to be something that you're going to look at from a business perspective, the question was, what problem that you see in your town, and what do you come up with it? And how did you handle it? And what can you do to overcome this issue? Right. So we were kind of just like, sitting there talking and having some fun, and we came up with a pretty cool idea. And it was fun. The idea was, you know, I had just ordered Uber Eats, and they brought food to me, right? And we were talking, and at the same time, my my wife, Ali, just had gone and picked up Ashley and her boyfriend from a party because the cops came. I don't know where it was, but whatever, it was 11 o'clock. So Ali comes, who brings him home? So we're sitting there, we're like, Okay, well, we just got picked up from a party. I just ordered food at 12 o'clock at night from Uber Eats. Right? And they're thinking about all you don't have to make up any businesses, Uber Eats, why don't we take Uber Eats and bring it for the parties? For all you kids that are calling us parents at 11, 12, 1 o'clock in the morning, to get home to now be a service that you can drive them home? Oh, whoa, that'd be awesome. Okay, how much? How many people go to a party? Right. And this is the part where it was fun. Because everybody talks about like the theory of it. But they never look at the numbers, which is what drives me nuts. When people come in, they come talking about idea. Sounds great. What are the numbers look like? Because it's the business, right? Like, it's the happiness, but then the numbers have to work, you know like I will 500 People go to a party. Right? And you charge $10 ahead, then you get half of them to say yes, drive me home. How much money would you make? Then what would you do to execute on that? Would you get a boss which what would you do? But how many parties in a month? What does it look like? All of a sudden, we came up with like, oh, we can make $40,000 a month? Whoa, let's do that tomorrow. Let's do it. It's like it was just so funny. Like how it all evolved from just like a simple conversation about this essay. Right? And it's just, they're looking at the end game. And even when you're starting a business, you're looking at just to your point, I want to make money. I just want to, and I think what you're saying is you can make money in anything. It's not about making money. If you got to figure out, like, what is it that you're going to do, what problem you're solving? Do you like solving that problem? What do people want need? And then you figure out the business side? Does it mean that there's a business and anything? Is it truly a business in anything? Is it big enough? Is that scalable enough? Maybe, maybe not. That's always like something you got to look at, of course, right? But still, at the end of the day, to your point, you'll be so good at it. If you care, if you actually care about what you're doing, and it's fun, and you wake up in the morning, you're like, holy kapow, I'm getting paid for this. I was gonna say something else. But you know, that would me,
Liz Benny 25:30
Dude, I freaking love this. Because the numbers, the numbers, the numbers don't lie. Unless you are doing your master's degree. And you can see people like you, you can, you can make numbers mean, whatever you want, actually, a lot of the time. So, but, but to your point, I freaking love that you said as long as you care, as long as you like into it, you can do anything, you can make money with anything. Like, there's been a couple of times that my wife and I have gone, like, what would we do if we weren't doing this? And like, ah, and as long as there is that like that spark that sense of like, like, the moment that you lose that, and you're we go through, we all go through valleys, and we go through times, like am I still in love with this business idea? Do I really want to do this? Is this worth the valley? Because we all have to walk through the valley? And if you have no why, if you have no reason for walking through the valley, the valley is just not a place that you will stay, period. That's it?
Eric Beer 26:28
Yeah, totally. Totally. You know, it's sad, because you see so many people that fall into that, that, that just either they're at a job, and they feel like they're just stuck there, or they're in a business, even if you are on your own, but you just kind of like, you know, treading water, things aren't moving up, you know, things aren't moving down, but you're just not happy. And to your point, like we all go through it, I go through it, I'm definitely someone. I'm a victim of that there are there are times where I just kind of get into that, that low. And, you know, just you got to wake yourself up and kind of rethink things and be like, alright, well, am I am I liking what I'm doing? Because if I'm not, then I gotta make a change, you know, and then it's not like you just say, Okay, it's over, goodbye. Like, that's just irresponsible. You don't do that. Right? You almost just say I'll work two days a week instead of five, like what you did. Right? Like, but, but ultimately, what you're doing is you're planting seeds to allow, make change, to adapt to do something different. At the same time, you're not just like blowing up that world, you can either find somebody else to run that for you, right? Or you slowly adapt into making the change of that business completely with whoever's on your team. Right.
Liz Benny 27:43
But, and I think a lot of the time is the… the secret is in like, it's a head game. Business is mostly a head game to be really freaking honest. And, you know, once you, once you really start to make it, it can get really lonely, you can start to feel really isolated, you can start to have this feeling of imposter syndrome. And it's funny, the more successful people become, often a lot of the time, the more they actually experience impostor syndrome, which is the craziest thing in the world. But I mean, I know when I first when I made my first million dollars, the level of guilt that came with that was, I never thought that I would have guilt associated with it. And it's not guilty because I made the money like I frickin love deserve that. And I freaking well deserved what it is because I walked through some darkness and some mud to get there. Yeah. And so it's not about that. It's more that I actually I had the sense of, like, this sense of guilt that other people weren't making it. Using. Interestingly, this is funny, using the perfect webinar system that, that Russell was, was showing the world. And it's not that they were it's not that the system didn't work. It's not the webinars, didn't work. webinars were 100% in the heyday at that point in time, and they're actually coming back around now, which is great, but it's been tweaked and changed a lot. But, you know, like, there were a lot of people going oh, my gosh, Liz, you. You made it. How did you make it? I'm doing exactly what you said. And I'm like, or exactly what the, not what I said exactly. You know, I'm following the template. I'm following the template. Well, the fact of the matter was, I took the template, and I made it me. Yeah. Yeah. And I can't teach you to be me. I'm not going to do that. Because the world is, there's only one, already one room for me in the world. Let's be very honest.
Eric Beer 29:40
Right? Yeah. Oh, yeah. But that's what's great about it. I think that's… that's see that's where I think people they get intimidated and don't understand that. You can have these you and I can have the exact same business, and we will cater to different people. Some people will love me some people will hate me. Some people will love you, and others Have all of you. But at the end of the day, all right, no one no one hates you.
Liz Benny 30:04
Oh, yeah, yeah, good. Here's it, please. Like, it's actually really, really, really good for people to turn tinnitus. There are people out there that will just hate because of what they are going through, and they will project their bullshit on us. Excuse my language. I apologize for that. Good. I genuinely like I'm, I'm, I'm sending out some really gorgeous emails at the moment, and I'm loving it. And there's some trolls, let's just say there were some trolls. And I two days ago, I received some… some horrible stuff coming back through and online. Hmm. I mean, it is what it is. It absolutely is what it is.
Eric Beer 30:43
Yeah. It's not easy. Anybody that's an influencer, that puts content out into the world will feel that in some capacity, the bigger you get, the more you're going to get. And it is what it is. Right. And I think it's hard to do it. But you have to remind yourself that whoever's doing that, whoever's just being just Rawfully mean, there's something going on in their lives in a bad way that you almost have to feel bad for them. Right? Yeah, like that doesn't mean you have to go and like it. Right? And, and feel bad for that person. Because there's a big world, and you should be catering to the people that you want to cater to. And you could block those people and just get away from those people. Because I do believe that I don't like when you have something that's valuable to share. And you know, it works, right? You just said you were you're doing this, this… this webinar, you figured out how to make it your own, you are successful, you made millions of dollars, you felt guilty, which you and I need to talk about that like I can get you over that. No, you should not feel guilty.
Liz Benny 31:43
Oh, I don't feel guilty anymore. Like I've totally, uh, I'm thrilled.
Eric Beer 31:47
So other people are struggling with that. And you have something that works, though you figured it out, right? So in that case, if somebody has to be convinced to work with you, then my opinion, I don't want to talk to you. Like if I have to convince you to talk, if I was selling your product, if I was a sales guy for you, and I know at work, and I'm talking to somebody, and they're starting to argue with me that hang up on them. You know, like in like the negotiations when the guy is like trying to kidnap somebody, and he's like, I want to end, the guy just hangs up. And the guy's like, what do you do? Why do you hang up the call callback? callback, right? Like, because you don't want to talk to the person that you need to convince that's not, it's already starting off in the relationship where it's just, it's a negative, right? Like, I don't have to convince you of anything, right? Like, it works. We know works. You want to be here, then you you tell me you want to be here. And we start to work towards that direction. Right? If it's a belief of having to overcome some things, that's where it's a gray area, right? Like, because there are times where people just they have their disbelief that you need to overcome. There's a difference between a disbelief and then like a naysayer, like a negative guy, like somebody that you just like, Dude, I honestly, I don't even want you in my life. Like, like, you're just too negative. So like, you're not… you're not… you're not wrong, I think for you like, it gets exciting. Once you figure out that it's working. It's like, Oh, my God, like me. I know, whenever I figure something out, I'm like, Oh, my God, I want to tell everybody, like this is this is this work totally. Like, I gotta call Yo, check this out. I just did this. And it worked. And I got, I had a 24% click rate. You have to try it. Do it, do it. Let me know how it'd go. I know excited to like when it happens, and you go and do it. And I'm like, how did it go? You know, I'm hoping that I did 20, it bummed. I'm like, Oh, man. Why, why no joking. But, like, if we want to work, it's just so much fun, right? It's just because you just, you know, you're figuring things out. And it's fun. And when you have success, you want other people to have success, like? Yeah, so I totally feel that I do feel that it's fun and enjoyable. So, so what would you do now? Right? I know, like, you've been going through a bunch of transitions, because maybe six months ago, we were chatting. It was like, Hey, let's go do this, this and this, like, I could do all that. But I don't want to do that. Like, that's not where I am right now. Right. And you started, like, kind of transitioning a lot of the things that you do because you're amazing at so many things. Right? You sent me some of your stuff, which was unbelievable, by the way, unbelievable. Like priceless. I'm pretty sure you like had a had a promotion or some funnel that you were giving away a bunch of that stuff. Right? Is that still going on? Are people still lucky enough to have that?
Liz Benny 31:47
Yeah, actually. So here's the deal. The big changes that I've gone through are there like I have been well known within the internet marketing community for like, you know, I mean, you said it like the video with Russell in a circle all that sort of good stuff. And I'm still on the front page of ClickFunnels, which is, you know, is great. And I'm on the order page of ClickFunnels and smattered around lots of of of the marketing collateral there, and you know, it's… it's gorgeous. I've had a very amazing time and kind of transitioned a lot, have my you know, I grew up in a really cool community. And for me, I kind of fell out of love with a certain part of what I was doing. And it's not that I fell out of love with marketing or serving or helping people. I kind of just was like, there's more for me to do in this world. I am 41 years old now, or 41 years young, I should say. And, you know, like, I firmly believe in the idea of, you know, I'm, I'm dead soon, like life really and truly is so freakin short. And I started to go, well, what else do I want to do in my life? Where's the excellence that I now seek to pursue? Because webinars for me - easy, funnels for me- easy, serving people - easier, helping people with their marketing, branding, all of that sort of stuff, like, beyond easy. So all those things I like, I love them. And they are really the skills that I've I've got like if I ever quote unquote, lost it all, like, I've got incredible, I would never lose it all is actually the point is that I've always got, I will always be fine with the skills, internal and excuse turned off skills that I've developed along the way. And I'm really grateful for that. Yeah. And then now it's just pursuing, really going back to, and this is going back to the full circle. So I've walked down this marketing line of walks down this, you know, social media, email marketing, funnel marketing, podcast, marketing, I, all the marketing stuff, and I love it. It's gorgeous. And I've, there's 1000s upon 1000s of lives that have changed as a result of me creating online programs, which years are still available, they're at the bottom of lizbenny.com, you can get all of my stuff. There's the Kapow Fire Sale down there. You can get all of it like for, like, I don't know, 297 bucks or something ridiculous like that. Yeah, it
Eric Beer 34:25
Could we back up for a second and explain, like, so you put all of this material into a package of 200 that you've sold for millions and millions of dollars?
Liz Benny 37:12
Yes, this is
Eric Beer 37:14
just for 200 bucks
Liz Benny 37:16
This is… this is absolutely correct. Yeah.
Eric Beer 37:19
All right. We're…
Liz Benny 37:22
Probably like, let me… let me. Can we just put a survey at the beginning of that and then sell it, please?
Eric Beer 37:29
Of course, yes. Well, hello, anybody? It's like, what is an affiliate marketing? Okay, so affiliate marketing one on one. I call up Liz. And I say, Liz, you have lizbenny.com. And you're selling a $200 product? I say, okay, great. Can I get an affiliate link for that offer? She would say, sure. And she would give me a unique link to lizbenny.com. That would be mine. It would have some code on it that every time I drove a click to her page, and someone went there and signed up and bought a $200 product, there would be a deal between Liz and I where she would pay me a commission. Okay, that is just as simple as it gets. That's affiliate marketing. Right? You could do that right now. I mean, you're getting 1000 calls. That's funny. Right? Like, like, legitimately, you could do that right now. Start promoting this unbelievable offer and making money doing it. Right. And it's just it's super, super powerful. And to her point of what you just said about surveys is that the reason why surveys are so powerful is that I can use your content to get people coming through and build a list around your audience. That will be my people, my leads because I generate all the traffic to my survey. I got them to sign up. I've yet to do anything where I've gotten paid by you until I sent them to lizbenny.com. And then they sign up, and then they actually pay for something. And you're paying me on a cell cost per sale, right? Now, if you're paying on a cost per lead can be different depending on how you structure that deal. Right? But that's the powerful thing about all this, which is cool. Yeah, we should do that, by the way.
Eric Beer 38:19
That… that will be fun. There'll be tons of fun. And only if it's fun like this is I've done so much in CPA marketing over the years like hon, it's gorgeousness it really, really is because if people don't want to be the Liz Benny in the face, because there's not it's not always fun being the face because you… you know, there have been times when I'm like yeah, I can take all the skills that I have and like literally just sit in the office and just drive traffic like he or she who drives the most traffic and learns how to drive traffic is the king or the queen of the world like that is like traffic is everything. Not everything. Traffic is fundamental!
Eric Beer 39:24
To controlling media, right? The ability for you to be able to control click and control media, right? Building up a list is so powerful, and it's an asset. I mean, it's a, it's a way for you if you want to start something, and you're not sure what you want to do, or you know whether you want to be the face or not what, what's so powerful about affiliate marketing is that it allows you to start generating cash flow on other people's offers, and you're learning the game while you're doing it. But you're also making money, and you don't have to do any fulfillment whatsoever. That's what's so powerful about it. And, you know, it's, I mean, that's how I built my business. Right? Like, that's, it's a big part of what I do, I still do it, I will never stop doing it. It's too easy not to, I mean, I still refund why you should never do this day with affiliate stuff that I've marketed years and years and years ago, I..
Eric Beer 40:53
Absolutely. And there's no reason why not one, think about it. Like, if it's a good product, right, if I promote your offer, and I know your product is good, if you're selling something for 200 bucks, that's, you've sold for millions, I mean if we… if we added up the total, it's probably 10 20 $30 100 million. And it's 200 bucks, right? It's helped, people. And I know there are people out there that need help. So I can go and start promoting to entrepreneurs that need help, I can get them into a list of mine, which I know I can also teach some things too, that are different than what you teach. And I can now have you support that, with me being able to drive traffic to an unbelievable product where they will get value. They sign up, I make money on the media by so I just built up a list of entrepreneurs and made money for myself. And I also got that person to get your product, which they never knew about, because of what I did to help them. So now they're going to be happy, you're going to make money because you sold your product. And now you're getting people into your world, that you might be able to now ascend into some other piece of business down the road as they fall into your nurture sequences and whatever you do to communicate with him, where you're going to be thrilled because you just made some money. And now you maybe make more, and you're building up a community of awesome people. So everybody wants, it's a… it's a beautiful thing. And, you know, you just got to repeat.
Liz Benny 42:23
And as long as it is a win-win like it's, it's just gorgeous. Along the way. I just, I really do love it. So yeah, I packaged that all up. Kind of said my, No, not goodbyes to ClickFunnels. Like I, gosh, I was communicating with Russell two days ago, like I wrote an email about him two days ago, because when he came to visit me here in Christchurch, I took him to my favorite cafe. It's just gorgeous. And I was sitting there, I was like, dude, I'm at the at the table, you know, for a message to show him where I was. And I haven't done the double fingers to online marketing, I'm just stepping into where my true genius is. Because what I realized is that, like, I've got all these skills where I can help people with marketing, I still love marketing, I really, really, really do. And what I realized was that the people that I've really helped the most, like, Lauren Golden, she purchased my Social Monkey Business, she purchased my Kapow course. And then she jumped into my Ultimate Kapow Mastermind, and she is literally just spoken on stage at Funnel Hacking live. She's made millions and millions of dollars. She's got over 6000 customers, and by me working with her personally in my Ultimate Kapow Mastermind and helping her through those belief moments, and helping her through those moments of internal like, oh wobbles when she was externally learning how to market and learning how to be and learning how to like her very first webinar was 30 minutes. I was like, Hey, honey, we need you to talk a little bit longer. Okay, we need some storytelling in here. So yeah, it because there was no, it was just very logical, very, very, very, very, very type A. And she's tells herself or described herself as Type A. So, you know, very normal,
Eric Beer 44:11
By the way, it's hard. It's hard. That's hard. You know, like that, what you're saying, it's like you have the superpower you don't realize is like getting somebody to sit down and think about the stories and then come up with them. And then, you know, illustrate it with what you're trying to present is… is challenging. I know even me I'll sit down. But let me think about a storyboard. And I'm like, Oh, well, I can't even think of one right now. And it's like, now I try to like when things happen just right. Like, I have a little notepad of like stories. We try to just like, jot down a story, you know, or something. So like, maybe go back to the storybook and like, be like, Alright, do I have anything that relates this? You know, these because, like, it's like, even when you like to talk about someone you love or care about and you gotta go give a speech, and you're like, I can't think of anything. And it's like, oh my god, there's like one of the most important people in my life, and I can't even think of four stories. It's like, unbelievable.
Liz Benny 45:02
I, to your point, I and I accept your compliment. When you said, you know, it's a superpower, it really is a superpower of my, my, my empathy. Like, my, it's a blessing, and it's also a curse. So when I say I'm an empath, and I have empathy, I'm not just saying I'm empathetic towards people, I'm not just saying, you know, I care for people, I'm not actually just saying that. If you literally like, go to Google and go, What is an empath I'm like, an extreme, highly sensitive person, a person who feels people's emotions before they feel them. And it like, I can walk into a room, and I just know that stuff is off. And yeah, and, and it's strange, and it's weird. It's horrible. It's great. It's brilliant. So the blessing is also a curse because I feel things to an extreme, and there's some things that I need to do in order to, you know, cope, and be able to focus sometimes I'm like, Ah, you know, because I feel things to the extreme, but I wouldn't give up my blessing, just because of the curse.
Eric Beer 46:10
I think I'm similar to you, in a way. I, the way you just described, it makes me picture like, you're these voices. And you're like, in this movie, where it's like, are you can, like hear, like, I'm very similar to you in a way of where I think of others feelings when I'm making decisions, to a place where I may impact me from a business level, where you need to be a bit more selfish about making decisions, but you actually care about people, seeing them making decisions that you if you looked at it from just, you know, being on on a board of a company, you know, it's… it's, I know, I'm making bad decisions at times. And, you know, I have to weigh when I'm making those decisions on how much of an impact it's going to make on what I'm doing. Right? Like, keeping somebody on who you maybe should let go. Is not great for the business yet. If it if it's not one if it's not going to change the trajectory of the business, and, you know, you try to figure out how to give them a chance, and maybe, like, find something that works for them, which I've done and like, keep them on, as long as everything's kind of going in the right direction. You know, when things start to, you know, go in the opposite direction, they're the first ones out, but, you know, it's, I think, like, you just hit on something, I think I struggle with that for sure. And I can guarantee you struggle with it. Because you care about people, you and you start to get close to people because it's just, you know, it's not about just making money, right, then, you know, you watch the people that are ruthless, and in business, and part of it is like, their ruthless part of it is like, Listen, you know, hats off to them, if they're able to do that, and go home and sleep, like I couldn't do, I struggle with that. And it's bad. I always say that I'm, like, terrible at firing people I suck, you know, like, but it is one of those you got, I guess it's only a mindset of like, maybe if you let the person go, then they're better off, and then they're gonna find their thing that they haven't found yet. And they're not good at it because of the fact that it's just not, it's not meant to be, it's not what we're they're meant to be. But, like, we all feel bad. And like, we're kind of like almost like, stopping them from… from evolving into where they're supposed to go. You know, and it's hard. It's, you know, then you feel like, are you like, tricking yourself into? Like, is that real or not? You know what I mean? Like,
Liz Benny 48:31
To the point that I made a little while ago, this is a mind game, business is a mind game, life is a mind. You know, and a lot of the time, you know, I think in this world too. A lot of people are riddled by their past, and they're making bad decisions based on trauma from the past to, and like, you've got to be aware. So for me, that the whole empathy side of thing, it's not that I'm having like voices in my head or stuff like that. It's just like, well, you know, it's I care because I feel things. Yeah, to the ridiculous degree, like it hurts. And, but then by the same token, you know, like, you… you actually, I've learned to ebb and flow with it. Now I'm like, Well, I'm, I'm not a person. I've got really good boundaries now. So I've had to learn a lot of these things along the way. Like, you know what, I respect myself first if I don't put myself first here, I'm actually it's the whole oxygen mask thing. Like I have to love and care for myself first and foremost, or else like I'm just… I'm just as bad as everybody else out there. Like, who is spouting on about doing things? And they're not actually no, no, no, no, hold the phone. Don't be hypocrite, dumbass. Make sure you're looking after yourself because that's my message. You've got to actually look after yourself along the way here. Yeah, good for you.
Eric Beer 49:45
It's more plus, like if you get taken down, and it's just it's better for everybody if you're not in a good place, right? For what you for you being your best. Yeah, so Okay, so now, so what's the deal? What are you doing? Talk to us. How do people worked with you? Who is the person that can work with you? Is it anybody? Is it someone that's starting out new? Is it somebody that's made $100 million? And I know you've bounced around and worked with people and made 100 million, and you've worked with people like brand new, right? Like, where where I focus today.
Liz Benny 50:20
So in terms of where I'm focused today, I'm genuinely so passionate about helping people who have made it to a certain level in their life. They're like, what oh, we're… we're like this set financially, for the most part, they've got a good business, they've got a good income, they're doing some… some really cool stuff. But they've gotten to the point where they're like, where, see, I've actually got a crazy…a crazy call, saying that I've actually come up with, and people may be triggered by what I'm about to say. So hopefully, you won't be. So life is all about the perfect effing balance. Now, hold the phone. I'm not swearing in any way, shape, or form. But I actually really do understand here that, you know, money is amazing. Money is incredible. Money is gorgeous. I love money, and family, friends, fun, fitness, connection, humor, like, the things that you lose along the way, sometimes in order to create the wealth of the things that now people are seeking the most. And I'm… I'm working with people right now who have lost themselves in the journey, who have lost their heart in the journey, who feel disconnected from themselves, who feel disconnected from their purpose, who are like, I'm good, but I'm not feeling good. I'm good over here, that I'm not feeling the way that I want to be feeling right now. And I've got a couple of programs. One is all about business and life transformation. It's called pal thrive. I've also got another program, which is called kapow impact. And there are so many people out there that are just like, you know, what I want to make more of an impact in the world I've, and I want to have a crap ton of fun along the way. And, and I've actually developed something called the Capelle Philanthropic League, where we get to, as a community of Kapow, impact people, go out there and make a difference in the world and connect deeply at the heart and heal all of the past wounds. And like because a lot of people are the walking wounded. So my programs are really about helping people rid themselves of the shackles of the past. And I've developed something called the Fun Protocol, which is all mine and… and I'm really excited about getting this out into the world because so many entrepreneurs and high achievers are shackled by their past and shackled, shackled to things that are no longer for them. And they need a helping handle with the time to walk into the new version of themselves, which is a new sense of deep happiness. So yeah. And I do have a higher tier program that is only for the right person, which is a one-on-one program working directly with me. But obviously, I was reserved in saying that because that is not for the... that's not for everyone.
Eric Beer 53:09
Sure, sure. So where do people go to get on your list, the base, watch a new place to go
Liz Benny 53:15
Honestly, is lizbenny.com. And, and have a peruse around that and have a look at the there is a video on the front page of lesbian.com. And if it connects to your heart, if it connects, like, genuinely just reach out, like I just want to help the world be happier. And I'm doing it, High Achiever, at a time, if that makes sense. Love it.
Eric Beer 53:16
Is there a place to like hop on your list? Or we have to go along? There's lizbenny.com?
Eric Beer 53:44
Yep. Okay, so then can we do another video where we build out an awesome survey for you and then drive traffic to your Liz Benny page on the bottom and get you sales? And you'll be an amazing case study, and we'll blow it up with conditionals. That'll be fun. That'll be so much fun. I'd love it. Let's do that put on the YouTube channel. Better.
Liz Benny 54:04
That'd be good. That'd be good.
Eric Beer 54:06
Then if I… if I take the video with your pretty face on my website, I'm assuming now you're gonna tell me there's some license fee and royalties learning from what happened last time. And you left about, you know, 15 million on the table from all the business.
Liz Benny 54:26
Yeah, well, let's just say
Eric Beer 54:28
I'm your agent. Yes.
Liz Benny 54:31
Well, yeah, I grew up along that I grew up in the process. And I realized that I realized the power of Liz Benny testimonial. Now let me just say that. Yeah,
Eric Beer 54:40
That's awesome. That's awesome. You're awesome. I... I could talk to you forever. Appreciate it. Early by you. It's always fun, at the bottom, my heart, thank you. I've got so many notes here. I'm gonna go check it out. If you guys want to see anything about what's going on Liz lizbenny.com LIZBENNY dot com. Let's say you're gonna give me an affiliate link to yours. I'm going to promote it so that we can go make some money.
Liz Benny 55:09
and change people's lives.
Eric Beer 55:12
Yeah, that'd be bam. There you go. But otherwise, you're awesome. Thanks so much for coming on performance marketer. Until then, be good.
Liz Benny 55:20
Thanks, mister. I appreciate my time. I appreciate your time. I appreciate my time. I appreciate your time.
Eric Beer 55:25
I appreciate your time, also. Yeah, we should appreciate your time. Your time is valuable. Yes, about, you know, $10,000 a minute. Pretty much.
Eric Beer 55:38
Would you like to learn how I built my business using other people's money? If so, then join my 21-Day Challenge at performancemarketersecret.com. I look forward to meeting you and welcome you into my family. And remember, results don't lie, but the people who don't have any do. Thanks for listening.