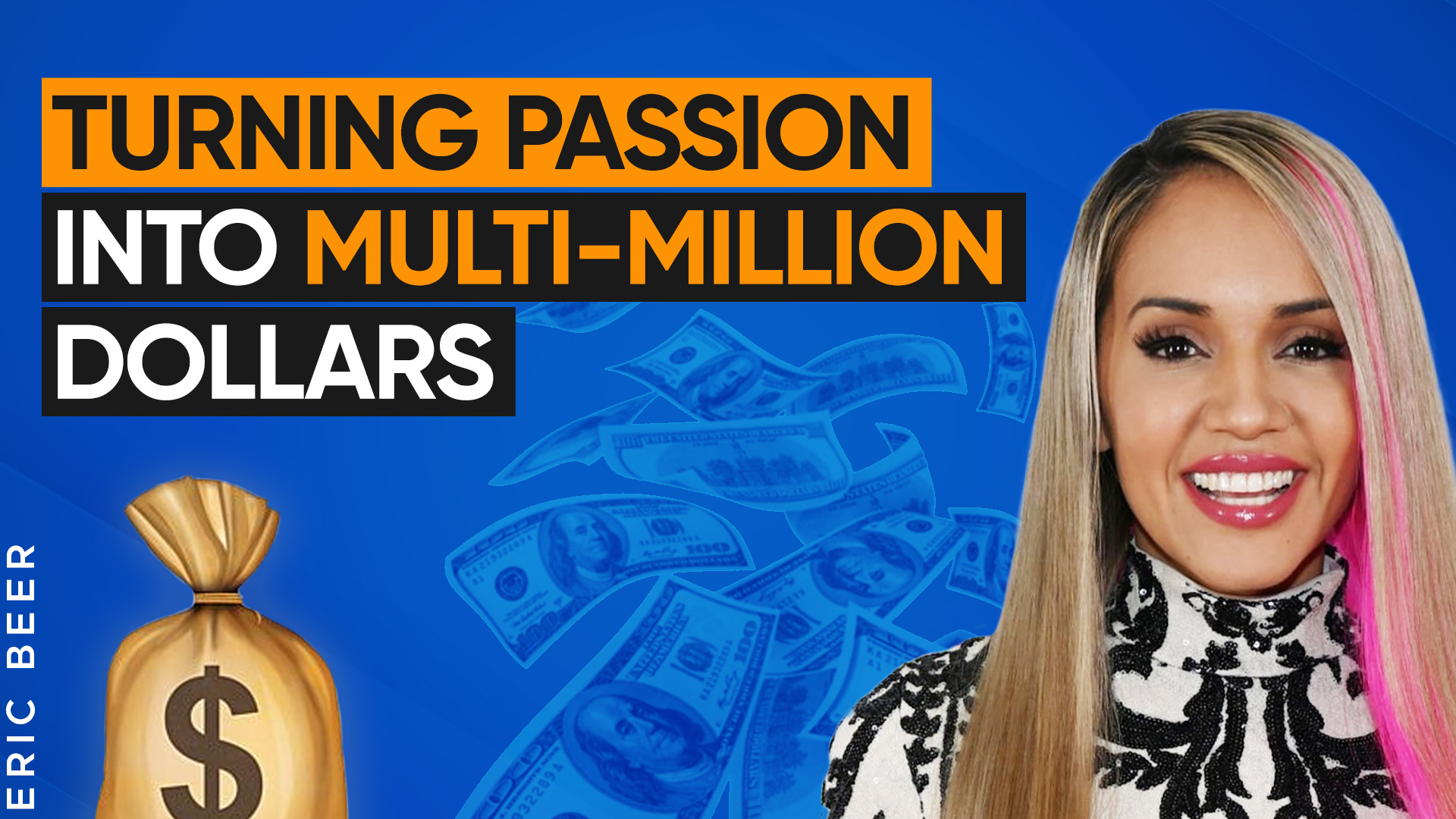 22 Sep

Kristine Mirelle of Music Hustler Interview (On Her Journey, Business, Ads & Using Survey Detective To Sell Her Book)

Are you a talented artist dreaming of making a living using your passion for music?

Then today's episode could be a life-changing one for you.

Joining me in today's episode of the Performance Marketer is the founder of Music Hustler, Kristine Mirelle.

Kristine is graciously sharing with us how she went from being a starving to a professional musician turned multi-million dollar business owner.

Like most aspiring singers, landing a record deal is the primary goal if you want to get into this competitive industry. 

But in today's generation, you don't only get into it through pure talent. Most of the time, having an entrepreneurial spirit does help you to move the needle.

And no one knows that better than Kristine.

She built Music Hustler to help independent artists get their breakthroughs even if they didn't sign with record labels or have a huge fan base.

If you think this is something that would inspire you to take action, then make sure to tune in to today's episode.

Let's dive right in!
Turning Passion Into Business
Kristine is like the Fairy Godmother for struggling musicians. But she was once a starving artist, too.
She had experienced sleeping on friends' couches and kitchen floors and completely broke before she landed consistent bookings.
And when she finally knew how artists could make a living even without those coveted record deals, she decided to step up her game and help her fellow artists build their independent music careers.
That's how Music Hustler came to existence.
It has been three or four years since Kristine and Music Hustler have helped artists land record deals and shows in different parts of the world.
But it only took off when she applied what she had learned from Russell Brunson's books. And the rest was history.
Ads That Get Click
One of the key components to her business growth is producing ads that get clicks.
And if you're not aware yet, it's getting harder and harder these days to stop people from scrolling their phones, let alone watching a minute-long ad.
But Kristine cracked the code and went on to get her offer in front of her target audience.
How did she do it?
It's all about putting more good enough content than pushing for only one perfect ad video.
And I got to say; she has been slaying those video ads with her wit and humor.
Moreover, Kristine is proof that you don't necessarily have to have high-end video productions to shoot video ads.
Yes, you read that right!
In fact, just by using her phone, she was able to put out ads that convert better than high-production ones.
Using Survey Detective
To scale up the business, and reach her targeted audience, Music Hustler and Survey Detective are finally working on a collaboration.
Survey Detective allows Kristine's targeted audience to self-declare their problems so that Kristine knows their pain points and how to attack them.
She has created segments out of it, which leads to a well-crafted sales funnel.
(Check out the full episode on YouTube to view my screen on how this framework looks like.)
And by doing this collaboration, we've found some really cool realizations and ideas that you might find helpful for your business.
So if you want to learn more about how Kristine grew her business into multi-million dollars using ads that get clicks and how our collaboration using Survey Detective better serves her audience, then make sure to tune in now.
You don't wanna miss this!
—
If you have any questions or you want to suggest a topic for the podcast, shoot me a message on social media or in my text community (917-636-1998) and let me know!
If you'd like to get bonus Performance Marketer content, sign up for my SurveyDetective VIP waitlist!
🕵️‍♂️  Sign up for the SurveyDetective VIP Waitlist HERE
I'm looking forward to hearing from you! 
See you next time!
Listener Love…
Warning! ⚠️

by Boz46747 from United States

Wear a helmet when you listen to the podcast. Eric will leave you feeling like you can run through brick walls. In all seriousness, this podcast is the absolute best!

Awesome

by Nevareze William from United States

Very interesting show.

FANTASTIC!!!

by cucklord101 from United States

My life changed after I discovered this podcast, 100% the number one on the platform.

Great Podcast !!

by Olivia Cousta from United States

I listen several days a week and am excited to have taken action with my first few steps. Thanks Eric!

Best Podcast

by faz12548 from United States

Thanks for everything. This show has been an amazing resource.

My favorite podcast

by Alison Riah from United States

This is my favorite podcast. I look forward to every episode and share it with everyone I know.

Awesome!!

by Brads Hook from United States

Love this show

Inspiring

by stevie h b from United States

Eric's energy, wisdom and experience get me pumped up to do more.

Eric changed my life, thank you

by Nicole Aliba from United States

Anyone who has a chance to listen, do it. Subscribe, download and listen. Eric is authentic, he truly cares about the people he comes in contact with. I know eric, I've tried to be around him and learn from him any chance I get. He's been successful in every stage of his life. Getting the opportunity to hear from him direct, how he thinks, how he goes about achieving his success, his strategies, his tactics, his outlook on life. I'm thankful he started this podcast and I'm thankful I get the chance to learn from him. I have no doubt the lessons he delivers each and every episode will help me continue to be succession my journey. Thank You Eric for making an impact on my life and making me realize I'm capable of so much more than I ever realized. Your support fuels my success. Good luck with the podcast!

Wholly Cow!!! Eric Is The Real Deal!!

by Supreme Dragon Slayer 69 from United States

Seriously.. Affiliate Marketing has been around for a LONG time.. However, it's always been associated with scams, and fly by night marketing tactics that are shady l, illegal or unethical at best. Until now. Eric runs his entire business (which is ultra successful btw) the same way he runs his life.. On pure integrity. Finally, a podcast that is teaching Affiliate Marketing based on being.. Ethical and Transparent. But the best part? This podcast is soooo much more than just Affiliate Marketing.. it's about running a successful business and successful life. So far Episode 3 is my favorite and I look fwd to each episode as soon as it comes out. Highly recommend this to anyone, regardless of where they are in their business!! Straight Gold Beb!

Dave

by Rothbone from United States

One of the best podcasts in a long time. Very insightful, had me at the first 2 minutes kept me for entire podcast. I am a entrepreneur myself and found it very interesting.

Eric Beer is a genius.

by Raera29 from United States

I've only briefly met Eric - but listening to his podcast (as well as his YouTube videos) - it's clear to me that he has an in depth understanding of how marketing should work. Brilliant podcast!!!

Beer podcast

by Bghbhhhggghugyhjjgtjporws from United States

So excited to get more info from Eric Beer to help further my career.

Great Stuff

by Dr TBA from United States

I have been a business owner and entrepreneur for over 25 yrs. I found the information both interesting and informative. I am a fan! Dr Todd Askenas

This dude is the real deal...

by gossjoh1 from United States

I'm in the internet marketing space and have heard about Eric Beer from other entrepreneurs and it's always about how much he crushes it. Over $100,000,000 in revenue... no joke. I had the good fortune to meet him this weekend at an event and he couldn't be more humble and genuine. Just listened to the first episode and it is awesome! Can't wait to learn and grow from you Eric and thanks for sharing your wisdom and experience with all of us!!

Awesome

by Archmatic from United States

Thank you Eric for all your motivation and confidence! This is a must listen. Eric is always on his game and ready for a challenge!!!'

Informative and relatable

by srg1113 from United States

I've listened to the first two episodes and found them useful and entertaining. Eric gives a lot of background to how he got to where he is in his career and the challenges he encountered and overcame along the way. He also shares his knowledge in a way that's easy to understand and would be useful both to people new to Internet marketing, and to people like myself who have some experience but are looking to expand their knowledge. I'm subscribed and looking forward to future episodes.

Outstanding!!!!

by casino exec from United States

This is an excellent podcast for entrepreneurs in any industry. Hearing Eric interview and discuss proven success stories is like getting a motivational fix within 24 minutes. Can't wait for the next episode!!!

High Five

by chris drazek from United States

This is good! Guy is well known industry veteran. In the age where it's hard to get 15 minutes with someone like that on the phone, these episodes have a permanent placeholder on my calendar. Well done and keep up the good work!

Amazing

by Rtfdghf from United States

Walked into the office inspired and motivated! Great listen.

Just discovered a GOLDMINE of information!

by ericamerica from United States

This is next-level marketing that EVERYONE needs to know. SO much value here! This is information people would be willing to pay BIG $$$$$$ to have, and he's just laying it all out here.

Insightful

by lonestar1818 from United States

Incredible insights from one of the best!

Entrepreneurial Gold

by girlfriendwithnutallergy from United States

This podcast is amazing an a must have for anyone looking to take their entrepreneurial endeavors to the next level. Whether you are interested in becoming involved in affiliate marketing, or are just a student of life looking to learn about one of the largest and least discussed industries, this podcast is for you. Eric makes his passion for entrepreneurship available to all with this podcast, and for that reason it is a must listen.

Knowledge bombs!

by Sheree Trask from United States

Eric is a wealth of knowledge, not to mention, incredibly humble! He's got the proof to show that determination, grit and perseverance pay off... and I love that he's shedding light on the world of performance (affiliate) marketing with tangible tools anyone at any point in their online journey can apply. Thanks for all you do, Eric! Excited for more!!

As Smart As they Come

by Lgoldberg1976 from United States

Eric Beer is a tremendous listen. His story telling and motivation have already driven me to work harder. Can't wait to hear what he has to say next.

Great content

by Sensei Victoria Whitfield from United States

Eric is a great guy, gives from the heart and is a wealth of powerful, profit-positive information. Rock on, brother!

So informative and easy to understand

by bergbusiness from United States

If you are serious about starting in this business this is the podcast to help kickstart your career. I highly recommend tuning in.

Powerful

by reebcire from United States

Never realized how mich money performance marketers make without taking much risk. Get excited to learn more

Eric Nailed It...

by Mark Duke from United States

You do not want to miss out on this podcast. Eric is absolutely brilliant at his craft. A MUST listen or anyone who is wanting to ethically up their game in the business + affiliate marketing space. Cheers!

I loved this podcast!

by DPG...123 from United States

I just listened to this not knowing what to expect and it was FANTASTIC! I am hooked and can't wait for more episodes. Looking forward to learning a ton from Eric 🙂

Eric's trainings will up-level your life!

by SwayBuckley from United States

Eric's level of transparency and REAL value is not only rare but transformative! Don't sleep! He's the real deal!

Got me hooked from the start

by Doc bus from United States

Hearing Eric's story and why he is looking to share his knowledge of starting a business was so motivational. Looking forward to hear what he comes out with next. Hoping I can use his coaching to take my own life and business goals/ideas to the next level.

Eric is a genius!

by Golden Oracle Ministries from United States

I had the pleasure of meeting Eric Beer in a high level mastermind that we are both a part of. I must say that every time he opens his mouth marketing gold falls out! I've made millions both online and offline, so when I hear someone talking about marketing I'm not usually that impressed, but with Eric I'm beyond impressed. I'm blown away!!! Learn from Eric, do what he say and watch your business grow.

Excellent

by JLRPS22 from United States

Very motivational!

Awesome content

by NickTheGreek83 from United States

I don't normally write reviews but this is a must listen for anyone considering starting a business. Eric thank you for taking the time to give away some of your secrets! Look forward to future podcasts.

Legend!

by Daxy111 from United States

SO excited for your content to come. You're advice and results is authentic which is rare now a days!

*****

by acrygvbh from United States

Fantastic relevant info !!!

The real deal

by Erin_Verb7 from United States

Eric Beer is one of the smartest media buying minds I know. Take this chance to learn everything you can about affiliate marketing from him. He will teach you an ethical way to make your life and your family's lives better through affiliate marketing. He's the real deal.

Genius marketing knowledge

by Nick349731 from United States

I can't wait to continue to learn rom Eric! So skilled and such a genuinely good person too. Keep putting out the great information Eric!

Great story and great info

by R-Rot from United States

This was a very interesting podcast. It was honest, informative and motivational. Eric has a great story that, everyone who is interested in starting a business, should listen to. Highly recommend!

Amazing

by Billion Dollar Cowboy from United States

I can't wait to learn more!! So so good!!

Awesome

by Eric X 2 from United States

Eric Really enjoyed listening to this. Keep up the great work!!!

Let's Market!

by hjdvikes from United States

As someone who has networked and marketed more over the past 2 years than ever before in my career, this Podcast is an absolute MUST listen for me. Eric makes it easy to listen, learn and apply.

Invaluable information!!

by lpro1111 from United States

Invaluable information. Can't wait to dive in.

Great information, tons of useful tips

by jonnygal77 from United States

These are great, so much useful information that I can use immediately and effectively. Thanks Eric

Great listen

by Xtra Medium from United States

I love listening to Eric's podcast on my way to work. Looking forward to applying some of these principles to my career.

Definitely worth a listen

by SBS776 from United States

I have had the pleasure of working with Eric and this podcast is a roadmap to success. He is a professional with years of experience and delivers results

Game Changer

by Jay Heydt from United States

Eric Beer is a game changer for your business. I had the privilege over the summer of taking an online marketing class with him. The daily interaction with Eric made me believe anything was possible as well as opened my eyes to an entire world that is online that I was missing. You will learn and earn with Beer. He is one of the best business coaches out there!

Performance at its best!

by Shm722 from United States

Eric has great ideas and insights!

Listen to a visionary....

by RobH60 from United States

Eric is a genius and visionary. Always looking to get ahead through hard work and drive to success yet he is super down to earth and willing to spend the time to share the secrets of his success with others.

Finally, coming out to teach the world

by RogerSmith! from United States

I've known Eric for quite some time and he has been the guy who is quietly CRUSHING it. I'm glad he is coming out to the masses to share all his knowledge!

Can't wait to dive into these!

by Arushi-315 from United States

I can't wait to learn from Eric so I can level up my marketing!
Transcript…
Read Full Transcript
Kristine Mirelle 00:00
I'm targeting musicians. So I don't just have all these random people. So when they click on the offer, it's something that actually appeals to them. So the offer, once you get to the offer, it's not just fun and jokes anymore. Now it's.. there's real testimonials, there's real results. And then I actually demo the product, you know, to actually see what it is. But to get them to click, I think a lot of people focus on like, too much of like, let me be serious. Let me make sure that people take me to like, and really, it's just, you're just trying to get them to click on it, you're trying to get them to stop scrolling.
Eric Beer 00:28
I spent the last 17 years building my eight-figure performance business without using any of my own money, working with some of the most brilliant direct response marketers in the world today. Now, I'm looking for entrepreneurs to join my affiliate army, built on ethics, transparency, and good old hard work. Join me to change the perception of how people view the greatest business in the world affiliate marketing, and follow along, as I learn, apply, and share performance marketing strategies, working with some of the brightest people on the planet. My name is Eric Beer, and welcome to the Performance Marketer Podcast.
Eric Beer 01:10
Ladies and gentlemen welcome to Performance Marketer. Today we have a special treat. We have the wonderful Kristine Mirelle. She is a professional musician. She's traveled the world. She's done everything in anything in the music industry. And she's now an entrepreneur who's now helping other musicians and showing them how to build businesses and kill it. And she's doing both, and she's rockin, and she's got a birthday coming up at the end of this month, that if anybody wants to go to, you can do it. She'll give you a link, you're invited. Later, but hey, Kristine, what's up? Thanks for coming!
Kristine Mirelle 01:49
Hey, Eric. Hey,
Eric Beer 01:52
Welcome, welcome, welcome. Well, Kristine, you are amazing. We all know that, right? I've seen you a few times, you've been doing a lot of speaking engagements at a few of these different events. And you're just seem like you're like this renaissance woman. All right, you're all about this music, music music. But then, you know, when you get to the core of what's going on, it's like this brain of yours. You're very clever. You do ads that are just really cool. Reminds me of like the Dollar Shave Club. Right? So how did you how did you like convert from, like, music to getting into, like, the business world, the online marketing world?
Kristine Mirelle 02:27
Yeah, so you know, music is still... you're working for yourself. So it's still entrepreneurship, you know, booking shows going out there and creating your products, it was kind of the same thing. And then when COVID hit, that was when I was like, okay, because I've been performing tons of shows, and I could no longer perform anymore. And so, at that time, I had just had my son. And so I was long, I didn't want to be out till one o'clock in the morning performing and that sort of thing. So I was like, Okay, what's the next best thing? I'm going to start teaching musicians how to build their own independent music career. And then, you know, rent... ran across Russell Brunson's books, and then kind of everything took off from there. And now I mainly help other artists, you know, build their own careers.
Eric Beer 03:06
It's awesome. And how long have you been doing that for?
Kristine Mirelle 03:09
It's about three or four years now. It's around there. I mean, I was doing it for a long time before that, like I was, I haven't really gotten like a bunch of like, record deals for artists. And I was already booking shows for artists in different countries. But I didn't have like a system. And I didn't have a process. So it was really systematizing. Everything was where it was like, this is awesome. So discovering that was really cool.
Eric Beer 03:29
Yeah, so, like, talk about that a little bit like from your frameworks that you're you're creating for musicians, right? A lot of these musicians have all these false beliefs, they don't know what to do, they don't know how to start a business. And you're coming here and just like simplifying the whole process, like, like, like me, and everybody else know where we overthink things. And you've been able to successfully do it where you've had some pain points in your life. And then you figured out how to overcome these issues. And now what you've done is you've taken this solution, and you're now just introducing it to other people like you that don't know about it, right? I mean, that's the self-education space, like, so. Can you speak a little bit about, like, what that look like? What? How did you come up with it? What's the process for people listening here?
Kristine Mirelle 04:14
On the music space in particular? Is that what you're trying to found out? Or is this from....
Eric Beer 04:15
From the business end of for musicians? Right? Like, what you did was, which is really like, I don't think you realize how lucky you are, that you were able to take something that you're passionate about and then turn it into a business, right? Most people don't realize that it's it's possible, right? And you did it from your own life experience of you know, you had this these years of just killing it, traveling the world like you're producing all these songs getting, you know, the rock star life and now like, at some point you just, like I said, like and the more people will hear you're so clever. You really are smart. Like I see you when you're doing things, and like you do things that you don't need realize you're doing like, I don't know, it just makes sense to me. And it's like, yeah, that's what they teach. Right? And it's like, but I, you never taught it you just kind of like your intuition said, this makes sense to me, and you do it. So like, it's just it shows your intelligence, and like you have this like street smart feel for like, how to make money, and you're somebody that would make money no matter what you do, right? So it's like, how did you do that, though? Like, how did you take your passion? And then figure out like, alright, I figured out how to do it. So like, now let's turn that into a little business here and make a few million bucks. Like,
Kristine Mirelle 05:31
I think it first comes down to alright, what are you selling? And where's your traffic? Right? So for me, it was when I was 10 years old, I started going door to door. So I was like, I was wearing high water pants. We were broke, living off of $100 a week. And I was like, Okay, I could sell something. So I'm going to the Dollar Store, and the Dollar Store used to give me everything for 50 cents. So let me like go buy stuff for 50 cents, and then I'm gonna go where traffic is the worst traffic? Well, I didn't know online marketing. I didn't know any of that suffering. I don't even know if that existed - the internet. I don't know how long ago that was. But I started going door to door. So for me, it was how do I reach people? So it's like, Okay, let me go door to door. That same principle like just kind of carries over in every business, right? So it's like, where's the traffic? When you're? And then what are you selling? And then how do you find that perfect customer. So for me, it was I was selling candles and random stuff. But as I got older, it was like, okay, you know, music is all that I've ever done. So music is like my life. I never known anything else but use it. And so it was where, you know, how do I show musicians how I've made money because at first, I didn't, I spent like eight years, you know, sleeping in my car on in motel sixes, on friends couches, I've bathed in gas stations, I have like, just, you know, done the whole typical starving artists thing. And then discovered some things along the way that worked. And I discovered all the things that didn't work. And so by the time I started working with other artists, it was very easy to see what they were doing and go, Okay, you know, you need to do you just need to tweak these two things. And now you're going from homeless to making like 75 grand a year, you know, there were like, little like, it wasn't things that took, you know, years and years and years who was like, you know, one of my best students literally was living with his grandma made $1,500 his first week, you know, doing shows working with me. And that's not like a huge amount of money. But that's like, it's pretty good when you're living with your grandma, and you don't have a job. And all of a sudden you were able to make $1,500. And so it's just all these, it was kind of just noticing what they needed to do, and just saying, Hey, here's what your product is. And here's where the people live that you need to get to. So it was for him, it was booking shows. So it was okay, your product is you performing. And then here's how you find the venues that have money to pay, because there's plenty of venues that don't have money to pay. And there's plenty of people saying that you need to go like get famous on TikTok get, there's all these people that have millions of followers on Tiktok and are still grow. So it was like turning it into money. And it was the same thing getting into business. It was like, I started learning how to run ads, I started learning how to you know, and I shared my story with you, I when I learned how to run ads, I was living on a farm. And I didn't have Wi Fi. And so for me, I would have to drive into town and upload these ads. And I was raising my son the same time. So sometimes I have minutes, I run into town, upload the ads and just go home and like, cross my fingers and pray that they would do well. And you know, and I didn't have time to do high-ticket. I didn't have time to do anything like that. But I just I knew I had something that the market would want. I do have something that would help musicians showing them a book shows, them how to do that. And then, you know, did a million dollars in sales on the book with like no Wi Fi. And that was what just happen.
Eric Beer 08:29
Yeah, that's so sick. Yeah, it's so impressive. I mean, yeah, the way you make it just comes easy to where it's just not. It's just not as simple for others. And you're you're just an inspiration for not just musicians, but you know anybody, right? And I love your ads. You're just so clever, in fact that you like, you know, you've told me offline that you know, you've been.. you edit your own videos, right? And how did you learn? Oh, I just went to YouTube. What do you mean, you just went to YouTube? Yeah, I just went to YouTube watch a video now. I'm an editor. Okay, great. To have a Facebook ads,
Kristine Mirelle 09:03
uses no.
Eric Beer 09:04
And I'm buying ads. And I'm like, Okay, well, you know, how much experience do you have? I don't really have much experience. I kind of just, like, started buying ads, you know, like, it just whatever made sense to me. I did. And it's like, you know, people like you who just, you know, it's just the things that come easy to or are just, you know, a lot of people don't have that, you know, so like, the fact that like, you're able to take these things and do without even knowing and just your raw is just you'll be dangerous once you start to like really dive in into all this stuff. And it's just so awesome that you're like helping others. I see it. I love it. I love being around you. I think that you're just, you're just a fun energy and good for you. So congrats on that. So can we talk about your offers a little bit because I want to go through and kind of talk about what we're doing together and how we're like going to try to like collaborate and you're going to work with me on surveys But before we do that, can you talk about a little bit of like what your value ladder looks like, right from like, how you're attracting your, your client from low ticket or whatever you're doing and how you're, you know, diamond in and then yep, yeah, I have another question, but I'll do it after.
Kristine Mirelle 10:15
Yeah, absolutely. So my low ticket, I have a 19 or $27. Now, so the price just went up, grab a book. And then I mainly just kind of, I put together different books and lists and mini courses. And so the books $27. And then once they get into my funnel, it's a book where I, you know, it's basically a list of festivals that pay artists to perform. So they get kind of all this research that we've done. And so they pay for that. And then they get asked if they want, you know, some other research that we've done, sometimes it's a list of record labels, sometimes it's a list of publishing companies. So it's just more resources that can help an artists make money using their music or performing. After they go through that funnel. There, then there's different things, we do webinars, and I have a 997 course. And then now we have a $4,000, a coaching program. So in the coaching program, it's an eight-week coaching program, where we teach artists every step of the way to build a show that can be booked. So after they go through that training, so they can actually book their own shows, they'll have a whole show produced all the assets that they need, like promo videos, you know, photography, their band, you know, putting together a band, and then at the end of that art, like continuity kind of offer, it's a little bit non traditional, where usually people's continuity offers or, you know, pay 997, or pay whatever amount of month to be a part of this, ours is actually really selective because like 90% of the people that apply to be in our coaching program are actually not qualified from the beginning, because they have to have talent, and then have to fit them. And even if they have the talent, they still have to fit what is required from cruise ships. And so, so it's a little bit difficult for like 90% of your applicants, we just already can't, we just don't, because of like, I can't get you results, I don't want your money. So after that, after they go through that our continuity offer is actually more based on more performance on our end. So we have an agency, and we've booked artists on cruise ships, we put artists on casinos all over the world. So we look at many different countries. So once they go through our training, they're able to you know, get qualified, certified, and they have all the assets of any, we can then book them all over the world. And then they can perform for life. And we get a percentage of, you know, what we booked them for. So everything at that point, like our continuity is all performance based. But we need to get them to that point where they're even like, like in a position to where we can even book them. Because just because you're talented, doesn't mean that you can be booked. So we train them through that process. And then we can actually book them for the shows. So that's, and then we have a bunch of other things we do PR and all kinds of other stuff in between. But that's, um, that's the main thing.
Eric Beer 12:45
Yeah, that's amazing. So you have the book on the.... on the low end, you get someone to come in, they start to use a list than you you're upselling them into some $4,000 training or coaching program is eight weeks. And then if they want to continue on with you, then you have a team that helps book them, right. So that's kind of like your value ladder of how you're making your millions and millions of dollars. And all the offers are great. But there's something you said to me that I think is important that people should hear. Which is you do have to have a good offer. But you're you're really like an expert on the ad side of what you're doing. And you've always said that, you know, the ad is equally as important as the offer or at times it could even be more important, right of how you like capture the the audience and get them excited on whatever that offer is. Can you talk a little bit because I know you've had some speaking engagements, and you've taught people about the ads, you don't necessarily, you know, put full focus there. But you're just you could if you wanted to write and any business in the world, people are bothering you all the time to come by media for them, and you got to push them away. Right? So it's like, you know, talk a lot about like, the the ads and why that's been so successful for you.
Kristine Mirelle 13:54
What really made me understand how important was this, that this is, is when I was living on the farm with no Wi Fi, I knew that I couldn't rely on organic traffic, I knew that I needed something that people were going to click on, they're going to engage it was going to stop them because people are scrolling. And when people are scrolling. They're saying like, you know Kim Kardashian got eaten by elephant or whatever, you know. So you need something that like stands out. And so for me, it was what do I do to get people's attention because if I can just get them to the offer, I know that what I'm offering is amazing that they don't even know what the offer is, how can they buy it? So for me it was how do I do that? And so it was like, I gotta be different. I gotta catch your attention. And for me, what really hit me was make them laugh like that was it for me if I just make them laugh and sometimes it's you know, being funny sometimes that's been like really like shock value. You know, sometimes that's just like, got them going. I can't believe you know, they did that or I can't believe she did that or said that or whatever. You know, like she's ridiculous. She's like one of our my biggest as my brother's literally sitting on a toilet. And you know, my brother on a toilet and it's just ridiculous. It's absolutely ridiculous. I'm juggling and pushing a lawn mower, like none of it has anything to do with music at all. But I somehow tied it all in and then said, By the way, if you want to perform at festivals, here's my book, like, it doesn't make any sense. And so people are going, what is this, I have to look at this, am I targeting, obviously, I'm targeting musicians, so I don't just have all these random people. So when they click on the offer, it's something that actually appeals to them. So the offer once you get to the offer, it's not just fun and jokes anymore. Now it's, there's real testimonials, there's real results. And then I actually demo the product, you know, see actually see what it is. But to get them to click, I think a lot of people focus on like, too much of like, let me be serious, let me make sure that people take you to like, and really, it's just, you're just trying to get them to click on it, you're trying to get them to stop scrolling. And so that's what I learned. And then also because, again, I couldn't be posting frequently, I was out on a bar with no Wi Fi. So I had to create something that people were going to click on and that I could just put my credit card in and say, okay, Facebook, spend some money, and make me some money. Because, you know,
Eric Beer 16:00
It's like a cash register. You turn it on, you go to sleep, you wake up and you're like, Oh, my God, there's like, actual, like real dollars in my bank account. So between like, a video ad and a static image, do you see difference in performance?
Kristine Mirelle 16:15
So I've tested just a little bit of the static ads, I'm going to say that on my end, video ads have always like way outperformed static ads. But I'm also going to say that that also has to do with like, you know, the performance of the person, because if the person does a bad performance, you know, then obviously, you know, if they're sitting there and they're reading from a teleprompter, and it's boring, and you know, and the lighting is bad, and there's, you know, the audios back then they might not have the same, you know, results. But I've tested probably, you know, I even like lately, probably the last six months, I didn't even use static ads at all, I barely started testing them again, probably two weeks ago, just I was like, let me start testing them again, just because the difference was so dramatic. The difference was like, like, way higher when I use video ads. And as also as a brand. It's like people want to trust you, they want to know that there's a face. And so now that like people know my face, they know that what I offer is, you know, you know, valuable and helpful to them. And as soon as musicians see me, they know that they're gonna listen, because it's something that's going to help them. So that's what I also think, you know, if there's a face of your company, use that face, like use them.
Eric Beer 17:25
Yeah. How often do you do you swap ads? Or how long do they run for? How's that work?
Kristine Mirelle 17:31
It just depends. So, um, I know it's, it's funny. I always read people where they're like, You got to do like 5 10 20 30 ad creatives. And the way I kind of thought of it, I'm like, Yeah, you have like sucky ad creatives. Sucks less. But like, for me like, so I want to ask for cologne company. It's been two years, I've used the same ad for that cologne company. And we aren't, we haven't shown any less profits. I mean, it's doing fantastic. You know, we're doing, I don't know, hopefully 1, 000 sales a month, you know, and that alone, the profit, there's about 30 40% You know, just off of cologne that nobody's ever smelled. Nobody has ever smelled this cologne. It's going to cold traffic. And I'm using the same ad creative that I've used. I'm literally on the farm. Like I should show you the ad. I'm literally on the farm. I shot it outside with my cell phone. And so but
Eric Beer 18:25
Go show it if you want you want to show it.
Kristine Mirelle 18:29
I feel like the toilet one's gonna be the that one's artists and musicians. I know a lot of you guys are at home right now doing nothing trying to figure out what to do with your time not promoting your music, maybe writing plastic courses like this one. Or maybe you've learned how to juggle or maybe you've learned a new language or you and I drank them but I saw that in value. Or a lot of you may have even started your own lawn mowing business. But none of that matters if you're not promoting your music. See a lot of you guys are like Harry over here. Say hello, Harry. How do y'all? How long have you been sitting there Harry? 25 minutes. A lot of you guys that are watching right now are doing the exact same thing that Harry is doing. Ain't that the truth, Kristine Mirelle? Call me Kristine. Alright, Kristine Mirelle. Now, instead of wasting time doing stuff like this, you could have already submitted your music to 4,592 blogs, and magazines and Spotify playlists that all play music and publish music from independent artists like yourself. And in fact, I put together a list of 4,592 of them. And if you get just one of these blogs to publish your music, you'll potentially reach hundreds to 1,000s of listeners overnight. So if you're an artist that wants to get your music out there, don't be like Harry. Hey! Check the description. Click on the link and let's get your music out there.
Kristine Mirelle 19:42
With the music company I'll do at the most like I used to switch out the ad creative every six weeks now that goes against what everybody says gay everyone else is gonna say do this, do this do this. When you have a very strong ad creative it can last when you have a very strong creative from my experience. Now of course there's so so many other depending factors, right? What your offer is, you know, your targeting, there's so many other things. But in my experience I've been able to do like every six weeks is where it kind of starts to plateau. So we're like raise, raise, raise, raise. And then every six weeks, I might add it in. But I've tested so many things. Nothing's ever been like, this is the way this is this always works this. No, there's it's test, test, test test. Sometimes this works. And sometimes there's an ad that I've done that I'm like, this is the one this is the best ad I've ever done. And
Eric Beer 20:28
it doesn't do amazing, or it doesn't do that,
Kristine Mirelle 20:31
Or it just like it does, okay. And this time, I just taken up cell phone, I literally this one was sitting on a couch, and I'm literally just talking on the phone, I'm not even being funny. I'm just talking to the phone, and I'm saying, Hey, if you're a musician, and this is what you want, that was probably one of my top three ads that ever performed.
Eric Beer 20:47
Yeah, that's funny, you know, I learned that many, many years ago, because when I would sit down and try to create ads and landing pages and businesses, you start to think about what you like and what you're doing. And then like it would bomb and you're like, What the hell like, why is that bombing. And meanwhile, it's like, but you're not the customer, right? You're not the person who's buying from, you got to think and get in the head of the customer that's going to be making the purchase. So it's funny that like, even though you may think it's cool, what I love about this business, is numbers speak for themselves. So like we could sit in a room and disagree on, you know, what's the better ad or what looks better? What's cooler. And like, back in the day, I remember when I used to work for like a corporate company, different people, I would say this is it. Like, no, it's not. And then you can't fight with them because you work for them. And then that's it, right? You can't say anything. And then you lose right here. It's like, and that's why I love like the whole like I was on Wall Street and my p&l spoke for itself right here performance marketing. It's like, it's just, you know, how did they do? How did it perform? If it did? Well, it worked if it didn't, and it didn't work, right. So it's like, it doesn't really matter. It's like, some I was on a podcast with Kiana Daniel, she's like, money has no gender, right? And she was saying that, right? And it's like similar. It's like, almost like ads, like, it doesn't matter who says and ads good or bad, the numbers will speak for yourself, right? And in your case, you're saying that like six weeks go by? And you're able to identify that a plateau is if anybody's like, how do you know when it plateaus, you're doing it based off of just numbers, right? You're looking at your numbers, you see what you're making on a click you making conversion rate, whatever your cart value is, and it's just as long as it's profitable. Why? Why stop it is what you're saying? Right? I mean, which is so cool with the cologne that you just said, I don't know if anybody picked up on that. She said she did the ad about two years ago, which means that she's getting paid monthly, and she's likely not doing very much at all, at all, ever. You know, not to say she doesn't add value, but I'm sure you're you're looking at it and making sure things are working, maybe tweak here or there. Right. But it's like, five minutes each day. Yeah, I was gonna say like, a few hours a month possible. Right? So it's like the, the ability to earn, without your time is so powerful. It's like, you know, we grew up, it was all about like, you know, real estate, right? You build wealth, you buy, you buy buildings, and you rent out the apartments, but like, I don't want to buy a building, you don't do you have money by building like, when I was 20, I didn't have like millions of dollars, like, but like, that's the beauty of what we have here today on this in this world.
Kristine Mirelle 23:19
To be able to automate things to turn things on. And you know, we've talked about this, it's a lot of work up front, and you're taking some, you're putting your time in, and you're, it's like it could be test test test test, like I learned going door to door, I would knock on 10 doors before someone would say yes, so that's a 90% failure rate. Like if you really want to look at that. If I knocked on 100 doors, I would make how much money I needed to pay for my next studio session. So I've always looked at that in in business, too. It's just like, it's just a numbers game. And it's like 90% can fail 99% 1% of the people that look at your, you know, ad can click on it, and you can be doing huge numbers. You don't need a majority, you know, success rates. And I think that's where people sometimes get emotionally connected. For me, like I was just like, hey, if that didn't work, let's do another one. If that didn't work, let's do another one. And then all of a sudden, we get one. And it's like, and it's running for two years. And it's like, so we change the targeting here and there. We test different, you know, cold audiences, different things like that. But those don't take very long to do. I'm not shooting a whole new ad. I'm not writing a one b script. So that one particular ad is like, I mean, it's just been, it's been great. You know, and again, there's always other factors. There's always the offer, there's always a performance, there's always other things that are happening, you know, and stuff, but I've seen it happen. And I'm like,
Eric Beer 24:33
Well, I will tell you something that you did that that resonated me. So before I even tell people this it was alright, so she has this offer, right? You guys will know I'm doing surveys Survey Detective, and we're, we're collaborating to do it. She's gonna test it out with me. She's thankfully, spending a few minutes with me so that we can go and build out a survey, which we've done. And we've kind of like brainstormed a little bit about our business that go through the whole like perfect survey method. Right and um, you know, one of the things that you did that a lot of people that come to me and say they want to work with me and, and get going is, you really do you like you say you do something and like you execute. And I think that's like a major thing of why you're successful. You recognize that or not. But like you literally you say you're gonna do it, you get shit done. Like we, we sat and we were in Phoenix together during a conference, and you banged out videos, like, like, it was nothing like you. To me, it was like, sometimes I get overwhelmed with it. I'm like, I gotta help this person with the script here. They're like, show them how to say that or do this and like, yeah, give me like, an idea of what you want me to say. Okay, great here, and you're like, boom, and then you just pulled up your, your, your, your iPhone, like with some like, little trumpet, and you just, like started taping yourself. And I was like, wow, like, there's just like, Just do it. Like, you know, like, they always say, Just do it. You really just you're like, eff it, like, just do it. Like you literally have zero fear of failure, like zero, which is so powerful. I don't think you realize that.
Kristine Mirelle 26:05
Well, I think that that saying, you know, done is better than perfect. I've realized that content is king. And sure, I can make sure that my audio levels and visuals are amazing. And I can make sure all this stuff, and I'm gonna get maybe one thing done. But one thing done very, very well. But 10 things done just good enough, are going to outperform that very well, like I'm not such a good enough person. And I'm like, probably the only person that's proud of saying that, because I'm like, nothing I do is perfect. Everything's just good enough. But that's really what I think there's power in that. And oh, yeah, maybe being perfectionist works for other people. I just think no, you just put out as much as possible. Because I mean, for the most part, you know, I think people you know, sing, you know, just different sides of you also saying that you human there's a lot of power in that there's a lot of and freedom in that that people go okay, well, if she's just here talking to me, like she's a human, you don't I mean, she's not perfect. And so, like you said, like just talking, let's just get it done. Like, I just want to get it done. So I can
Eric Beer 27:02
Tell you, I've been in business for for I started my, my company now in 2008. I still today, struggle with what you just said there are there are times it's like ebbs and flows where like, I'm procrastinating, I'm doing something and I'm like, I kind of like get into the weeds of it. And then I'll go to sleep. And a few days go by and I'm like, What am I doing? Like, why am I like, it's like, do it just do it? Right. And it's like, what you did really resonate with me. And it's like, wow, like, I can see why you're successful. Right? And it's all about just like throwing things at the wall. You don't have to be right the first time to your point, like you do once and then it's like, alright, well, you did all this work you spent all this time. And then you go into what you said earlier, it bombs. Right now it's a garden, I get to go back to the drawing board. You're like, boom, boom, boom, boom, boom, and like, it's awesome. But like you banged out those videos, so like, videos are not that hard, right? You can go and get a production company to do it if you really want to. But like, all you need is an iPhone, right? And you just you're speaking to your audience, that's what you're doing. Right? You don't have like any like crazy, like amount of people following you around
Kristine Mirelle 28:06
Now, and you're not and I've done like I've actually tested, I've done big productions, where I've like rented out studio spaces and video production teams and LED lighting and spent 1000s and 1000s of dollars, there is literally no like, correlation with like, how much do you spend on your production with how much you make off of that app. And in fact, the two ads that I did actually didn't do as well as the cell phone stuff that I've done. And so for me, I'm like, why am I gonna spend days putting together like shots and like this is when we're going to do this, and we're going to do these angles. And this are like sound effects, when I can literally just shoot it on my phone and have something done within the next two hours, you know, and it's probably going to outperform the high production. So it's like, even when we're doing extra people, like that's what I'm telling them, I'm like, we can do this high production if you want, we have the team that can do it. I don't even recommend doing it. I just recommend using a cell phone because you can also the turn, you can do another one and another one and another one because you need a test test test. You don't know what's going to work. So just pop it you know, just keep doing it doing it doing it. Don't be emotionally attached. You know, I've had plenty of ads for people like, you know, you saw I hate you. Why are you in my news feed? Like where they say stuff because they see me all the time. And some people get like heard about that. I always get that question. You know, how do you not get hurt, I get death threats.
Eric Beer 29:23
I literally get where we were like No, stop it.
Kristine Mirelle 29:26
I'm gonna come kill you and your son. I'm like, Jesus, stop it. How did it make you that meant. I'm just talking about a book, you know, I'm not talking about like anything controversial, but
Eric Beer 29:34
You're actually hitting on something that like, it's tough. It's not it's not easy. When you're producing content and, you know, you got to have you gotta have thick skin you got to ignore people. I had a hard time with that. Certainly in the beginning. You know, you don't want people speaking ill about you. Right. But like what I I heard somebody I forget who it was, but I was having like one of those mastermind conversations, and I forget who it was but It got me to think about it in different ways. Whereas if somebody's out there saying something mean about what's going on with you and your kid, and they want to kill that, which is, by the way crazy, it's like, that person must be in such a bad place at that moment in their life, to be so hated on you that like, you almost have to feel bad for that person. You know, it's like, man, like, I feel bad for you, like, whatever is going on in your mind right now that you're going towards that off of me, having fun, like trying to, like get people to buy a book, so that I can help them that I know will help them to earn a living. Like, man, that's, that's tough. But like, yeah, do you reach question? Do you when you get bad stuff? I know some influencers will delete the messages. Others will leave it. Where do you where do you stand on that?
Kristine Mirelle 30:51
It just depends. You know, it just depends. So for the most part, we usually delete it. So I usually have someone go through and delete because I get I get all kinds of, you know, people will see your ugly or fat like, just don't
Eric Beer 31:03
I actually agree with that. I personally, like some people like well, it's freedom of speech. I'm like, yeah, but like, it's like the whole point of what we're trying to do like a knuckleheads here, like just like, putting it's distraction from like, what we're trying to accomplish. You know, I'm with you on that. I've seen. I remember. You know, Peng Joon. Yes. Yeah. So, you know, Peng was on the show early on, and when we launched this, and it's pretty cool. He does Facebook ads and all that good stuff. And he, he did some really clever, he's clever. Also, right, he has a lot of good ideas. And he took some heated messages and use it and they converted them into ads, and like, kinda like made fun of himself, which is really, really clever. You know, so like, there's ways that you can take it and use it to your advantage.
Kristine Mirelle 31:52
I've saved them. So I have like a folder because they are funny, like fate of a folder. Some of them are funny, like, Okay, I just, we were talking about my birthday. And I just posted like a invite, and I said, Hey, guys, everybody's invited to my birthday. So for everyone watching holding a birthday next month, and everyone's invited. And so anyways, we got like, 1000 RSVPs. And I was like, Wow, guys, you know, thanks for you know, this is amazing. This is you know, I really wasn't expecting that. I can't wait to see you guys next month. Someone but nobody's coming. Because it's your birthday. They're just coming because they want to meet music industry execs. That's, I literally busted out laughing because I mean, it's like partially true. Like, that's funny, because it's like,
Eric Beer 32:35
I think you're gonna give me some like, really?
Kristine Mirelle 32:39
No, no, I get some really death threat. You know, you're a scam. I get the How dare you try to take advantage, right. And it's like, if you know, even at...
Eric Beer 32:48
The point, though, aren't you try? The whole point of throwing a party is to entertain people. Right? Isn't that the point? Right? It's not necessary to see us to celebrate.
Kristine Mirelle 32:55
I don't care why they're coming on and totally. And that was what they didn't get like that. That is still a compliment. Because to me, I just wanted to create a company that brought together not just me, but because
Eric Beer 33:10
Also they that's interesting. So like there, yeah, there's,
Kristine Mirelle 33:14
Like, you're not even coming for you. Great. I've built a company that doesn't need me to be a part of it. Now. They're coming as of the results that they get, because then
Eric Beer 33:21
Totally, totally, but that's the thing, right? That's what we're saying. Like, on how like the messaging comes out, like they're looking at it as almost like, she's talking about her own birthday. She's so like, self-centered, when like, it's completely going over their head, that you are so clever, that you don't really care about your birthday, you're like taking this and using it as just an excuse to create another event that then you're gonna go and ultimately be able to monetize, like, I don't know how much you want to speak to that or not, but I know like, as we've talked offline, like, I was laughing because at first and I'm like, oh, birthday. Yeah, totally in LA, it sounds awesome. I would go if I could, but I have something else. However, as you started showing it to me, you're gonna be profitable on this. You're just so smart with what you're doing. There's so yeah, it's just your entrepreneur side of you is like, hey, you know, like, I'm gonna throw birthday but like, I'm gonna you're on pocket, right? Like, and you store your positioning is so so clever. Not to mention that you're gonna like network with 1000s of people. And like, what it's going to do for your business as like the attribution. Do you want to kind of speak towards like how you did that? How do you hate like you took your birthdate and monetize it, like your thought process? So people realize you're not self centered, and you really actually don't,
Kristine Mirelle 34:42
I really don't care. I know so I knew it. And I knew it was going to come off like that right? And so I knew that there were going to people that were that there were going to be people that thought that but again, that's not my customer. And that's not so I just, you know, again, I'm not emotionally attached to it. So for me, it's there's two things is one Do you know your intention because what's your intent Jim, right. There's nothing wrong with wanting to make money. And there's nothing wrong with just wanting to serve people. I like to do both. I like to serve people and I like to make money. And I believe that I make so much I bring so much value into musician's life that yes, that's something that I should be paid for. And so it's awesome. That's why I love my company so much, because I know no one else can get better results in their music industry, and the music industry, then with me, if they're trying to close, I am the one person on this planet that can change their lives so quickly. So I'm always so excited about that. And because I know I can create transformational life value in their life, I have no problem charging them for that. So my birthday, it was it was just an excuse. And I actually say that in even my videos that I said, I said, guys, it's my birthday. But really, this is just an excuse to get shoved together. And I've told everyone like one, you know, I negotiated with a venue and so we're selling tables. So anybody that wants to, you know, get a table, they have to pay for a table, and it's also free to the rest of the public. So anyone else can come in, they have to RSVP. So we're getting you know, emails and we're also able to segment those emails as people that show up to live events because I do do live events. So now we have a little bit more data and segmentation within our email list. And then whenever they come in, I'm not pitching anything, I'm not selling anything there. But really my intention was just to like get to know everybody have fun and have a good time and good excuse to bring people together because I really love my community. But at the same time I'm not an idiot I know that like bringing people in I'm nurturing relationships. Some of my affiliates are flying in, you know, people that I've never met in person are coming in, you know, people that I wanted to work with from different record labels are coming in. And it is such a beautiful environment to bring to have them in this like amazing, you know, venue where there's going to be live entertainment, and aerialists and violinists and like singers off of like American Idol, and musicians who tour with Beyonce and Justin Bieber. And I mean, just the most exceptional talent, like what a beautiful way to nurture relationships with your customers, and with potential affiliates and with potential collaborators. So overall, it's just like a win win. You know, at the end of the day, for me, it was I just want to throw a party, but I never do anything unless it makes sense for my time as well. So it's just like, Okay, well, how do I make this worth my time, my time and make it worth everyone else's time to all these artists, aspiring songwriters, and producers get to show up and meet like heads of record labels and ours for record labels, like their life can be changed by showing up to my birthday party. That's amazing, you know, and it's happened over and over again. It's like, I introduced this person to this person and this word, and now all of a sudden, someone's getting the music on film. And now they're getting paid. It's like a win win for everybody. So cool. Kind of how I see it,
Eric Beer 37:37
making connections. It's so smart. And you're like, it's everybody wins, right? If everybody wins, have fun network, you can make money you can enjoy yourself, and maybe you could buy a gift. You know, maybe if you want, you know, something,
Kristine Mirelle 37:52
it was so cute. Because yeah, some people are flying in from other countries. Like it's no way really like up from Africa. We have people coming in from Alaska, and they want to bring a gift and it was so funny, because I was like, Can we put that on the frequently asked questions. I don't want anybody to feel like they need to bring a gift. You know, so I put guys Your presence is is literally more than a, you know, a gift more than a gift. It's more than enough. But people are so kind I have just had I have a really cool community musicians are amazing.
Eric Beer 38:20
They're not coming. So bomb. So bomb. It's the overlap. I would be there if I could. But I can't. So sucks. had to have something going on. But hopefully, you're going to stream it. Maybe we should stream it and let people watch it and charge them for that. Dude, why not? Let's get somebody to sponsor it. There you go. Let's do that. Oh my god.
Kristine Mirelle 38:45
I didn't want to like, as much as it is profitable. I didn't want to, I didn't want to charge. Like that's why it's free to the public. It's free to the public. So if you don't have the money come anyway. Yeah, want a table? That's where, you know, they're, they're paying. So I don't want to do too much. I don't wanna be like, bad is like, and I have no problem selling I sell all the time.
Eric Beer 39:04
But no, well, we could do. Somebody would want to sponsor the event, right? Like, we could find somebody that would pay for
Kristine Mirelle 39:12
in the future. We're going to go down that route right now. I just, this was honestly was really an event that was like, let's throw it. There's no reason why we can't make it profitable. But I don't want to focus on like, I'm not trying to make a total
Eric Beer 39:25
total. I'm trying to make money off your birthday. Yeah. Let's do it.
Kristine Mirelle 39:31
Funny, like, okay, it makes sense, providing an opportunity and and then there's minimums with the venue that we have to reach. So we have to sell so many 1000s of dollars worth of alcohol food. And so rather than it come out of my pocket, it makes sense to sell tables. So that
Eric Beer 39:45
Love it. Love it. All right. So do you care Do you mind if we could kind of just go over quickly like how we got to the survey and talked about it and came up with an idea together? Just so like people can kind of see like the evolution and we don't have to go through everything but just like high level kind of like backtrack of. Alright, so ultimately, ads, right videos, you're out there, you're trying to grab the attention of a user. And you do that in a lot of different ways, right? My ideas you do with surveys, right? And I have my whole little, little fun play by like surveys, quizzes, assessments, whatever, you just asking people questions, I want to be really clear on that. I think like, I named this thing serve it, it's active. And like, oh, let's do a quiz instead of serving and like, Yeah, from my perspective, it's just the result of you being able to ask questions, get answers, let people self declare their problems, so that then you can figure out, okay, how do I help them? And then give them a solution? Right? So we started sitting down and talking about a little bit. And, you know, the way that it works is, we're trying to get somebody to take an action, right? Like people, like I think you want to do steaks, when they like, do these fun things. They, they don't recognize that you can have fun, you can entertain somebody give value and also make money. And I love what you said earlier about that, because like, I hate the people that pretend like they just want to serve and don't want to make money. Like who doesn't want to make money. Right? And it's like, I mean, listen, it's great that you're saying that maybe you really are a saint, but like, it's just is what it is, you got to pay bills, like it's just the way of the world. So like, making money is in the necessity, right? Before you can help anybody, you need to make money, you need to take care of your own. So that then you can help people, right. That's the whole concept. But so when we started going through this thing, and you're so nice to do it, so I appreciate it, and we're gonna kill it. We're pretty close to like, rolling out. Right? But so you want to talk a little bit about like, what we're doing, like our idea of what we came up with, or do you want me to do you want to see Yeah, well, yeah, let's do.
Kristine Mirelle 41:42
Yeah. So what we're doing is I mentioned earlier, my friend and offer is a festivals book where I sell, you know, 1000s, a list of 1000s of festivals that have budgets set aside to pay artists. So artists want to perform, they want to promote their music, they know they can get this book. So what Eric proposed was, hey, let's create a survey. And we find out what's like their biggest challenge that is keeping them from creating a profitable music career, why aren't they getting booked paid shows? What is the hurdle? Or what is it, that's their belief in their head that's keeping them from doing that. And so, as I went through this process, I've learned, you know, you come up with a few different, you know, the big challenges they have. So for musicians, it's like one and we named it the Beyonce mistake, you know, thinking that you need to be a big star for you to start making money. There's the Grammy mistake, you know, thinking you need all these accolades, or you need to be you know, a hit song, you need to be, you know, selling tons of songs, read and get booked. We have the label mistake, meaning that you need a record deal, you know, see there, so these are all like, different myths that people believe that are keeping them from, you know, maybe taking a step in their music career.
Eric Beer 42:51
Yeah, false, please. Hey, do you mind if I share the screen to show the setup of it? All right. I just didn't know if you? Oh, no. All right. So yeah, totally. So yeah, the idea is she's she's focusing on her audience, right? And trying to see like, what are these people's false beliefs, and then she's going to attack them. But the whole the whole value of the survey, right, is that most marketers are out there, and you have one message that's attacking all of your target audience, this allows you now to somebody coming in, right? And they're able to self declare their problems, and answer questions that you're asking so that you know what you're going to go after them with, right? It's like, if I, if I already liked the sneaker, like, don't sell me the sneaker, right? If I have an issue with the price, like, you got me Yeah, me and Hello, right. So you focus on why it's valuable with the price versus you know, you know, you're just out there and pushing it. So with this, what you're allowed to do is you're able to just customize your messaging based on the soul. Those are her segments. So she's she's created her segments, and you show her a cool, alright, so, but it's just like, I haven't really shown the 2.0 version. Well, it's like, a little like, scared. It's funny. It's showing it. So yeah. Yeah, it's like so vulnerable. And it's not really ready, ready to roll but like we're doing it internally. But So in any event, yeah. So like so she, she, she ultimately created some questions. She has her lead opt in and her four different segments. So just like she said, the label mistake the Beyonce Bieber mistake, the grammar mistake and the Rockstar mistake. So the whole idea here of what she's doing is on the front end, right? She's taking this and she's trying to grab attention and deliver some promise. So right here, let's see. Right so what mistake I like when you what mistake is stopping you from making money in the music industry. I love it. When I press play. You see it Like, but these are the videos by the way that I was talking about earlier that she did. And like she just bangs these videos out. Like, it's like, seriously, like, I could sit and obsess about a video for like, a week. And she's like, Oh, well, you want to do Okay, great. Let me hold on, let me turn on my camera. Cool. And you're so good at it. I mean, it's just so me, you really should like that's, that should be an offer. You should teach people how to do that. Because it's like, a lot of people have that challenge. But so, you know, on the front end, we're trying to grab somebody's attention of like, hey, what mistake Are you making? Right and Christine? She knows her audience. She knows who they are. So by able to do that, she's going to start asking a bunch of questions, right? When it comes to making the mistake in music industry. That's four mistakes ever musicians making the told in the back from reaching the next level of income? I'm gonna press play.
Kristine Mirelle 45:45
Guys, Kristine Mirelle here. I'm
Kristine Mirelle 45:47
so excited. You're here? Because I don't know
Eric Beer 45:49
You watch yourself. A… watching myself on video.
Kristine Mirelle 45:52
Really? I have to watch up here myself, you know when you first hear yourself and your voice totally.
Eric Beer 45:58
So yeah, so we're not going to do this whole thing. But bottom line is, you know, the whole point of why we do a video here is because when they're coming here, and they're getting to start this, we want, we want Christine to be the face, you were saying earlier like you need to be a face, you need to start to create that relationship, create that authority. And then as we do that, right, she goes through this whole process, and it's, you know, a demographic question. Other demo. What describes your music career? What ultimate goal? How many paid gigs, but you ask this question here, where this is your, your segmentation question, right? Where we're doing it with like a primary segmentation question. Right? So it's, what is it a more challenge stopping you from making money with your music, I needed a big Spotify following social media following fan base, I need to get discovered by record label, I need to look a certain way, or I don't have my own original music. And this is the thing that like, Christie knows her audience so well, that like, she's gonna, like, just speak right to these people. And they're gonna be sitting there being like, this is me, bam. And then what we do is we cleverly came up with this, you know, the fun, external name. So you're gonna come here, and you're gonna like, say, Hey, this is what you're doing? Oh, if you're able to look at it. Can I? Can I see it from here? Oh, I wonder if we press play? Oh, yeah. Cool.
Kristine Mirelle 47:19
I can't really hear it on my… on my end. I don't know if they'll be able to hear it.
Eric Beer 47:23
You can't hear? Me. All right. So yeah, like this is the part where you land on the opt-in page afterwards. Each one has their own segment, right? So the label mistake, the Beyonce Bieber, the Grammy mistake, and the Rockstar mistake, right? So the whole goal here is we're trying to get people to just sign up, right? We're trying to get them to opt-in, recruiting our curiosity so that then we can land them on the outcome pages, right? And on the outcome pages.
Kristine Mirelle 47:55
And I think just, it's really cool to just like, bring up that usually, you have the option at the beginning. And so I thought this was just really cool that you're kind of focusing on them, like, because they're like, Oh, I wonder what mistake I'm making. And, you know, they're just thinking about themselves, which they always are. And this should be. So as for us, I feel like it's just a cool thing to test saying, here's the focus you, you…you, before we even introduced a product
Eric Beer 48:20
Totally, totally Well, we've tested that. And we found that… that the opt-in afterwards converts better than when you drop them on the Optima in the beginning. Because it's almost like think about it's like, it's like going on a date. It's like, you know, I just meet you, and like, I'm asking you to commit on something. And you're like, I haven't even sat down and like broke bread with you. Or like, I don't know anything about you. Yeah. So it's like, we sit down, we have, we have dinner, we have the apps and you start liking the person. And now, like the friend that's standing by to call you to be like, you have an emergency to leave is like you texted me like I'm good. I like this person, you can, you can let me finish dinner, you know what I mean? Like when you go in on those, like blind dates, but like, that's the same concept. It's like, you know, first, you're delivering some value, right? So you're, you're this big promise and then you're promising that you're going to help them, you're going to give them something that that they need, right and or want. And then you just do a killer job here where there's they're all like just set up with the label that Beyonce Bieber, the Grammy the rock star mistake. And the goal here is that you're gonna start to talk to them and give them some value right before we do anything. And then at some point, and we're not going to play here, so what we'll do is you know, maybe we'll just put the link in here that if anybody's listening they can totally go through it themselves. If you are a musician by the way, you should definitely do that because there's just money sitting at the end of the rainbow. But if you wanted to see how she's doing it and like how clever she is and just how she positions that it's just, it's so good in that's what I what I love about this is that like, I know up to a point, but I need people like you that are so smart, way smarter than I am way more creative. than I am to like, once you understand that you're going to do just, like, just so much amazing things with this, that it's just gonna, like, I'm gonna feel like a coach, like, so proud. I'm, like, so proud that like, you did it, you know, and like, I'm gonna really do nothing like, I can't take any credit for it, you just, you're just doing you. And it's awesome. But so ultimately, she gives them all that information she can actually she relates, and it's all customized. The beauty of it is you're creating perception, right? You're, you're creating perception that the offer that you're about to offer to them, is set up for that specific person. And it never changes, right? That's a really important thing that people like, they just miss, right? Like, when you go into the Apple store, right, you can go buy like the computer that is 3500 bucks the Mac, and that Mac's like, you know, focused on like someone who has a business, right? Or you can go get the Mac for the kid who's going back to college, it's 997. And you're like, oh, wow, that's a student computer, it's the same MAC, right? It's just the positioning of the product on who they're targeting and, and how they're positioning the product, but it's the same MAC, you know, bells and whistles and the bigger one, maybe there's just more memory, right? Or like it's a little faster, but it's the same thing, you know. So in any event, it's, it's pretty cool. And you know, from here, the concept is we have a business and you're gonna send them out, you're gonna go and get them to go to some of these pages. And, you know,
Kristine Mirelle 51:24
I think like, just like what you said, you know, for anybody watching, it's, it's going to the same offer. So no matter what they whatever their challenges, it's not like we have all these different offers that we've had to create. It's the same offer. But like, on my end, where I usually run ads, I might approach people's different challenges on the front end. So my ad be like, Hey, do you think that you need to have a big following for you to do this? Or do you think they have to be a certain age, and I might have to have five different ads attacking the different pain points that they have. But what's really cool about this is instead of having to create five different ad creatives, you just do one, and then you just have, and it all goes to the same product, I don't know, it's just a really cool, it's a totally different way of looking at it.
Eric Beer 52:06
It's just so much fun, too. But if you also think about it, right, like, by the time you bind that and you're on, you do an awesome video, they click the lens here, right? By the time someone would get to this page, if they've clicked, you've established like, your, your, just your genius, your your authority, your influence, and like, these people are like, Man, I dig this, like she gets it totally gets it, I want to be around this person, I believe. And then you get here, now you're selling your product. But it's like, you've already kind of nurtured them in some capacity, because they've been there for about, you know, maybe 120 seconds or so. And if they really do sit and listen to your videos, then like, they're really you're creating relationship, which is so awesome. And then we're driving traffic here. And the whole goal is we're going to drive traffic, get people to sign up, once they sign up, we're going to link them out here. And then you know, the concept is how much does it cost to get the person there? What's the cost per lead, which is on the signup on the opt-in, then on the link out here, we're going to try to generate revenue on the first visit. But that doesn't mean that we stop there. Right? There's a follow-up. There's the nurture sequence. Ideally, if you can break even, it's awesome. If you're profitable. Oh my goodness, that's like, it's like a business with before we even get started, right? That's what I do. Right? I… it's what I kind of joke. It's like the lead gen business and like the the info product, the high ticket. But I'm pretty excited. So we're getting started to do this. And, yeah, we're gonna start to see what happens. And you know, if it doesn't work, we'll go back to the drawing board. And we'll we'll change it, we'll tweak it, we're gonna optimize it. But everybody, you can see how awesome Christine is like, she's, you know, it's gonna work. I know, it's gonna work, because it's just even if it sucks everything else. It's just like you said, like, you're just fun. You just you create this energy. And, you know, I don't see why anybody would want. Yeah, so I'm pretty excited about it. And I appreciate you letting me share this with people. So I appreciate you being here. I know you're, you're New Mexico right now, right? It's just, I gotta, I would love to, I'd spend hours with you. But I'm gonna let you go. Because I know what you got going on. So you've dropped a lot of gold here, between ads and from just your start of your story and how you converted into just a business, and your passion is your business and so many other things. And just like, I thank you, I definitely got, I'm gonna go rewatch this actually, and take notes, so that I can go and do it because I love it. And I loved what you were saying earlier about, like just how your ads are like, you just you have these like different themes where it's like, yeah, you're creating this pattern interruption, but it's like, in one sense, you're doing something with a funny angle, then you're doing this other way where it's like a shock value. And like you have these frameworks, you really do. I don't even know if you know that. But like you have these frameworks where you follow like, like in your own mind, which is so funny, because like everybody else, it's like, I'll pay you 50 $1,000 You're like, wow, you know, like, just be funny. Just go do some funny and with a rifle in Yeah. And they're like, No, I want to pay you to do it or do it for me, which is I would totally pay you for that. Right? I'm always begging you to do stuff with me. So I appreciate it. You're awesome. Thank you for coming up. happy early birthday. Happy early birthday, you turning 2223? We look 2233 Oh, it's awesome. Well, I want to I want to hear it. I gotta get some, I gotta get some video, you gotta give me something to like, feel like the experience.
Kristine Mirelle 55:37
We're gonna have a full recap, we're gonna crush you. Or she will.
Eric Beer 55:42
You're gonna take all this all this content, and we're gonna have like, offers flying around and more ads.. so smart
Kristine Mirelle 55:49
Yeah, exactly, then you'll see the content, I'm gonna use those rights,
Eric Beer 55:53
Which is so true, by the way. Like, I think that's something to recognize, like, a lot of her content is just her living her life. Right. And then, based off of her living her life, she's able to record it, and then turn that into just content so people can relate to her and see how awesome she is. And then they want to work with her. It's really, really so smart. But it's great. And that makes it so much easier. Rather than people sitting around be like, Well, what should I do today? What kind of content should I create? And it's like, you know, you're doing it already. Just you do it. Just do you. Right. So that's awesome. So I appreciate it. Thank you so much. Thank you.
Kristine Mirelle 56:28
Thank you, Eric. Appreciate you.
Eric Beer 56:31
You rock. Alright, see you later. Bye. Bye. Bye.
Eric Beer 56:34
Would you like to learn how I built my business using other people's money? If so, go join my 21-Day Challenge at performancemarketersecrets.com. I look forward to meeting you and welcome you into my family. And remember, results don't lie. But the people who don't have any. Thanks for listening