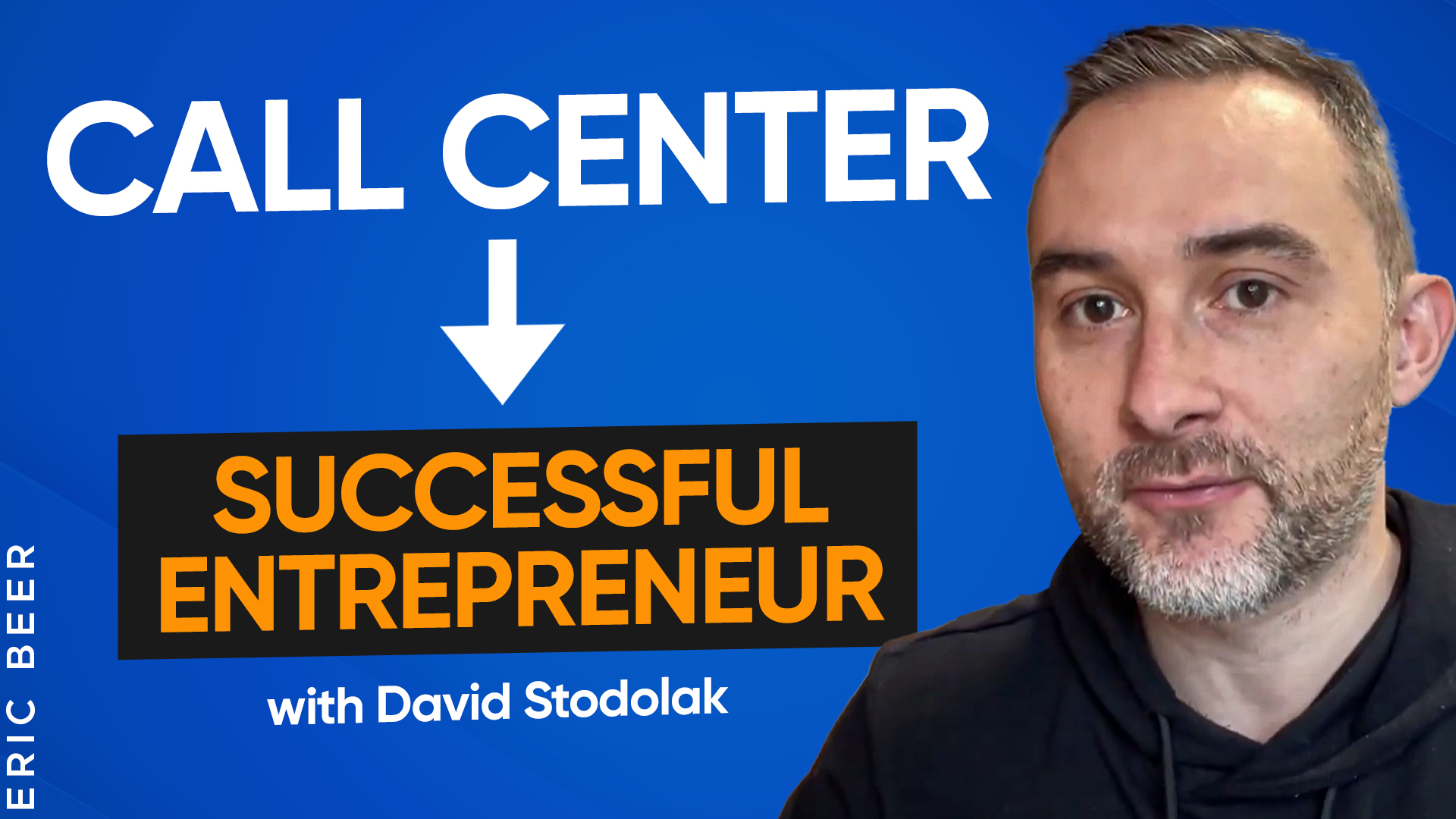 10 Feb

Interview David Stodolak – From Call Center Rep To Successful Entrepreneur

Hey, Performance Marketers! 

Welcome to a super special episode! We broke the three digits in podcast land together! I want to thank you all for sticking around. I hope you are getting the value you're looking for. I'll continue to do my best to provide it for you.

And, the special episode deserves a special guest! 

Today I'm chatting with David Stodolak, a hustler who figured out how to play in this lead gen world. I worked with him years ago at a student loan company before I started Universal. Back then, David was doing a great job in the call center. 

But since our student loan company folded, David started teaching himself and working hard, so he built a successful lead gen business in the solar space over the years. 

Today, he is president of Solar Direct Marketing and managing partner of Encompass Leads, where he oversees all lead generation and outbound call campaigns. I asked him to share how he went from knowing nothing to achieving tremendous success in the lead gen business. So tune in, as he is willing to show you that it is really possible if you have determination, desire, and persistence.

Let's dive in!  
Entering Lead Gen
David has a big background in call center management, and he had a flair for it. For instance, he started building a call center in South Carolina in April 2021, and within a year and a half, he took it from four agents to a couple of hundred agents.
By 2016, he had a strong team of supervisors and managers, and the call center was operating so well that he could check on it just an hour a day. Then he started thinking of launching his own business and entering lead gen. 
The first time he got revenue in the lead gen business was when he helped a friend sell some student loan consolidation leads. He did some research about student loan companies, find a buyer, made a phone call, and closed a deal. It turned out that the leads converted 20%. 
To cut a long story short – David made a few hundred dollars for about a day of effort!
What actually happened – someone told him about an opportunity (lead supply), he wanted to have his own business, he had the right skill (tremendous experience from the call center), was willing to hustle – and then things fell into place.
That's when David became hooked and started thinking about how to hop the fence and get into the lead gen world. And the answer was right in front of him. 
The call center he was consulting for was involved in the energy industry (utilities and traditional electricity). But he was learning about solar as a lot of salespeople were getting into the solar industry. And what those salespeople needed – leads! 
Getting Solar Leads
So the question was how to get solar leads. 
As you can see, that scenario was different from the one when he already had student loan consolidation leads. This time David was on the buy-side, meaning he had to generate leads. And guess what he did. Something I'm talking about and doing all the time…
Yes – he started arbitraging media! 
Lead gen arbitrage works for everyone. You don't need money. The assets you need are your time and your energy to go after it. 
David invested his energy into visiting lead conferences, networking, connecting with publishers, using social media to join the groups where media buyers hang out, and making relationships with people he worked with. 
As he puts it, the lead gen business is actually a relationship business. He learned that working in the call center, where he always had a good reputation as the guy people trusted. And trust is really what lead gen business comes down to. 
Once you earn a bad reputation as someone selling bad leads, you'll lose clients quickly. But if you do the right thing, clients will come back to you and buy all the leads you have, which will pay dividends for a very long time.
All Over the Map
David built his reputation treating publishers and buyers the right way (paid on time, delivered what he promised. etc.) And he traveled a lot. He says that, from 2017 to 2020, he was literally all over the map. 
He went to conferences in Thailand, in Spain, visited places where other people didn't want to go. Why? He explains that if you're looking at the same places everyone else is looking, you'll get the same results. So, he would find those off-the-wall conferences and possible emerging publishers.
What do you think, how did David know which publisher was selling high-quality leads once he found them? We talked about that in this episode. See? He didn't have to reinvent the wheel – he just tested the market. 
All of us involved in the lead generation business do that all the time. Usually, if you have ten publishers claiming that they have leads with a 30% conversion rate when you test them, it usually turns out that only one of two of them hit that number. 
But when you find them and confirm with another test that things are working, you press the gas and scale business with them, which will cover everything you lost testing and bring you serious money. 
But there is another crucial thing. 
In addition to finding leads, you have to watch the metrics – key performance indicators (KPI). David says he spent his time looking at the numbers and making sure that it was working for the client. Because it all comes down to clients, and if it doesn't work for them, then you're out of business.
What if I'm an Introvert?
David is a social guy, someone who would approach anyone and start a conversation. But what if you are an introverted person who doesn't like to meet people? Do you have to give up because you're not good face to face and feel uncomfortable at conferences? Hell no! 
Use the technology to your advantage! Internet and social media make things easier. You can approach whoever you want – just DM them on Instagram, or Facebook, send them an e-mail. People don't even want to talk anymore on the phone. They just want to DM and text all day.
So do whatever you can – just stay persistent! Because at the end of the day, everything's a numbers game.
I hope you recognized the value of this interview because I talked to David about other valuable things as well. So, make sure you watch the full episode as we chatted about crypto, blockchain, NFT conferences he visited, and his future plans.
The #100 episode is really worth tuning in! 
—
If you have any questions or you want to suggest a topic for the podcast, shoot me a message on social media or in my text community (917-636-1998) and let me know!
If you'd like to get bonus Performance Marketer content, sign up for my SurveyDetective VIP waitlist!
🕵️‍♂️  Sign up for the SurveyDetective VIP Waitlist HERE
I'm looking forward to hearing from you! 
See you next time!
Listener Love…
Warning! ⚠️

by Boz46747 from United States

Wear a helmet when you listen to the podcast. Eric will leave you feeling like you can run through brick walls. In all seriousness, this podcast is the absolute best!

Awesome

by Nevareze William from United States

Very interesting show.

FANTASTIC!!!

by cucklord101 from United States

My life changed after I discovered this podcast, 100% the number one on the platform.

Great Podcast !!

by Olivia Cousta from United States

I listen several days a week and am excited to have taken action with my first few steps. Thanks Eric!

Best Podcast

by faz12548 from United States

Thanks for everything. This show has been an amazing resource.

My favorite podcast

by Alison Riah from United States

This is my favorite podcast. I look forward to every episode and share it with everyone I know.

Awesome!!

by Brads Hook from United States

Love this show

Inspiring

by stevie h b from United States

Eric's energy, wisdom and experience get me pumped up to do more.

Eric changed my life, thank you

by Nicole Aliba from United States

Anyone who has a chance to listen, do it. Subscribe, download and listen. Eric is authentic, he truly cares about the people he comes in contact with. I know eric, I've tried to be around him and learn from him any chance I get. He's been successful in every stage of his life. Getting the opportunity to hear from him direct, how he thinks, how he goes about achieving his success, his strategies, his tactics, his outlook on life. I'm thankful he started this podcast and I'm thankful I get the chance to learn from him. I have no doubt the lessons he delivers each and every episode will help me continue to be succession my journey. Thank You Eric for making an impact on my life and making me realize I'm capable of so much more than I ever realized. Your support fuels my success. Good luck with the podcast!

Wholly Cow!!! Eric Is The Real Deal!!

by Supreme Dragon Slayer 69 from United States

Seriously.. Affiliate Marketing has been around for a LONG time.. However, it's always been associated with scams, and fly by night marketing tactics that are shady l, illegal or unethical at best. Until now. Eric runs his entire business (which is ultra successful btw) the same way he runs his life.. On pure integrity. Finally, a podcast that is teaching Affiliate Marketing based on being.. Ethical and Transparent. But the best part? This podcast is soooo much more than just Affiliate Marketing.. it's about running a successful business and successful life. So far Episode 3 is my favorite and I look fwd to each episode as soon as it comes out. Highly recommend this to anyone, regardless of where they are in their business!! Straight Gold Beb!

Dave

by Rothbone from United States

One of the best podcasts in a long time. Very insightful, had me at the first 2 minutes kept me for entire podcast. I am a entrepreneur myself and found it very interesting.

Eric Beer is a genius.

by Raera29 from United States

I've only briefly met Eric - but listening to his podcast (as well as his YouTube videos) - it's clear to me that he has an in depth understanding of how marketing should work. Brilliant podcast!!!

Beer podcast

by Bghbhhhggghugyhjjgtjporws from United States

So excited to get more info from Eric Beer to help further my career.

Great Stuff

by Dr TBA from United States

I have been a business owner and entrepreneur for over 25 yrs. I found the information both interesting and informative. I am a fan! Dr Todd Askenas

This dude is the real deal...

by gossjoh1 from United States

I'm in the internet marketing space and have heard about Eric Beer from other entrepreneurs and it's always about how much he crushes it. Over $100,000,000 in revenue... no joke. I had the good fortune to meet him this weekend at an event and he couldn't be more humble and genuine. Just listened to the first episode and it is awesome! Can't wait to learn and grow from you Eric and thanks for sharing your wisdom and experience with all of us!!

Awesome

by Archmatic from United States

Thank you Eric for all your motivation and confidence! This is a must listen. Eric is always on his game and ready for a challenge!!!'

Informative and relatable

by srg1113 from United States

I've listened to the first two episodes and found them useful and entertaining. Eric gives a lot of background to how he got to where he is in his career and the challenges he encountered and overcame along the way. He also shares his knowledge in a way that's easy to understand and would be useful both to people new to Internet marketing, and to people like myself who have some experience but are looking to expand their knowledge. I'm subscribed and looking forward to future episodes.

Outstanding!!!!

by casino exec from United States

This is an excellent podcast for entrepreneurs in any industry. Hearing Eric interview and discuss proven success stories is like getting a motivational fix within 24 minutes. Can't wait for the next episode!!!

High Five

by chris drazek from United States

This is good! Guy is well known industry veteran. In the age where it's hard to get 15 minutes with someone like that on the phone, these episodes have a permanent placeholder on my calendar. Well done and keep up the good work!

Amazing

by Rtfdghf from United States

Walked into the office inspired and motivated! Great listen.

Just discovered a GOLDMINE of information!

by ericamerica from United States

This is next-level marketing that EVERYONE needs to know. SO much value here! This is information people would be willing to pay BIG $$$$$$ to have, and he's just laying it all out here.

Insightful

by lonestar1818 from United States

Incredible insights from one of the best!

Entrepreneurial Gold

by girlfriendwithnutallergy from United States

This podcast is amazing an a must have for anyone looking to take their entrepreneurial endeavors to the next level. Whether you are interested in becoming involved in affiliate marketing, or are just a student of life looking to learn about one of the largest and least discussed industries, this podcast is for you. Eric makes his passion for entrepreneurship available to all with this podcast, and for that reason it is a must listen.

Knowledge bombs!

by Sheree Trask from United States

Eric is a wealth of knowledge, not to mention, incredibly humble! He's got the proof to show that determination, grit and perseverance pay off... and I love that he's shedding light on the world of performance (affiliate) marketing with tangible tools anyone at any point in their online journey can apply. Thanks for all you do, Eric! Excited for more!!

As Smart As they Come

by Lgoldberg1976 from United States

Eric Beer is a tremendous listen. His story telling and motivation have already driven me to work harder. Can't wait to hear what he has to say next.

Great content

by Sensei Victoria Whitfield from United States

Eric is a great guy, gives from the heart and is a wealth of powerful, profit-positive information. Rock on, brother!

So informative and easy to understand

by bergbusiness from United States

If you are serious about starting in this business this is the podcast to help kickstart your career. I highly recommend tuning in.

Powerful

by reebcire from United States

Never realized how mich money performance marketers make without taking much risk. Get excited to learn more

Eric Nailed It...

by Mark Duke from United States

You do not want to miss out on this podcast. Eric is absolutely brilliant at his craft. A MUST listen or anyone who is wanting to ethically up their game in the business + affiliate marketing space. Cheers!

I loved this podcast!

by DPG...123 from United States

I just listened to this not knowing what to expect and it was FANTASTIC! I am hooked and can't wait for more episodes. Looking forward to learning a ton from Eric 🙂

Eric's trainings will up-level your life!

by SwayBuckley from United States

Eric's level of transparency and REAL value is not only rare but transformative! Don't sleep! He's the real deal!

Got me hooked from the start

by Doc bus from United States

Hearing Eric's story and why he is looking to share his knowledge of starting a business was so motivational. Looking forward to hear what he comes out with next. Hoping I can use his coaching to take my own life and business goals/ideas to the next level.

Eric is a genius!

by Golden Oracle Ministries from United States

I had the pleasure of meeting Eric Beer in a high level mastermind that we are both a part of. I must say that every time he opens his mouth marketing gold falls out! I've made millions both online and offline, so when I hear someone talking about marketing I'm not usually that impressed, but with Eric I'm beyond impressed. I'm blown away!!! Learn from Eric, do what he say and watch your business grow.

Excellent

by JLRPS22 from United States

Very motivational!

Awesome content

by NickTheGreek83 from United States

I don't normally write reviews but this is a must listen for anyone considering starting a business. Eric thank you for taking the time to give away some of your secrets! Look forward to future podcasts.

Legend!

by Daxy111 from United States

SO excited for your content to come. You're advice and results is authentic which is rare now a days!

*****

by acrygvbh from United States

Fantastic relevant info !!!

The real deal

by Erin_Verb7 from United States

Eric Beer is one of the smartest media buying minds I know. Take this chance to learn everything you can about affiliate marketing from him. He will teach you an ethical way to make your life and your family's lives better through affiliate marketing. He's the real deal.

Genius marketing knowledge

by Nick349731 from United States

I can't wait to continue to learn rom Eric! So skilled and such a genuinely good person too. Keep putting out the great information Eric!

Great story and great info

by R-Rot from United States

This was a very interesting podcast. It was honest, informative and motivational. Eric has a great story that, everyone who is interested in starting a business, should listen to. Highly recommend!

Amazing

by Billion Dollar Cowboy from United States

I can't wait to learn more!! So so good!!

Awesome

by Eric X 2 from United States

Eric Really enjoyed listening to this. Keep up the great work!!!

Let's Market!

by hjdvikes from United States

As someone who has networked and marketed more over the past 2 years than ever before in my career, this Podcast is an absolute MUST listen for me. Eric makes it easy to listen, learn and apply.

Invaluable information!!

by lpro1111 from United States

Invaluable information. Can't wait to dive in.

Great information, tons of useful tips

by jonnygal77 from United States

These are great, so much useful information that I can use immediately and effectively. Thanks Eric

Great listen

by Xtra Medium from United States

I love listening to Eric's podcast on my way to work. Looking forward to applying some of these principles to my career.

Definitely worth a listen

by SBS776 from United States

I have had the pleasure of working with Eric and this podcast is a roadmap to success. He is a professional with years of experience and delivers results

Game Changer

by Jay Heydt from United States

Eric Beer is a game changer for your business. I had the privilege over the summer of taking an online marketing class with him. The daily interaction with Eric made me believe anything was possible as well as opened my eyes to an entire world that is online that I was missing. You will learn and earn with Beer. He is one of the best business coaches out there!

Performance at its best!

by Shm722 from United States

Eric has great ideas and insights!

Listen to a visionary....

by RobH60 from United States

Eric is a genius and visionary. Always looking to get ahead through hard work and drive to success yet he is super down to earth and willing to spend the time to share the secrets of his success with others.

Finally, coming out to teach the world

by RogerSmith! from United States

I've known Eric for quite some time and he has been the guy who is quietly CRUSHING it. I'm glad he is coming out to the masses to share all his knowledge!

Can't wait to dive into these!

by Arushi-315 from United States

I can't wait to learn from Eric so I can level up my marketing!
Transcript…
Read Full Transcript
Eric Beer 00:00
Your job is to get the lead. And then depending on how they convert on the back end, will determine if you're successful or not. You could sell the same lead to three different companies and two of them could cancel you and you did nothing wrong. And the third one is just really good at follow-up, and then you're going gangbusters with them, and they're buying every lead you possibly can generate.
I spent the last 17 years building my eight-figure performance business without using any of my own money, working with some of the most brilliant direct response marketers in the world today. Now I'm looking for entrepreneurs to join my affiliate army built on ethics, transparency, and good old hard work. Join me to change the perception of how people view the greatest business in the world, affiliate marketing, and follow along as I learn, apply, and share performance marketing strategies, working with some of the brightest people on the planet. My name is Eric Beer, and welcome to the Performance Marketer podcast.
David Stodolak. Ladies and gentlemen! Welcome to Performance Marketer! What's up, dude?
David Stodolak 01:08
I'm doing great, man. Good to see you.
Eric Beer 01:10
You too, pal. You too? Well, it's good to have you here. I'm excited to talk to you because you're one of the guys that was a hustler who figured out how to play in this lead gen world, he did a really good job of it. Pretty much teaching yourself, right? With all the hustle. You and I were working together a long time ago, you were in the you were on the call center side. And then you ultimately hop the fence, so to speak, into this whole lead gen world. But that's awesome, man. Well, welcome. Tell me a little about you. What's up, you married kids?
David Stodolak 01:45
Yeah, married, got two kids, two-and-a-half-year-old, actually two years and four months. He is right now. Nine-year-old daughter and they keep me busy. And I travel a lot. You know, I'm in South Carolina now on the call center, where we're managing about 30 people here. And so, I travel a lot between New Jersey and South Carolina. So, that's where I'm at right now. My wife is super supportive. It's very, it's great to know how supportive she is of us, you know, building the business and very fortunate to be in that position. So, she helps that we're running. You know, it's just very, super
Eric Beer 02:17
cool. That's so cool. Well, you and I right, we go back to where the student loan company we both worked at, right. And I was in the media side. And you know, you went from this, focusing mainly on the call center side, and you are amazing at it. You're like your personality, like, top notch, you're like one of the nicest guys I've ever met, the energy you bring to the table is just the best. Right? You were serious closer. How did you get over to lead? Gen? Like, how did that all? How did that work? Give me the story of like, how you were able to go from knowing nothing to be able to get into this lead gen world? Mainly because I just want people to hear like, it's possible.
David Stodolak 02:54
Yeah, that's a that's a good question. And something that I mean, if you had asked me, I don't know many years ago is I didn't envision that, you know, life takes a lot of turns in circles, man. And all of a sudden, you know, you wind up in certain opportunities, certain points. So, basically what happened was, I again, I got a big call center background management, a lot of call centers, and I was in South Carolina. Pretty funny. So, ironic. I'm across the street from the call center that I came to in 2012. And a bunch of guys we know got involved with some businesses here in South Carolina, they got into the energy business, and they had a company that had about 500 employees, only a half a dozen people in the call center. And they knew the call center was going to have to grow to support all their work with utility companies, and had these big contracts needed to feel a lot of inbound calls. So, a buddy of mine and a couple people we don't really Schwartz, one of them, Brad Roberts, another one, they said, Hey, we need someone to run the call center. You're the perfect guy to do this for us. So, what happened was they brought me down on April 2012. I saw the operation side to give it three months where I travel back and forth. And for you know what I was moved, moved to South Carolina and it was building a call center. We took it from four agents to a couple 100 agents within a year and a half. And while I was there, I was just focused on that growing that call center. It was really tough. I mean, a lot of ups and downs and a couple times where I was like, man, what the hell am I doing? You know, I relocated all the way South Carolina, like a different culture down here. But stuff would do well learn how to delegate. And before you knew it, I had a good team, good supervisors, good managers, and I didn't have to beat her anymore back in 2016. You know, there are periods of time I was back in Jersey, I was checking on the call center me, you know, one hour a day and was operating pretty well. And then during that period of time, I 20 Because I was looking to start a business right and I have a buddy of mine that I know he told me about like lead brokering and he had a guy, a guy who had a publisher who needed like salespeople, but he wanted to hire brokers like 1099 And then they said listen, we got these student loan consolidation leads, and we know about student loans. validation, right? From 2007. I mean, the game changed a lot. But the bottom line was that he at least $20, he's like, they convert it 20% or whatever. And, you know, you could sell them that, you know, mark them up $1 Or two, and it's gonna work for everybody. So, I say, hey, this doesn't sound that hard. So, I remember I made one phone calls, I don't even know what to say something came from the top my head, I talked to like the gatekeeper, the Secretary, she got me out with a buyer, he agreed to take some leads from me. And then it gave him like a sample. And then a day later, he sent $2,000 For leads. I'm like, Well, that wasn't hard, you know, I just made I don't know how much I made that day. I don't remember. But, you know, for about five minutes of effort, you know, I made a few $100. I'm like, Man, this, this is pretty interesting. You know. So, anyway, that kind of got me hooked a little bit. And then I was learning about solar, you know, the call center I was consulting for was involved in the energy industry more where utilities and traditional electricity. But I do a lot of salespeople that get into solar, and I'm like, you know, what, sales people need leads. If I if I can figure out from this one individual how to get solar leads, I can do the same thing. And you always had a good reputation in the call center world, I always felt like I always did the right thing. And people trusted me. And that's really what it comes down to. And I tell people to leave business is not a lead business. It's really a relationship business. And at the end of day, I think every business is a relationship business, but more leads because leads, you know, so there's a lot of lead generators are people out there selling, you know, Bs leads and gets a bad rap. But if you're someone that does the right thing, and you do the right thing by the client, it's going to come back to you. So, anyway, make a long story short, I had a bunch of people that are getting involved in solar, all of a sudden, like, Hey, I got some solar leads, or they come up to me or solar leads. And before you know it, I'm selling solar leads. And I got involved in that in 2016. And I pretty much worked as a broker for one of the biggest publishers in the world at the time. And man, we're doing seven figures in solar lead gen at the time, a month. Yeah, it was seven, seven figures of revenue a month. And my deal was I was getting a piece of that. And then I saw it, I became I love the game. And I learned about the KPIs and metrics and became obsessed with in a sense, and whereas where I was able to start my own company, Solar Direct Marketing, and I just it just, you know, a lot of ups and downs but you know, we started gaining stride, like 2019 So, much so we may in 5002 50 for 2020 We're gonna hit again next year back to back years, but that's how I got into it, you know, by someone told me about an opportunity, me wanting to have my own business, connecting some dots in like said hustling, and then things fell into place.
Eric Beer 07:31
Boom. Alright, lots of cover here. So, slow down, you're like, like a racecar driver flying. Alright, so for the people that are trying to follow you and understand the, the genius anybody, which is so funny, I love listening to you talk like this, because this is my world, right? This is so now you understand more of what I was doing when I was in media all those years ago in 2005. Right, crazy. Cool. So, you started, you started brokering right, you said earlier, you got some student loan leads. And just on the lead gen arb side, there's buyers and sellers, right. And in this scenario, what you were describing was, you had some supply, you need somebody that was already able to generate leads. So, you started on the supply side, you had the lead distribution, now you need to find a home for those leads, right. So, in that case, you start to look around prospect for all different kind of student loan companies, go to Google right in, you know, student loan companies, and then pick up the phone and hustle, right? Like find a buyer and explain to them, Hey, I got some student loan leads, you can explain, you know, you talk to your buddy, or whoever the supply guy is and how you're doing it. And then you send us some leads. And then if they are converting at 20%, right, you talked about the whole like back end, and it works, then they're gonna buy leads all day long. And ultimately, that effort that you just put in, for however long it took you a day, two days, weeks, whatever, is going to pay dividends for a very long time, as long as that deal continues, right? And you just kind of babysit that deal. So, you can either just sit on that deal and you know, get a good tan at the beach. Or you can go and find another buyer, right? And then generate more leads. So, that's kind of like the concept for anybody who's listening. Because you know, Dave's the best man he flies that right? And then on the flip side of that with your then you got into solar, right and solar, you went definitely more vertical. But in that scenario, you actually flipped. So, and we can that's really what I want to focus with you on because I think this is where people struggle more. That first scenario is great. Like if you have if you have leads already to find the buyers, if they're good leads, it's an easier play, right? It's harder to generate the leads. And you were now working with solar. And now you're the buy side right so now your test to do the opposite you know you got to go out to the market and figure out how do I go and generate leads? Right How do I go and get leads, which is a question I get all the time. Right and people I always try to explain to people like you don't you don't create traffic traffic's there, right you Just getting in front of that traffic. And you know, there's a lot of different ways that you can buy traffic, right, you can go out and be the actual media buyer buy, click on Google buy, click on Facebook, or native or whatever. Or you can ultimately play a middle like you're describing, right? Just media arbitrage, which I do all day long as well. I love it, right? You don't have to take any money out of your pocket. Like really the biggest cost us your time. Right? And the hustle and your energy to like go after that's the biggest cost. It's, that's the asset, right? Take us through, like when you have an offer, like a Solar Scenario, you're like acting as like their external media buyer to go find traffic and you're doing it like in the affiliate division to find supply people that are going to generate leads, right? Like, how do you go about doing that? How do you figure out how to find good traffic that converts on the back end? Right? You're working with the buyers?
David Stodolak 10:51
Yeah. So, I You're right, you know, at the end of the day, the reason I lovely business, because it's people need leads, I think you said in your very first podcast, I mean, it's without leads, you can't operate a sales organization. That's, that's like oxygen or blood, you know, for the body. So, if you have good leads, I mean, you're always gonna have a business good compliant lead. So, make a long story short, what happened was, I mean, I just didn't do the old school route. I knew there was lead conferences, I'd go to lead conferences, like leads con, things like that. And I always network I connected ask questions. I talked to people, I talked to publishers, you know, what kind of leads do you have, you know, I'm looking for solo leads, or I'm looking for mortgage leads, or Windows leads, whatever it is that I needed. And to take it a step further, you know, I will use social media and be part of some groups, you know, WhatsApp groups, or Facebook groups, where you have media buyers in there. So, I would, I would, I was pretty adept. A lot of it has to do with, you know, knowing people reading people, and at the end of the day, you know, money talks, Bs walks, right, but you do a test if you think somebody makes sense. If you start asking the questions, you know, what kind of like solar, the big metric is appointment set rate, you appointment, set rates on Facebook leads, or high intent leads range anywhere from 10 to 30%. The higher you are in that range, the more valuable your leaders because at the end of the day, the more people that actually set an appointment means more people you're going to sit with pitch to do and then get a sale out of it's all correlated, right? So, what they would say is
Eric Beer 12:24
what you're saying earlier with the KPIs, right? Correct. The caper Yes,
David Stodolak 12:27
going back to the KPI. So, at the end of the day, if someone says, Hey, I'm a 30%, I'm like, OK, you know what we'll do a test, we'll spend, we'll do 1000 to $3,000. And we'll see if they're actually, you know, they fall in line. And truth be told, if you do that, you're probably gonna have 10 people, you test, maybe one or two out of 10, or actually hit those numbers. So, you minimize your loss. All right, that you minimize the risk that you take on the people that don't work. And when you find people that work, then you press the gas, like any other business, you know, you scale it with them, and you go from, you know, two $3,000 initial span, you do another test for maybe $5,000. To see if it backs out again, then maybe do it a third time to make sure it wasn't a fluke. And that works, then you then you take the rails up a little bit, you guard yourself a little bit where you go to like, I don't know, you know, 20 a day 30 day 15. And you keep, you got to watch, and you got to really have you got to watch yourself in the beginning. That's where I spent my time. And I spent my time, you know, looking at the metrics and make sure that it was working for the client, it all comes down to the client, it's not work for the client, it's not going to you're out of business. So, I would look at with solar is very fragmented in the sense that there's really no nationwide campaigns, each state has different policies for solar, some states, you can lease you could finance. So, that affects the metrics, there's some income requirements in certain states. So, I had a client where we started, were going doing business for a month, they were doing terrible in Oklahoma, but doing great in Arkansas. I'm like, Guys, I'm going to pull up our Oklahoma for you. And they were like, shocked that I was doing that for an exam. I don't want them to throw bad money and good money after bad, bad money. You know, so I said, focus on focus on Arkansas with terrible Oklahoma, they love that I didn't because no one ever did some of that for I'm looking for the best interest, you know, so they love that I did that for them. And then it turned out that it wasn't the lead two months later, it was something with they hired a new sales rep in Oklahoma outside sales rep. They told me to turn it back on, and it was working again. But they appreciate that honesty that, um, there's not you know, someone leads one time and then forgetting about them, like you got to be in the weeds and look at the numbers to make sure that it's working. So, go make a long story short, you know, it starts with you find the publishers, you got to go to the conferences, you got to network, you'll get referrals, you pay them on time. If they send you an invoice you pay right away. They love that cash flows, everything in business, so you know, you treat them right. And once you find the ones that work, you scale them and you grow with them and everybody wins.
Eric Beer 14:47
Yeah, I love it. You said so many good things in there that I just want to like, reiterate, because there's a lot, right but just simple like KPI, right? What you're talking about key performance. indicator, that's, you know, what are you? What is your goal at the end of the day, right and your goal here, when you're going out and buying leads for your job is to set an appointment, right? You're generating a lead, but then that lead needs to turn into an appointment. And then that's the back end where then if the guy goes on an appointment, you're gonna you know, you're gonna close a percentage of them if the if the traffic's good, right, and then that yields x amount of revenue. And then that kind of reverse engineer, that's a figure how much you can pay per lead. What I loved testing traffic, yes, no doubt, that's 100%. Like you said, if you test 10, and one works, that one pays for all the other nine that you just lost in like a week, right? But then ideally, if you can continue to replicate that over a six month or 12-month period, if you get one winner, then you have six to 12, real media buyers, real traffic, real supply, that's generating a ridiculous amount of traffic for you. And that's how the business starts to scale. But no doubt, you said, the back end of has to work, right. And I always say that, like, when, when we're arbitraging media, I actually think there's four people in the equation. And all four people need to win for to make sense, right? And, like, you describe the backend, the buyer has to it has to work for right, the person is actually purchasing leads, then the person that's actually generating the leads that now you're going and talking to right is the publisher, you have to make money as the guy in the middle, and the customer has to be happy, right? And when those four things align, you have you have a bang business, it works. If one of those aren't working, then the business falls apart. Right? It's like, it's like having like a leak in your bucket with water. And if you know, three out of four working, somebody is not winning, it's gonna it's gonna end at some point, right? If you're not making money, you're like, dude, just doesn't work for me. Right? If if the pumps losing money, he's not going to be running the traffic. But like, how do you find all these publishers? Like, how do you find the high-quality traffic? So, people thinking about arbitraging any sort of lead gen, like, what's the what's the process and you're, you hustle more than anybody, you have more energy. So, you know, God bless you, like everything you have. And what you've earned. Is, is just, it's not luck. It's just hard work. Right? I know, your work ethic. I've, I've seen it, I've been around it. So, like, you know, congratulations to that, you know, I'm not surprised that you're successful. And I'm not surprised you're gonna be super successful. We just because you want it right, and you go after it. And that's, you know, the belief that you can do it is all you need.
But so, when you're hustling and prospecting, and maybe you're not doing it as much as when you first started, now you have guys working with you. Like, how do you go out and find supply, you're working on solar, you know, that you're looking for someone that owns a home that now is interested in putting solar on top of their roof, so that they can save on energy? So, like all the benefits of that bah, bah, bah, bah. Right? And how do you go and find the people that are generating those leads?
David Stodolak 18:03
There is luck involved, but the harder you work, the luckier you get? And there's no question about it. I mean, I I've worked like crazy and I enjoy it is a passion of mine, you know, I like I like people I like working with people like creating win wins. So, I think that just that just helps me people feel that and then when your actions correspond with that, and you say I pay on time and you pay on you actually deliver they love it. So, with that being said, I traveled a lot in the very beginning, I still do to this day, but from 2017 to 2020 hours all over the map, man and you know, I went to Thailand to a conference I went to Spain, I went to places other people want to go, you know, and that's what you got to do. If you're looking at the same place everywhere else looking you're gonna get the same results. So, I would find about the find out about these off the wall conferences, you know, maybe these emerging publishers right it's almost like I heard you not to go so you're here talking about crypto where like, you know, if you go buy something on finance, you buy like a crypto.com and when he's you know binance That USS it's a lot harder by a coin than it is on Coinbase But and if you can get it there before it goes on coin base, it blows up right so it's the same thing. You gotta go into X,
19:07
XRP, XRP, XRP
Eric Beer 19:13
But you just do what you just said. You said you can't buy
19:16
it. Right. But OK, there's got to be a place and I gotta find
Eric Beer 19:19
that's exactly right. But you're just said I read your Yeah, he got delisted from Coinbase. Right, you can go buy it. You get for example, Q coin. You can go buy it. And when it gets listed on Coinbase it's going to explode. But the SEC lawsuit has to end but yeah, I'm yeah, by the way, no one if anybody invest in that it's on you. What financial advisors no financial advice. But I'm going big on it. I'm in XRP
David Stodolak 19:47
I'm going to me I'm a believer but that but that goes back to the point is that you got to get in go where other people aren't looking. You got to be able to get access to what they don't access to. And the thing is that if you could form those relationships early those partnerships Early with those publishers, and they're going to be loyal to you. Because at the end of day, they're winning. It's a win, you know, you're, they're making money with you they're growing, you're growing together is what it comes down to. So, I think they all that travel and then at the
Eric Beer 20:12
conferences, so you're going, like, you recommend that people want to do it, to travel and go to these conferences and just meet people. But like, when you're doing it, you're like a social guy, right? Yeah. And there are people that are introverted, that are like, they're just not like you, they're not willing to walk up to you will walk up to anybody and say, Hello, right. There are people that won't do that. Right. That's, that's a scary thing. And, you know, I know people that aren't like that, right? And I know people listening are like, oh, man, I can't do that. I'm out. Right. But there's other ways for you to meet them. Right? If you do research ahead of time, and you know, who's going if you kind of dial in on like, the people going and the follow up and things of that nature, right. And like, Do you have any recommendations for any other way you could do it?
David Stodolak 20:57
Yeah. So, I saw Jesse Esler has a he had a program last year I went to Georgia and he talks about he talks about his secrets of success things that he did he has some amazing stories. I recommend anybody follow him on Instagram? If he has can't be while Are you build your life resumes. He's got a lot of good things going on. But he mentioned something that he does like he called like daily vitamins or daily habits do I think yeah, Gary Vaynerchuk says as well but one things he recommends doing it's landed him a lot of businesses that you got to go on like the DMS you got to go if you're an Instagram or Facebook, just DM people DM people you want to get in touch with if you do say 100 DMS a day to celebrities, influencers, whatever, it's everything's a numbers game in life, you know, maybe you get 1% 2% of whatever. So, maybe you know, you don't you're not good face to face. And I think that's happening a lot. I feel like things are changing a lot. You hear about the metaverse, and all this stuff, I feel like a lot of these social skills gonna be like old school. So, what's gonna happen a lot more people are gonna be reliant on you know, just DMing. So, people don't even want to talk anymore on the phone, they just want to DM and text all day. So, the point is, there's things you can do to use the technology to your advantage. You can you can DM people, you can you know, you find an author of a publisher that has a blog or got interviewed somewhere and then just hit them up, hit him, send him an email, hit him up on Instagram, Facebook, whatever, and do whatever, you can just stay persistent. Because everything's a numbers game. At the end of the day sales,
Eric Beer 22:16
you find that when you when you're out there, and you're getting traffic, and you're testing media, do you find that there's different quality of traffic from different sources? Oh, yeah. Is there something that you're dialing on? Like? Speak that a little bit? Yeah. Do you buy Facebook? Like, do you actually buy Facebook traffic? Are you going you find people that are buying the Facebook traffic?
David Stodolak 22:37
We do both. We bought ourselves, we have an internal team. And we have a publishers, you know, most of us from publishers, we have some publishers that we've been working with for five, six years are phenomenal. So, but we have our own internal as well. And we get limited volume there. So, when we need more vine, we go external. But to answer your question yet, when it comes to solar, we have some clients that buy every type of lead that we have, whether it's a survey co registration pathway, which is much lower intent, and maybe converts at 1%. That's more for the the bigger call centers that have 50 plus agents to hundreds of agents, they got to keep the dollar the dollar going, we have those leads, we have aged leads, you know, under under 60 days, under 45 days, under 90 days, we have the real time high intent leads, we have live transfers out of our call center as well, if there's in solar is probably five or six type of leads, we have some clients that take every single one of those leads from us because they can, you know, or other clients. If you know we have some clients I give an example was same territory, same lead type facebook lead, one client gets a 30% appointment set rate, client B gets 10%. And I always say it's not the lead, it's got to be the way they're processing. When we talk when we find out hey, they're not calling the client a is calling that lead within seven seconds, they're hit. So
Eric Beer 23:50
we understand that. Yeah, totally the time of doing it. But just so when you're doing that, the sales cycle of that, because that's a really good point, like lead gen Your job is to get the lead. And then depending on how they convert on the back end, will determine if you're successful or not, you could set the same lead to three different companies and two of them could cancel you and you did nothing wrong. And the third one is just really good at follow up and then you're going gangbusters with them and they're buying every lead you possibly can generate. So, yeah, that does happen. You know, it is what it is that's just no piece of the business but so just kind of explain to people like if they were to go out, right, you go out you find somebody who's generating traffic for you. Let's pretend like you're not buying media and how to buy media you're new, right? So, you go and you find somebody like hey, I want to generate solar leads, generate solar leads, they're coming to either you to a form that you have that they're going to sign up and then that lead goes in your database or you know someone to post something to you on like some sort of like hosting posts, and then you're not the one dialing right and setting up the appointment. You're just getting somebody to raise their hand saying I'm interested in solar that then goes into a call center or in any scenario Not that maybe you are dialing like in this scenario, but you know what I'm saying like, if someone were to do it, just so they understand when like the KPI is to set an appointment, but you're generating the lead, that's going to go into a call room that the by side controls, and then they're dialing on that lead, and then they're setting the appointment.
David Stodolak 25:18
Right? Correct that for the most part, and then we have a call center to that buys a lot of the lower intent co registration leads as well. So, in that case, we're dialing on it, and we're sending it we're warming it up and setting as a transfer as well. But if you want to call
Eric Beer 25:30
some sort, right, yeah. So, you dialing and then getting them interested. Yes. And then you transfer it in real time to the closers. Right.
David Stodolak 25:38
Yeah. But for the bulk of what we do is scenario eight, and that's how we started the business was, you know, with us finding the home for those leads.
Eric Beer 25:46
Exactly. So, yeah. So, I just wanted people to understand that, like, if you were to do this, right, if you wanted to start and do some lead gen ARB, you don't need any money, right? You know, you need hustle, you need to figure out, you know, get some supply, you need to have a buyer. Like you're not, you don't need a call center, you don't need to be qualifying those leads, they're gonna do that for you. They're gonna book those appointments. If you get a good quality lead. You can be in business tomorrow, right? That's the beauty of this business, right is it's recession proof. As long as one company needs a lead, you can always find a way to generate some revenue for yourself. That's why I love this business man, is that it's just, there's just so much opportunity at any time, you know, and it's just, you know, you do it for people, you do it for yourself. The fact that you did it in such a short period of time to write I just love it, man. I love your hustle. I love what you're all about. What do you see for the future? Like, are you focusing still on solar? Are you looking to diversify?
David Stodolak 26:39
Oh, yeah, no worries. I appreciate those kind words. And just to say, too, I mean, you're an inspiration to seen your your growth. I mean, you know, when you see people we work together and targeted Ed right at what 2000 educational direct. So, people think we have the other Ed from 2005 to 2007. Right there. And then you know, you know, you you had UMP man, you you grew that tremendously, I've been to your office, I've seen what you've done, stuff like that. Yeah, it goes to show you that it is possible, right? And I was really off. Yeah, someone can do it, you know, why can't I do it, especially if you have the determination and that desire and that persistence. So, so with that being said, I agree, but going back to your question, I'm a firm believer and having multiple streams of income, multiple revenue streams, and solar has been good, I think it's gonna continue to be good, especially with the the government policies and wanting to reduce carbon footprint. So, I think it's going to be kind of, in a sense, kind of like evergreen, I think we're gonna continue to do well there but I don't want to just, you know, depend on that. So, we have a DBA we started called senior direct marketing that we started earlier this year, we did pretty well with Medicare calls in certain rec around May and open enrollment is pretty decent for us. So, we're going to be doing a lot more work with that in the next year is going to be phenomenal. I got a good someone on my team that's just taking that by the taking the ball and run with it. Nice. That's gonna be good. And that's how
Eric Beer 28:01
I generate generates Medicare leads for people there you go. Now see, this is the beauty of the business so simple. But this is exactly how
David Stodolak 28:08
you could ever know I grew how we grew so much as solo directors, partnerships, right? We have someone we refer me to somebody or they say, Well, you do this I do this too. And then bam, before you know it, one plus one equals 10. Yeah. And and with you, you've been doing this so long. So, the odds were working there is extremely high rather than so yeah, I never worked with so that's that's how this is how this is exactly how it works.
Eric Beer 28:29
Yeah, totally. It's a it's a simple, it's simple. Relationships are huge, right?
David Stodolak 28:33
It that's what it's all about relationships, but to go back. So, we got that going on. And then we're doing a lot I was I just came from Miami last week, I was at a crypto NFT conference. And I'm a big believer in the blockchain. And I want to visit this, we're doing some NFT mark and we partner up with someone that's a big NFT influencer. And he so he's actually helped sell out three or four different NFT projects. He's kind of got the secret sauce to that. So, we're creating a sales division with and we actually are working very slowly on it. We just got a deal last week on it. And I want to grow that out. And I also want to do more crypto related stuff. So, I'm always looking at what's the next thing I like trends. I don't know. You know, Ronnie really well, Ronnie RST, gave me a book back in 2005 talking about micro trends. And I've always been learning. Yeah, I don't need to, but I always will always interested in the future. I don't know about you know, I'm always like curious what's what's going to happen in the future. I want to be kind of like ahead of the curve. I want to ride waves, right? So, I feel like in 2015 2016, I saw renewable energy solar as a wave. And I got to ride that a bit. And I think that, you know, Blockchain crypto is gonna be a big wave, it's going to disrupt in a lot of good ways, you know, or society.
Eric Beer 29:40
So I agree. I'm a big investor. They're huge investor. I bet. I'm big. I love I totally agree. So, I'm with you. Well, dude, I appreciate I know you're a busy guy. I appreciate you coming on and sharing some of your genius. keep hustling, keep killing it. And yeah, man. I'll be looking out for those videos. Have you traveling the world with you? Oh, yeah.
David Stodolak 30:02
I appreciate it man. Good, good to talk to, and hopefully, you know a lot of your audience get some value out of this and be glad to help out any way I can.
Eric Beer 30:11
Awesome. All right. David Stodolak… Yeah. Bye.
Would you like to learn how I built my business using other people's money? If so, then join my 21-day challenge at performancemarketersecret.com. I look forward to meeting you and welcome you into my family. And remember, results don't lie, but the people who don't have any do. Thanks for listening.