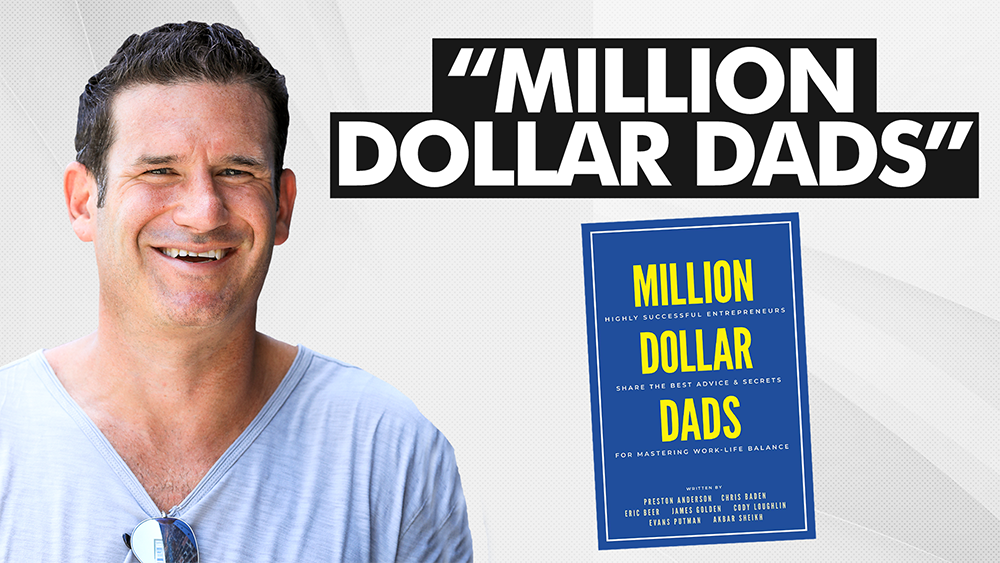 19 Nov

How To Launch An Amazon Best-Seller Book (Launching "Million Dollar Dads")

Awesome news, Performance Marketer Nation! This week, I'm having my first ever book launch!

I've recently co-authored a book called "Million Dollar Dads". The whole thing was set up by Jamie Wolf, who is an expert at putting together incredible collaborations for entrepreneurs looking to expand their brand by becoming authors.

It's been a really awesome experience, and today, I'm going to tell you all about it!




One of the most amazing things about this project was I got to meet a bunch of cool, incredible people. 

Aside from Chris Baden, I've never met any of the other Million Dollar Dads before. We're forever bonded by our book, and I truly appreciate getting to know these folks.

Tune in as I'm going to go over the entire process and explain everything that goes into launching an Amazon best-seller book.

And as a special treat, I've had Jamie and some of my co-authors send me a recording revealing their number one marketing secret, so make sure you listen through to the very end.

The book "Million Dollar Dads" is out today, it's ONLY $0.99, and you can get it (along with special bonuses) using the link below!

👉 Get Your Copy of the "Million Dollar Dads" (+ BONUSES) Here!

Thank you for all of your support! Now let's get to it!
How I Got the Chance to Become a Co-author on "Million Dollar Dads"
Like I mentioned in the intro, Jamie Wolf is the one who put this whole thing together. She is creating these awesome books by collecting stories from people at the top of their industries, and the theme of this particular project happened to be millionaire dads.
Jamie reached out, explained what the idea was, and I was immediately intrigued. After all, it is a topic that's near and dear to my heart.
Being a dad is the most incredible feeling in the world for me. But growing your own business WHILE raising kids is also one of the most challenging things I've ever done. In my chapter of the book, I've really gone into details about it.
There's absolutely no doubt that my family's support was a crucial component of my success. I could've never done it or be the man I am today without them. For all of it, I'm eternally grateful.
The Key to Launching An Amazon Best-Seller Book
One of the great advantages of being a part of a project like this is cross-promotion. By getting the book out in front of our people, we're also introducing each other to all of our audiences at the same time.
When we start promoting our book, it will create an enormous marketing momentum. And we're going to leverage it to get a best-seller ranking on Amazon.
That is why today, on November 19th, we're organizing our book launch between 1 and 3 PM EST. If you'd like to show your support, you can buy the book on Amazon for just $0.99. And if you do it via the link below, you're also going to get a bunch of cool bonuses with it!
👉 Get Your Copy of the "Million Dollar Dads" (+ BONUSES) Here!
All for less than the price of a cup of coffee!
Top 5 Marketing Secrets From the People Behind "Million Dollar Dads" Book
Finally, as promised, I've comprised a list of Top 5 Marketing secrets from Jamie and some of my fellow co-authors.
1 – Prospecting (Chris Baden)
2 – The Simplify to Scale Strategy (Evans Putman)
3 – Be Aggressively You (Preston Anderson)
4 – Be an Attractive Character (James Golden)
5 – Become a Best-selling Author (Jamie Wolf)
Make sure to tune into today's FULL episode and to get more details about each secret!
Listener Love…
Warning! ⚠️

by Boz46747 from United States

Wear a helmet when you listen to the podcast. Eric will leave you feeling like you can run through brick walls. In all seriousness, this podcast is the absolute best!

Awesome

by Nevareze William from United States

Very interesting show.

FANTASTIC!!!

by cucklord101 from United States

My life changed after I discovered this podcast, 100% the number one on the platform.

Great Podcast !!

by Olivia Cousta from United States

I listen several days a week and am excited to have taken action with my first few steps. Thanks Eric!

Best Podcast

by faz12548 from United States

Thanks for everything. This show has been an amazing resource.

My favorite podcast

by Alison Riah from United States

This is my favorite podcast. I look forward to every episode and share it with everyone I know.

Awesome!!

by Brads Hook from United States

Love this show

Inspiring

by stevie h b from United States

Eric's energy, wisdom and experience get me pumped up to do more.

Eric changed my life, thank you

by Nicole Aliba from United States

Anyone who has a chance to listen, do it. Subscribe, download and listen. Eric is authentic, he truly cares about the people he comes in contact with. I know eric, I've tried to be around him and learn from him any chance I get. He's been successful in every stage of his life. Getting the opportunity to hear from him direct, how he thinks, how he goes about achieving his success, his strategies, his tactics, his outlook on life. I'm thankful he started this podcast and I'm thankful I get the chance to learn from him. I have no doubt the lessons he delivers each and every episode will help me continue to be succession my journey. Thank You Eric for making an impact on my life and making me realize I'm capable of so much more than I ever realized. Your support fuels my success. Good luck with the podcast!

Wholly Cow!!! Eric Is The Real Deal!!

by Supreme Dragon Slayer 69 from United States

Seriously.. Affiliate Marketing has been around for a LONG time.. However, it's always been associated with scams, and fly by night marketing tactics that are shady l, illegal or unethical at best. Until now. Eric runs his entire business (which is ultra successful btw) the same way he runs his life.. On pure integrity. Finally, a podcast that is teaching Affiliate Marketing based on being.. Ethical and Transparent. But the best part? This podcast is soooo much more than just Affiliate Marketing.. it's about running a successful business and successful life. So far Episode 3 is my favorite and I look fwd to each episode as soon as it comes out. Highly recommend this to anyone, regardless of where they are in their business!! Straight Gold Beb!

Dave

by Rothbone from United States

One of the best podcasts in a long time. Very insightful, had me at the first 2 minutes kept me for entire podcast. I am a entrepreneur myself and found it very interesting.

Eric Beer is a genius.

by Raera29 from United States

I've only briefly met Eric - but listening to his podcast (as well as his YouTube videos) - it's clear to me that he has an in depth understanding of how marketing should work. Brilliant podcast!!!

Beer podcast

by Bghbhhhggghugyhjjgtjporws from United States

So excited to get more info from Eric Beer to help further my career.

Great Stuff

by Dr TBA from United States

I have been a business owner and entrepreneur for over 25 yrs. I found the information both interesting and informative. I am a fan! Dr Todd Askenas

This dude is the real deal...

by gossjoh1 from United States

I'm in the internet marketing space and have heard about Eric Beer from other entrepreneurs and it's always about how much he crushes it. Over $100,000,000 in revenue... no joke. I had the good fortune to meet him this weekend at an event and he couldn't be more humble and genuine. Just listened to the first episode and it is awesome! Can't wait to learn and grow from you Eric and thanks for sharing your wisdom and experience with all of us!!

Awesome

by Archmatic from United States

Thank you Eric for all your motivation and confidence! This is a must listen. Eric is always on his game and ready for a challenge!!!'

Informative and relatable

by srg1113 from United States

I've listened to the first two episodes and found them useful and entertaining. Eric gives a lot of background to how he got to where he is in his career and the challenges he encountered and overcame along the way. He also shares his knowledge in a way that's easy to understand and would be useful both to people new to Internet marketing, and to people like myself who have some experience but are looking to expand their knowledge. I'm subscribed and looking forward to future episodes.

Outstanding!!!!

by casino exec from United States

This is an excellent podcast for entrepreneurs in any industry. Hearing Eric interview and discuss proven success stories is like getting a motivational fix within 24 minutes. Can't wait for the next episode!!!

High Five

by chris drazek from United States

This is good! Guy is well known industry veteran. In the age where it's hard to get 15 minutes with someone like that on the phone, these episodes have a permanent placeholder on my calendar. Well done and keep up the good work!

Amazing

by Rtfdghf from United States

Walked into the office inspired and motivated! Great listen.

Just discovered a GOLDMINE of information!

by ericamerica from United States

This is next-level marketing that EVERYONE needs to know. SO much value here! This is information people would be willing to pay BIG $$$$$$ to have, and he's just laying it all out here.

Insightful

by lonestar1818 from United States

Incredible insights from one of the best!

Entrepreneurial Gold

by girlfriendwithnutallergy from United States

This podcast is amazing an a must have for anyone looking to take their entrepreneurial endeavors to the next level. Whether you are interested in becoming involved in affiliate marketing, or are just a student of life looking to learn about one of the largest and least discussed industries, this podcast is for you. Eric makes his passion for entrepreneurship available to all with this podcast, and for that reason it is a must listen.

Knowledge bombs!

by Sheree Trask from United States

Eric is a wealth of knowledge, not to mention, incredibly humble! He's got the proof to show that determination, grit and perseverance pay off... and I love that he's shedding light on the world of performance (affiliate) marketing with tangible tools anyone at any point in their online journey can apply. Thanks for all you do, Eric! Excited for more!!

As Smart As they Come

by Lgoldberg1976 from United States

Eric Beer is a tremendous listen. His story telling and motivation have already driven me to work harder. Can't wait to hear what he has to say next.

Great content

by Sensei Victoria Whitfield from United States

Eric is a great guy, gives from the heart and is a wealth of powerful, profit-positive information. Rock on, brother!

So informative and easy to understand

by bergbusiness from United States

If you are serious about starting in this business this is the podcast to help kickstart your career. I highly recommend tuning in.

Powerful

by reebcire from United States

Never realized how mich money performance marketers make without taking much risk. Get excited to learn more

Eric Nailed It...

by Mark Duke from United States

You do not want to miss out on this podcast. Eric is absolutely brilliant at his craft. A MUST listen or anyone who is wanting to ethically up their game in the business + affiliate marketing space. Cheers!

I loved this podcast!

by DPG...123 from United States

I just listened to this not knowing what to expect and it was FANTASTIC! I am hooked and can't wait for more episodes. Looking forward to learning a ton from Eric 🙂

Eric's trainings will up-level your life!

by SwayBuckley from United States

Eric's level of transparency and REAL value is not only rare but transformative! Don't sleep! He's the real deal!

Got me hooked from the start

by Doc bus from United States

Hearing Eric's story and why he is looking to share his knowledge of starting a business was so motivational. Looking forward to hear what he comes out with next. Hoping I can use his coaching to take my own life and business goals/ideas to the next level.

Eric is a genius!

by Golden Oracle Ministries from United States

I had the pleasure of meeting Eric Beer in a high level mastermind that we are both a part of. I must say that every time he opens his mouth marketing gold falls out! I've made millions both online and offline, so when I hear someone talking about marketing I'm not usually that impressed, but with Eric I'm beyond impressed. I'm blown away!!! Learn from Eric, do what he say and watch your business grow.

Excellent

by JLRPS22 from United States

Very motivational!

Awesome content

by NickTheGreek83 from United States

I don't normally write reviews but this is a must listen for anyone considering starting a business. Eric thank you for taking the time to give away some of your secrets! Look forward to future podcasts.

Legend!

by Daxy111 from United States

SO excited for your content to come. You're advice and results is authentic which is rare now a days!

*****

by acrygvbh from United States

Fantastic relevant info !!!

The real deal

by Erin_Verb7 from United States

Eric Beer is one of the smartest media buying minds I know. Take this chance to learn everything you can about affiliate marketing from him. He will teach you an ethical way to make your life and your family's lives better through affiliate marketing. He's the real deal.

Genius marketing knowledge

by Nick349731 from United States

I can't wait to continue to learn rom Eric! So skilled and such a genuinely good person too. Keep putting out the great information Eric!

Great story and great info

by R-Rot from United States

This was a very interesting podcast. It was honest, informative and motivational. Eric has a great story that, everyone who is interested in starting a business, should listen to. Highly recommend!

Amazing

by Billion Dollar Cowboy from United States

I can't wait to learn more!! So so good!!

Awesome

by Eric X 2 from United States

Eric Really enjoyed listening to this. Keep up the great work!!!

Let's Market!

by hjdvikes from United States

As someone who has networked and marketed more over the past 2 years than ever before in my career, this Podcast is an absolute MUST listen for me. Eric makes it easy to listen, learn and apply.

Invaluable information!!

by lpro1111 from United States

Invaluable information. Can't wait to dive in.

Great information, tons of useful tips

by jonnygal77 from United States

These are great, so much useful information that I can use immediately and effectively. Thanks Eric

Great listen

by Xtra Medium from United States

I love listening to Eric's podcast on my way to work. Looking forward to applying some of these principles to my career.

Definitely worth a listen

by SBS776 from United States

I have had the pleasure of working with Eric and this podcast is a roadmap to success. He is a professional with years of experience and delivers results

Game Changer

by Jay Heydt from United States

Eric Beer is a game changer for your business. I had the privilege over the summer of taking an online marketing class with him. The daily interaction with Eric made me believe anything was possible as well as opened my eyes to an entire world that is online that I was missing. You will learn and earn with Beer. He is one of the best business coaches out there!

Performance at its best!

by Shm722 from United States

Eric has great ideas and insights!

Listen to a visionary....

by RobH60 from United States

Eric is a genius and visionary. Always looking to get ahead through hard work and drive to success yet he is super down to earth and willing to spend the time to share the secrets of his success with others.

Finally, coming out to teach the world

by RogerSmith! from United States

I've known Eric for quite some time and he has been the guy who is quietly CRUSHING it. I'm glad he is coming out to the masses to share all his knowledge!

Can't wait to dive into these!

by Arushi-315 from United States

I can't wait to learn from Eric so I can level up my marketing!
Transcript…
Read Full Transcript
Eric Beer 0:00
I got a few passages from some of the authors. Ultimately, yeah, I asked them to just come on and talk a little bit about themselves, and give us their number one marketing secret in the last decade. So you're going to hear it straight from some of the co-authors from Million Dollar Dads and don't forget, on Thursday, November 19, between one and three o'clock, go buy the Million Dollar Dads book. It's 99 cents. It's less than a coffee, you can do it. And I promise you, you will get value out of it, in addition to all the other bonuses, and my link is ericmdd.com.
I spent the last 17 years building my eight-figure performance business without using any of my own money, working with some of the most brilliant direct response marketers in the world today. Now I'm looking for entrepreneurs to join my affiliate army, built on ethics, transparency, and good old hard work. Join me to change the perception of how people view the greatest business in the world, affiliate marketing, and follow along, as I learn, apply and share performance marketing strategies for working with some of the brightest people on the planet. My name is Eric Beer, and welcome to the Performance Marketer Podcast.
Hey, guys, what's up, it's Eric from Performance Marketer Podcast. Great to be here with you guys today. And I got some cool stuff to talk about with you. First, we're gonna talk about a new book, I am co-authoring which is something I never thought I would be doing is actually writing a book. And I'll give you guys a bit more detail on that. And I want to give you an update on what's going on me. Because the first time in about a year, I actually missed the podcast. We've usually launched our podcasts every Thursday for 52 weeks plus, and about a week and a half ago, something crazy happened to me and I had this massive back pain was throwing up I guy was getting the chills and sweating, and it was just something that's like never happened before. I ended up in the ER, I was there for like 10 o'clock at night like four in the morning. We thought it was a kidney stone, they ruled that out. All kinds of stuff, took an ultrasound, CAT scan all that... And it ended up where I went home and it was like four in the morning, my kids were home alone. My wife Allie took me to the ER and it was like unbelievable, stayed with me the whole time. And we went home. And I guess it was muscular but the bottom line was I was in bed for like 10 days straight. I couldn't walk. And that's that hasn't happened to me ever. I mean, when I was 20, I played baseball at the University of Maryland. And I ended up hurting my back my junior year. I had a herniated disc in the L4-L5. And I ended up getting surgery that summer. But I don't remember it being that bad. I remember playing with pain. But I was able to walk I was obviously able to play baseball. This was like, man, like I could not walk I was in bed for 10 days, I was taking like some pain relief. And I just couldn't think straight. So I wasn't able to really do a lot of work. And it kind of just, you know, it made me think about things a little bit on just things that we take for granted. Just being able to walk, being able to go out and make a living and hang out with your family and the opportunities that are out there. And it's like, there are times when like we all get lazy and we just, we run away from from our fears. And whatever that is, and we procrastinate as entrepreneurs, and we don't get things done, and then suddenly, something happens to you and all of a sudden you change. And you're like Man, I wish I could just do that. And I kind of felt that a little bit. And thankfully, nothing really bad happened to me. But it was like a wake up call on like all the things that you take for granted. And I just want to like, tell anybody that's listening to this, that if you're in that place, take a step back, because you've got a lot of great things in your life. And what we do is we tend to look at what we don't have, we don't look at what we do have. And if you have family, if you have friends, if you have the opportunity, if the opportunity is just there for you. That's enough. Because there's a lot of people that don't have that opportunity. And take it and run with it. And don't worry, because everything's gonna work out guaranteed. But for me, so thankfully, two days ago, I ended up miraculously feeling a lot better, thankfully. And I was able to get up, walk around and I started working in the last few days have been awesome. I've been on fire, slept, I just I have so many ideas. I'm excited. I'm working hard, and it's fun. It's like I'm rejuvenated. But I had a little scare out there. And I'm back but so that's why there was no podcast episode last week. So I missed the first one in a very long time. So I'm making up for it. And what I decided to do was do some kind of cool and special With the excitement of the book that we're launching, so I'll tell you about the book. But before I do that, if anybody's watching this, anybody notice I have this gray beard? Yeah. So, alley machines. I hate it. They're begging me to shave it. But every year in November, I always do the No Shave. Did you guys familiar with like the Movember, it's all about men's health. It's about creating awareness for men's health, prostate cancer, testicular cancer, and just overall mental health. And it's all about raising money for research and being able to just get people aware, right, most men, my father was diagnosed with prostate cancer a few years back was scary. I didn't know anything about it. Thankfully, it was early, and he's in a good place. And, you know, to a place where we're not really having to deal with it. But what I learned was like almost all men 65 Plus, like a very high percentage of them have some sort of prostate cancer, like, there's men that die that never knew they had prostate cancer, because it's so low in their levels. But the thing is, is that it can happen to all of us. So, you know, one month out of the year, I'm allowed to be lazy and not shave. The kicker of it is I started doing a few years ago. All right. And all of a sudden, when I start growing a beard, there's this gray, gray, I'm old, man, like, look at this, I got it,I got it. I got like a dog that has like this belly of white hair. And it's, it's kind of cool. I like it. No, my family doesn't. But it's funny because like, I'll go shave, and I'll look like a little kid got out a great school. And, and people joke that you look like you're 25, right. And then there's the opposite end of it, where I don't shave. And now all this gray starts coming in. And now it looked like I don't know 55,60. So I'm 44. By the way, if anyone has no, so those are the numbers that we're working with here. But in any event, that is the that is the reason why I have this beard. And it stayed on until the end of November. And then I will shave it again until next year. But I do have a link, if anybody does want to donate to Movember, I have right now a link on my Facebook account. So you can go there and check it out. I don't remember what the exact link was like November and then some crazy number, it should have made it really easy to remember. And that's a lesson for all you guys out there that are listening to you entrepreneurs on, if you're going to start creating some URLs where you want to drive traffic, you want to do something that is easy to remember that if somebody is listening to it, they can type in it. Okay, and I'll give you an example for that based on this new book that we're about to launch. So I will tell you that right now, Million Dollar Dads is what it's called. So I was invited by Jimmy wolf who does this, where she creates a series of books, where she gets a group of entrepreneurs in all walks of life that are talented in different ways to come talk and tell their stories about how they made their millions of dollars in addition to their life, right. So this book is all dads, so you have to be a guy who is it that has family, right. And you also have to have done well enough to be making millions of dollars. And the concept is around telling your story in your chapter about how you got started how you do business, with your family, and, and kind of combine the whole thing with, you know, cool lessons. And some advice for when people are reading this, that they can see, you know, some of these mega successful people on how they got started and the story behind it. And what what she does is each person does their own chapter. So the book launches November 19. And the whole concept around this is that there's like a two hour window, I believe the window is from one to three o'clock on November 19. Where we want people to buy the E book, and it's 99 cents. And the concept is around if enough people buy it that you can get into this, quote unquote best selling author if the book sells enough copies within the two hour period, I guess on Amazon, first time for me. So I'm learning all about this just like I'm explaining to you but so if any you guys are listening to this on November 19, between one to three o'clock eastern, go buy the book for 99 cents Million Dollar Dads. Now we talked about how it works with URLs. So what I did was I created a URL on my own because the way that we're doing this is we have seven authors that are part of the book. Okay, I'm one of them. I've actually asked a few of these guys that they wanted to to just do a quick little recap on like a marketing secret that they have. So I have a little bit of a surprise that I'm going to be adding on to the show with a few of them have given their their marketing secret of the decade that I'm going to play for you. So you can get to know some of the other authors prior to when the book launches, so that you can get excited to read their chapters, just like you're going to be excited to remind. So each guy is offering with the book a bonus, right? So the whole idea is, if there's seven authors, each guy can give a bonus for when you're buying the book. So when you go out and you buy this book for 99 cents on Amazon, you're gonna get all of this huge value from the seven guys, seven authors in this book that are dads that have made millions of dollars, with them giving you something of value for free, you get a bonus for it for 99 cents to go buy this book, this ebook. So what I did was I created a URL that you all can remember, which is Eric, M. d.com. Right. So my name is Eric, you can remember that, and million dollar debts and DD. So what I did was I created a link that everybody can remember, Eric md.com. And on that link is going to be where we're going to have the the bonus that we're giving away, which I believe our bonus, is, we have this, this free guide on the nine mistakes people make when they're figuring out how to create a lead magnet. So we go into detail on all nine of the mistakes. And it's a it's like a guide ebook that you can print, it's a download. But what we've done is we've allowed them to come when you buy the book, you're going to get this bonus from me, in addition to whatever else, all the other authors are offering. And we also set up a nine day email series where you get an email each day, kind of going into each mistake of what it is you shouldn't do, how you should go about building your lead magnets, what the right way to offer things, it's, it's really good, I've been generating leads for a very long time, right, I've generated over 50 million leads, guys. And I've seen it all. So a lot of what I've learned on the good and bad on how to go out and create these exciting hooks, where people are gonna come in and buy something, maybe you want to incentivize them with these lead magnets. But you do it in a way where you maintain quality, right? I see a lot of people make huge mistakes with this. And there's a great way to do it, it's okay to reward somebody for doing something, right. But it's what you're offering and how you offer it. And there's a lot of things that you should be avoiding. And it'll be in this guide. But So in any event, that is what's happening with me right now. So this is all about the million dollar dad's book that's launching November 19, between the hours of one to three o'clock, we need you to buy it, because that will put us on Amazon's radar for all of us to become bestselling authors. So I want to tell you a little bit about my experience with this. And then what I'm going to do is I'm just gonna play a few of the author's who gave us their marketing secrets for you guys, as a little treat in this little series of Eric is now an author, which is a joke, right? I'm not very good at writing. I could talk all day long. And what I liked about this process is what Jimmy does is she finds a group of people that can add huge value puts them together. And that's your business, right? And she knows all about the publishing of a book. And the way that it works is I was able to get onto a call with Jamie and her sister Lois, who's great. And we just start talking. They're asking me questions like an interview. And it's taped. And then what happens is, is it goes back into Jamie's world and they try to create a passage. And then the passage comes back to me. And for the chapter that based off of the conversation we had. And now I go through it and I edit it and I change it to where I feel like it's it's on some par, which I did. But I'm not a great writer. So at that point, I submitted it and now I'm That's it, boom, it's going to be out in the market. However they took from what the changes I made. And it's been fun. And it's a chapter one chapter in the book of seven other authors. There's some cool guys Chris Baden, good friend of mine, he's in it. I'm pumped. He was a an American Ninja Warrior at one point. So his story is pretty cool. And he's an entrepreneur. And then there's a bunch of other people that I'm meeting for the first time which is cool like Preston Anderson Akbar. Sheik Evans putting them Cody Loughlin, James golden. And the cool thing is, we all do different things. So you're gonna get a lot of different perspectives of people like us entrepreneurs, who are dads, and our way on how we got to where we are, what we do, how we do it, some of the roadblocks that we had some of the things that we had to overcome, and in my chapter, I go through kind of just like how we got started, you know, I kind of talked through my journey to Having that entrepreneurial spirit, but finding my way, right, we all have to find our way at some point in time, you know, you everybody wants, like, boom it to happen like that, but it doesn't. And that's just part of the journey. And for me, it took me some time to get to that place. And it was a it was a good ride. And I think back and it's fun and exciting. There's a bunch of ways on how I got my business kick started, that I think if you listen and read, yeah, there's some some things in there that will help you with ways that I was able to create cash flow, ways that I was able to become independently, financially paying my bills, like getting used to not getting a salary anymore. And I went through a process of that to the point where it's like, also, not only the actual part of making it happen, but the the mental mindset of believing you can do it, right. And, you know, it's like this, this, if you do it, and it starts out and it's and it's going great, you have great confidence and you start and it's not going so great. And now like you have these financial pressures, you lose confidence, and then it's like, it's harder to get back. Right. And, you know, obviously one thing that I made it obviously, right. But one thing that I learned early on is never to make decisions. When you're emotional, you don't want to do something that you may not have done if you were in a different situation, at the core of who you are, and on the decision making. And what I mean by that is like when people are stressed out about finances, you might do things that you normally wouldn't do, right? And if I told you Okay, timeout, let me give you a bag of money. And I told you, you were good for six months, you don't have to worry about money whatsoever, would you still make that same decision? And if the answer is yes, great, then you're in the right place. But if the answer is like, I don't know, maybe not? Well, then I think you need to take a step back, take a timeout, sit on it, go to bed that night, wake up the next morning and see if maybe you're going to make a different decision on what you're going to do next. Because at the end of the day, guys, it's all about your mindset. It's all about your confidence in yourself. And hopefully you have a good support system, whether it's a wife or a family for me, I have my wife, Allie, I have my my family supportive. You know, when I started my business was 2008. Okay, I was married, I had Ashley, my daughter, who was turning three, we were pregnant with Zach, who then I started my business in January of 2008. And Zach was born in July of 2008. So, because Zach was born, we lived in a townhouse, I had to go buy a house that was bigger. So at that time, okay, I'm now an entrepreneur, right? I'm self employed, and anybody that buys a house and you want to get a mortgage, the bank needs to ask this for your employer, they want to know that you're able to pay the bills, they extend you credit, a mortgage is his credit, essentially. Right? So if you buy a house, I think time our first house we bought was like $700,000 and change, right? So you got to put your downpayment down whatever that is, let's say 20%. So that's $140,000. So then, you know, sitting and looking for a mortgage for like, what is it? 560 grand? And the bank looks at it and says, Well, okay, we give you this phone $6,000. But what's the collateral? Are you good? Do you have good credit? Can you pay? Do you have a job, right, so now I got a, I'm starting a new business with not a ton of history there. And it was crazy time. And now thankfully, like did get that mortgage. And I got the house. But what was crazy was during that whole period of time was me, trying to start a business and I have a three year old and assumed to be one year old. Now that I have to worry about. It's a completely different game, when you start a business and your dad versus if you want to start a business and you're single, or maybe you're married but you don't have kids, right? Starting business when your dad you got mouths to feed you there's, it's not like you have timeouts. It's the most amazing experience. And I recommend everybody do it. It's like one of the most special things and the craziest things and miracle how you're able to like create these little things that are you. Right, but it's, it's tough, right? It's it's hard on the parents, you know, you don't sleep, you feed the child, certainly newborn every three hours. And when you have to. It's man to man defense at that point, because both kids need to have a parent to do things for and at the same time trying to start a business and it was a pretty crazy time. And I think back to it now and it's uh, it's fun. It was fun. I was I made it and it was cool. The stories inside the book. You guys can read it when it comes out on November 19. between one of the Three o'clock eastern, buy that ebook, and you will get all the bonuses on Amazon or you can go to ericmdd.com. Okay, a little plug there. But, uh, yeah, so I would say that the other thing I'm getting out of this, and I want to see how it all unfolds, because we're all supposed to promote it at the same time. And the concept is you want to get everybody buying at the same time. So all seven authors should be pushing this. So you guys will probably see it on the internet, floating around somewhere all around Million Dollar Dads. And it'll come from from me or from some of the other people that are going to promote it, and they're all going to want to promote it during the times that we want it to be purchased. Right, it's 99 cents. There's seven authors now that are dads that have made millions of dollars, I can guarantee you, you'll get your money's worth, from somebody, whether it's me or somebody else. But there's a ton of value in there, like just like gold after gold after gold. And these are good people, I'm forever gonna have a bond with these guys who I just met, right? Other than Chris, who I've known, everybody else I didn't know. And now I'm a co author with them, which is kind of cool. I think if my English teacher heard about that, or some other teachers, they would have a good laugh. But um, it's kind of gotten me thinking around, if I should write other books around some of the things that I know about, right, that I think can help people certainly can help entrepreneurs based on ways that I know how to make money. We talked about like, when you go to school, it's like, there's these report cards based on social studies and science and math and, and art, right? Like, what if you're not good at that? Well, as an entrepreneur, and a lot of people get this, and it tends to be a lot entrepreneurs who are just good at certain things just weren't good at school, right? Well, I'm good at other things that I'm able to now, hustle, be opportunistic, and be able to make money, I strongly feel like I can make money no matter what, anywhere, I just have to sit down focus, think. And then I can make my there's this that much opportunity in this world. Based on all the things that I've done in in the lead generation, in the direct response marketing world in affiliate marketing, there's always a way to make money, there's no recession. And I love it. I'm thankful for it. And it's kind of cool, right? So maybe I create one of those books. And I was thinking about it. Like I'm building SurveyDetective, I have this whole concept of I'm working with my buddy James Friel. And as I'm going through and trying to gather my thoughts on the process of how to go about it, he came up with this cool thing that we're going to use called the perfect survey method. And that's going to work coin that right as like, this is the perfect survey method for you to use my system and answer some questions go through the process, and it'll spit out for you this unbelievable service, it's going to generate so many leads for you. And you're gonna love it. And it's gonna come from SurveyDetective. So that's all kinds of cool stuff that's got going on. And, you know, I could write a ton of stuff around that process around all the things or frameworks for how you use surveys to generate leads. And I think the concept could be around, I can write this book that people can use when using SurveyDetective. And that's just taking a chapter out of Russell Bronson's strategy. I mean, what he's done is genius. He's got his three books, and his three books are all around using Click Funnels. It's, it's amazing. And I've always wanted to do it. But you have to have a lot of things in place before you write books, I see a lot of people who want to write a book right away. I don't think that's the move. I think you need to get get get going, get your business going. And then you can write a book later, right? But if you're gonna write a book right away, I mean, how long does it take to write a book? I mean, I don't know. I haven't done it. But I can tell you like, it's going to take a lot of man hours for me. But what's cool about it is, you're able to do it in a way where you can tell your story. So for me, I can tell my story, I can talk about how you use surveys to generate leads, and how I tried to take what I know and implement it into the platform that I'm building within SurveyDetective. And then my vision would be that someone's using my my book, while they're using SurveyDetective, I put awesome things in the book that you can use these cool tips, these these secrets that I have, and that it shows you how to go out to the world, cast a big web, generate some leads, nurture those leads, convert those leads into new customers, and then put it on autopilot and you're having that go day in day out every day, every day. Like it's like a machine. It's amazing. So yeah, like that's cool. I'm thinking about doing that. I got a lot on my plate. I'm launching a new YouTube channel. That's gonna start so right now what we do, I have a YouTube channel Today on most of the contents from these podcasts. So we videotape right the podcast go on for audio, but from from video, we take this video and we upload it into YouTube on our channel. The channel is called Performance Marketer right? Eric Beer. So the thing is, is what I've learned about YouTube is, their algorithms and how it works, you need to be very specific around certain topics, and then focus just on those topics. So you have all kinds of videos on that one topic. So what I want to, what I'm going to be doing is launching a different YouTube channel, under my name, where we're able to control the content around specific things with lead generation and using surveys. So that we can start to get more and more content out into the marketplace that people can find. And then what hopefully happens is as we start to put this awesome content out, people find it. Now YouTube starts to recommend it to other people on YouTube. And that's how you get the growth, right, with performance marketer, with the combination of this podcast, I talk about Legion, I talk about service and talk about all kinds of stuff. But there's other things on here also, like when I'm when I'm interviewing people, it's it's, it's whatever the whatever they're doing, like the theme is all around, it's performance marketing, right? It's, it's all around getting results. But getting results can mean a lot of different things, you know, you could get results, being an entrepreneur with looking at it financially, you could also get results by if you want to lose weight, or if you want to be able to ask a girl out, I mean, there's plenty of ways you can do it. But it's all around performance marketing, it's all around you getting a result. And the content kind of jumps all over the place. So it's harder to get YouTube to pick it up. Because the way YouTube looks at it from that is they they're confused, right? They look at it, and it's all a machine. But that's the concept around how you get things to go viral as you focus on one niche. And you just just continue to just go down that path of that niche. And over time, what how hopefully happens is like a few videos get picked up, maybe one goes viral. And then YouTube starts to see like you're an authority in that niche, right? Using service generate leads. That's not really what people do today. Right? When you hear about surveys, you hear about research, you're about feedback, customer satisfaction, we can do all that. Okay. But I'm showing people how to use surveys to generate leads the proven tactics, on how to do that, we're going to be the only platform in the world that focuses primarily on generating leads getting results for somebody business. And it's awesome. We've been doing it for years. Now I'm showing you guys how to do it. And the people that are with me are gonna have some fun. But So in any event, that's what's going on with me. So today I'm back, I wanted to catch up a little bit, because I missed my last episode slot. But so that's it. That's what I got going on. And now I am going to be giving you the treat that I promised. I've got a few passages of some of the authors. And the publisher, Jamie did it as well. She's not a dad, but she is the one who's orchestrating this whole thing. And she gave us a little passage talking about how she goes about putting these things together these million dollar stories. So anybody that may be interested in becoming a co author, maybe reach out to Jamie once you hear a passage, but that's cool. We also know Evan did something Preston did some I have to go look and see who else did it. I'm not sure. But ultimately, yeah, I asked them to just come on and talk a little bit about themselves and give us their number one marketing secret. Unless decades. So you're going to hear straight from some of the co authors from Million Dollar Dads. And don't forget, on Thursday, November 19, between one and three o'clock, go buy the million dollar dad's book, it's 99 cents, it's less than a coffee, you can do it and I promise you, you will get value out of it in addition to all the other bonuses, and my link is ericmdd.com. So it's going to be on Amazon. That's where we want you to buy the book. So you can go to Amazon and buy the book. If you don't go to my link and go to Amazon and search for million dollar dad's, my name is gonna be on there as a co author. So cool, the start of hopefully many more to come. But um, that's it guys for me today. I'm gonna now hand this off to some of the co authors and some of passages with the Marketing Secrets. So enjoy it and have some fun. Alright guys, but
Chris Baden 29:22
Hey, friends, Chris Baden here, and I'm the CEO and co-founder of Sales Ascenders when the world is in trouble, yeah, it's a good idea to call the Avengers. But when your sales are in trouble, it's a better idea to call the Ascenders. And that's us. And today we get to chat about the biggest marketing secret I've learned in the last decade. This answer is extremely easy for me and it's one I'm really confident most people will not expect. The answer is prospecting Chris really, prospecting is your big marketing secret over the last decade correct one Hundred percent yes and it's for a very specific reason it's where all the connection all the engagement all the honesty and copy lifts some people spend hundreds of thousands of dollars for great really talented copywriters. My argument is the best copywriters ever are the ones that actually pay you for your products and services. It's your customers. Think about it, who is your business for your customers, whether you know it or not, as an entrepreneur, as a business owner, you are committing to serving a particular market, a particular group of people, when that is done with awareness with love, wit and mastery, those are the ones who those are the businesses that are usually the most profitable. That said, if your business thrives from serving your customers, then Isn't it your customers that would have all the answers. prospecting is the skill, language and activity of creating new connection. It's new connection with new people, and it's also new and deeper connection with current customers. prospecting is the work done in the trenches that brings the clarity to leave your ship with undeniable and completely contagious conviction. And energy. prospecting is a principle. Heck, I teach my two and four year old as they're going door to door with their very own key chain business. prospecting is the key skill that allowed me in the last five years to be a part of owning and building three different companies in three different industries to do at least $1 million or more per year, because I understand how to start a conversation and approach anybody in any market and then quickly be able to identify who's who in the market, I get to understand how to start creating transaction and creating deals and understand every different person in the equation and how they all benefit prospecting built the confidence in me to help other business owners like Marley cones video agency go from over six figures in debt without a sale in over three months to writing $75,000 in business in just a week and a half after talking to myself, and business partners, Shawn and Melissa Malone. And two months later, as Marley continued to work with us be able to consistently generate over six figures per month in revenue in our agency recently got the honor to be featured in a brand new book called million dollar dad's, I got to share more of my story and how prospecting eventually morphed into what I like to call now is purpose-driven prospecting. Purpose Driven prospecting is a blend of a system and, and art of really staying focused on the prospect on the customer. It's not about our features and benefits, right? But it's also not about our why and why we're passionate, that's still focused on what us or the product, that's not the answer. The answers, we're here to serve. Literally, we need to listen, it is about the prospect It is about the customer. It is about effectively solving the problem the way we would want someone to solve the problem. For us. Purpose Driven prospecting is the missing piece that will bring more clarity, focus, and energy to not only your business, but also your life.
Evans Putman 33:44
Hey, I'm Evans Putman, creator of the Infinite Impact Method, and founder of Infinite Impact Coaching and Consulting where I help change-making entrepreneurs create profitable, scalable dream client businesses. I'm also the host of infinite impact radio, podcast. And the biggest secret I've learned over the past 10 years when it comes to marketing and sales and entrepreneurship is what I like to call the simplify to scale strategy. The simplified a scale strategy. Now one of the biggest killers of entrepreneurs and businesses is complexity. And I learned this myself in our business where we had so many moving parts, so many offers so many funnels, we were serving way too big of an audience, that we could not create consistent revenue. Even when we had an audience through our podcasts coming in traffic of a 4.5 million listeners, we still struggle to create consistent revenue and it was because of complexity. So by necessity, when we were about to shut that business down, we made one switch that quickly propelled us to half a million dollars in revenue without paid ads and then From there took us on to seven figures and gave us a scalable sellable business which we later did sell.
James Golden 35:09
Hey, what's up guys, this is James Golden, founder, and CEO of Pavement Management Group. At PNG, we're in the business to government space where we provide a data-driven solution to our infrastructure roadway issues. So data-driven decision today, better roadways tomorrow is one of my biggest Marketing Secrets, if you will, that I kind of stumbled a corner of last several years, probably really isn't much of a secret at all. But it's surrounding that that topic of being the attractive character in the engineering space business to government space, as you can imagine, slow on the stuffy side, there's so many people and agencies out there engineering firms and professional services firms that don't really leverage social media the proper way through the proper channels. And for me, being the attractive character kind of all got started. by just putting myself out there, you know, you know, learning a lot on Facebook, I'm a public individual. And I want to build a chance to transcend that into the LinkedIn platform wider sort of building my network connecting with like-minded individuals, number one, number two, reaching out, and identifying who my qualified decision-maker was, and making sure I was connecting with them engaging with their content, letting them know that I value what they're up to, and what they're doing things along those lines. And then slowly but surely develop that relationship to be known, trusted in light, you know, throughout my platform, so LinkedIn became my pillar of content. And as I just mentioned, previously, in the pavement management space, we're out here identifying a wide variety of roadway distress issues. we're leveraging artificial intelligence to do this a little bit better, by the way, but the bottom line is, we want to be able to give Public Works directors, city engineers, municipalities, better information to make better decisions. And I wanted to start getting that information out there from a more forward-facing position. So become the attractive character. I just started launching a wide variety of videos, um, you know, geared towards my LinkedIn network, if you will, taking a look at different things that are happening, offering solutions, better treatments, and then kind of putting that online. The Great story behind all this when I kind of put two and two together was about two years ago, and I attended a national conference. And you know, just like anybody else, I'm up in the morning, I'm heading down to grab my coffee. In the elevator, I've got my badge with my lanyard around my neck that's got my name and the doors open. And I walk in and some guy says read my badge scans me up and down, says James, Hey, man, I know you. I've been watching your videos online, thanks for doing what you do. That was the lightbulb moment to kind of continue going all in on that effort. Um, you know, and I know for a lot of us as entrepreneurs, not everybody likes to be in front of the camera, not everybody likes to be so social. So the point is to be the attractive character doesn't mean you have to actually be doing that you can absolutely leverage a digital agency. There's a wide variety of different ways to do this through your brand. I'm actually working from this point moving forward of going from, you know, James golden being the attractive character working now to leveraging PMG my company to be the attractive character, all about being a great resource, providing value-based content, and always being in front of your ideal qualified decision-makers so that when they've got a question, or when they've got, you know, Payment Management, in this case, on their mind, they're coming to me. That's how I've been able to leverage all this for the last few years. And, you know, watch my revenues grow 35% year over year for the last three years, and with this artificial intelligence being on board, find me in a position to scale. So I hope this helps a lot of you out there. That's my story. Again, James Gordon Pavement Management Group. Thanks for the opportunity.
Preston Anderson 38:31
Hey, this is Preston Anderson from Anderson.Tax. I've worked with over 1000 companies doing taxes and accounting. But over the past two years, I have helped hundreds of companies find ways to save 2030 even $200,000 in taxes per year. My biggest marketing secret that I've learned over the past decade is the best advice I have ever received is to be aggressively you as a CPA, I'm not naturally a, a marketer was not something that came natural to me and I had to learn a lot of tactics and a lot of things. But when I first started getting into marketing, well, first off, it took me three years owning a business to realize I wasn't marketing. But once I realized it was in marketing, I tried a lot of other people's tactics, and I tried a lot of other people's shoes on and I tried to be like them. And I met somebody and his advice to me was just be aggressively you. And it has served me so well. I heard that at a time where I was kind of floundering in my business. I had I just sold my previous business and I was trying to start up this new business and it was all about marketing. And the very first time I really kind of put those shoes on being aggressively me, because previously I was trying to use other people's tactics and I was looking Like everyone else, and I responded to a post in such a way that people couldn't, they could do nothing but react to it because it was so off the wall. Somebody asked how, how much taxes are you going to pay on $50,000 of income. And my response was, well, I saw that people say, Well, I'm a tax planner, I do this, I do that I can help you save money. My response was, yeah, I'm a CPA, I made 350,000 last year, and I'm that $350,000 I paid $7,000 in tax. And over the next week, from that one post, I received, probably three to 500 inquiries. And what has really helped me over the past two years, is is is not trying to put myself in other people's shoes or walk other people's way of marketing, but instead to be as me as I possibly can be. I do Facebook Lives, and in those Facebook Lives, I am me I wear the clothes that I wear, I don't try to dress up in a way that is not me. And by being aggressively me, the best thing about it is it attracts those people that are like me, the people that are going to work with me the best. So the absolute best piece of advice, once again, be aggressively me. So that's what I've learned. And that's how it has served me. And I would advise that anybody going into whatever business you are going into, yes, you've got to put in the work you've got to do. You've got to learn techniques, you've got to learn all of the things. But at the end of the day, don't allow the technique to overtake you. So that's it. That's what I got my man. Thank you.
Jamie Wolf 41:57
I'm Jamie Wolf, I'm CEO and founder of million-dollar story agency. In the last year, I've helped almost 40 entrepreneurs become published best selling authors. And the cool thing is they didn't even have to write. So if writing is not your thing, or if time is a premium for you, I'm here to help you. The biggest marketing secret that I have learned is that by becoming a published best selling author, you accomplish a few things quickly and easily. First of all, you rise above the noise easily increasing your influence your credibility, your authority, your status, because compared to a lineup, you're the one that's the published best-selling author. Next, if people are spending money anyway, to get eyeballs on them or their product or service, for example, you're spending 10 grand a month or more on Facebook ads to attract new prospects and clients and let people know who you are and increase brand awareness. Having a published best selling book does the same thing, effectively, efficiently at a much lower price point. So if you're paying anyway, to attract attention, and to build your brand, you might as well pay to become a published best selling author. The next thing is it's a fantastic way if you're trying to get on somebody's podcast, or be a speaker on a live stage or at a virtual event or participate in a virtual summit. All you have to do is hand them a copy of your book, whether that's an ebook, a print book, or an audiobook, and we produce all three versions of books. It's a great introduction, you know, you've heard the saying a book is like a business card. And it really does work. It's a great opener for a conversation. And you know, if you are having trouble standing out in a crowd, if you are feeling any discomfort at all, and selling your product or service. It's an easy transition to say, "Hey, why don't you read my book." And within your book to make sure you've done it strategically if you've got links to your offers, it's a great way to bring people into the beginning of your value ladder. I actually got started in the book world because I worked with entrepreneurs in the tech space. So entrepreneurs that were building tech companies that were scalable, and I helped them partner and pitch to angel investors and venture capital investors and I found myself being asked the same questions over and over and answering the same questions. And so I put them all into a book and that was my first foray into the world of books. And what I discovered is that it really made people trust me more quickly. It raised their respect factor simply by my being a published author. And when you add that banner of the best-seller, you do stand out in a crowd. And the lovely part of you know, most people have their own books. But when you do a collaborative effort or cooperation, the power in participating and a collaborative effort or an anthology project is that your influence is raised simply by being a co author with other major influencers. And when you launch the book, your reach instantly extends to the audiences of all of your co-authors. So without any extra work or effort or cost on your part, you have multiplied your audience reach several times over. It's an incredibly powerful and effective tool. So thank you for listening. Jamie Wolf, million-dollar story agency. I know you have a story to share, and I can't wait to help you tell it.
Eric Beer 46:04
Would you like to learn how I built my business using other people's money? If so, then go join my 21-day challenge at performancemarketersecrets.com. I look forward to meeting you and welcome you into my family. And remember, results don't lie, but the people who don't have any tier. Thanks for listening.