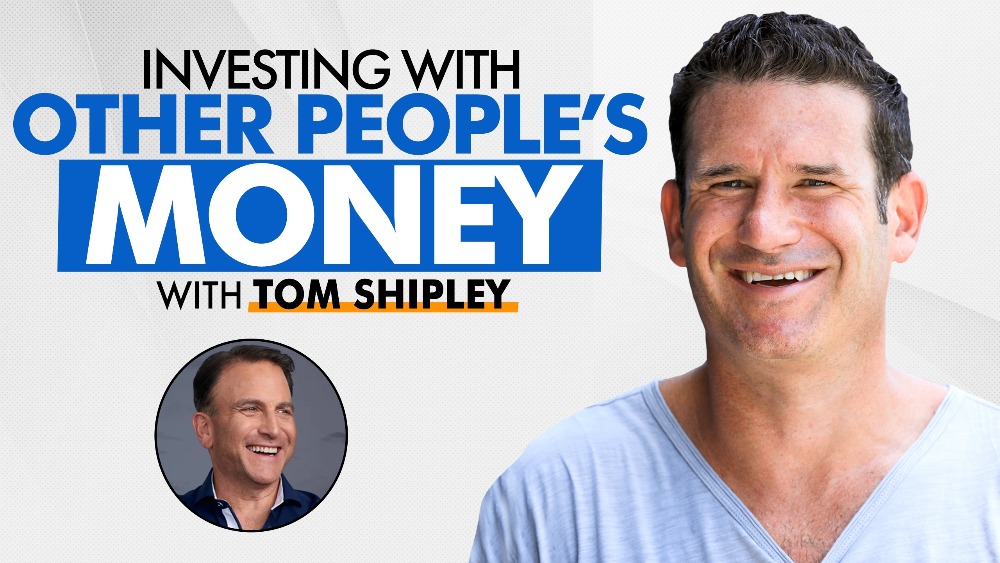 17 Sep

How to Invest in Companies Without Using Your Own Money With Tom Shipley

Investing in companies isn't a privilege reserved for the financial elite. You could start doing it tomorrow, even if you don't have millions of dollars lying around in your bank account.

Today, we're going to talk about how to invest in companies with other people's money, and I don't think there's a better person to talk about it with than Tom Shipley.




Tom is a serial entrepreneur, strategic advisor, investor, and an expert in omnichannel brand building. About 20 years ago, after a career in the special forces, he began his entrepreneurial career with just $100 in his pocket.

His first-ever business idea was on point, but he was determined to learn more about systems, processes, and analytics to raise his game. In pursuit of those skills, he ended up with a Bachelor's and a Master's degree in Industrial Engineering.

In 2005, he co-founded Atlantic Coast Brands and grew it into one of the largest direct to consumer multi-brand companies in America. One billion dollars in revenue later, and he's still very much actively looking for new opportunities to build brands and explore platforms that can scale.

This episode is a masterclass on investing in companies, full of practical tips, real-life examples, and resources that will help you learn the craft from scratch.

There's a lot of stuff we need to unpack here, so let's dive right in!
The Key to Recognizing Underpriced Attention in the Online Market
"I don't care what channel I market in; I'm always looking for underpriced attention." – Tom Shipley
Focusing on underpriced attention has been an incredibly fruitful strategy for Tom. It has given results regularly, while always providing him with an edge against the competition. Having said that, when he decides to explore a new channel – he is never the first one in.
In order to make the right decision, Tom leans on his trusted network of specialists. He uses their first-hand insights and advice to make the right call for his company.
These types of opportunities have an expiration date, but if you position yourself at the right time, the benefits can be plentiful. Tom has invested both in radio and short-term TV advertising during their prime.
He recently got a tip about YouTube being one of the best places to advertise these days. Through testing and optimizing, they were able to figure out a winning strategy, which is why they expect their YouTube spending will exceed their Facebook ad spend in the next couple of months.
How to Invest in Companies Using Other People's Money
Tom has a unique set of skills that allows him to be so efficient and effective at what he does. His combined expertise in omnichannel brand building, direct performance marketing, and business systems enables him to step into any company and take it to the next level.
The key thing is, with investing, Tom never uses his own money. He instead leverages the money of other investors, while his contribution comes in the form of finding a remarkable opportunity and creating a knockout business plan.
"First of all – people invest in people." – Tom Shipley
In our conversation, Tom reveals that the biggest aspect of his success comes down to having the right mindset. 
All you need is a strategy and confidence. And there's no better way to build confidence by putting yourself out there and going for it.
The Number One Goal EVERY Entrepreneur Should Have
One of the biggest takeaways from our conversation also speaks worlds about why Tom does what he does.
As entrepreneurs, we're all focusing on making money. But the fact is, you'll never make more money as an entrepreneur than when you decide to make an exit.
"The most money you always make is when you sell your business." – Tom Shipley
The benefits of selling your business go beyond money in the bank because it also gives you the time to find a new opportunity and create a new project. And the whole idea of using other people's money is there to speed up your process. It allows you to go from one company to another much quicker while also opening up exciting opportunities to combine multiple companies and get an even better deal on the market.
— 
Huge thanks to Tom for joining me on this episode of the podcast.
There are plenty of more gems in our full conversation, along with stories from the industry and practical tips, so make sure to watch the full video here!
Don't forget to sign up for my VIP waitlist to keep updated on everything SurveyDetective and Performance Marketer related.
🕵️‍♂️ Sign up for the SurveyDetective VIP Waitlist
Thanks for tuning in, and I will see you next week!
Listener Love…
Warning! ⚠️

by Boz46747 from United States

Wear a helmet when you listen to the podcast. Eric will leave you feeling like you can run through brick walls. In all seriousness, this podcast is the absolute best!

Awesome

by Nevareze William from United States

Very interesting show.

FANTASTIC!!!

by cucklord101 from United States

My life changed after I discovered this podcast, 100% the number one on the platform.

Great Podcast !!

by Olivia Cousta from United States

I listen several days a week and am excited to have taken action with my first few steps. Thanks Eric!

Best Podcast

by faz12548 from United States

Thanks for everything. This show has been an amazing resource.

My favorite podcast

by Alison Riah from United States

This is my favorite podcast. I look forward to every episode and share it with everyone I know.

Awesome!!

by Brads Hook from United States

Love this show

Inspiring

by stevie h b from United States

Eric's energy, wisdom and experience get me pumped up to do more.

Eric changed my life, thank you

by Nicole Aliba from United States

Anyone who has a chance to listen, do it. Subscribe, download and listen. Eric is authentic, he truly cares about the people he comes in contact with. I know eric, I've tried to be around him and learn from him any chance I get. He's been successful in every stage of his life. Getting the opportunity to hear from him direct, how he thinks, how he goes about achieving his success, his strategies, his tactics, his outlook on life. I'm thankful he started this podcast and I'm thankful I get the chance to learn from him. I have no doubt the lessons he delivers each and every episode will help me continue to be succession my journey. Thank You Eric for making an impact on my life and making me realize I'm capable of so much more than I ever realized. Your support fuels my success. Good luck with the podcast!

Wholly Cow!!! Eric Is The Real Deal!!

by Supreme Dragon Slayer 69 from United States

Seriously.. Affiliate Marketing has been around for a LONG time.. However, it's always been associated with scams, and fly by night marketing tactics that are shady l, illegal or unethical at best. Until now. Eric runs his entire business (which is ultra successful btw) the same way he runs his life.. On pure integrity. Finally, a podcast that is teaching Affiliate Marketing based on being.. Ethical and Transparent. But the best part? This podcast is soooo much more than just Affiliate Marketing.. it's about running a successful business and successful life. So far Episode 3 is my favorite and I look fwd to each episode as soon as it comes out. Highly recommend this to anyone, regardless of where they are in their business!! Straight Gold Beb!

Dave

by Rothbone from United States

One of the best podcasts in a long time. Very insightful, had me at the first 2 minutes kept me for entire podcast. I am a entrepreneur myself and found it very interesting.

Eric Beer is a genius.

by Raera29 from United States

I've only briefly met Eric - but listening to his podcast (as well as his YouTube videos) - it's clear to me that he has an in depth understanding of how marketing should work. Brilliant podcast!!!

Beer podcast

by Bghbhhhggghugyhjjgtjporws from United States

So excited to get more info from Eric Beer to help further my career.

Great Stuff

by Dr TBA from United States

I have been a business owner and entrepreneur for over 25 yrs. I found the information both interesting and informative. I am a fan! Dr Todd Askenas

This dude is the real deal...

by gossjoh1 from United States

I'm in the internet marketing space and have heard about Eric Beer from other entrepreneurs and it's always about how much he crushes it. Over $100,000,000 in revenue... no joke. I had the good fortune to meet him this weekend at an event and he couldn't be more humble and genuine. Just listened to the first episode and it is awesome! Can't wait to learn and grow from you Eric and thanks for sharing your wisdom and experience with all of us!!

Awesome

by Archmatic from United States

Thank you Eric for all your motivation and confidence! This is a must listen. Eric is always on his game and ready for a challenge!!!'

Informative and relatable

by srg1113 from United States

I've listened to the first two episodes and found them useful and entertaining. Eric gives a lot of background to how he got to where he is in his career and the challenges he encountered and overcame along the way. He also shares his knowledge in a way that's easy to understand and would be useful both to people new to Internet marketing, and to people like myself who have some experience but are looking to expand their knowledge. I'm subscribed and looking forward to future episodes.

Outstanding!!!!

by casino exec from United States

This is an excellent podcast for entrepreneurs in any industry. Hearing Eric interview and discuss proven success stories is like getting a motivational fix within 24 minutes. Can't wait for the next episode!!!

High Five

by chris drazek from United States

This is good! Guy is well known industry veteran. In the age where it's hard to get 15 minutes with someone like that on the phone, these episodes have a permanent placeholder on my calendar. Well done and keep up the good work!

Amazing

by Rtfdghf from United States

Walked into the office inspired and motivated! Great listen.

Just discovered a GOLDMINE of information!

by ericamerica from United States

This is next-level marketing that EVERYONE needs to know. SO much value here! This is information people would be willing to pay BIG $$$$$$ to have, and he's just laying it all out here.

Insightful

by lonestar1818 from United States

Incredible insights from one of the best!

Entrepreneurial Gold

by girlfriendwithnutallergy from United States

This podcast is amazing an a must have for anyone looking to take their entrepreneurial endeavors to the next level. Whether you are interested in becoming involved in affiliate marketing, or are just a student of life looking to learn about one of the largest and least discussed industries, this podcast is for you. Eric makes his passion for entrepreneurship available to all with this podcast, and for that reason it is a must listen.

Knowledge bombs!

by Sheree Trask from United States

Eric is a wealth of knowledge, not to mention, incredibly humble! He's got the proof to show that determination, grit and perseverance pay off... and I love that he's shedding light on the world of performance (affiliate) marketing with tangible tools anyone at any point in their online journey can apply. Thanks for all you do, Eric! Excited for more!!

As Smart As they Come

by Lgoldberg1976 from United States

Eric Beer is a tremendous listen. His story telling and motivation have already driven me to work harder. Can't wait to hear what he has to say next.

Great content

by Sensei Victoria Whitfield from United States

Eric is a great guy, gives from the heart and is a wealth of powerful, profit-positive information. Rock on, brother!

So informative and easy to understand

by bergbusiness from United States

If you are serious about starting in this business this is the podcast to help kickstart your career. I highly recommend tuning in.

Powerful

by reebcire from United States

Never realized how mich money performance marketers make without taking much risk. Get excited to learn more

Eric Nailed It...

by Mark Duke from United States

You do not want to miss out on this podcast. Eric is absolutely brilliant at his craft. A MUST listen or anyone who is wanting to ethically up their game in the business + affiliate marketing space. Cheers!

I loved this podcast!

by DPG...123 from United States

I just listened to this not knowing what to expect and it was FANTASTIC! I am hooked and can't wait for more episodes. Looking forward to learning a ton from Eric 🙂

Eric's trainings will up-level your life!

by SwayBuckley from United States

Eric's level of transparency and REAL value is not only rare but transformative! Don't sleep! He's the real deal!

Got me hooked from the start

by Doc bus from United States

Hearing Eric's story and why he is looking to share his knowledge of starting a business was so motivational. Looking forward to hear what he comes out with next. Hoping I can use his coaching to take my own life and business goals/ideas to the next level.

Eric is a genius!

by Golden Oracle Ministries from United States

I had the pleasure of meeting Eric Beer in a high level mastermind that we are both a part of. I must say that every time he opens his mouth marketing gold falls out! I've made millions both online and offline, so when I hear someone talking about marketing I'm not usually that impressed, but with Eric I'm beyond impressed. I'm blown away!!! Learn from Eric, do what he say and watch your business grow.

Excellent

by JLRPS22 from United States

Very motivational!

Awesome content

by NickTheGreek83 from United States

I don't normally write reviews but this is a must listen for anyone considering starting a business. Eric thank you for taking the time to give away some of your secrets! Look forward to future podcasts.

Legend!

by Daxy111 from United States

SO excited for your content to come. You're advice and results is authentic which is rare now a days!

*****

by acrygvbh from United States

Fantastic relevant info !!!

The real deal

by Erin_Verb7 from United States

Eric Beer is one of the smartest media buying minds I know. Take this chance to learn everything you can about affiliate marketing from him. He will teach you an ethical way to make your life and your family's lives better through affiliate marketing. He's the real deal.

Genius marketing knowledge

by Nick349731 from United States

I can't wait to continue to learn rom Eric! So skilled and such a genuinely good person too. Keep putting out the great information Eric!

Great story and great info

by R-Rot from United States

This was a very interesting podcast. It was honest, informative and motivational. Eric has a great story that, everyone who is interested in starting a business, should listen to. Highly recommend!

Amazing

by Billion Dollar Cowboy from United States

I can't wait to learn more!! So so good!!

Awesome

by Eric X 2 from United States

Eric Really enjoyed listening to this. Keep up the great work!!!

Let's Market!

by hjdvikes from United States

As someone who has networked and marketed more over the past 2 years than ever before in my career, this Podcast is an absolute MUST listen for me. Eric makes it easy to listen, learn and apply.

Invaluable information!!

by lpro1111 from United States

Invaluable information. Can't wait to dive in.

Great information, tons of useful tips

by jonnygal77 from United States

These are great, so much useful information that I can use immediately and effectively. Thanks Eric

Great listen

by Xtra Medium from United States

I love listening to Eric's podcast on my way to work. Looking forward to applying some of these principles to my career.

Definitely worth a listen

by SBS776 from United States

I have had the pleasure of working with Eric and this podcast is a roadmap to success. He is a professional with years of experience and delivers results

Game Changer

by Jay Heydt from United States

Eric Beer is a game changer for your business. I had the privilege over the summer of taking an online marketing class with him. The daily interaction with Eric made me believe anything was possible as well as opened my eyes to an entire world that is online that I was missing. You will learn and earn with Beer. He is one of the best business coaches out there!

Performance at its best!

by Shm722 from United States

Eric has great ideas and insights!

Listen to a visionary....

by RobH60 from United States

Eric is a genius and visionary. Always looking to get ahead through hard work and drive to success yet he is super down to earth and willing to spend the time to share the secrets of his success with others.

Finally, coming out to teach the world

by RogerSmith! from United States

I've known Eric for quite some time and he has been the guy who is quietly CRUSHING it. I'm glad he is coming out to the masses to share all his knowledge!

Can't wait to dive into these!

by Arushi-315 from United States

I can't wait to learn from Eric so I can level up my marketing!
Transcript…
Read Full Transcript
Tom Shipley 0:00
We try to make a lot of money when we're going and building our businesses. And we try to pull cash out of our businesses. But the most money you always make is when you sell your business. So the object, the goal is to create multiple liquidity events throughout your career. Every entrepreneur's goal should not be to build one business over his lifetime is to have three to five liquidity events and exits.
Eric Beer 0:22
I spent the last 17 years building my eight-figure performance business without using any of my own money, working with some of the most brilliant direct response marketers in the world today. Now I'm looking for entrepreneurs to join my affiliate army, built on ethics, transparency, and good old hard work. Join me to change the perception of how people view the greatest business in the world, affiliate marketing, and follow along, as I learn, apply, and share performance marketing strategies for working with some of the brightest people on the planet. My name is Eric Beer. Welcome to the Performance Marketer Podcast.
Tom Shipley, welcome to Performance Marketer. What's up, man?
Tom Shipley 1:08
Hey Eric, great to have you!
Eric Beer 1:09
Yeah, it's good to get to connect. So, we're losing you to the West coast. So good luck on that. Austin's coming up and I'm going to miss you, man.
Tom Shipley 1:21
lIt's been an amazing 14 years up here in New Jersey.
Eric Beer 1:26
Yeah. So All right, great for people that don't know who you are, why don't you give us like a, like a two-minute background on where you came from, what you're about what your favorite color is...? Talk to us.
Tom Shipley 1:38
Okay, I'll go through as quickly as possible. If I go back early on, I'm a kid from Cleveland, Ohio, and Orlando, Florida, and moved to Israel at the age of 20. I decided to defy a lot of odds. And even though I didn't know the language, I would join the army, do something I really believed in certain special forces and somehow from 170 thousand people that go in the army 10,000 people trying to get in my unit. I was one of the 13 people who made it through the eighteen-month course, incredible. But a lot of the foundations for what I do in business, I can say absolutely ties back to the philosophies that I learned, in special forces, whether it is about leadership, whether it's about grit, whether it's about tenacity, whether it is the approach of how do you win a war, hill by hill, there's a lot of cool analogies, but that gave me the foundation and coming after special forces from back the United States and being a special operator, I had an idea for a business and when you're talking about risk, I had $100 in my pocket and gambled it all and started my first business which did pretty well. It was crazy, a product I saw in Israel and exploded here in the United States. And then I ended up getting carried away with the weakness that identified that I have. I'm a marketing merchandising and I'm an entrepreneur. What I didn't get is the system processes, analytics and how do you run a business? So I got carried away and got a bachelor's and master's degree in Industrial Engineering, which is all about the foundation. And it turned out for a guy who is going to spend the rest of my career in direct response marketing and direct consumer and it turned out to be the perfect foundation. I went out and started my first platform. And again, it was about, I'm always looking for, what is that blue ocean? Or as they used to say, whitespace? What is the where's the underpriced attention and where is the Where's there a deficiency in the marketplace, at that period of time identified a market that was underserved it was business professional, and came up with this idea for an e-commerce store. Now, we're going back 21 years I've been doing e commerce. And I built my first platform was based off of our website. And so he's talking about the early days of email marketing early days at Google. So again, it's been was it's been a great ride, had a print catalog as well as we had about 14 pages and skymall magazine, did some acquisitions along the way sold that business off and look Looking for the next inefficiency in the marketplace and it was the craziest model in the world that companies like L'Oreal Johnson, Johnson Procter and Gamble, do they want to launch your brand, they put together focus groups, they put together packaging and they end up putting together 100 or $200 million global launch marketing budget. And it's a spray and pray direct response marketers that is just crazy. And we said we can use multi channel or omni channel marketing to build iconic beauty brands, which had so much of the profile of what I loved and that's a hypothesis is we will use consumer spending to build this brand awareness. We'll do a channel by channel eventually going to retail but the brand awareness will sell through and that's what we did. Our first business was a Lennox brands was hydroxatone. And it did a million that first year did about 7 million that second year and third year we hit 100 million dollars and then again, high growth and so with this, we've done a number of brands. Right now our largest brand is keranique where the woman's hair regrowth expert we dominate the woman's Hair Regrowth. niche was a niche that we identified, again, underserved marketplace, no one was really focusing on it, we dominated it. And so over the last decade, we sold about a billion dollars of beauty products. And I'm going to say the most of our spend right now is pure digital. But this is where I go back to the fundamental lessons that I learned is, I don't care what channel I'm marketing, I'm always looking for underpriced attention. And at one time, for example, we were the third largest radio advertiser in the United States. We don't do anywhere ever, every do advertising now, it's not effective anymore. At one time, we were the 15th largest short form TV advertising United States. We don't do any short form TV right now. So again, everything just pivots. And right now YouTube is exploding on us. So it's always interesting. So that's what I do is I build brands, I look for opportunities, and I build platforms that can scale and anything that has a foundation to it. If you identify the key points of leverage, you can scale it and that's what the greatest game Eric that you are. in entrepreneurship is all about and it is one of the greatest games period.
Eric Beer 6:04
Wow, that's awesome and really impressive. hundred million dollars in three years, and then over a billion dollars on your nights. That's really impressive, man. Now, just question for you, you were talking about underpriced attention. Right. And the question I have for you on here is, how do you figure out what platform is underpriced? And where you identify that there's an opportunity to before anybody else is there?
Tom Shipley 6:30
Well, we don't go in before ever we don't like to go into areas that are everyone else is there. What I look for is where marketers are having success. And people that I know are on the forefront of identifying these opportunities and are having success and that's when we'll test when I have enough data to prove that this scope is big enough and and the opportunities are happening there. And here's one of my axioms that you heard and you know that I will buy which is my net Work is based on my network. My network is everything. So having relationships with people that trust me that share this information is key. Yeah, for example, you know, I know from from some of my acquaintances that are doing very big buy, let me take a step back. We've gone all in into paid social group, Facebook and Google. That's where we spend a significant amount of Facebook and Instagram. We do a lot of spending on Google and YouTube's a little bit of different animal we dipped our toe in the water, and it really wasn't that profitable. It's not that difficult to do. Yeah. And then we decided to based on companies that I know in my network that have are having success in YouTube where they just launched corrected with the right agency, and that worked on creative and media vine, and they were able to scale their media larger than then they did per Facebook. And it's not one company. I've seen this across 10 companies so obviously, YouTube is more difficult to do because the creative these and the media vine, then Then Facebook, and therefore a lot of companies are not doing that. Well, that's where the opportunity. So let's go in and let's test it methodically with it with a constrained budget. Let's see if we can pick some winners. And we did. And now it's, it's scaling fast to be our largest. And so you're spending more on YouTube right now than you are on Facebook, Instagram, Google. Now, we're getting, I think with the next 90 days, it could be the next 30 days we are Facebook, our YouTube spend will exceed Facebook.
Eric Beer 8:29
Wow. That's impressive. And give me an idea of what kind of media are you doing pre rolls prior to a video playing. That's it is that we're doing and how just for people that are listening that have never done that, because people don't realize you can actually in front of the exact video that you want to be there for right. So give an idea of like what you're doing from a target perspective. For you know, women hair loss, like what's a video that you might get in front of that all of a sudden performer, where you're like, "Oh my goodness!"
Tom Shipley 9:02
Okay, I'm only going to share this with your listeners, and hopefully no one else is listening to this. Okay. So, you know, do not share this trade secret. Okay? just you know, and I'll share this that there are different strategies on YouTube, for example, I have Perry Belcher love Perry. And with one of his businesses, he went to YouTube and his, he has a YouTube expert. And what he does is, he doesn't have an agency, one guy who doesn't combine, and he goes in, and he identified specific videos that are given and I'll start testing specific videos and building a large amount of videos that he plays and he's doing select buys video basics, and or the guru that they're following that has it that has a very aligned follower, and that's the way he's doing it, but it's very slow and deliberate to do it that way. We start off buying this the ideal selects of what we think would work and it was costing us about 15 sense of you. And then when we decided to and then we try to scale it got a little worse than that. So then YouTube then we meet with with Google on a regular basis. And they said, Take us lexol let Google's algorithm optimize on their own, and you won't be paying those premiums. And guess what? It's working. That's what's working for us relating YouTube optimize. Again, we're very, very, there's certain amount of audiences and budgets and cost gaps. So we're very methodical. And we track that throughout the day on a daily basis on how we're doing each campaign. And that really won.
Eric Beer 10:35
Right. And for people listening, the way that you do that is you place a pixel on your conversion. So they're able to identify when you get a sale. So that's the way they optimize your media. Right? Correct.
Tom Shipley 10:48
Yep, I'll share this with you is that we don't. Well, I think we have one of the smartest digital media guys in my business that could do all the media buying we do know digital media buying on our own, you pick boutique agencies, I will not work with the big agencies because you get lost, and they don't have respect for your dollars. I work with boutique small agencies, small shops that we can work tightly with them. And that's we're doing this how we've grown all of our campaigns, our businesses. And it's an interesting strategy, even if look at people like digital marketer, Ryan Deiss, his philosophy. They used to do get their digital marketer, they used to do all the media buying in house, and they've changed that they'll do testing in house. But once a campaign is ready to scale, they'll go out and give it to a boutique agency, who will run it and worry about it 24 hours a day and let them do that.
Eric Beer 11:38
Sure, I mean it makes sense. You know, you could hire people, smart people, and it is nice that control but they're the experts, right? That's all they do. You'll pay more you'll pay a lot more than if you have a person in house, but they're the experts and you'll lose a lot more money. Not so well. You also learn if they have a bunch of clients. You're also getting that, that learning and hopefully that'll trickle over to you...
Tom Shipley 12:00
A hundred percent, a hundred percent.
Eric Beer 12:01
You can focus on your business and what you do best and it makes sense. So I think it's really smart. So let's switch gears a little bit, okay, because I know you're infamous for a guy who's able to walk in and find a way to create leverage, and get some equity in a company or purchase the entire company without taking $1 out of your pocket. So, I know you've, you've done some, some cool stuff for us behind the scenes in our inner circle, but maybe there's a few tricks that you can bring out of your bag for the crew here to listen to ways that people can get involved without having to take out of their their pocket hundreds of thousands of dollars, millions of dollars to get into a big business.
Tom Shipley 12:45
Okay, so it's a great point. And the biggest thing that it takes to buy business, no money out of pocket or invest in it is mindset. You have to have some strategies and then just have the confidence to do it. And one way to get conferences, you just go out and do it. So and And the first time you do it is scary for anyone no matter what level you are, and the question is, and I'll share some stories. First of all, if anyone wants to learn the best have the best ROI from any money they ever spent. Spend $50 go online, find Roland Frazier's challenge on how to how to buy businesses with no money out of pocket his epic challenge, spend the 50 the $50 for the five day challenge and take it it is the I mean to say, I hate the word Ninja, but is the best, the most incredible badass strategies and techniques and tools you will ever have an order by business period. Okay, and that's it and I've gone all in with rolling roll is even apartment based on that rolling zeeman a partner my new business venture, so which is all about acquiring businesses.
Eric Beer 13:47
So did he put any money in I just,
Tom Shipley 13:50
I was... Rolland, by the way. You got the wealthier guys that knows anyway, never put some money in. Right? Okay, so just securing that part of the program will teach his twitter 56 ways in order sources of revenue sources of, of funds in order to buy business with no money. And so just a quick history his concern is, you know, I go back to anytime I was really challenged with my company, and I hit some massive walls I couldn't figure out a way around it somehow an opportunity appear for me to acquire a business and I acquired it brought in outside debt and figured out different ways to structure it and through notes and outside capital that brought in, acquired it and it turned out to be the foundation for growth to the next level and that I couldn't have done without it saved my business in Orlando, Florida. When we were starting Atlantic coast brands. It was two guys in an attic in outside Virginia overlooking a horse barn. We were doing everything ourselves to beer to build hydroxatone. We brought on a client that had urban nutrition, they had $15 million of revenue, a million and a half dollars of profits. And they were they had 16 employees in two townhouses in Hoboken, New Jersey. They were doing 10,000 orders out of the kitchen shipping, other shipping, they had their own CRM platform. They have their own counting systems. And they were really bright internet marketer with 15 products, we joke that we either would have by you one day, or we want to build over the next 24 months build your business. Well, sure enough, within six months, we bought their business, we bought it for two times their profit. So it's a two year return on investment. But we just went out and got a lender. And this is called a mezzanine lender, it's a different type of debt, that less to invest in these businesses that have history of cash flow. they lend it to us at a very low interest rates. And us and 15% injure 12% interest in the business. And suddenly we bought this $15 million business. And we took our business at that time was doing about $300,000. And we pulled hydroxatone on this platform. And that platform enabled us to have exponential growth because the platform was there and we know how to leverage that. platform. But again, no money out of pocket and drew and I had invested everything we had into our company. We were mortgaged out. We were done, our credit cards were maxed out. He had no cash.
Eric Beer 16:11
Yeah. So what kind of leverage Did you have with them? Where they're gonna lend you money? Is it based off of your history of success? Was it against receivables? How does that work?
Tom Shipley 16:22
First of all people invest in people that went so when you go to meet with, and we had a broker investors to this group, and we had a business plan in place. First of all, they had a like board trustees, they like myself and my partner, and then they looked at the business we're buying, they weren't gonna lend us based on our history, because we were a brand new company with no history except for losses, invested in the fact that was buying a business that had a steady history of profit and cash flow, and that you were going to now come in and run it and you're showing them a business plan on how you can triple whatever and and even if we kept it steady, they get their money back. Yeah. We know how to grow. And so that's it. And what's interesting is we bought 85% of the business, and that 15% of the business that they get two years later, we bought that 15% out more money. And we gave them 45% because we're able to grow the business, which was part of the proposition of why you want to sell your business loss.
Eric Beer 17:17
Yeah, I love these kinds of deals I get, I get asked questions all the time. And this is the most fun I have is when I get to collaborate with somebody to talk about the kind of deals that you sit and try to figure out how to make it work for everybody. It's curious. If one company is doing 5 million revenue, and some and you own 100% of that, right? Another company, you own 50% in with me, and we're doing $5 million in revenue.
Tom Shipley 17:45
And what's your EBITDA on both of them?
Eric Beer 17:47
Let's call it 20%. And now, together, it's worth more than separate. So you want to combine the entities and try to go and sell it off. How do you do a deal? That's fair where guy that's doing 5 million on this business by itself. He's going to combine it with this company that's doing another 5 million over here, that he only owns 50% of a guy that only owns a 50%. So you're looking at a $10 million business, that's making $4 million in EBITDA...
Tom Shipley 18:17
Well you can do a straight revenue exchange. Again, the simplest way to do it is if the one guy owns 100%, of what he owns 50% of the other is that correct? Yes. Basically, if you put enough money in 75% of both, Yep, exactly. That's one way of doing it.
Eric Beer 18:30
So now what happens if the company that's doing that the 5050 partnership is doing a half million dollars in net margin and 100% is doing.
Tom Shipley 18:40
So then it's by the way is all? Basically you go with this and say, Okay, what what's the EBITDA up, come up with what you think is a fair multiple for both businesses, whether it's 567 810, two doesn't matter. You multiply that times the profit that each are doing, and it's just the math. It's just math after that.
Eric Beer 18:57
Yeah. It's the...
Tom Shipley 18:59
The only difference If one business is doing over $10 million of EBITDA, net profit, and the other ones doing 1 million mouth changes drastically, because businesses that are do over $10 million of EBITDA are worth a lot more money than a company that does $1 million period. Therefore, if there's ever an opportunity to refer to companies that are doing under 10 million to come together, and they come together now, suddenly, both businesses combined are a lot more companies out there will pay and they'll pay a lot more from a multiple is just the number of the multiply times a company's net profits and determine the value of it.
Eric Beer 19:33
Yeah, yeah. So multiple ultimately is like paying somebody up front for years in advance. Right. So you're saying that if the same company if two companies are exactly the same one's doing 5 million in Utica, and another is doing 10 million to 10 million is going to get a higher multiple, drastic, higher multiple?
Tom Shipley 19:52
Yeah, that's great. And that's the beauty of combining businesses sometimes you get that multiple arbitrage. So you know, First of all, let me make a statement to your listeners. And this is really important is that we try to make a lot of money when we're going in building our businesses and try to pull cash out of our businesses. But the most money always make is when you sell your business. So the opposite of the goal is to create multiple liquidity events throughout your career. Every entrepreneurs goal should not be to build one business over his lifetime, is to have three to five liquidity events. And that's it. And if you can't understand how you create a solar system, run the business as you own. If your goal is to work in the business and one business at a time. Basically, you want to give yourself a full time job. Your goal is to work on the business and be an investor not just being an employee of the business. It's a real mind shift you have to get and let me just share a story about my niece, if I can take my niece is living in Orleans. She's only she has been managing bars in the bartender for last decade and she had a couple of corporate gigs and it's As far as a general manager for BB King down there, and also Dave and Busters, but that's really or desperately wishes, and she has this dream of owning her own bar. Great. And then I sent her I gave her the link and I said, you're stuck at home with COVID go through rose challenge and tell me what you think she went through the challenge and I gave her some additional information. Now she's gone. And she's actually gone. She went and found a beauty salon that's for sale. And they're doing about 25,000 a month. They're netting about 30% return on that. And they have each year people eight chairs there, and she just made an offer well, where she has no money for this. So she made an offer for 80% on a five year notes 20% in cash and she found out a guy who trust her that wants to look to invest in money. Yeah, he's investing his money and they're going in now is 5050 partners honored and revenue and she found that she had an employee who ran salons. So at when she was a bartender who used to run salon she says here what I'm gonna put you into General Manager, and I'm just going to do a revenue share with you and no salary. Yeah, this Okay, my niece has no experience. And what did she do? She had the ball, she's 30 years old, she has the balls to get dressed up and approach the women and make a common offer. And it looks like there's enclosed. She's doing the same thing for a convenience store. What's your experience with convenience stores, zero, her boyfriend runs, runs a hotel in town, and she's coming up with strategy on how she can buy the hotel and make an offer on hotel. Not this you I don't know if she can or not, but your ability to buy businesses and she has zero resources that is based on your confidence and having the skills and it's not difficult to learn the skills if you want to. It's all about mindset. And
Eric Beer 22:42
Wow, that's a true entrepreneur. That's really impressive. Good for her. And the best part is that she's smart enough to realize that she's getting somebody to run it. So she frees up her time to go on to the next. So she starts building these assets. And time is as we don't...
Tom Shipley 22:57
And the goal is to build it, sell it, and keep on doing Rinse and repeat. Absolutely. And she always does it where she's setting up a LLC, which cost you at least $500 to set up for each one of these entities. And so they're called special purpose vehicles. And the reason why you do that is you do your best to make every business succeed, right? But if it fails, and the note and the note is due, when you give these five year notes, is to that LLC, so it doesn't go too personal.
Eric Beer 23:22
Yeah. So there's, you know, there's real power and understanding your model. So therefore, as you're thinking about how I'm going to build wealth, think about this. So when you're going out and trying to get a loan, you don't have to have some guarantor against the loan, they're going to give it to an LLC, there's zero revenue, and a bank's gonna loan money to you, based off you coming in and being confident?
Tom Shipley 23:42
It's not zero revenue. We got banks again...
Eric Beer 23:44
The revenue of the company, right?
Tom Shipley 23:46
But you know, is so you're doing it off the company. That's exactly it.
Eric Beer 23:49
Yeah.
Tom Shipley 23:49
With historical cash flows, and you're always looking for businesses that have historical cash flow, because and just understand this, think about the number of baby boomers right now. Better in the United that are in the United States, you're talking about what and how many businesses down, what you're saying is we're seeing probably 30 million businesses that the owners want to exit and leave. And most of them are not going to find a buyer, they're going to close them down, walk away and go to Florida, or Arizona or somewhere else looking for change, and most of them are closed down. So finding these opportunities, they're out there, and people who are looking to move on to the next thing, and the way you can rescue this and save them and really doing this service is finding these opportunities, and it's just work to do it.
Eric Beer 24:33
So let me ask you, it's hustle. I mean, bottom line is hustle, but give me like one idea of how someone would approach this with talking to a business owner without getting too personal. But hey, how are you? I'm thinking about buying a business. Are you comfortable?
Tom Shipley 24:49
No, no, that's not where I start the conversation as Hey, I really love your business really interesting in the conversation. Have you ever thought about selling or when you're going to sell your business Yeah, let them that what are you gonna do when you do that while did this okay now you started a dialogue oh you want to sell from time to time I you know I invest or I buy businesses do I talk? Yeah. Oh, okay, what type of revenue or type your profit margin you go into this discussion? What do you love about your business and make it personal. So let me share a trick. If everyone here wants to do a massive advertising campaign, here's what I do to find the right opportunity. Here's why such it's best to do tonight's and go on to your Facebook post or your Facebook or Instagram or Twitter, whatever you have any type of following him even if it's five people and post this from time to time I invest in businesses, if you if you'd like to talk to me about it and DM me, that's it. So what happened is is I did that, and I had a number of people reach out to me I was shocked. Never people reach out to me. And so far I've made two off on that first post. I've made two offers on two different businesses. Wow. gotten into a moment and we're talking, we're talking. And also, I do, if you think about it, sometimes everyone here who's listening has an expertise in something or you know more than someone else does at times is as a strategic advisor. And sometimes it is I'm buying 100% of business, sometimes I own 60% of the business, sometimes I'm making investment and getting 10% of the business. My deal if I'm a strategic advisor is I like 10% of the business. And I like some type of so someone knows they have skin in the game, some type of retainer on a monthly basis. So I know that they're taking my advice seriously, but I can promise you this, that any business I'm involved with, is I know I can increase their profit by at least 50%, which is a multiple of what this word double it but I'll create them the path for them to sell their businesses and get two or three times that when they sell, because I have and so therefore, that's what I trade when I and I again, some of my strategic people, I do strategic advisory, sometimes it's one call a week, sometimes Have one call a month. It's not about the time I'm putting in is the expertise. But that's my you know, but it started off with just conversations. And what you have to do is you have to show the value and what they you know, what is your goal? What would you like to do? Well, let me show you how you can get there sometime is, if you have a certain goal is we'll do a rev share for everything above that. So I'm not taking a piece of everything you've built so far. So there's a number of ways to do this. And therefore, you really like to have impact and help people with their businesses, you get to help impact people's businesses, help them grow it as well as getting return on your investment by having equity. So when there's a liquidity event and they're selling, you're participating that liquidity in that liquidity event and the other side, and how do you do it? You just you don't ask these opportunities. Don't come up.
Eric Beer 27:44
This is... This is unbelievable. Wow. I mean, all right. Listen to Tom, go on Facebook and post that you want to buy businesses. And if you want to invest Tom's want to buy your company, reach out Tom. Don't... He'll find a deal. I mean, hey, it makes sense. You know, there's, there's a lot of things that when you realize, it's like the genius paradox where you're dealing with private equity, you're dealing with these investment banks. And you know, the game. And a lot of people are intimidated by that. Just having those connections and understanding that they have this is money that they need to spend. Is powerful. And to your point, you started off in the beginning network is everything makes so much sense. This is this is great. I mean, you got my brain going. I got tons of notes here. What we have, I appreciate everything you've done. This is this is powerful. And I'm excited.
Tom Shipley 28:39
Quick thing on what I'm doing.
Eric Beer 28:41
Yeah, let's dive in!
Tom Shipley 28:42
It's Bryan Burton and I are partnering up. We're building a platform to acquire Amazon businesses. Okay. And two things is ultimately long term. We're building the next big digital-first CPG company, similar progress company. But our goal is is we're having debates whether or not quickly we can acquire businesses and get to a billion dollars. Okay, so give me one more detail on that. So you're looking to acquire Amazon business Amazon brands? Yes, we are. And there are over 10,000 brands on Amazon businesses on Amazon that do over $10,000 or started to do over a million dollars. Okay. So if you're a business doing a million dollars, typically making about 20%, you're making 200,000 a year. There's not many companies that are going to buy that for high multiples that we typically see in other larger businesses, because you're primarily single channel, Amazon. Yeah. So you might be able to get one times your profit level, maybe two, maximum three. But if we can consolidate all these businesses together and have 100 million in revenue, $500 million in revenue, a billion dollars in revenue, I'm suddenly being traded as I would as any other group companies platforms have 13 to 15 times mine, my profit level. Yeah. So there's that Incredible, always looking for that multiple lifts that we talked about. And that's really a great opportunity. So we're looking for Amazon businesses to buy. And again, there are a couple of platforms that are doing that or that are doing this. And we have different ways in orders to help the entrepreneurs participate in the upside of doing this. And it's happening very, very fast. Funding is coming in fast. The deals we're looking at, we're already issuing letters of intent. So it's really exciting on the business model. We've had several senior members of Amazon join the team, including the head of... the former head of strategy at Amazon who left four weeks ago.
Eric Beer 30:37
Yeah.
Tom Shipley 30:38
Things are happening. Very, very exciting and this is based in Boston.
Eric Beer 30:41
Oh, that's... That's massive, man. That's great. So are you... You're thinking that people that are on Amazon, they have a brand. They're relying on Amazon. You're a guy who has marketing experience, and has the ability to take them off Amazon and drive sales without them having to depend on Amazon is that part of the...
Tom Shipley 31:04
Well not like that. Also, Brian Burton has a leading an Amazon agency in the country we used him he tripled our business with Jeremy. So basically we're putting within the Canopy platform, Brian's company, we're going to scale them and plus I'm going to take them to off Amazon so it's you know, we put them on Shopify and then doing Facebook and YouTube. So that's really the significant opportunity there. We're just going to keep on acquiring businesses.
Eric Beer 31:31
That's huge!
Tom Shipley 31:31
...and growing the platform.
Eric Beer 31:33
Anybody who's listening here that has an Amazon business with a brand should reach out to you?
Tom Shipley 31:38
Yep. And just go to, by the way,
Eric Beer 31:41
How would they get in touch?
Tom Shipley 31:43
tshipley.com. T S H I P L E Y dot com,
Eric Beer 31:47
tshipley.com. All right. That's awesome, man. I didn't know you're doing that. So congratulations. That's, that's new news to me.
Tom Shipley 31:55
Thanks, Eric. It's what happens when you put an entrepreneur, give him too much time during COVID to think and I no longer had my three-hour commute.
Eric Beer 32:02
I know we've been talking for about a year and I know you've been it's just been a lot going on in our brain and a lot of good ideas and that's awesome, man. So I'm glad you found that and Brian, of what I know. He's an amazing guy.
Tom Shipley 32:16
Amazing guy, great heart and he's a beast. So I appreciate that.
Eric Beer 32:18
Did he just have a child?
Tom Shipley 32:20
He just had a baby.
Eric Beer 32:21
So congratulations to Brian and his wife. That's exciting. Cool. Well, all right, man. You rock. Tom Shipley. Thank you so much for showing up on here. The people that are listening to this you probably want to listen to it five times because of all of the stuff that he just talked about was priceless. So I thank you for that. Thankful for knowing you. And I wish you luck on this new venture.
Tom Shipley 32:45
Eric, my friend. Thank you.
Eric Beer 32:46
Alright buddy, take care.
Would you like to learn how I built my business using other people's money? If so, go join my 21-day challenge at performancemarketersecrets.com. I look forward to meeting you and welcome you into my family. And remember, results don't lie, but the people who don't have any tier. Thanks for listening.