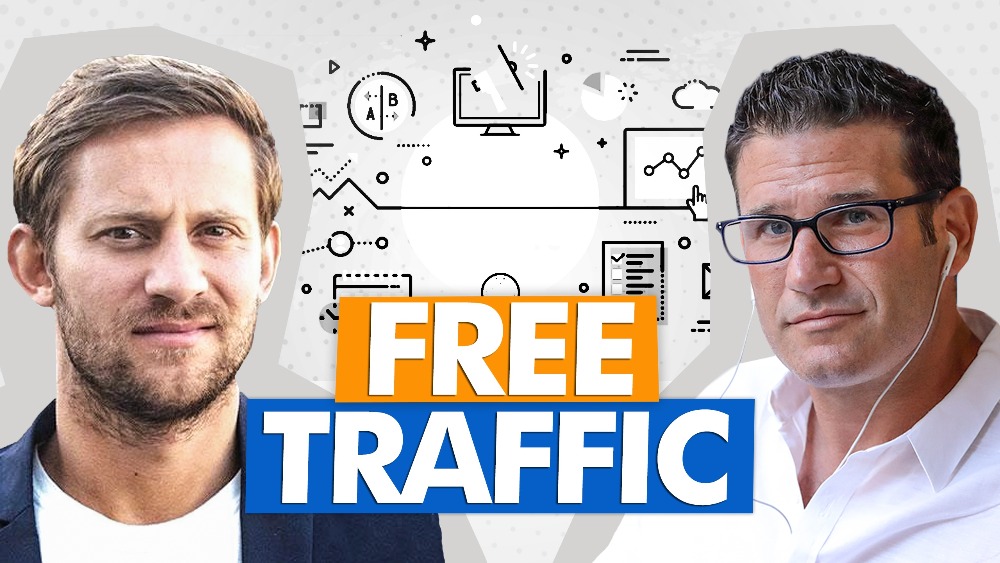 23 Apr

How To Get Free Evergreen Traffic Using YouTube With Spencer Mecham

This week on the Performance Marketer Podcast, I had the pleasure of welcoming none other than the Buildepreneur himself – Spencer Mecham. He is renowned in the online marketing space, and rightly so, with him being the number one ClickFunnels Affiliate.

Spencer is a real wizard when it comes to YouTube marketing, and today, he's going to share some incredible insights you don't want to miss. This conversation has only solidified my belief that YouTube is an extremely powerful tool for performance marketing.




We're going to dive deep into the mechanics of how to leverage one of the world's biggest social media networks and set up a system that produces evergreen passive income. Spencer also gave us a breakdown of the YouTube's ranking algorithm and shared a bunch of practical tips on how to create engaging content.

This episode is pure gold. Spencer's insights are so valuable that you'd expect to find them somewhere behind a paywall, and not in a free hour-long podcast.

Make sure you tune in and listen closely because what you'll be getting today is a masterclass on how to conquer YouTube and use it to generate a lifetime of free traffic. And in case you find yourself wanting more after the episode, you can go check out Spencer's free webinar using the link below!

👉 Sing Up for Spencer's Free Webinar
How to Generate Cashflow With YouTube Videos
There's a reason why YouTube has a clear edge over other platforms in terms of affiliate marketing. Other platforms, like Instagram, Twitter, or Facebook, are structured in a way that requires you to compete for your spot on people's screens regularly. It's something that Spencer referred to as "feeding the beast," and it can be a very tiresome, resource-draining game.
On the other hand, YouTube will push your videos time and time again if the content is relevant and engaging. That means you're getting a long-term payoff for all of your efforts. The platform is set up in a way that allows you to gather leads with your content long into the future. Your YouTube videos will be paying dividends for years to come.
"Anything evergreen is massive… That's true passive income." – Eric Beer
The Difference Between Hot and Warm Traffic
People use YouTube for all sorts of reasons. The section of its audience particularly attractive to marketers are people who are looking to solve a problem. 
However, not everyone will be reaching for their wallet with the same level of urgency. That is why it's useful to differentiate between those that will and those that won't.
Hot traffic refers to users who are searching with intent. They're looking at reviews, going over testimonials, and searching for any bit of info that would convince them they're going to solve a problem by paying for a specific product or a service. The questions these people are asking are straightforward, so no reason to beat around the bush. By providing them with direct answers, you are more likely to generate sales and leads.
As you go further down the line, you will run into warmer traffic – people who have a problem, but are entirely unaware that there's a solution. In this scenario, you're looking to bridge the gap between the problem and the product or service that would help them solve it.
The hotter the traffic, the better your chances are of making a sale or getting a lead. That means the overall strategy is pretty simple – start hitting the hottest traffic you can find and work your way down.
YouTube Algorithm Secrets: Top Two Metrics You Should Be Focusing On
You can find all sorts of analytics in your YouTube studio. Still, there are only two of them that should have the power to impact your process or strategy:
1 – Click-Through Rate
2 – The Individual Watch Time
The Click-Through Rate of your videos measures the engagement levels of your thumbnail and your title. It's an essential metric because it directly shows if your video is keeping people on the platform or not – something YouTube benefits from immensely. If people keep clicking on your thumbnail amidst the sea of others, then your video will get better ranking.
"YouTube can tell which videos are going to generate clicks from that user. Now you need to make the video, and the title, and the thumbnail that will do that." – Spencer Mecham
But it's not enough for people to click on your video – you have to keep them there for long enough. If your audience is dropping off quickly, your ranking will suffer. The silver lining is, you can use this data to tell exactly which part of the video is not working and adjust your framework for future content.
Bottom line – YouTube wants videos that keep people on YouTube. And keeping people's attention is quite challenging. That is why one of Spencer's biggest tips is to be straightforward and get right down to the point.
"Remove the fluff… Give them a reason to stay until the end of the video." – Spencer Mecham
Why You Should Use Your YouTube Channel to Generate Leads
There are multiple ways you can be making money off of your YouTube videos. One of them is ad revenue, but it's usually not enough to base your business around. 
Your affiliate referrals are a much more lucrative option for creating a stream of income. But it still means you're relying on YouTube's traffic to make money. I suspect those who have listened to some of my previous episodes can sense where this is going.
In order to make real money, you need to take control of your traffic. That is why you must leverage the popularity of your videos and your channel to gather leads and build your list.
"That's the only business you'll ever truly own." – Spencer Mecham
By acquiring contacts from your audience, you're creating a channel of communication that allows you to make pitches to them directly. Furthermore, it's an opportunity to build rapport with your audience – for you to get to know them and for them to get to know you. The better your relationship is, the better are your chances of making a sale.
So there you have it Performance Marketer Nation! Huge thanks to Spencer Mecham, and I'm so excited about all the tips and insights he shared with us today. If you're looking to learn some more cool stuff, then go check out his free webinar using the link below!
👉 Sing Up for Spencer's Free Webinar
Listener Love…
Warning! ⚠️

by Boz46747 from United States

Wear a helmet when you listen to the podcast. Eric will leave you feeling like you can run through brick walls. In all seriousness, this podcast is the absolute best!

Awesome

by Nevareze William from United States

Very interesting show.

FANTASTIC!!!

by cucklord101 from United States

My life changed after I discovered this podcast, 100% the number one on the platform.

Great Podcast !!

by Olivia Cousta from United States

I listen several days a week and am excited to have taken action with my first few steps. Thanks Eric!

Best Podcast

by faz12548 from United States

Thanks for everything. This show has been an amazing resource.

My favorite podcast

by Alison Riah from United States

This is my favorite podcast. I look forward to every episode and share it with everyone I know.

Awesome!!

by Brads Hook from United States

Love this show

Inspiring

by stevie h b from United States

Eric's energy, wisdom and experience get me pumped up to do more.

Eric changed my life, thank you

by Nicole Aliba from United States

Anyone who has a chance to listen, do it. Subscribe, download and listen. Eric is authentic, he truly cares about the people he comes in contact with. I know eric, I've tried to be around him and learn from him any chance I get. He's been successful in every stage of his life. Getting the opportunity to hear from him direct, how he thinks, how he goes about achieving his success, his strategies, his tactics, his outlook on life. I'm thankful he started this podcast and I'm thankful I get the chance to learn from him. I have no doubt the lessons he delivers each and every episode will help me continue to be succession my journey. Thank You Eric for making an impact on my life and making me realize I'm capable of so much more than I ever realized. Your support fuels my success. Good luck with the podcast!

Wholly Cow!!! Eric Is The Real Deal!!

by Supreme Dragon Slayer 69 from United States

Seriously.. Affiliate Marketing has been around for a LONG time.. However, it's always been associated with scams, and fly by night marketing tactics that are shady l, illegal or unethical at best. Until now. Eric runs his entire business (which is ultra successful btw) the same way he runs his life.. On pure integrity. Finally, a podcast that is teaching Affiliate Marketing based on being.. Ethical and Transparent. But the best part? This podcast is soooo much more than just Affiliate Marketing.. it's about running a successful business and successful life. So far Episode 3 is my favorite and I look fwd to each episode as soon as it comes out. Highly recommend this to anyone, regardless of where they are in their business!! Straight Gold Beb!

Dave

by Rothbone from United States

One of the best podcasts in a long time. Very insightful, had me at the first 2 minutes kept me for entire podcast. I am a entrepreneur myself and found it very interesting.

Eric Beer is a genius.

by Raera29 from United States

I've only briefly met Eric - but listening to his podcast (as well as his YouTube videos) - it's clear to me that he has an in depth understanding of how marketing should work. Brilliant podcast!!!

Beer podcast

by Bghbhhhggghugyhjjgtjporws from United States

So excited to get more info from Eric Beer to help further my career.

Great Stuff

by Dr TBA from United States

I have been a business owner and entrepreneur for over 25 yrs. I found the information both interesting and informative. I am a fan! Dr Todd Askenas

This dude is the real deal...

by gossjoh1 from United States

I'm in the internet marketing space and have heard about Eric Beer from other entrepreneurs and it's always about how much he crushes it. Over $100,000,000 in revenue... no joke. I had the good fortune to meet him this weekend at an event and he couldn't be more humble and genuine. Just listened to the first episode and it is awesome! Can't wait to learn and grow from you Eric and thanks for sharing your wisdom and experience with all of us!!

Awesome

by Archmatic from United States

Thank you Eric for all your motivation and confidence! This is a must listen. Eric is always on his game and ready for a challenge!!!'

Informative and relatable

by srg1113 from United States

I've listened to the first two episodes and found them useful and entertaining. Eric gives a lot of background to how he got to where he is in his career and the challenges he encountered and overcame along the way. He also shares his knowledge in a way that's easy to understand and would be useful both to people new to Internet marketing, and to people like myself who have some experience but are looking to expand their knowledge. I'm subscribed and looking forward to future episodes.

Outstanding!!!!

by casino exec from United States

This is an excellent podcast for entrepreneurs in any industry. Hearing Eric interview and discuss proven success stories is like getting a motivational fix within 24 minutes. Can't wait for the next episode!!!

High Five

by chris drazek from United States

This is good! Guy is well known industry veteran. In the age where it's hard to get 15 minutes with someone like that on the phone, these episodes have a permanent placeholder on my calendar. Well done and keep up the good work!

Amazing

by Rtfdghf from United States

Walked into the office inspired and motivated! Great listen.

Just discovered a GOLDMINE of information!

by ericamerica from United States

This is next-level marketing that EVERYONE needs to know. SO much value here! This is information people would be willing to pay BIG $$$$$$ to have, and he's just laying it all out here.

Insightful

by lonestar1818 from United States

Incredible insights from one of the best!

Entrepreneurial Gold

by girlfriendwithnutallergy from United States

This podcast is amazing an a must have for anyone looking to take their entrepreneurial endeavors to the next level. Whether you are interested in becoming involved in affiliate marketing, or are just a student of life looking to learn about one of the largest and least discussed industries, this podcast is for you. Eric makes his passion for entrepreneurship available to all with this podcast, and for that reason it is a must listen.

Knowledge bombs!

by Sheree Trask from United States

Eric is a wealth of knowledge, not to mention, incredibly humble! He's got the proof to show that determination, grit and perseverance pay off... and I love that he's shedding light on the world of performance (affiliate) marketing with tangible tools anyone at any point in their online journey can apply. Thanks for all you do, Eric! Excited for more!!

As Smart As they Come

by Lgoldberg1976 from United States

Eric Beer is a tremendous listen. His story telling and motivation have already driven me to work harder. Can't wait to hear what he has to say next.

Great content

by Sensei Victoria Whitfield from United States

Eric is a great guy, gives from the heart and is a wealth of powerful, profit-positive information. Rock on, brother!

So informative and easy to understand

by bergbusiness from United States

If you are serious about starting in this business this is the podcast to help kickstart your career. I highly recommend tuning in.

Powerful

by reebcire from United States

Never realized how mich money performance marketers make without taking much risk. Get excited to learn more

Eric Nailed It...

by Mark Duke from United States

You do not want to miss out on this podcast. Eric is absolutely brilliant at his craft. A MUST listen or anyone who is wanting to ethically up their game in the business + affiliate marketing space. Cheers!

I loved this podcast!

by DPG...123 from United States

I just listened to this not knowing what to expect and it was FANTASTIC! I am hooked and can't wait for more episodes. Looking forward to learning a ton from Eric 🙂

Eric's trainings will up-level your life!

by SwayBuckley from United States

Eric's level of transparency and REAL value is not only rare but transformative! Don't sleep! He's the real deal!

Got me hooked from the start

by Doc bus from United States

Hearing Eric's story and why he is looking to share his knowledge of starting a business was so motivational. Looking forward to hear what he comes out with next. Hoping I can use his coaching to take my own life and business goals/ideas to the next level.

Eric is a genius!

by Golden Oracle Ministries from United States

I had the pleasure of meeting Eric Beer in a high level mastermind that we are both a part of. I must say that every time he opens his mouth marketing gold falls out! I've made millions both online and offline, so when I hear someone talking about marketing I'm not usually that impressed, but with Eric I'm beyond impressed. I'm blown away!!! Learn from Eric, do what he say and watch your business grow.

Excellent

by JLRPS22 from United States

Very motivational!

Awesome content

by NickTheGreek83 from United States

I don't normally write reviews but this is a must listen for anyone considering starting a business. Eric thank you for taking the time to give away some of your secrets! Look forward to future podcasts.

Legend!

by Daxy111 from United States

SO excited for your content to come. You're advice and results is authentic which is rare now a days!

*****

by acrygvbh from United States

Fantastic relevant info !!!

The real deal

by Erin_Verb7 from United States

Eric Beer is one of the smartest media buying minds I know. Take this chance to learn everything you can about affiliate marketing from him. He will teach you an ethical way to make your life and your family's lives better through affiliate marketing. He's the real deal.

Genius marketing knowledge

by Nick349731 from United States

I can't wait to continue to learn rom Eric! So skilled and such a genuinely good person too. Keep putting out the great information Eric!

Great story and great info

by R-Rot from United States

This was a very interesting podcast. It was honest, informative and motivational. Eric has a great story that, everyone who is interested in starting a business, should listen to. Highly recommend!

Amazing

by Billion Dollar Cowboy from United States

I can't wait to learn more!! So so good!!

Awesome

by Eric X 2 from United States

Eric Really enjoyed listening to this. Keep up the great work!!!

Let's Market!

by hjdvikes from United States

As someone who has networked and marketed more over the past 2 years than ever before in my career, this Podcast is an absolute MUST listen for me. Eric makes it easy to listen, learn and apply.

Invaluable information!!

by lpro1111 from United States

Invaluable information. Can't wait to dive in.

Great information, tons of useful tips

by jonnygal77 from United States

These are great, so much useful information that I can use immediately and effectively. Thanks Eric

Great listen

by Xtra Medium from United States

I love listening to Eric's podcast on my way to work. Looking forward to applying some of these principles to my career.

Definitely worth a listen

by SBS776 from United States

I have had the pleasure of working with Eric and this podcast is a roadmap to success. He is a professional with years of experience and delivers results

Game Changer

by Jay Heydt from United States

Eric Beer is a game changer for your business. I had the privilege over the summer of taking an online marketing class with him. The daily interaction with Eric made me believe anything was possible as well as opened my eyes to an entire world that is online that I was missing. You will learn and earn with Beer. He is one of the best business coaches out there!

Performance at its best!

by Shm722 from United States

Eric has great ideas and insights!

Listen to a visionary....

by RobH60 from United States

Eric is a genius and visionary. Always looking to get ahead through hard work and drive to success yet he is super down to earth and willing to spend the time to share the secrets of his success with others.

Finally, coming out to teach the world

by RogerSmith! from United States

I've known Eric for quite some time and he has been the guy who is quietly CRUSHING it. I'm glad he is coming out to the masses to share all his knowledge!

Can't wait to dive into these!

by Arushi-315 from United States

I can't wait to learn from Eric so I can level up my marketing!
Transcript…
Read Full Transcript
Eric Beer 0:00
What is up performance marketer nation. I am extremely excited today because we have on somebody who is going to talk about how you can use YouTube to get free traffic and create massive passive income by being an affiliate. Spencer Mecham, he is the number one affiliate for ClickFunnels. He's got a company called Buildapreneur. He's a good guy. He's really humble. He came on today and he and I spoke for a very long time. And he gave so much gold about how to use YouTube and blogs to get free traffic. So I want you guys to get a pen and paper out and get ready for something awesome. And after this, if you want to check him out, you can go to ericbeer.com/spencer or you can text to 80800 the word "SPENCER", and we'll send you a link for his webinar so that you can continue to learn from this marketing genius. So let's dive in and hear what Spencer has to say.
I spent the last 17 years building my eight-figure performance business without using any of my own money, working with some of the most brilliant direct response marketers in the world today. Now I'm looking for entrepreneurs to join my affiliate army, built on ethics, transparency, and good old hard work. Join me to change the perception of how people view the greatest business in the world, affiliate marketing, and follow along, as I learn, apply and share performance marketing strategies, working with some of the brightest people on the planet. My name is Eric Beer, and welcome to the Performance Marketer Podcast. Spencer Mechem, the Affiliate Wizard. The number one affiliate for ClickFunnels is that your claim to fame?
Spencer Mecham 2:08
That's my biggest claim to fame. Yeah.
Eric Beer 2:10
Although from the short period of time of how I've been researching you, I think of a hammock and I think of you, which I think is pretty cool.
Spencer Mecham 2:19
That's good branding then, that's what I want you to think
Eric Beer 2:21
That's exactly what it is. I love that, I love the hammock and I think that's one of the cooler things out in the marketplace. So if not for anything else, I mean, who doesn't want a hammock? You just need you need two trees. You need something... You need to like stamp something there. But yeah, very cool. But so appreciate you coming on.
Spencer Mecham 2:39
Yeah, absolutely.
Eric Beer 2:40
It's awesome. So I want to talk to you about how you're doing this. I want to talk about how you're... How you're just unbelievably being able to take YouTube, blogs and get it out into the marketplace and teach people how you've successfully been able to become the number one affiliate for ClickFunnels, I'm sure for other offers as well. But before we do that, can you just give us like, a background of how you got started where you came from?
Spencer Mecham 3:08
Yeah, yeah. So I mean backgrounds like super traditional, like when I went to a college here in my town got a degree in communications that you know, does nothing for me And anyway, so somewhere in there somewhere in the middle of my college experiences when is when I first like I didn't even know I think I was probably 25 before I knew that there was any route out there besides a nine to five job so you're 65 right. Like I didn't I thought that I didn't like it didn't appeal to me. I didn't know it existed. And so that a book I always credit I credit Robert Kiyosaki Rich Dad, Poor Dad, if people read that too. I read that was my first book. I've read his first book you read? Yeah, yeah, that's awesome. Sammy, same here. The first like an entrepreneurial book, like a self-help book, right? And it's just it's a new world, right? Like coming from where I'm at. It's like, what, what am I doing here? You know, like, this is, this guy's doing crazy things and, and so his route is like, stocks and then real estate and things like that. And I ended up you know, trying and flopping in most of his routes. But the mindset change was already there right and now I was in the world and so then fast forward to affiliate marketing that was actually a co-worker that introduced me to that and kind of a funny story. We were working in an SEO agency together and pretty like, low key SEO agency. So we're chatting and he, like, turns his computer over to me one day, like, hey, like, you see what I've been doing. And he like, shows me this website. It was like, super ugly, like, terrible looking. And I was like, that's ugly. building that ugly website. He's like, yeah, we keep talking. he's doing like five to $10,000 in profit a month on this website. And what it is, is it's a vacuum cleaner review website. He's like helping people make you know, decide on what vacuum cleaner buys really boring. It's a really ugly website. And I'm like, okay, like, this is boring. This is ugly, and he's making more than me on this website, you know, and so I'm like, I'm gonna try this. And so that was like my first foray. Okay, this is something that I think I really really do want to get into is this affiliate marketing stuff and so that was why I'm like I'm gonna do that and I tried to build an affiliate marketing website and I... You know, you don't know you're doing the first year yeah you're usually too stubborn to like pay for any coaching any courses or anything you know, like yeah so like the first year was just, I mean I think I did the math and I spent over 1000 hours like building a website like trying to figure out blogging right but without any real training and like the background to that just yet. So no money, no money in that first year like maybe I think I made like a couple hundred bucks. Right?
Eric Beer 5:36
You were building like a comparison site?
Spencer Mecham 5:38
Yeah. So I was building an affiliate, just a straight affiliate site for stock market. I call it beginning stock trader calm. I've learned a lot about the stock market from trying and failing with Kiyosaki stuff, you know, so I knew a bunch of crap and I was like, I'll show beginners how to get into the stock market. And so that's kind of how I that was what the site was about. I was you know, introducing the stockbrokers and trying to make affiliate commissions and the diamond Uh, I guess posted if you're familiar with blogging that guest posting is I reached out to hundreds of sites and I wrote thousands of blog articles, you know, and, and I came away with like a couple hundred bucks.
Eric Beer 6:10
So just explain to people like when you're a guest on someone else's blog how you're writing, just tell people who are listening what that actually means.
Spencer Mecham 6:18
Yeah, so a huge part of building a successful blog is actually getting other, like more successful blogs to link to you. And then Google's like, oh, like, that's a legitimate blog, right? And so to do that, you start reaching out to these blogs, you know, you reach out to me think like Forbes, and all those Huffington Post, those are the big guys, right? There's millions of other like medium sized blogs out there. So you reach out you're like, Hey, can I write you this big article? And then in the article, I'll make a link to my website. Are you okay with that? And the ton of work, right, you tons of outreach? And then when you finally get someone that says Yes, you've got to write this really good article that they'll actually be willing to put on their blog and link to yours. And so it's a lot of work, and I built hundreds of links to this website that way. Yeah.
Eric Beer 6:58
Anyway, like there's a reason You could do that. So you were doing it 100% legit there. The only way I knew well, there are guys that do that. And what they do is they'll hire a ghostwriter. And then the ghostwriter will write the articles. And then they do the outreach and get them placed in the marketplace. And even to the point where like, you could pay Forbes to be to have an article inside Forbes. So sometimes you'll see some people like you're a Forbes contributor, but you're like you paid
Spencer Mecham 7:28
Yeah, we all know that contributor. You know, you start to like really start to look at media with like an eyebrow up.
Eric Beer 7:35
Yeah, yeah, exactly. So in any event, but that's cool. Appreciate you explaining that. Yeah, continue.
Spencer Mecham 7:40
So that didn't work, or that does work for a lot of people. But as you can see, like, there's a much faster way and the people that are succeeding are doing much faster than just me. So I did not succeed, learn a lot, right, learn a lot, a lot of stuff. Anyway, somewhere in there. I was like, I'm gonna I'm gonna camera what my system was, I was like, I'm gonna start putting this on Instagram. What I'm gonna do is I'm gonna make a little To be like, teaches them something like how to buy a stock, you know, and then I'm gonna refer them to an affiliate of mine like I'm going to send them over to an affiliate link where they sign up for a stock broker I'm gonna make some money sounds like blogs not working for me so I'm going to do that on Instagram. And I'm going to basically spam people on Instagram right send them a message in their inbox like hey, check out this you know video no buy stocks and we all live and learn. So anyway, like that, that didn't work surprisingly, you know, like hitting everybody's inbox with this random message from a random guy.
Eric Beer 8:29
They'll shut you down after a certain amount anyway
Spencer Mecham 8:30
Yeah, strangely, they never shut me down I didn't work but but Instagram somehow never caught on to this guy sending all these links out.
Eric Beer 8:37
You should've just had more?
Spencer Mecham 8:38
Yeah, I should have kept going you're right.
Eric Beer 8:41
Nah, I'm just kidding.
Spencer Mecham 8:41
I had a baby in there. So right in there. I ended up having my first child and you know, like your first child things kind of like slow down a lot. I already had my main job like this is still just a side hustle. Yeah. Anyway, somewhere in that few months, I go and you know, I'm like on my computer to my regular job and like, I wonder if I've made any affiliate commissions off that like stuff I did. And I log in like, like, Whoa, like I made a bunch what's going on, you know, because like, I had shut down the Instagram bots and stuff and then Robin do anything. So I logged in I'm exploring and the video that I made that I was sending to people on Instagram was in YouTube, and a video was actually breaking in YouTube and bringing in traffic. So yeah, like just random that's how you figured out YouTube. Yeah, that sounds like well geez I like Phil this time on Instagram was time blogging, I spent no time on YouTube and I'm and I'm making money on it. So that was when I that's when I like really decided to go into YouTube and seriously that that video today that like first video ever still brings in money and like hundreds of subscribers is crazy. Like, what with the power of that? I don't know why YouTube just said like, holy cow. We love this video, but they did.
YouTube's amazing. It's amazing. I want to learn more. Tell us more feed us on the YouTube. It's amazing.
Yeah, isn't it and so that's what made me realize YouTube was amazing because because a lot of people platform for like, like Facebook and Instagram and all these platforms that we've kind of traditionally are trying to market on. It's a it's a constant battle, right? You're constantly you're having to feed this beast every single day. And if you don't, then your content disappears and Instagram and your stuff promoting it, and you've got to feed the beast again the next day. But I'm looking at this YouTube video and I'm like, I I fed this beast one time, you know, six months ago, and the video is still bringing in leads and then fast forward 2020 I made this video four years ago and the video is still bringing me in leads. Right and and so that's like the beauty and the power of YouTube is, is it's a very yes answer as well in the way you can grow, right? Each one of those, each one of those videos becomes this piece of real estate that can start working for you and then the next video can start working for you and you start to build a an online Empire that's very similar to a real estate Empire. You've just got little little pieces of real estate that are making you money every day.
Eric Beer 10:50
Yeah, yeah. So at all time. It's like, you know, they talked about when we were growing up. The people that were wealthy are the ones that own the big buildings and they're they're paying or getting rent. on a monthly basis, right? The Internet when you do it, how you're describing it. It's cash flow, right? You're ultimately like getting paid rent for the video that you have out in the marketplace, which is, I mean, anything evergreen is massive. Like that's, that's true passive income. Right? You hear a lot of people talking about passive income in there. You're teaching people how to do that, like, that's true passive income. Like, that's, that's really cool. You know, and it's, you know, you talk about Facebook and Instagram. You're 1,000%, right, like you. I mean, there's still very powerful platforms. But the goal with those platforms are you just want to get the people off the platform, you want to build your list with those, those platforms so that you don't have to go and keep fighting them and paying them thousands of times, you know, but yeah, I mean, keep going, man, YouTube, he Let's hear it. Let's hear...
Spencer Mecham 11:50
I'll the start talking YouTube. So there's a couple ways to make money on YouTube. There. There's like different kinds of traffic, right. So first of all, YouTube tends to To be if you understand traffic temperatures, it tends to be warmer and hotter already, right? Someone on Instagram, like if you think about your mindset, when you pop when you open your Instagram account, your mindset is dull. It's like you're trying to turn off your brain almost right? Like life sucks. You're at work. And you're just like, I just want to like, shut down my brain and kind of like, look at some stupid oil and not think right?
Eric Beer 12:19
That's so true. By the way, I don't mean that it stopped you. But people don't realize that. Like, when you're thinking about online marketing, they're thinking about Oh, and ad or a text link. They don't realize it's a real person. That's actually the person that's going to be clicking, and the way that nobody but people are so intimidated by traffic that they don't realize that when you're so smart to think about it as well, when I'm going to Instagram, what's my mindset, right? When I'm going on Facebook, what's my mindset versus when I go to YouTube, you know, and like that's, that's a really good point.
Spencer Mecham 12:50
Cool. Yeah. And so YouTube tends to be a little different. like YouTube has that aspect, right? There's the people watching cat videos and like there's that crowd, but a good chunk of YouTubers. Especially the chunk that you can make the most money off of, are people with problems right and people that prop people with problems are hot leads, they're people that with money that are willing to solve their problems, right? And so like as an affiliate marketer, I usually try to start at like the hottest like what is like what's the hottest traffic the people that are like this close to buying an affiliate product right now? And all I've got to do is like just nudge them a little bit and they're bought right yeah, so that's that's where I start and stop me anytime you want me to like dive in more?
Eric Beer 13:30
Yeah, so I mean, be be specific. What's it like as an example, what is something that an affiliate marketer you talking about someone who's never ever made $1 doesn't even understand affiliate marketing or somebody kind of dabbled in it the way you're dabbling? And then all of a sudden you're like, Alright, I found the right person.
Spencer Mecham 13:47
Yeah. So so if I was if I was trying to promote in the affiliate marketing space like that's there was a product I want to promote, I would say to my own core, so there's there's a product I promote called legendary marketer. It's a training for affiliate marketers k It's like they build your whole affiliate business for you. So if I was trying to promote that I'd go out there and I'd start I start looking and doing some keyword research with some keyword research tools and I'd start finding people looking for things like how to make money with affiliate marketing right or like even like even deeper even like hotter right it's like what's the best affiliate marketing course? Or like legendary marketer I just told you about Maybe someone's looking for like legendary marketer demo or is legendary marketer worth it? You know, like he's like that guy is legendary marketer worth it? He's like he is this close to buying right like maybe he just needs to see that inside of what they're teaching you maybe he needs to hear a testimonial there's just something that's that's gotten like stuck a little bit and so that's where I'll start like hey, I want to promote legendary marketer What are like the hottest like what's the hottest traffic I can target here and start showing up for and then you just start working your way down so you know the hottest traffic of the people that are like, you know, should I buy legendary marketer and then a little little beneath that might be legendary marketer review a little that might be what is legendary marketer and then you start to get into what I call warmer traffic which is like They don't know what legendary marketer is, but legendary marketer is solving the problem that they're looking for. So their problem is, how do I learn how to do affiliate marketing? Right? Well, legendary marketer is how you learn that and so you you make a video that bridges them that bridges that gap there where you introduce them and you show them the affiliate product legendary marketer in this case. Probably the best example for me is like we talked about ClickFunnels, like that's my number, like my claim to fame, right? If you type in what is ClickFunnels in Google or YouTube, you'll see a video by me that's got 90,000 views, right? And that's, that's me hitting the hot hottest traffic and, and 90,000 people that typed in what is ClickFunnels? Right? Like, imagine how much money that traffic is worth real world. Like there's a lot of money.
Eric Beer 15:41
Yeah, I mean, I don't know. I'm imagining you're tracking in some way with a unique link, but when you're doing that, so like, obviously anybody wants to show up for what is ClickFunnels, right. I could go create a what is ClickFunnels? I'm not going to show up the way you're showing up. Is it a hashtag? Is it the content? Is it like, Is it the right time the right place? I mean, obviously YouTube likes it. They're looking for good content that people on their platform like so they're gonna stay on YouTube, right? What have you done? That's so amazing that is it just that you're a good looking guy who knows what he's doing? Or is it that there's a little bit of a secret here that you can share?
Spencer Mecham 16:20
Well, we'll go into the overview and then we'll go into the secret. So YouTube, like when you when you when you buy you two courses, and when you talk to you about YouTube, they try to like throw like it's almost like they're trying to overwhelm you, you know, they're like, oh, there's tags and descriptions and this and that and this and that and like, if you talk to like the people high up that I know I focus on click through rate I focus on like, how many people are shown my thumbnail and my title and click it right I focus on that and I focus on how long I can get somebody to not only watch my video, but how long I can get somebody to stay on YouTube, from the time that they start watching my video and like, that's what YouTube cares about. Right. So the first the first point the click through rate How often you watch a video on YouTube? And then you're like, Okay, that was dumb. And you click the X and you close out, right? YouTube hates, well you can love is when you're watching a movie or a video, and then they have those recommended videos, right? And you go over and click on one of those instead, like, Oh, yes, they got you again, you know, you're you're in the YouTube rabbit hole now. And so that's why click through rate is so so so important as they want you to keep clicking, and clicking and clicking and not clicking that red X but clicking more of those thumbnails.
Eric Beer 17:23
Because every time they do that an ad plays before the video.
Spencer Mecham 17:26
Yeah, and that plays in the video, right? Like they're gonna make money off you if they can keep you on their platform. And YouTube is really good at the algorithm side of figuring that out, right? So you know, you've got to be good at fighting the algorithm. what it wants is all is okay, YouTube wants, like YouTube can tell which videos are going to generate the clicks from that user. Now you need to make the video and the title and the thumbnail do that right. So that's the first half and then when I say when I say watch time, there's the individual video watch time. And if you look at like that, what is ClickFunnels video? I think it's got like an eight or nine minute watch time. It was a huge like, very start. really hard to keep someone watching a video for 10 minutes today. And so there's a lot that goes into that but but like, if that's the mindset, you've got to have, like, remove the fluff, remove the anything that they're not looking to get right, like, give them a reason to stay till the end of the video, things like that, like, start die. Like if you watch that video, it's a lot of my videos did so well in the beginning, because I didn't know what I was doing. I didn't have a lot of like fluff to say. So it's just like, Hey, I'm Spencer and I'm going to show you what ClickFunnels is, and boom, you know, I'm in and I'm talking and, and so, and later on, I was like, I got good at marketing. And I was like, Okay, I'm Spencer, like, these are my credentials, and this is why you should listen to me and by the way, you should click subscribe and like, you know, when I got lost in that rabbit hole, and a lot of those like later on videos just didn't do as well because because people you know, they're like this guy just he's just talking like cuz you're gonna hear about Spencer...
Eric Beer 18:50
Right? You got like 10 seconds and they start doing that. They're like, I'm out once you get into like the goods. Yeah, that's it.
Spencer Mecham 18:55
Yeah, exactly. And so if you lose, you know, 25% of your visitors before you've even got to the goods. YouTube's not liking that. Like they're like, we're not we're not going to show Spencer's thumbnail as much when people are looking for things, because you know, the people click on it and then we lose them and they click x and so that the big change like the reason my original videos did so well and now my like later on videos, it's a well in my video middle videos struggled so much is B because I didn't understand that in the beginning. I didn't understand that. And it was a good thing for me like, right I dove right in it was always straight to the point, there's never fluff I had, you know, I was hitting my bullet points. And I was showing them on the screen and giving them exactly what they wanted. And so ignorance is bliss, right? grits is bliss. Yeah, it's like, it's been hard for me to go back and hit that same level of success because now I know more I want to say so much more than I like have to just be like, no, like, they need to know this. They don't need to know any more than that. Right? Right. So that's that's kind of the the YouTube algorithm in a nutshell there. And, and kind of like you talked about, like, you can you can fake it or you can, you can fake it the beginning. So like, you can buy a lot of that stuff, right? You can buy views and you can buy clicks and all that kinds of stuff to YouTube pretty easily in the beginning, but eventually YouTube's algorithm is going to catch on and it's really will always come down in the long run to, okay, which person you know, there's, there's 500 people that it looks like have decent videos going for this, you know, that are around this topic. And so YouTube's got a double algorithm, the first algorithm identifies those 500, right or thousand. And then the next, the next part of that algorithm says, okay, who's going to keep this person on YouTube the longest? And that's the guy that wins the race there. Right? And so yeah, that's, I mean, that's it.
Eric Beer 20:30
So, if you were to critique your What is ClickFunnels? Right, because you're saying, I mean, still even now like, there's got to be something that you did that was unbelievable that you were able to now get 99,000 views. That's insane. And you're getting up there. Like if I went and did that tomorrow, if I go and create a What is ClickFunnels? Right, and I start getting into the goods right away. Am I gonna Am I gonna get 90,000 views?
Spencer Mecham 20:54
Honestly, you could like, you think it's so competitive and like and and and there's like a million of them. People but but most people aren't aren't understanding that right? So if you make a thumbnail that's got a click through rate that's similar or higher than mine, which if you look these, you know, these thumbnails that are geared around searching the search side of YouTube, not like the recommended column that's sitting right here, right? They're geared around the search. People try to make them all kinds of fancy, but that was like another thing at the beginning is it's just like, no, like make a very simple thumbnail that basically see it, they see that the thumbnail solves their problem, right? Like, as soon as they look at that thumbnail, they say, oh, that this video solves my problem, right?
Eric Beer 21:27
It's like a good what's a good click rate for YouTube? And where do you see that data? Where would someone see that data to know?
Spencer Mecham 21:35
So yeah, if you go to studio.youtube.com, you'll get just insane amounts of data, just click analytics and it'll like it'll give you a good simple overview and then you can click in and you can see exactly where people are leaving your videos all these things I'm talking about right? Yes, you can go in and I would bet you'll make a video right and your what is ClickFunnels video won't do as well as mine. You'll go in and look, it'll show you a graph. It'll like hey, at one minute you were losing people you know by two minutes. You've lost 50% of your audience and you can say, okay, in the first two minutes, I lost 50% of my audience, what you know, and go back and watch and say, why did they leave? You know, you can see exactly where they're leaving and like, I get it, you know, he left because this. And so one of the huge things I noticed on that video compared because that's like one video that I've really studied, like, why is why is this...?
Eric Beer 22:17
Yeah, the drop-off rate. Interesting. Yeah.
Spencer Mecham 22:19
Yeah, is, is I've noticed, like in these when these people are looking at software's in particular, and things like that, my new videos would be like my full screen, I would start out full screen Hey, I'm Spencer, blah, blah, you know, and, and I lose a bunch of people, while others people now look at that video and like five other videos, and I start out with me just hanging out in the bottom right corner, right, the software's up from the first second software's up, and these people know like, Oh, he's gonna show me the software on the screen here, right versus when it's just me it's like, he's just gonna talk you know, a lot of these videos just talk and I don't want someone to talk I want them to show me and so the the the show me aspect of YouTube is huge for search, right? Like I'm searching the question, I'm searching the problem. The thumbnail just got to tell me instantly that you can solve it and then the first 15 seconds of the video through your words and what you're showing on the screen, need to show that you can also solve it. Yeah. And then and then you dive in, right? And then, I mean, I can't I can't tell you exactly what it is in that video, but, but I'm clear, I've got a bowl of out an outline bullet, you know, I'm going in the order that makes sense to them. It's simple. Everything is just cohesive and, and people stay and they watch my whole video. That's really cool.
Eric Beer 23:22
I've noticed that you in your videos, when you show your screens and full disclosure, I actually like those better as well. Not that I don't like watching people, because I do I enjoy that. But I'm a visual guy learn when I'm actually watching you do it, you know, so it makes sense. That's really cool. So hashtags don't matter?
Spencer Mecham 23:41
No. I like it's like, I mean, you could say I don't want to like they don't 100% matter. But like tags, but YouTube videos have tags, you know? they're just, they're just so tight. Like the amount, like just don't spend any time on it because that's it's just such a tiny piece of the algorithm. You know, every like I told you there's two algorithms right YouTube identifies all the videos that could show up when someone searches and then identifies all the video, like out of those who is going to rank well, all 10,000 of those videos that could show up, right? They've got descriptions, they've got tags, they've got titles, you know, like, they're all so similar in that you don't you're not going to stand out with any of that stuff. So do it spend 10 seconds on it or whatever, right. But, but yeah, it's just not it's just not that's not what's gonna rank you. And then I'll dive in a little deeper and talk about something else that goes great with some of these videos. So the second cool thing about YouTube and the reason you do want to have description in there and some texts and things is 20% of Google searches contain a YouTube video. Okay, so you're you're double-dipping you get a YouTube video like that. What is ClickFunnels video? And I can't say it still is I haven't looked at it like a couple weeks but but it was ranking in Google for what is ClickFunnels and it was ranking in front of like, these killer blogs, right? These blogs that have spent years building up authority and like all that stuff, right? That's what a lot of searches YouTube's like, Google's like we'll put a YouTube video in front because like I think someone might benefit more from a YouTube video, right? And so the guy beneath me with this, like just years old blog, all the clout in the world, I'm getting more views, like more clicks and views than him because because Google pulled my YouTube video and so, so I must say like, and that came from, like a good description and good, like general SEO principles as opposed to watch time and stuff, but...
That is gold. That is pure gold. I mean, amazing. That's so cool. So all right, so that's your first way for YouTube. You had two ways. But yeah,
so so then you you know, you get all those hot people almost all that hot traffic and kind of like you're talking about you may not be able to in the beginning, when you're still figuring out like, like, how, you know, how it all works and how you can get good click through thumbnails and you don't have data and stuff, you know, but then there's kind of the, the warmer traffic and, and this is much more broad, like, you know, there's there's maybe 100 keywords that are like, what is ClickFunnels and how to buy ClickFunnels and ClickFunnels pricing. But so then you'll take yourself affiliate product and you're going to say like, what are the problems that this problem this product solves? And then you'll you've you've got hundreds of videos, right? So ClickFunnels, sales, funnel, building lead generation, higher conversion rates, landing pages, emails, tons and tons of things that ClickFunnels saw these go in and, you know, people are searching for like how to build a landing page or how to build a converting landing page or how to how to increase how much you make per lead. I'm freezing up on the term. Really? profitability. Yeah, so yeah, anyway, they're there. They're searching all kinds of things, right. And as you like, do this keyword research, which I won't even tell you this just google keyword research tools. There's tons of them. Yeah, they're all fairly good. But there's just unlimited amounts of content you can start creating where you say, Hey, I'm going to show you how to build a high converting, you know, landing page right now and in five minutes, you're gonna build on the spot, and they're gonna say, wow, what did He what? How did he do that? You know, and you're gonna say, oh, by the way, like, this is awesome. happening inside of ClickFunnels The reason it's so easy and you're probably loving how fast you know and how simple this builder is that's inside of ClickFunnels and so there's a link down below to ClickFunnels right and and then if you're really all in you know, you can say and by the way, if you sign up with that link I'm going to give you like some cool templates and some training and all that stuff. But but that's where all that's the next place I'll go and then you could all like and then I don't really go for cold traffic. So if you look at like my business, like there's there is no cold traffic, it's all targeted, it's all it's all people like, especially in that ClickFunnels affiliate part of my business where I'm promoting that it's all targeted business owners and and people that are trying to start an online business that ClickFunnels can help. And those are the only people even like seeing like most of my content. And so,
Eric Beer 27:42
So would you define warm traffic as somebody that's a business owner, that you know, that you can solve a problem, right, versus they may not necessarily know who Spencer is, but they need a problem solved. And and if they need the problem solved then you have The solution to you that's you going after warm traffic?
Spencer Mecham 28:04
Yeah, yeah. And it could be I mean, it could be a million niches right? Like we always talk about ClickFunnels in my pocket of people, but you could do it in the in the pet business, you know how to clean up, like how to get dog crap out of your carpet or whatever, right? And there's like some cleaners and stuff and I need that. Yeah, you're searching that, right? There's affiliate programs there. Like, every niche has people on YouTube trying to figure things out, you know, how to get started in Pickleball is when I think I was I almost went into recently like, you know, tennis for newbies. Well, guess what, I'm gonna give you my recommended racket and I recommend the tennis balls and you know, you want to learn more, I've got a digital course where I teach you tennis like you do it in any space on on YouTube. You just gotta know work backwards, like okay, this is the program I want to promote. Okay, here's all the hot keywords I can go for. Like, that's where I'm gonna start. Okay, here's all the problems it solves. That's the next set of videos I'm going to make you know, and then I guess we've talked Go on now talking about emails if you want to go...
Eric Beer 28:57
I mean, yeah, I mean, I got I got I can't I can give you 10 to 15. I'm writing them down right now questions that I have for you. I mean, well, yeah, well, let's get into the emails in a sec. But let me let me just ask you two questions. The first question is, when you keep describing all these videos, do you have to have your handle only talked about ClickFunnels? Or can you talk about ClickFunnels? And then can you talk about an email platform and then can you talk about some other affiliate program like the legendary marketer, like does it have to be where your handles specifically is around the certain solution? Can you can you can you do pick a ball and ClickFunnels in your start a new handle?
Spencer Mecham 29:40
The new Yeah, you get to start a new channel and honestly like the more so like, like those are those are close enough that I do it. I wouldn't necessarily recommend it for beginner but like ClickFunnels and an Email Autoresponder are two tools that the same audience needs right so I can promote those fairly easily. Same thing with legendary marketer like their online people. And so let's They're markers a little out of the people that are doing ClickFunnels, but they're people trying to use the internet to make money. And that's what Legendary Marketer teaches, right?
Eric Beer 30:06
Yeah.
Spencer Mecham 30:07
But even that, like so so here's the here's the basics of how YouTube works. Once you've built up an audience, like it's a little harder, you don't have an audience. Once you've built up an audience, you put out a video and YouTube is going to give that video about 48 hours, right? It's going to start putting in like the homepage of your subscribers and it might send like notifications your subscribers and it'll it'll show up in your subscribers feeds, right? And YouTube's gonna base like, okay, depending on how the subscribers respond to that is how I'm going to decide how to start promoting this video, right? So you make let's say, I got that video that blew up, it's got 90,000 views, it's probably brought in 900 to 1000 subscribers that are ClickFunnels, you know, their online business owners looking for ClickFunnels. So now I throw out a pickleball movie or video. Well YouTube starts and it says okay, let's go show that pickleball video to all the subscribers right? And very few click and watch it so now my click through rate is way down. Those that do or like is he trying to show us like what is this and they click and they're like This really is just a pickup all right so then they click the back button right and I got a 10 seconds average watch time right? And and YouTube says YouTube doesn't you know doesn't doesn't know everything so it says this video sucks. I'm not going to show this video for any pickleball keywZords or terms or anything this video clearly people aren't interested in this video right? And so you all like the more nice you can go yeah then you get this audience that's really cohesive right if you can get like 80 if every one of your videos 80% of your audience is interested in well then YouTube quickly identifies with each new video like okay, it's a good video it's in this is this is the type of person that's interested in that go out and find more people just like that. It's a lot harder
Eric Beer 31:42
When someone goes and clicks back on the pickleball that you that you published. Does that now affect your stats for your small business entrepreneur business that you're promoting ClickFunnels and, and all those other videos would that count as part of the stats or is recognized it?
Spencer Mecham 32:00
So it's video-centric so YouTube's tends to look at each video individually and so you'll find a link to look at my channel I've got videos with like nine-minute average watch times and I got videos like one and a half right like and they don't really affect each other YouTube just says okay learning you know learning moment that video.
Eric Beer 32:15
But you don't have like so when you post and publish a video do you get preferential treatment because of all the good content you already have out in the marketplace? versus if somebody new came in and just said all right, I'm gonna start a handle and start posting but you have a reputation because you do have some of these videos that are are viral and people love what you put out? Yeah, is there anything to that?
Spencer Mecham 32:38
I don't know if it's preferential treatment so on the looking at it from above, you might say like he's getting preferential treatment, but what's really happening is when I put out a video about affiliate marketing, it's testing that video with you know, thousands of people that are interested in affiliate marketing, and therefore I'm getting you know, and they're watching a lot of it and I'm getting this good boost and YouTube's like, Okay, this is a good video about affiliate marketing. So then they get bumped up Right in a brand new guy, YouTube doesn't have any data to show that this is a good video about affiliate marketing. So it doesn't get that initial boost that can, they can propel it forward. Right? And that's why it's hard in the beginning. But yeah, in the beginning, it's just consistency creating content right until a few videos do get picked up by YouTube. The item says, I count like people are kind of liking this, I showed it to a few people, they liked it, and it starts to grow, right? And then you sort of get some subscribers and then and then you can start being on the same playing field. So I don't think it's necessarily like the algorithm saying like, oh, Spencer's got a big channel right about affiliate marketing, let's rank him higher. It's just kind of it's naturally feeding the algorithm because of the channel and that the subscribers I have and who they are.
Eric Beer 33:39
How do you get people to subscribe when they're watching your videos?
Spencer Mecham 33:43
You ask them with a reason. So that was one of the things I did that in the beginning, right?
Eric Beer 33:48
You give some sort of ethical bribe, you give some giveaway, like how to buy YouTube ads or how to how to show up in YouTube organically.
Spencer Mecham 33:57
That for an email, there's no way to like really do that for subscriber to like, automate that. So you'll do that for an email. First subscriber, this is how I do it. A lot of people try to do it right in the beginning like, Hey, my name is Spencer making this videos about this. Remember about the bug fix subscribe, right? And I try not to do that very much. Or if I do I try to be really quick, because at that point, they don't have a reason to subscribe yet, right? It's like, Well, why, you know, like, you haven't even like taught me anything like that I click subscribe. So when I try to do like my last 1020 videos, it's like three or four minutes in, where I start asking for that. Like, as soon as like all identify the spot in my outline when I'm like, hey, that's a juicy detail, right? Like I just showed them something they don't they? A vast majority of them didn't know. And then right after that is my sec. Hey, if you like what you just saw now I'm asking right? And now if you're not willing to because they see that I'm real. And I'm telling them like,...
Eric Beer 34:46
Yeah, you've added some value you've helped, you've helped somebody. So immediately you're hitting on that right? That's smart. Yeah. So So you go through your video, watch the video and see where those points are. And you're like, Wow, that's a good spot. Boom. And then do you edit it? Put it in or you just know?
Spencer Mecham 35:02
it's in my outline. So the outline, I can typically tell like, Okay, I'm about to show them this detail, right. And so then, as I'll say, a spot then as I go into my next point, I'm like, if you guys love what you just heard, and you want to learn tons of cool stuff like that, you definitely want to be clicking subscribe, right? So it's quick, it's simple. And then you can move on but you do want to ask, like, you get a lot from that.
Eric Beer 35:20
And you're you're creating some sort of framework ahead of time that you're following prior to you going and videotaping yourself.
Spencer Mecham 35:28
Oh, absolutely. Yeah. If you're...
Eric Beer 35:29
Is there a certain flow that you follow, is there something that is there a certain flow that the Spencer flow?
Spencer Mecham 35:36
Spencer flow? Yeah, I mean, so honestly, this Spencer flow if you out there and look, everyone's using the successful people are all generally using the same flow like in the first 15 seconds, they're right there identifying the whole video what it's about, right after that, they're giving people a reason to stay so you can do better they're trying to make it like curiosity, or, you know, this is what you're gonna learn. If you stay till the end. There's some reason to keep watching the video. Yeah. And then some people will ask for subscribe. Typically at this, like, to this point, I won't do an intro, I won't ask for subscribe. It's just like, Hey, we're diving in, we're 30 seconds in and I'm talking. And then every every video is different, right, depending on what you're teaching and what you're talking about. But I definitely feel that an outline. If you don't have an outline, I mean, you're just, you're just wandering, right? So if you have an outline, you can, we talked about removing fluff, it's like, boom, I can talk about this point and instantly move on to the next point, right? If you don't have that next point, you're just gonna, you're gonna start just kind of like talking and trying to like figure out. And so build an outline. Don't ever put out a video without at least some bullet points of like, where you're going.
Eric Beer 36:41
Yeah, that's cool. All right. So you're talking about pickleball. And I've heard it it's like a popular sport. Now. More and more people down in like, my dad lives in Florida. I just hear about more and more people playing it, and it's getting popular around the country. But how would you decide if you wanted to get into that market for pickable Is it something on YouTube that you think could perform well, you don't see a lot of it right now. And that's an opportunity, like, how would you decide?
Spencer Mecham 37:07
So that there definitely is like, like niches right? That just have more money, like the make money online space, there's just gonna be more money that you're gonna be able to make off that. But that needs to not be like your number one priority. So I would say your number one priority is like, what can you talk about for a year? Like, what can you just join any conversation instantly and talk for 45 minutes with someone about right? Whatever that subject is, like, that's where you start, because that's what you're going to be doing here for the next five years on YouTube, right? You're going to be joining this conversation and joining this community over and over again. And so if you don't have a passion for it, you might see some success. In the beginning, you probably won't, but even if you do, like a year from now, it's just been like, I'm so sick of talking about pickleball you know, like, I hate the sport, but like I'm making money in it now. So I got to keep going and like I can't change directions at the start a whole new channel. So I say like, what could you just talk about for years, and what wherever Could you just join in any conversation and just talk for 45 minutes to somebody about something and, and be comfortable with that and, and that's like your number one priority. If you can do that with something, you'll be able to break into the space, you'll be able to find you'll be able to break in any space. Like I don't think there's any space to competitive on YouTube, to where you couldn't break in the hardest one is probably the make money online space.
Eric Beer 38:22
So when you're creating different channels, is it? Can you have five different channels on YouTube? And if you do, is it the Nate your name for each of them?
Spencer Mecham 38:32
I don't think so. People there's like people are varied on their opinions of this. If you're not I don't ever do branded stuff to my name. I want to potentially have the option to sell my whole business someday the YouTube channel, the blog, everything and that's why I don't brand it to my name. If you are okay with branding your name like that's not a word you have, then go ahead. I honestly don't think it matters. I have three channels. One is in the wealth space. One is its test channel where I just basically used to test things and then one is the building. From your channel, so yeah,
Eric Beer 39:02
If so if anybody here wants to find your channels, they would type in Buildapreneur...
Spencer Mecham 39:07
And type in Wealth Hacks. Well tax I don't tell anybody the third channel because I want it's just a data channel and I don't want people going the videos and so if my data...
Eric Beer 39:16
Sure that makes sense. Yeah, that's smart. It's interesting, like, you know, an email, you're always testing, you're seeding emails, we were talking earlier about how we're signing up for SMS and for email, because we want to see what people are doing. And that's how you're doing it in YouTube. I've actually never heard anybody do that before. That's cool.
Spencer Mecham 39:33
Yeah, I can test kind of the more blackhat stuff with that. It's kind of honestly a lot of way to go. So like, I want you know, I wonder what happens if I buy 100,000 views on this video, you know, what's, what's it going to do? And I'm not going to do that and build up renewer where YouTube might just, you know, shut me down but a test channel just to see.
Eric Beer 39:49
Yeah, so you were going to talk about email earlier.
Spencer Mecham 39:52
Yeah. So that's, that's the next month is a decent strategy, right, like, YouTube's gonna pay you some? some money. Not very much. For the ads and stuff, the next level of money is the affiliate commissions, right? So where you can always refer people down to a link, but still, you know, conversion rates on sales just don't tend to be, you know, massive and, and so that's where the next the third tier comes in. And that's capturing all these people's email addresses,
Eric Beer 40:18
Building your list... The biggest asset in your business.
Spencer Mecham 40:20
And when you're list building your list, because, I mean, there's so many reasons, the primary two being that's the only business you'll ever truly own right? Like, I've had YouTube channels get shut down at Facebook accounts get shut down, right, like you do not own any of those. They're all find someone else. And so...
Eric Beer 40:36
We were talking about that just earlier, right? We were just saying that.
Spencer Mecham 40:39
Yeah, yeah.
Eric Beer 40:40
That's why it's surveys. Yes. We're gonna build your survey.
Spencer Mecham 40:45
Yeah. So yeah, that's the big reason. The second reason is, is email. Email is a way that I talked about how I've got four or five products, right, that are they're all geared at the same audience. So anyone that client signs up for ClickFunnels in my opinion, they also need an email. responded and so for me that's Active Campaign, you know, business owners might use MailChimp or you might have heard of like, ConvertKit whatever you use. Yeah, but anyway, so I if you can get someone's email address now you can start inter selling right, you've got an email address, you can have these email automations that start dripping out day after day after day, right? And they start selling like, Hey, you watch the ClickFunnels video, you signed up for some lead magnet, you know around ClickFunnels. So now in a few days, I'm gonna email you and say like, hey, you're using ClickFunnels, you probably are gonna want to start sending out emails and building out your email list. So I can send them to a video or I can say, like, get started with Active Campaign right now interlink that, and then a little while later, like Steve Larson launches his summit this week, right? And it's like your final offer and ClickFunnels what's like how to crush it with ClickFunnels, right. And he's charging a couple hundred bucks. And I say, Oh, hey, cool. I've got this list of people that are interested in ClickFunnels, and I know that I shouldn't ClickFunnels because they watched a ClickFunnels video and sign up for a free course. And so now I'm going to send them all an email to Steve's offer and Steve, you can pay me for that. right and so you start to build these these lists of people that are that are all like geared around specific things. And every time a new offer comes up, you don't have to go make a video and try to like start at zero again, you've already got 5000 people interested in building a business online, you just got to send the email to them and you know, a couple thousand bucks in profit with zero expense and an hour of time spent
Eric Beer 42:19
Genius. So the top the top of the funnel is you create a YouTube channel and you put a video out then you get somebody to sign up for something free that you're going to give them a value and they're going to give you their email address in return you're giving them a free course around ClickFunnels or something around that subject. And then you're then going to start to send to them the logical next step right is they're going to need an autoresponder to respond to all the funnels are building and ClickFunnels is that they've already signed up for ClickFunnels at that point?
Spencer Mecham 42:50
Yeah, so we're assuming that we obviously can't say with everybody but we know they're interested in ClickFunnels, we know they sign up for like a lead magnet that was like templates or share funnels or you know, like something that there's a Good chance that our with ClickFunnels that are interested in ClickFunnels or something like that. At the very least they're not they're an online business, you know, they're doing something with a business online. And so yeah, that's when you can start dripping out those other related products to them. And then, and that's all done an automation. So when someone comes in, like just start tapping, right? And then whenever, like Steve Larson, someone reaches out and I'm like, hey, I've got this cool product launch coming up. Do you want to promote it? I'll just pause the automation, you know, wait a day, and then I'll go shoot out an email to all those people about Steve thing way today, start the automation again, you're right. And so I can make some instant commissions if I need, but there's kind of that background process. It's always happening. So you have how many emails set up and automate automation? So I've got a lot. I've got about six months to a year's worth of emails that go out, and they're not all selling things, right. So I'll sell some things and then I'll, I'll try to like rebuild rapport with them. So I'll maybe send them some YouTube videos are like my best training videos or like I'll do motivational emails that I was like, tell me early on Hard story and, and try to get them like motivated again. Or I'll do like relatability emails like, Hey, I play pickleball and like just here's a little insight into me right and those all help so when the time comes and I'm like, Hey, I'm gonna sell I'm selling you something right I'm not just this like random name on a computer it's like oh yeah Spencer he's been dealing with like, I know my seen his videos, right? I've seen his like name I've seen his picture. I know Spencer is.
Eric Beer 44:24
So you're not necessarily reaching out to the people when they're signing up and talking to them. But you're building up a relationship by them signing up for one of your programs, and then you keep on driving them back to your content. So they start to get to know you. Right?
Spencer Mecham 44:37
Yeah, it's funny and people will say this. And I feel the same way with like Russell Brunson, right. Like I just recently interviewed him in my group. And he's like, I feel like I know you really well. I know tons of stories about you. I've seen you a million times, right? You don't feel like you know me, I'm sure and I've had people tell me that same thing. Like I feel like I already know you so well. You know, like, I've read tons of your life stories and I've watched sent to your videos where you tell things and stuff and so they... It's a relationship on their side and relationship is still how things sell. Right? And so you buy when you feel like you trust somebody, and yeah, they have your best interest in heart. And so you could do that all through just automated email sequences.
Eric Beer 45:11
Yes, smart. So you're just creating content, how many times you sending an email to somebody at like, it's the lead born date, and then that's when the automation starts. So then, how many emails would I get in a week?
Spencer Mecham 45:23
So first week, you'll get three, like, I'll hit you 1233 in a row, and then it'll start dripping out and I have it, it sets one to two a week. And basically, you're like, it's a bounce, and everyone has their own ways. Like some people are just like hammer and hammer and hammer on the nail. I get as much money out of you as you can edit them before they unsubscribe. Yeah, I try to go a little think a little more long term than that. And so the balance is like, you've got to stay top of their mind, right? You don't want to ever have an email come into the inbox and they're like, Who is that because it's gonna get swiped or it's gonna unsubscribe or worst-case scenario, they're gonna mark it as spam because they don't recognize it. And I get a lot of that like, I'll put in my email and someone you know Like two years later, they'll just send out a random email. It's like, Hey, we're having a sale, you know? And I'm like, I have no memory of putting my email address and then over the mark you spam. Yeah. So you wanted that, that balance of like, on top of mine, because they know and they expect me to email them. But it's not like, oh, that guy just keeps you know, he will not stop bugging me. And it's a balance. But hopefully, I hit it somewhat.
Eric Beer 46:21
And it's a combination of affiliate offers content that you're delivering, where you're helping them from self-education and things you're doing Yeah. And then just motivational.
Spencer Mecham 46:31
And you can even make the affiliate offers part of the educational right, like, Hey, I got this cool new training on you know, how to build an email automation or how to like automate your email strategy. So you can make money in on autopilot, right. And there's, there's some affiliate commissions potential there, right, and so you can really interlink those.
Eric Beer 46:47
And how many offers are you promoting at one time?
Spencer Mecham 46:51
So in the automation, there's 20 I get a lot of offers that kind of go through that automation, live offers. I'll only be promoting them I tried to do one a month this month I did three and like I saw it, like I saw my list respond negatively to that as in open rates go down, click through rates go down, right? Like they that's, that's like hammering a list and you actually see it happen. So I try to do like one big promotion a month as opposed to just like a bunch of little ones where I go all in, I send three or four emails, you know, I build up to something. Maybe I offer some bonuses and stuff like that.
Eric Beer 47:25
It's funny, because when I first heard of you, I heard of you as an affiliate for ClickFunnels. But you built some of your own courses in your own programs. At what point did you go from being an affiliate to Hey, I got something here. I want to share this with other people. Like how did that all happen?
Spencer Mecham 47:45
When people started asking me? I actually, like, in the beginning, I was like, I just wanted me to feel it right. I was like, I just wanna be an affiliate and, and that's it. I don't want the audience. I don't want any of that stuff. But I think I got like three or 400 like people signed up. To ClickFunnels to me, you know, anyway, ClickFunnels started to promote me like, hey, check out this sponsor make him see what he's doing. So then something in my inbox for people like, Hey, can you show me what you're doing? You show me you're doing the beginning, I was like, Oh, no, I don't want to create a competition out there. You know, I want to just keep doing what I'm doing is working. But in the end, I, yeah, I was like, Okay, I think I can teach this and not be, you know, creating competition, and teach it in a broad way so that people can go out and promote hundreds of products as opposed to this one. So yeah, somewhere in there, it was like that. And I launched my first course ever, like three years ago, and it was kind of mediocre. I called it Affiliate Secrets. And it was, you know, wasn't great, same thing,... Same thing, like when I start with affiliate marketing, it wasn't great. And then,... And then after about six, eight months of selling that and getting some feedback, then I like I went underground for like three months and like built like the big one that I sell now. It's called Affiliate Secrets 2.0 and it's, you know, vastly improved upon that original version. You know, you just live and learn and then I learned how to better teach people and then take people from nowhere to where they really could make commissions.
Eric Beer 49:03
Awesome. So you want to tell people how they would be able to find the Affiliate Secrets 2.0, how they can work with you... Obviously you've dropped a ton of gold I could sell this interview right now as a course. So I mean, you know, let people know how they can find you.
Spencer Mecham 49:20
Yeah so... Yeah, I imagine you might have a link somewhere. If this is... Wherever this is at YouTube or podcasts or whatever. You can also go to buildapreneur.com/free that's where there's like lots of free stuff. If you want to, you're in you're like, I want to do this affiliate marketing thing, affiliatesecrets.co. So not dot com, dot co... I wish I had dot com, but that's where you can kind of see how that course is laid out, learn more about that course and purchase that course.
Eric Beer 49:47
Awesome. Well, man, I mean, I could talk to you for hours, but I'm gonna respect your time and let you go but I really appreciate you coming on. This was amazing. I'm gonna watch this like at least five times. Go and get your free stuff and watch it and that's awesome. So, Spencer, really, really great to talk to you. Thank you so much for coming on. You're awesome. Good luck with everything and stay safe buddy.
Spencer Mecham 50:11
You as well. I'll see ya.
Eric Beer 50:12
All right, take care.
So there you have it Performance Marketer Nation. Spencer, dropping gold talking about free traffic using YouTube and blogs. He talked about how to use emails and how to set up an automation email sequence. He gave you so much information, you should go back, take notes and follow step by step on the things that he talked about. And you will be in business very quickly. He did it. He's drinking his own Kool-Aid. You can do the same. If you want to learn more from Spencer, you can go and check out his free webinar, ericbeer.com/spencer, or text the word "SPENCER" to 80800 and we'll send you a link to check out his free webinar. I appreciate you guys listening in. Stay healthy. Stay well. Stay safe. I will talk to you guys soon. Bye-bye.
Would you like to learn how I built my business using other people's money? If so, go join my 21-day challenge at performancemarketersecrets.com. I look forward to meeting you and welcome you into my family. And remember, results don't lie, but the people who don't have any tier. Thanks for listening.