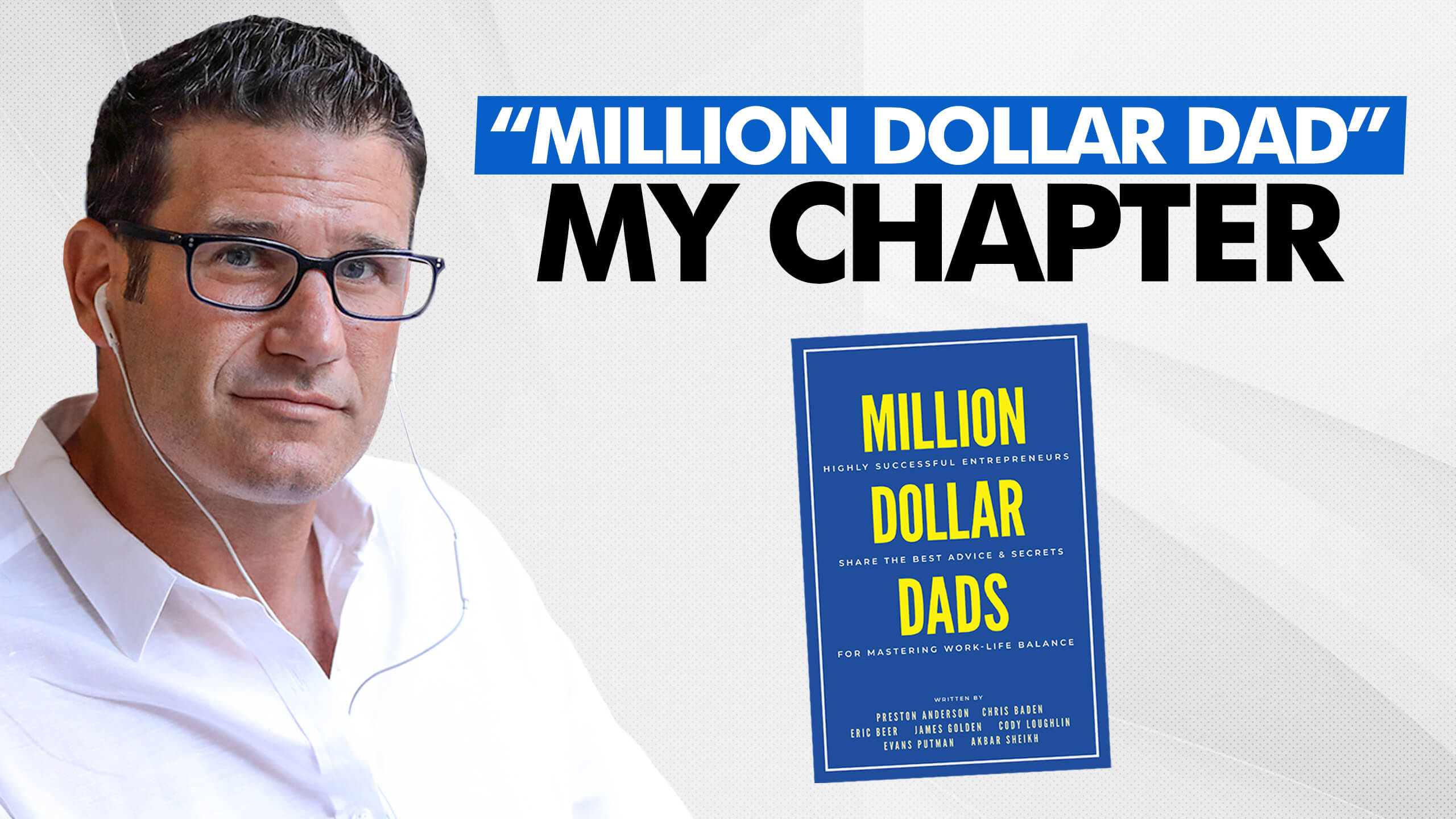 17 Dec

How to Build a Legacy: A Reading of My Chapter From the Best-Selling Book "Million Dollar Dads"

Hey there, Performance Marketers! I hope you're excited about this week's episode as much as I am because I have a special treat prepared for you.

This week on the show, I will be reading my entire chapter from the recently published "Million Dollar Dads"!




Several episodes ago, I talked about all of the things that went into prepping, writing, and publishing a best-selling book. I wanted to take you through the entire journey with me, and this reading of my chapter from the book will be the last step.

You will hear my story told chronologically, highlighting the critical moments of my career, the challenges of being an entrepreneurial dad, and some of the biggest lessons I've picked up along the way.

I've also shared a lot of great stuff about performance marketing in general, as well as my most recent project – SurveyDetective.

🕵️‍♂️ Sign up for the SurveyDetective VIP Waitlist

Once again, I want to thank you so much for showing up for me during this time. You've provided me with so much support, and I'll be forever grateful.

Tune in to listen to my chapter in which I share my thoughts on making an impact and building a legacy.

I hope you enjoy it!
Key Factors of My Success From My Chapter of the "Million Dollar Dads" Book
1 – Allie's Unrelenting Support
"Allie is not a risk-taker at all. However, she stood by me 100%… I am so thankful for her, and Allie is my rock."
 – Eric Beer, Million Dollar Dads
2 – The Power of Self-Belief Instilled by My Loving Parents
"I realized now, I attribute a big part of my current success to my parents, who have always made me feel and believe that I could do anything, once I put some focus to it."
 – Eric Beer, Million Dollar Dads
3 – Going All In On My Business
"The moment I decided to go all-in and put the focus on my business – everything changed. As a result of dedicating myself solely to getting direct advertiser deals, we grew month over month, with every month making new all-time revenue highs."
 – Eric Beer, Million Dollar Dads
4 – Maintaining a Strong Work-Life Balance
"There should be freedom to do what you love. Today, I've set myself up in a way where I can make a living and do what I love all at the same time.
 – Eric Beer, Million Dollar Dads
5 – Combining Performance Marketing With Digital Products
"Combining the world of performance marketing with that of digital products is brilliant. To bring people into your world, and then offer them value…"
 – Eric Beer, Million Dollar Dads
6 – Developing the SurveyDetective Platform
"SurveyDetective was created so that you, the entrepreneur who's reading this book, you don't have any tech skills, you can come in and you can easily build survey funnels to convert these ice-cold leads into customers."
 – Eric Beer, Million Dollar Dads
What the Future Holds…
As you can see, the last 17 years of my life have been quite the rollercoaster ride. And yes, I've accomplished a lot more than I once thought possible
But I'm not done yet! Not even close…
Every day, I wake up, and I try to find new ways of challenging myself. I don't think I'll ever get to a point where I feel like I'm "done"… And I'm OK with that!
Diving into the unknown is part of the reason why I fell in love with entrepreneurship. And knowing I didn't have to sacrifice my family life to get to where I am is probably the biggest reward I could've ever asked for.
It's why the journey makes sense in the first place!
—
I hope you enjoyed listening to my chapter of the best-selling book "Million Dollar Dads". I strongly recommend you go and check out the rest of the chapters. I'm sure you'll find some incredible stuff there as well.
Thanks for tuning in, and for this special occasion, we've prepared a free bonus guide titled: 
"9 Mistakes Every Marketer Should Avoid When Deciding On A Lead Magnet Giveaway".
👉 Get Your FREE "Million Dollar Dads" Bonus Here!
See you next week!
Listener Love…
Warning! ⚠️

by Boz46747 from United States

Wear a helmet when you listen to the podcast. Eric will leave you feeling like you can run through brick walls. In all seriousness, this podcast is the absolute best!

Awesome

by Nevareze William from United States

Very interesting show.

FANTASTIC!!!

by cucklord101 from United States

My life changed after I discovered this podcast, 100% the number one on the platform.

Great Podcast !!

by Olivia Cousta from United States

I listen several days a week and am excited to have taken action with my first few steps. Thanks Eric!

Best Podcast

by faz12548 from United States

Thanks for everything. This show has been an amazing resource.

My favorite podcast

by Alison Riah from United States

This is my favorite podcast. I look forward to every episode and share it with everyone I know.

Awesome!!

by Brads Hook from United States

Love this show

Inspiring

by stevie h b from United States

Eric's energy, wisdom and experience get me pumped up to do more.

Eric changed my life, thank you

by Nicole Aliba from United States

Anyone who has a chance to listen, do it. Subscribe, download and listen. Eric is authentic, he truly cares about the people he comes in contact with. I know eric, I've tried to be around him and learn from him any chance I get. He's been successful in every stage of his life. Getting the opportunity to hear from him direct, how he thinks, how he goes about achieving his success, his strategies, his tactics, his outlook on life. I'm thankful he started this podcast and I'm thankful I get the chance to learn from him. I have no doubt the lessons he delivers each and every episode will help me continue to be succession my journey. Thank You Eric for making an impact on my life and making me realize I'm capable of so much more than I ever realized. Your support fuels my success. Good luck with the podcast!

Wholly Cow!!! Eric Is The Real Deal!!

by Supreme Dragon Slayer 69 from United States

Seriously.. Affiliate Marketing has been around for a LONG time.. However, it's always been associated with scams, and fly by night marketing tactics that are shady l, illegal or unethical at best. Until now. Eric runs his entire business (which is ultra successful btw) the same way he runs his life.. On pure integrity. Finally, a podcast that is teaching Affiliate Marketing based on being.. Ethical and Transparent. But the best part? This podcast is soooo much more than just Affiliate Marketing.. it's about running a successful business and successful life. So far Episode 3 is my favorite and I look fwd to each episode as soon as it comes out. Highly recommend this to anyone, regardless of where they are in their business!! Straight Gold Beb!

Dave

by Rothbone from United States

One of the best podcasts in a long time. Very insightful, had me at the first 2 minutes kept me for entire podcast. I am a entrepreneur myself and found it very interesting.

Eric Beer is a genius.

by Raera29 from United States

I've only briefly met Eric - but listening to his podcast (as well as his YouTube videos) - it's clear to me that he has an in depth understanding of how marketing should work. Brilliant podcast!!!

Beer podcast

by Bghbhhhggghugyhjjgtjporws from United States

So excited to get more info from Eric Beer to help further my career.

Great Stuff

by Dr TBA from United States

I have been a business owner and entrepreneur for over 25 yrs. I found the information both interesting and informative. I am a fan! Dr Todd Askenas

This dude is the real deal...

by gossjoh1 from United States

I'm in the internet marketing space and have heard about Eric Beer from other entrepreneurs and it's always about how much he crushes it. Over $100,000,000 in revenue... no joke. I had the good fortune to meet him this weekend at an event and he couldn't be more humble and genuine. Just listened to the first episode and it is awesome! Can't wait to learn and grow from you Eric and thanks for sharing your wisdom and experience with all of us!!

Awesome

by Archmatic from United States

Thank you Eric for all your motivation and confidence! This is a must listen. Eric is always on his game and ready for a challenge!!!'

Informative and relatable

by srg1113 from United States

I've listened to the first two episodes and found them useful and entertaining. Eric gives a lot of background to how he got to where he is in his career and the challenges he encountered and overcame along the way. He also shares his knowledge in a way that's easy to understand and would be useful both to people new to Internet marketing, and to people like myself who have some experience but are looking to expand their knowledge. I'm subscribed and looking forward to future episodes.

Outstanding!!!!

by casino exec from United States

This is an excellent podcast for entrepreneurs in any industry. Hearing Eric interview and discuss proven success stories is like getting a motivational fix within 24 minutes. Can't wait for the next episode!!!

High Five

by chris drazek from United States

This is good! Guy is well known industry veteran. In the age where it's hard to get 15 minutes with someone like that on the phone, these episodes have a permanent placeholder on my calendar. Well done and keep up the good work!

Amazing

by Rtfdghf from United States

Walked into the office inspired and motivated! Great listen.

Just discovered a GOLDMINE of information!

by ericamerica from United States

This is next-level marketing that EVERYONE needs to know. SO much value here! This is information people would be willing to pay BIG $$$$$$ to have, and he's just laying it all out here.

Insightful

by lonestar1818 from United States

Incredible insights from one of the best!

Entrepreneurial Gold

by girlfriendwithnutallergy from United States

This podcast is amazing an a must have for anyone looking to take their entrepreneurial endeavors to the next level. Whether you are interested in becoming involved in affiliate marketing, or are just a student of life looking to learn about one of the largest and least discussed industries, this podcast is for you. Eric makes his passion for entrepreneurship available to all with this podcast, and for that reason it is a must listen.

Knowledge bombs!

by Sheree Trask from United States

Eric is a wealth of knowledge, not to mention, incredibly humble! He's got the proof to show that determination, grit and perseverance pay off... and I love that he's shedding light on the world of performance (affiliate) marketing with tangible tools anyone at any point in their online journey can apply. Thanks for all you do, Eric! Excited for more!!

As Smart As they Come

by Lgoldberg1976 from United States

Eric Beer is a tremendous listen. His story telling and motivation have already driven me to work harder. Can't wait to hear what he has to say next.

Great content

by Sensei Victoria Whitfield from United States

Eric is a great guy, gives from the heart and is a wealth of powerful, profit-positive information. Rock on, brother!

So informative and easy to understand

by bergbusiness from United States

If you are serious about starting in this business this is the podcast to help kickstart your career. I highly recommend tuning in.

Powerful

by reebcire from United States

Never realized how mich money performance marketers make without taking much risk. Get excited to learn more

Eric Nailed It...

by Mark Duke from United States

You do not want to miss out on this podcast. Eric is absolutely brilliant at his craft. A MUST listen or anyone who is wanting to ethically up their game in the business + affiliate marketing space. Cheers!

I loved this podcast!

by DPG...123 from United States

I just listened to this not knowing what to expect and it was FANTASTIC! I am hooked and can't wait for more episodes. Looking forward to learning a ton from Eric 🙂

Eric's trainings will up-level your life!

by SwayBuckley from United States

Eric's level of transparency and REAL value is not only rare but transformative! Don't sleep! He's the real deal!

Got me hooked from the start

by Doc bus from United States

Hearing Eric's story and why he is looking to share his knowledge of starting a business was so motivational. Looking forward to hear what he comes out with next. Hoping I can use his coaching to take my own life and business goals/ideas to the next level.

Eric is a genius!

by Golden Oracle Ministries from United States

I had the pleasure of meeting Eric Beer in a high level mastermind that we are both a part of. I must say that every time he opens his mouth marketing gold falls out! I've made millions both online and offline, so when I hear someone talking about marketing I'm not usually that impressed, but with Eric I'm beyond impressed. I'm blown away!!! Learn from Eric, do what he say and watch your business grow.

Excellent

by JLRPS22 from United States

Very motivational!

Awesome content

by NickTheGreek83 from United States

I don't normally write reviews but this is a must listen for anyone considering starting a business. Eric thank you for taking the time to give away some of your secrets! Look forward to future podcasts.

Legend!

by Daxy111 from United States

SO excited for your content to come. You're advice and results is authentic which is rare now a days!

*****

by acrygvbh from United States

Fantastic relevant info !!!

The real deal

by Erin_Verb7 from United States

Eric Beer is one of the smartest media buying minds I know. Take this chance to learn everything you can about affiliate marketing from him. He will teach you an ethical way to make your life and your family's lives better through affiliate marketing. He's the real deal.

Genius marketing knowledge

by Nick349731 from United States

I can't wait to continue to learn rom Eric! So skilled and such a genuinely good person too. Keep putting out the great information Eric!

Great story and great info

by R-Rot from United States

This was a very interesting podcast. It was honest, informative and motivational. Eric has a great story that, everyone who is interested in starting a business, should listen to. Highly recommend!

Amazing

by Billion Dollar Cowboy from United States

I can't wait to learn more!! So so good!!

Awesome

by Eric X 2 from United States

Eric Really enjoyed listening to this. Keep up the great work!!!

Let's Market!

by hjdvikes from United States

As someone who has networked and marketed more over the past 2 years than ever before in my career, this Podcast is an absolute MUST listen for me. Eric makes it easy to listen, learn and apply.

Invaluable information!!

by lpro1111 from United States

Invaluable information. Can't wait to dive in.

Great information, tons of useful tips

by jonnygal77 from United States

These are great, so much useful information that I can use immediately and effectively. Thanks Eric

Great listen

by Xtra Medium from United States

I love listening to Eric's podcast on my way to work. Looking forward to applying some of these principles to my career.

Definitely worth a listen

by SBS776 from United States

I have had the pleasure of working with Eric and this podcast is a roadmap to success. He is a professional with years of experience and delivers results

Game Changer

by Jay Heydt from United States

Eric Beer is a game changer for your business. I had the privilege over the summer of taking an online marketing class with him. The daily interaction with Eric made me believe anything was possible as well as opened my eyes to an entire world that is online that I was missing. You will learn and earn with Beer. He is one of the best business coaches out there!

Performance at its best!

by Shm722 from United States

Eric has great ideas and insights!

Listen to a visionary....

by RobH60 from United States

Eric is a genius and visionary. Always looking to get ahead through hard work and drive to success yet he is super down to earth and willing to spend the time to share the secrets of his success with others.

Finally, coming out to teach the world

by RogerSmith! from United States

I've known Eric for quite some time and he has been the guy who is quietly CRUSHING it. I'm glad he is coming out to the masses to share all his knowledge!

Can't wait to dive into these!

by Arushi-315 from United States

I can't wait to learn from Eric so I can level up my marketing!
Transcript…
Read Full Transcript
0:00
My recommendation is for anyone trying to build a business - focus on creating relationships, and focus on modeling how people are successfully running their business. Learn how they're doing things, find out how did the invoice, negotiate deals, get paid, etc. Most people tend to focus on nice cars and properties, but I'm always interested in how people got to where they are.
I spent the last 17 years building my eight-figure performance business without using any of my own money, working with some of the most brilliant direct response marketers in the world today. Now I'm looking for entrepreneurs to join my affiliate army, built on ethics, transparency, and good old hard work. Join me to change the perception of how people view the greatest business in the world, affiliate marketing, and follow along, as I learn, apply, and share performance marketing strategies, working with some of the brightest people on the planet. My name is Eric Beer, and welcome to the Performance Marketer Podcast.
Hey, everybody, what's up? Today is the day that we will be reading the Million Dollar Dad's book. The audio version. I'm here in my studio in New York. And I'm going to read my chapter of the Million Dollar Dads. I did this book that became a best-seller. It's written with Preston Anderson, Chris Baden, James Golden, Cody Loughlin, Evans Putman, and Akbar Sheikh, are my co-authors, that all helped with getting us the best seller status. And now we are all best-selling authors. And a thank you to Jamie Wolf who put it all together for us. So the book is called Million Dollar Dads: Highly Successful Entrepreneurs Share the Best Advice & Secrets for Mastering Work-Life Balance. Now, before I start, I want to just do a quick, informal introduction of who I am. So my name is Eric Beer. I've been in the online marketing space for over 17 years, working on mastering the power of connections online, of finding the right people to connect with the right product or services. So the book here takes you through my journey of the early days of when I was in my 20s, all the way to when I started my business to now where I am today, with now being in my 40s. And you get to see my entrepreneurial journey. And the meaning of why I wrote my chapter was because I want to make an impact, and inspire others. And if my story can help one entrepreneur, to read my chapter, and then realize that they can do this too, and take an action, then it's all worth it. Because at the end of the day, all I want to do is serve others and show them that it's possible. It's all about mindset. It's all about belief. And once you believe, and hopefully my story can help you believe, then you can take it to the next level. And I put some examples in here and how I made money. And hopefully, you can learn some of these tactics. However, if you have questions, right after the chapter, if you read this, I have a few different ways that you can communicate with me. I started a text community where you can text me, and then I will add your information to my phone. And then you can shoot me questions as you're reading this, if you'd like you would text the number 917-636-1998 other ways you can listen and consume some of my content would be on my podcast Performance Marketer. You just go to iTunes or Spotify and search Performance Marketer or Eric Beer and it will show up. I have a private Facebook group, PM nation, which is Performance Marketer Nation. It's private, but we'll accept you if you just say that you read the book. You can follow me on Instagram @ericbeerofficial. I have a YouTube channel just search Eric Beer. You can go to ericbeer.com. And for this book, we created a bonus and the site where you can download this bonus is Eric m. d d.com. Okay, and it's all about the nine mistakes every marketer should avoid when deciding on building a lead magnet giveaway. So what the guy does is it just talks about the mistakes you don't want to make but also shows you what you should be doing. When you're trying to generate leads and you're trying to give something away. You're incentivizing somebody to sign up on how you do it the right way you can get high quality leads for your business. So, go to ericmdd.com. And then yeah, you can get it for free for reading this chapter. So, appreciate it. Alright, great. So now let's dive into where I am going to read my chapter. Let's do this. So Eric Beer, how do you make an impact and build a legacy talks about me Eric Beer CEO of Universal Marketing Partners, the host of Performance Marketer podcast, it gives my company URL, you know, mp.com, and my personal URL, ericbeer.com. There's a quote in here that I gave, which is everything is measurable results matter. And that's the beauty of the online world is it's true, everything is measurable. So here we go. We're going to start right now. I'm a married man. My wife's name is Allie, with two lovely kids, my 12-year-old son Zach, and my 15-year-old daughter, Ashley, My story starts back in high school, I played sports as a kid. And back then I thought I would grow up to be a professional baseball player. When I was 17, I was selected for the US Olympic Junior baseball team. I then attended the University of Maryland on a baseball scholarship, and I was a finance major. However, when I graduated, I didn't go into pro baseball, after all, not sure what to do, I decided to try my fortunes on Wall Street, because I loved how Wall Street worked. On Wall Street, you're as good as your p&l. Everything was based on your performance and focused on results. As long as you were successful, no one could tell you how good or bad you were, there was the freedom from judgment, and your reputation was based on your performance. That was what got me into the business world. And I did that for about five years. After that, I entered the marketing world and started learning about direct response marketing. I was amazed by the Internet, and how you could communicate with people all around the world 24, seven and make tons of money. Because I was working online, which was already booming at the time. I remember taking a look at a computer and being excited about the opportunities that were in front of me. As time went on, I did a few marketing jobs here and there bouncing around a bunch, I couldn't stay put in a firm too long, because I just wasn't satisfied. I seem to have gotten into this pattern where I'd have a job for a little while making a few bucks, I would realize this just wasn't for me. And then I'd go and take another job to see if that was the one. I just couldn't find the right fit of what I wanted to do. And I wasn't getting paid nearly the amount that I wanted. I've always had this entrepreneurial fire inside of me. And nothing was going to be good enough until I was on my own. But frankly, I was scared insecure about starting my enterprise. I didn't know what to do. I didn't have any money to invest. So in January 2008, the company I was working for had gone under, I was left with this decision, should I find a new job, or maybe maybe take a shot on my own? Well, it didn't take long to make the decision. I felt if I was ever going to take a shot was the time to go for it. I had a plan. I would model some of the other businesses that I knew that were doing well at the time. And yeah, I was scared shitless. But at the same time, I was faced with so much excitement, that the opportunity to begin the journey of finally launching my own business in performance marketing. At that time, I was making about 150 K. So I divided that by 12. And I told myself, if I can make that much money per month, I'd be okay. My daughter was around three, my son was a newborn, and we just purchased our first house. When I started my business. I remember looking at my wife, and just realizing, okay, I'm the dreamer in the family. And Allie is not a risk taker at all. However, she stood by me 100% and supported me as we realized we're gonna have some stress in our lives for the next few months. I'm not sure if I ever told her this. But as I reflect on those days, I don't think I would have been able to make it if she wasn't there to support and love me. I am so thankful for her. And Allie is my rock. So a friend of mine, who's already a business owner offered to loan me 50 K to start a business and the way he was talking about it. He made it seem like the 50 k was like a piece of toilet paper. A few years earlier. My dad had given me 50 K to start a business. And it was a complete failure. My mom had passed away at the time from melanoma and my dad was not in a financial position just throwing money under Damn Wi Fi, then I was hesitant to take my friends offer, I had already lost the 50 k my dad gave me. So I ultimately didn't take his money. Because I was just determined to launch my business on my own. I had a good plan, and I believed in it. And yet, as a father, thinking back, I understand more now than ever, that my dad's loaned to me, indicated unconditional support. And he give it to me again, if I asked, I realized now, I attribute a big part of my current success to my parents, who have always made me feel and believe that I could do anything, once I put some focus to it. What was powerful about them instilling this belief in me was that it gave me the strength and confidence to reach for new successes, and not be afraid to fail. as scary as it was starting my business was both exciting and thrilling for me, I love every bit of it, and doing it made me feel alive. Fortunately, direct response marketing is a cashflow positive business, which means the amount you get paid will always exceed the amount that you spend. By getting some early deals, I built a cushion from which to pay bills and feel a bit more at ease. As I tried to build the business. As a Performance Marketer, I get paid. When I drive a result, I get paid for every lead that I generate for my advertisers. And I get paid each time I drive a result for a client, I broker deals for generating leads. And there is an agreement in place on how much they're willing to pay me. For each lead that I generate. It works similarly to baseball, and Wall Street. All that really mattered was my performance. And that's the reason why I resonated with this business model. It's all result driven, I get paid. When I perform. Without any judgment, the potential gain is unlimited. And the work involves hustling, finding the right partners, and being opportunistic, which is all characteristics that fit my criteria. I was like a shark, I'd smell blood in the water, I would see an opportunity to generate some cash flow. And I would focus all my time on making that work. Instead of spending time and money on building a logo or a website, I put all my energy into sales and marketing. In the first six months, I hustled and I did a lot of side consulting, to keep my primary business afloat, I usually got between five and 10 k per consultant job. Pretty soon, I was making anywhere from 40 to 50 k a month, it was crazy for me, because within a few short months, I had already made more than 150 K, my former job would have paid me since then I've cultivated the belief that if you are not pushing yourself into the place of discomfort, then you're not growing. But sadly, this is the pit a lot of people find themselves in, they tend to limit themselves to a zone of comfort and afraid to fail. I'm going to tell you a little secret. Everyone fails all the time. The most successful people fail, success. It's easy, but the failures, that's what's going to build your character. That's what is going to build your strength. So since having my first child, I cultivated the habit of saving a percentage of my earnings. It freaks me out to have debt. So I see my investments as preparation for a rainy day. I don't want my life decisions influenced in any way by financial or an emotional crisis. Week after week, I take a percentage of my earnings. And I put it in a Vanguard 500 fund for myself and my kids. But at the end of the day, it's not easy. And it's not about the money. consulting for me was miserable. It was profitable. But I was not happy. I worked one on one with up to a dozen people at a time. And I felt they were just sucking information out of me. It was overwhelming. And I only did it to generate money to fund my primary business that I was trying to build. Finally, getting down to business. After six months of consulting, I realized I couldn't take it anymore. I finally decided to focus solely on my primary business. I had made enough money to float myself for a few months, plus my primary business was kicking off cash flow. And at this stage, I had one employee and my business was doing well enough that I wasn't dedicating 100% of my time to it. At this point. I was generating enough cash flow that I could stop consulting and focus 100% of my time growing my business. The moment I decided to go all in and put focus on my business. Everything changed. As a result of dedicating myself solely to getting direct advertiser deals, we grew month over month, with every month making new all time revenue highs in 2008. At two main deals running, one was insurance and the other was an online education space. I hustled and functioned almost as an extension of both those companies marketing departments, except I didn't get paid to be the marketer, I only got paid when I generated leads for them when I delivered a result. As an affiliate marketer, your goal is to secure the direct advertiser relationships that you can can have an exclusive deal on, when you get an exclusive deal. All the marketers that want to run that offer need to come through you. And that gives you leverage, and you can get traffic from all different kinds of publishers on the internet. And it allows you to charge much higher margins. Also, as an affiliate marketer, I don't have to own any products. My job is to grow sales of my affiliate products. Based on the leads I generated, they sold between 500 to 700 k per month. So I would work at 30% margins. So their sales translated to earnings for me of 150 K to 200 k per month. That was what I would make in a year before I started my business. Now, it was starting to become fun. And yeah, I loved it. So in medium math, let me explain this, if I get paid $10 for a lead, and I want to work on 20% profit margin, then what that means is, for every $10, that I would get paid, I can afford to spend $8 to generate the lead. And I would make $2, right 20% of 10 is $2. So I would use 80%. To go generate that lead, when I would generate 1000 leads, the profit would be the $2, I make times 1000 leads, which would be to grant, right if I generated 10,000 leads, then my profit would be 20,000. But I also had to spend 80 grand in one month to generate the leads to begin with. But it's okay. Because all of my deals are set up where I would only have to pay on the traffic that I bought, when I collected the revenue from my advertiser. This is very, very important, especially in the beginning if you don't have money. So what this means is, I only pay my partners who are driving traffic when I get paid from my advertiser. So if I spent $80,000 on traffic, then I would go and pay out 60 and keep 20. Therefore, I always had a positive cash flow. And that's how I built my business early on. However, the affiliate marketing business is a fragile business, no deal ever lasts forever. And eventually, they stop they dry up. I learned this the hard way, during my first year, after getting the deal set up and running. And it was going great, I would constantly monitor the quality of the traffic, I'd have to turn off traffic that wasn't converting. And when the leads stopped coming in. So to my revenue, both deals at the same time went away. And I felt this sudden sickness in my stomach. And it taught me a very valuable lesson that stays with me till today do not rest on deals. Now, I'm always filling my pipeline, I think of my business as a chair that has six legs. If one leg breaks, it's not good. However, the chair is still standing and can carry the weight while you work on fixing whatever the issue is. So I'm naturally inquisitive. And I'm always eager to see what's next. So after I lost those deals, I listened to the signals coming from my body from my stomach aching, telling me, you know, if you continue like this, having no control over your business, it's gonna just happen time and time again. So yeah, I loved it. And I made mind boggling amounts of money. However, from an asset perspective, my only asset was me and my hustle. And that's not a viable exit strategy for any business. So I listen to my gut. And I decided to start email list marketing as another division within my company. So rather than generating traffic to my site, by buying costly media that I didn't have, I decided to focus on creating a relationship with partners. So I identified partners who had these large email lists. And what I would do is I would cut a deal where I would manage the emails and monetize them. That's how I would generate revenue. And then we would split the profit after expenses earlier on before I started years before, I really missed out on what I would call the wild wild west of the World Wide Web. In that 2000. Stage, people were making 60 to 100 million at the time. But in just a short time, I had about a million emails coming into my database that I can monetize every day from various partners. The way it worked was my partner would have a form on the internet, for certain offer could be insurance, credit repair dating site, and when the user would land on the forum, they would sign up. And they would agree to the privacy policy, the terms and conditions and give permission, which is opting in for my partner to share their email address with my firm, who is in contract with them to be their email marketing arm, and allowed us to send marketing messages to their inbox, it felt so good to have so much data. And the ability to press Send. Owning media is powerful guys. So in 2008, my first year in business, it was the hardest part of building everything that I have today. After making it through the first year, I proved to myself, I did believe now that I will never have to work for somebody again, unless I wanted to do so I gained the confidence. In over the last dozen years, I've learned that no matter what happens, I know I have the skill sets to figure out how to generate revenue from something on the internet, with lead generation evolving into something better. Being an entrepreneurial dad is hard. And I have sacrificed a lot for my family. I spent hours upon hours to create a good life for us. The reward is that now I can spend time with them how I want. And I believe if you're reading this book, that's your goal to so years ago, when I got started, I had buddies in their 20s, who were making half million dollars a year as traders on Wall Street. I remember ending them because I wasn't earning anywhere close to what they were earning. That seemed like a lot of money to me then. And it is and it is now. But you know what, 20 years later, my friends are still on Wall Street, doing the same things, earning the same amount of money. And they can't take more than five days off in a year. And from my perspective, that is unacceptable. Success is about family and freedom for me. Yeah, we all worry about making a living. We all want to make money. But there should be the freedom to do what you love. today. I've set myself up in a way where I can make a living and do what I love all at the same time. As for my buddies, their problems, a form of golden handcuffs. Think about it. Not many people get paid 500 grand annually, especially in today's economy. If you are miserable, and you hate your job, but you feel like you're making too much money to quit. The price you have to pay is way too high. You might as well be in prison. In retrospect, I believe it was a blessing in disguise that I was unsuccessful at many jobs earlier in my life. Because otherwise, I may not have ventured into entrepreneurship. I never would have found performance based marketing. And then got into lead generation affiliate marketing, email list management, and learned all these ways to monetize monetize website traffic. So between the years of 2008 and 2020, my company's generated over 50 million leads. With over 1 billion clicks. We've resulted in over $100 million in revenue for my company, and our clients. throughout that time. I've had the same team working for me, and those guys are like family, I love them. However, a few years back, something was missing for me all the time that I was building my business. I never really went on the internet, pumped out my brand, told people how I made money. I didn't think it was relevant to my business. And I started listening to Russell Brunson. clickfunnels podcast, marketing your car. And Russell is a nice guy. He co founded a company called Click Funnels. He makes you feel like he's your best friend each time you listen to his podcast. He's He's just a good dude with good values. And it's not about the huge amount of money he makes. What's great about him is the core values that guide how he lives his life and his professional career. And that trickles down to his entire organization and his community. So now it's time to learn from other experts. I believe the reason so many people go to click funnel events and sign up for Click Funnels is because of Russell. What I love about him is that he came from my world of performance marketing, but he also lives in this world. Have influencers, coaching, and digital information products. The genius of what he did is he married these two fields together into something truly wonderful. Let me explain how media arbitrage works. Before I do, it's important to understand the difference between paid traffic and free traffic. The major difference is that with paid traffic, you are leveraging someone else's traffic. free traffic is when you can get an impression on your website without paying for a click. Typically, this happens from you ranking organically in Google search results. Or maybe you have a following social media, or a podcast that will drive traffic to your website without having to pay for that click pay traffic is when you are willing to pay for someone to click on your ad, it could be a keyword in Google, display it on someone else's site, or an email sent to someone's database to drive traffic to your website, or your funnel. When that happens, you pay for the click based on the agreement you made with the publisher. Or if you made an agreement to pay on a lead or sale, however you decided to make the deal with the person that had the traffic is how you paid and you captured your leads your traffic. So here's a quick example of how media arbitrage works. So let's say you have a client who installs a home security system, the Home Security advertiser is going to pay you $100 for every qualified lead, you generate the Home Security, advertisers gonna define what they deem as a qualified lead, they might say you can generate a lead, and then I have to get them on the phone, they might say I need to generally get them on the phone and need to be on the phone for over two minutes. So the Home Security client has an allowable of $700, they can spend for every new home security installation, they get meaning not a lead, but a customer. Therefore, for every seven leads that I generate for them, for $100, they're gonna need to close at least one lead to convert them into a new sale, meaning they need to get one person to take the Home Security installation package. So I buy clicks, right? These are the paid clicks that we were talking about driving traffic to a destination that will qualify users, right, so someone who's going to want to install a home security system? Well, they're going to have to own a home, right? And they're going to want to install a new home security system. And there's other ways to look at things like you can have different tactics of a scare model, you can look at people that are moving into a home that are new homebuyers, or potentially if they were breakings in a certain area, right, then you might want to focus on that area because people are seeing break ins and whoever. Either they don't have a home security system, or they haven't it didn't work. So there's an opportunity there. But here's what I would do, I will do this as an allowable or a budget of no more than $75 for every lead that I generate, because the advertisers pay me $100 a lead, I'm looking to profit at least 25 bucks, which is 25%. For every lead that I generate. If I buy clicks on Google, I bid for the phrase new home security system, and I pay $15 for every click Well, in that case, then I need to convert into a payable lead 20% of those clicks that Google sent me. So for every five clicks, that's going to equal $15 $75. Right? I pay $75. For the five clicks, one of those clicks, needs to turn into a pay will lead for it to be profitable for me. And in that case, I get paid $100 from the advertiser. And then I would keep the $25 Delta, right the $75 I spent with Google and the $100. I just got paid from the advertiser, and I profited 25 bucks. Now, I just have to do that a lot more times, 1000 times a day, 10,000 times a day. And it's just just math at that point. My advertiser, on the other hand, will need to convert one of the seven leads that I'm going to send them into a new customer of theirs, because their allowable is $700. To spend, right, I send them seven leads, they're paying $100 a lead equals 700 bucks. They're looking to generate sales at 700 bucks. That's their allowable, so they need to close one out of every seven. When all of these pieces align. Everyone in the formula is profitable, and it's a win win. And we all make money in performance marketing or any business. The customer data is your cost company's biggest asset, you're able to email the person communicate directly with them, you can transfer them to a call center, text them, direct them to an offer, they can click on if they're interested in your product at any time, no matter what's going on in the world, if you have a database of emails that have opted in, you can at any time person and get some feedback or try to sell an affiliate product. So combining the world performance marketing with that of digital products, is brilliant. To bring people into your world, and then offer them value. I believe there's something about me, that can be a great lesson for you reading this book. My recommendations is for anyone trying to build a business, focus on creating relationships, and focus on modeling, how people are successfully running their business, learn how they're doing things, find out how do they invoice, negotiate deals, get paid, etc. Most people tend to focus on nice cars and properties. But I'm always interested in how people got to where they are. I love watching entrepreneurs like Bill Gates and Mark Zuckerberg, I always wanted to know, how did they get started? I see where they are today. But when they got started, what's that story look like? If you take the time to read about these guys, you're going to realize that at the beginning, they were just like you and me. I know it sounds crazy to think that. But they were just like us, if you believe you can do it, which they believe in themselves. It's always possible for the business to snowball. And things can start happening. People always impose limits around their lives. But you don't have to do that. Did you know that the highest grossing revenue product on Shark Tank sponge, think about that. It's so simple, simple innovation, and idea generation can lead to anywhere. So now I'm joining the million dollar club. I'm listening to Russell Brunson, and buying his products only made me more curious. The more I listened, the more I wanted to understand his process, I had the opportunity to be part of his inner circle, a mastermind group for a handful of business owners. I never believed in that years ago. However, making this decision was huge. I spent $50,000. And we meet two times a year, when I joined Russell's inner circle, it was on Ali's birthday, April 10. It turned out to be one of my best decisions of 2019. I'm so thankful I did this because if I had not, I would still be in this gray area where I didn't understand how experts sell these information products. This mastermind fast track my success about 100 times the people I met are so amazing. So giving. And I got to realize that there's a whole other world out there of digital marketing, I met people who are out to make an impact, and they want to build the legacy they truly want to help. And I learned to change my perspective about lead gen and affiliate marketing. The biggest takeaway came when I witnessed the impact Russell made on his followers, by showing them how to leverage the Internet to get their message out to the world who needed the most, I learned to see that my expertise in lead gen in digital marketing can make a difference in a person's life, which I didn't think was possible, I realized I could indirectly make an impact. I can change the world by showing experts how to find the people who needed their help the most. By doing so I'm making a connection between two people who can help each other. And that all stems from knowing how to generate leads, and convert those leads into new customers. Let me give you an example. If there's someone helping people that have alcohol issues, well, then I could be the person who helps the alcohol expert, find people who need their help, I learned that I can directly make an impact on people's lives by helping them find customers or products. And this was the game changer for me. I learned to see that there are great people with products and services, but they don't understand the online marketing world. They don't know how to generate leads and make connections. So I bridge that gap between the people who need services and the service providers. And that is powerful. And currently, I have this direct response marketing company, universal marketing partners. We go by Universal or ump. We have three main revenue streams, lead generation site monetization, and we have an affiliate network that's made up of hundreds of publishers, and tons of advertiser deals. Additionally, I've been working on building a new survey platform called SurveyDetective. We're on version 2.0. And I've been investing massive amounts of hours. I'm dealing with the UI guys, the UX designers Getting the hype out, trying to run my business and make people aware of what I'm doing. Now, let me tell you why the use of surveys is so powerful SurveyDetective is a simple online, do it yourself survey builder tool that helps businesses convert visitors, visitors into leads and leads into customers, helps you generate cold leads people that don't know who you are when you wake up. But they will by the end of the day. And they're going to be high quality. SurveyDetective simplifies online marketing by providing users with these pre built survey options. That helps you identify your target market, and position your marketing message to the right target market at the right time SurveyDetective was created so that you the entrepreneur who's reading this book, you don't have any tech skills, you can come in and you can easily build survey funnels to convert these ice cold leads into customers. Now, let me show you how it works. First, you start by surveying your audience, asking the right questions that allow your audience to self declare their skill sets and tell you what their objections are, what their fears are, and what their insecurities are about your vehicle, the thing that you're selling your offer, based on these results of the market research survey that you're going to perform. You split your market into smaller groups of people based on their needs, and their identifiable characteristics. You're segmenting the data, you then target to each segment with a custom tailored marketing message. And what you're doing is you're positioning your offer differently. For each market segment, you're creating perception that you listen to them, you understood what they said. And now it looks like you're catering your offer to each segment, like it's directly to them and what their issue is right now. And when in fact, your core offer is going to always remain the same. So when you create marketing messages that make a customer feel relatable, the person feels as if you've customized the product just for them, when in fact, all you did was split your target market into different groups, different segments, enabling you to tailor specific messaging to break down each target markets, objections, and disbeliefs. Without ever changing your core product. When you follow my framework, your effective cpms, which means your cost per 1000 impressions is going to skyrocket, your costs are going to lower, and you'll market to fewer people making a much higher return because it's relevant. And you're going to generate tons of leads. And you're going to build an asset for your company. In the world of marketing. People make a lot of mistakes. The primary one is they're trying to sell to everybody in the same way. most marketers have one marketing campaign with the same emails and landing pages for everyone. My experience has taught me that this approach isn't successful for you to have the ability to sell effectively, you need to understand your audience, you want to find out what are their major objections? What are their issues on why they're not purchasing your products and services, if you understand what their issues are, you can attack that exact issue. But if you don't, you might be selling and using whatever sales copy to somebody that already believes in the vehicle but doesn't believe maybe in themselves, but you're not focused on them because you don't know. And that's a huge mistake that people make. The second mistake people make is that they try to create several different core offers. I see this all the time your core offer guys, it has to stay the same. While you're altering your messaging, all your selling requires you to isolate each objection to the core offer, you want to dial into it and solve it. creating multiple offers, simply confuses your prospect, what you want to do is you want to have multiple entry ways for your core offer. So if you have lead magnets, or you're giving away a book with free plus shipping or a free guide, all of those things are being used to start your sales process, right you guys down the value ladder so that you can get them to buy your core offer. But the idea is that your front end lead magnets that you're using as a survey, they're all going to be geared towards different people. And then when you get them to go through your segmentation survey, then you learn, you identify you segment them and then you can target each one with a custom tailored message. Creating the perception that you've done something specifically for them. And your core offer guys is always the same when you get that it's going to save you a lot of grief. I see a lot of Entrepreneurs struggle with it. So let's imagine that you're a seller, and you have lemonade stand on a popular street. as basic as it is, well, people who come to this lemonade stand are going to have different objections on why they're going to buy your lemonade. The first person may have the objection that your lemonade looks weird. The second person may have the objection that your lemonade cost $1. And they don't have enough money. The third person may have the objection that they're worried your lemonade might be too sweet, or might give them a stomachache. You don't deal with those three different roadblocks by creating different offers, he's still selling lemonade, he just must understand their objections and address them specifically. And this is where surveying provides a solution for you. By surveying people, you'll be able to put them in different groups, and customize your campaign messaging for each group, you'll be able to adjust your messaging so that it overcomes each objection, increasing the chances of closing a purchase. However, if you start addressing objections, your prospect does not have, well, then you're going to create a disconnect, and you're not going to be able to close a sale. So somebody that thinks that your lemonade looks weird. Now you're going to create some messaging to convince them that it's not weird, versus the person that doesn't have enough money to pay $1. For the lemonade, you're going to focus a different solution on them to convince them that they don't need the dollar to buy the lemonade, versus the third guy who says that his stomach is going to hurt after he drinks your lemonade. And you're going to convince that person differently. At the end of the day, all three, you need to overcome those roadblocks. Those objections, but you're going to be selling lemonade, and companies all over the world do this. Nike does this. If you go to their site, Apple does it today. If you go to their site, you go to Apple and you want to buy a Mac. And they'll ask you, are you a student? Do you own a business? Are you doing it for leisure, and what they'll do is then they'll take you to three different Mac products that are different price, but they're all same. It's a Mac, just different bells and whistles. And student one is the cheapest, the business one is the most expensive, and they segment their audiences. And then they customize the messaging for each of them. So Apple would be using a segmentation survey funnel through SurveyDetective, hopefully one day. So this is how I can help people fast track their business and help them avoid the tough issues that I went through. As I built my business experience has taught me some very valuable skills and practices in affiliate marketing. When I get offers, I always make sure I understand what the offer is, I try to look and understand what the audience objections are. So that I then can create different groups, different segments. So I can create different marketing messages to each of those segments. Take the scenario in which I send an email to a list of 1 million people about an insurance offer. Normally, if I'm lucky, I might get a 1% Click rate, which would be about 10,000 people opening the email, and then 5% sales on those clicks. 500 total purchases, right the click rate would be clicks, not on the opens. Remember that gathering a million emails will cost me a lot of money. And I also bought advertisements on Facebook and Google. So again, because they printed this wrong, if you send an email to a million people and you get a 1% Click rate, well, then that means that 10,000 people clicked on your email marketing message. And then of those 10,000 people that clicked, you're converting 5% of those people into a sale. So you get 500 sales. So if you're doing this and you're buying advertisements on Facebook or Google, then there's a lot of investment at stake. And if I get a low click rate, that's going to hurt my profit, right I it costs me money to send those emails. However, if I can use a survey, to carve off different groups of people and create segments that I can market to based on their specific needs, then my offer is going to be more relevant. My click and conversion rates will be higher, and my profits will go up, because I'm not going to mail to all of the people on the list, a Mass General marketing message, I'm going to focus on each of those segments objections. And by doing that, I'm relatable to them. And by becoming relatable to them, then it keeps them engaged. And by keeping them engaged, it increases the conversion rates and I then sell more, I make more money and it cost me less money to advertise because I sent less marketing messages to the million people on my list, I might have just sent to 700,000 people in three different segments. Now, let's talk about you becoming a SurveyDetective. Here's my hopes. I wish that I can help people become a SurveyDetective, I want you to understand that by becoming a SurveyDetective, you will be able to gain any market momentum and generate more leads than the majority of marketers. In the info product world. success comes from reaching more people and converting cold leads. Most people use surveys to get feedback, and ask their customers and employees how satisfied they are. And to me that's playing defense. However, I am positioning my platform as a detective. It's the only survey platform in the world that main focus is designed on generating leads for businesses, for marketers, for entrepreneurs, and we're playing offense surveys are effective for various reasons. They allow you to segment and customize your messaging for different people. They allow you to focus on specific problems your customers have, and they allow you to have a process for your goals. So let's say you have a master class training that you want to sell, and your survey goal to get people to register for your webinar, you want to file what I call is the AC is TP framework. And what that means is attract to get the person's attention, create curiosity, you want to get the person to start the survey by creating a curious hook. Then within the survey, you are going to identify what group each person belongs in. And you're going to segment the groups by these different characteristics. And then you want to target each of your segments by positioning your core offer as the custom solution to each of your target markets unique objectives. Surveys works so well, because people love to learn something about themselves. It's all about self discovery. If a marketer wants to sell a copywriting product, they can create a survey that has what's the five mistakes that every copywriters making a leadership product can ask people about, hey, what's your leadership style? The most popular questions revolve around personalities. Surveys can be applied to any niche, any business. Assuming you are surveying ecommerce products, you can ask which camera is best for your business, or which copywriting style is best for your email marketing strategy. By having this valuable information, you'll be able to recommend the best fit for their situation, it's cost effective in the cost per lead, that you were going to generate using a survey, or a quiz or an assessment, they're all the same thing is way less than that of a conventional advertising ad unit, you're going to be able to reduce your cost of generating a lead from say, two bucks to as low as like 50 cents, or 25 cents, because one, the conversion rates of the survey is much higher. There's less commitment, and you're creating tons of curiosity with the ability for somebody to have a self discovery moment, the high rate is going to be due to engagement by getting people to click your survey. They have self declared what their problems are to you. You don't have to guess they are telling you. This is my issue. Please fix it. Additionally, your pixeling the survey taker so that you can retarget them on Facebook without ever capturing an email address or name. This is a massive advantage. And it's advanced marketing stuff. But if you're somebody who understands Facebook retargeting, you know how gigantic it is, if you get 10s of 1000s of people to come and answer your surveys, and you only convert half of those people where they fill out their information to you. You can still market to all of them via retargeting by pickling them while being specific to how they responded to each of those questions. These are just some of the advantages of surveys. And guys, just to make you understand that if you have 10,000 people, and you convert half that means you got 5000 leads, so you can market to those 5000 people. However, if 10,000 people answered a question, and you pixel them that their favorite color is red, and the other favorite color is blue. You now can retarget ads in red and blue to those different segments on Facebook, regardless if they give you their email address or not. It's massive guys. It's advanced stuff. But once you understand it and get into it, it's huge. But you want to start off simple. So another advantage is that Facebook is not going to shut down your surveys, the way it disapproves your ads, right? If you're seeing this, in today's environment, Facebook continues to shut down people's accounts. It's It's frustrating. It's hard to build a business, when you invest so much time and energy, and then one day you wake up and Facebook, shut your account down. And now, you can't buy traffic, which means that you can't get any more leads, and your business suffers. That's why you generate leads and build your asset. That's your real traffic source, you want to control your traffic. And when you have emails, a list of buyers list of leads, now you have the ability to control your traffic, when you want to go buy traffic on Facebook, that is not you controlling traffic, that is Facebook's traffic. And your goal is to get those people off of Facebook, into your database. So surveys help you meet people with where they are today. And you give them what they want. And you do so by making them curious. And when you get them through the surveys. That's where you're going to sell them what they need. And this is the way that you generate cold leads. Now, let me break down the conventional barriers, surveys. They generate cold leads, soda quizzes, soda assessments, they're all the same thing. We're asking questions, and you're getting an answer. And this is the true power. Now cold lead, if you're not sure what that term means, are people who have never heard about you or your business, they woke up this morning, and they had no idea you existed. And now it's the goal of your ed to be a pattern interruption to them. And they need to get to know like you and trust you a bit. Now surveys help you build that authority. Warm leads are those who have heard about you, they probably read your blog, or they have signed up on a list. But they have yet to purchase anything from you. Maybe they went through a survey, and you started the sales process and introduce yourself as a cold lead. And now you start them in a nurture of an email sequence. And they're starting to now recognize your name and become warmer. And what happens is Lastly, they become these hot leads. And those are the people that have either bought things from you, or they're likely to buy something at some point in time. And those people are your diehards, that's the goal. You want to take them from cold lead to warm lead to a hot lead, right? They're unaware of you, then they become aware, self aware, then they start to understand that the problem is aware. And then they understand the product solution. And then they come in realize that they need you. But that takes time guys, you can't just come and sell somebody right off the bat. And that's what surveys allow you to do. Now, once you understand that anyone can use SurveyDetective, you could be someone who sells a product or service. Or you could promote someone else's offer. Or maybe you could generate leads for a client. That's how my company makes money. So let's say you need leads specific to people who want to start a podcast, we could create a survey with a hook such as what's your podcast type, you're going to learn about the person and help them learn about themselves, and what type of podcast they should start. At the same time. You're getting their email data, and you're building a list. Now you own a list the people interested in becoming a podcast host. And there's a lot you can do with those people. You can learn about them, sell them right away and start building your business. This is the whole idea of SurveyDetective. The platform is not for two sets of people. On one side, there are the influencers, the experts, the coaches, and producers with their info products, they already have a business, they're selling something these people they need leads, because they have something to sell. And on the other hand, there is what we call a certified SurveyDetective. And these people will have gone through my training, to understand how to use the survey tools, and my framework to generate leads for people for marketers in the lead gen business. This is a good way for you to start a business and build your business until you have a product. The goal is to certify some people as SurveyDetectives, so that if an expert comes in to the platform, someone that produces some product, and they don't have the time to learn how it works, or don't want to learn how it works, they can turn to people who are certified. And by being certified, it means that they know exactly how I would set up my surveys, and they understand the frameworks, and they can now emulate that for your business. Now, I envisioned this to be similar to what I did in my first business. Both parties are going to make money. Back then, I generated revenue for both insurance and education offers by getting them leads, they paid me on a cost per lead basis for leads. The point of SurveyDetective, is to give people the ability to start their own businesses without having to learn everything. However, you can create constant cash flow for your business with this platform once it launches. You have other people taking your offers, taking surveys and the leads keep coming in. Even if you have events, you will be generating revenue until you have the events, and then raking your millions. And that's the point, isn't it? Because every business always needs leads. It's the heartbeat of any business. Signing off. Eric beer. Good luck out there. Thanks for listening, guys. Appreciate it. I'm rooting for you. Again. If you guys want to reach out to me if you have any questions, text me: 917-636-1998. You'll be added to my tech community and you can directly ask me questions, I'll add you to my phone. You can listen to my podcast Performance Marketer, you can join my Facebook group Performance Marketer Nation, follow me on Instagram at Eric Beer official po check out YouTube, just type in my name Eric Beer. And don't forget that I created a bonus for you guys. And for listening to this reading my chapter and go to ericmdd.com e r i c m d d .com. And there, you'll be able to download a free guide on the nine mistakes every marketer should avoid when deciding on a lead magnet giveaway. So hopefully that can help you guys. I hope in some way this chapter served you I hope that somebody out there has gotten inspired by my journey that is not over. It's just getting going guys. And I'm looking forward to writing more books to fill you in on this journey. But for now, believe in yourself. You can do this. It all starts with your own mindset. Once you start to believe everything is possible. And I'm telling you, it's possible. So good luck out there guys. Appreciate you. Wish you well.
Would you like to learn how I built my business using other people's money? If so, go join my 21-day challenge at performancemarketersecrets.com. I look forward to meeting you and welcome you into my family. And remember, results don't lie, but the people who don't have any tier. Thanks for listening!