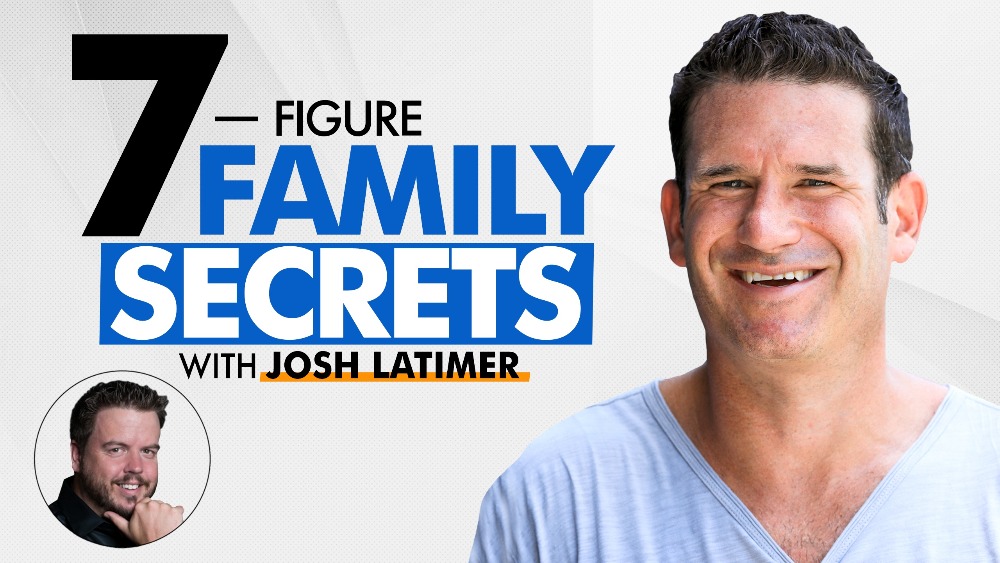 27 Aug

Honor & Fire: Helping Entrepreneurs Learn About Family Systems With Josh Latimer

This week on the podcast, I'm joined by Josh Latimer, aka Automate Josh! 

With years of experience as a serial entrepreneur, Josh founded, grew, and sold three highly successful businesses. These days, he focuses on teaching, coaching, and helping small business owners understand the power of automation and systems.

After listening to a cassette tape of Rich Dad, Poor Dad by Robert Kiyosaki, Josh felt inspired to dive into the exciting world of entrepreneurship. He began his journey with a brick-and-mortar window-washing business, which he later grew to just under $200k in monthly revenue!

A software company, an education company, and a podcast later, we meet Josh to discuss his latest project – Honor & Fire.




Josh and I share a core value. We believe there's nothing more important than family. 

As entrepreneurs, everything we do comes back to bettering the lives of those we love most.

Unfortunately, achieving work-life balance is rarely easy, especially when it comes to entrepreneurs. With only 24 hours in a day, many people struggle to cope with the challenges of being a business owner.

In those types of situations, family life is usually the first thing that suffers… Unless you do something about it.

"We need to build wealth… But we don't need to burn our household to the ground in pursuit of it." – Josh Latimer

Today, Josh is going to share a vision of Honor & Fire, an educational program for entrepreneurial families that he co-designed with his wife, Ashley. Using family systems, they aim to empower small business owners to build a business of their dreams without sacrificing quality family time.

In this episode, Josh will present a high-level overview of the program, and together, we'll explore the key points of his marketing strategy.
The Power of Developing a Healthy Relationship With Money
Working as a business coach, Josh spotted a fascinating pattern in the stories of his clients. For a vast majority of them, the root cause could be traced back to the way they perceived money.
"People feel dirty making money." – Josh Latimer
It turns out these subconscious beliefs while being completely unjustified, are also quite common. People feel that pursuing money makes them greedy, which is a remarkably debilitating trait to have for an entrepreneur.
But there's nothing wrong about making money. If you're serving people and providing value, then getting paid for your efforts should be the most natural thing.
Having a healthy relationship with money is a precondition to success, and if you don't have it, you need to develop it. Otherwise, you'll never be able to stop self-sabotaging and reach your full potential.
How to Change People's Lives Effectively
The modern-day knowledge industry is a very diverse crowd. But even though people come from different branches, they all operate with the same goal in mind – to transform their clients' lives. 
Whether you're coaching people on business, finances, career, or health, it's always the same story. You're trying to change people's lives by relying on your expertise and sharing personal experiences. 
But in the end, any success will require mutual effort. You can't help people who aren't willing to help themselves. So what do you do?
Well, Josh went through several stages in his business coaching endeavors. From starting a podcast to making courses to holding live events and organizing a mastermind. Each step was guided by a desire to increase the engagement of his followers and change more lives. That is the single, most important thing you can do for your brand, even from a marketing standpoint. 
"The best marketing is the results of the people you're working with." – Eric Beer
His experience taught him that people need two things to achieve transformation – accountability and community. 
If you're creating a space for people to learn and grow while feeling they're a part of something greater, you're on the right track to creating something meaningful and powerful.
Is Having an Online Presence a Necessity in Today's Business?
The business world has changed a lot since the COVID outbreak. Rules, regulations, and outstanding unpredictability of the whole situation have led to a new set of norms when it comes to entrepreneurship.
To survive as a modern-day business owner, you need to have an online presence, at least in some shape or form. The younger generations may have a slight advantage, but if you're willing to learn and adapt, there's no limit to what you can achieve.
Times of crisis can be an opportunity, but only if you're able to figure out new, stand-out ways of serving your community. And given the unique nature of the situation we're in, utilizing the online space to grow your business has already gone from opportunity to requirement.
—
That's it for this week's episode!
Huge thanks to Josh Latimer, and I'm excited to be helping him out with his survey for Honor & Fire.
A quick reminder to sign up for my VIP waitlist so you can stay updated on everything Performance Marketer and SurveyDetective related.
🕵️‍♂️ Sign up for the SurveyDetective VIP Waitlist
Thanks for tuning in and I'll see you next week!
Listener Love…
Warning! ⚠️

by Boz46747 from United States

Wear a helmet when you listen to the podcast. Eric will leave you feeling like you can run through brick walls. In all seriousness, this podcast is the absolute best!

Awesome

by Nevareze William from United States

Very interesting show.

FANTASTIC!!!

by cucklord101 from United States

My life changed after I discovered this podcast, 100% the number one on the platform.

Great Podcast !!

by Olivia Cousta from United States

I listen several days a week and am excited to have taken action with my first few steps. Thanks Eric!

Best Podcast

by faz12548 from United States

Thanks for everything. This show has been an amazing resource.

My favorite podcast

by Alison Riah from United States

This is my favorite podcast. I look forward to every episode and share it with everyone I know.

Awesome!!

by Brads Hook from United States

Love this show

Inspiring

by stevie h b from United States

Eric's energy, wisdom and experience get me pumped up to do more.

Eric changed my life, thank you

by Nicole Aliba from United States

Anyone who has a chance to listen, do it. Subscribe, download and listen. Eric is authentic, he truly cares about the people he comes in contact with. I know eric, I've tried to be around him and learn from him any chance I get. He's been successful in every stage of his life. Getting the opportunity to hear from him direct, how he thinks, how he goes about achieving his success, his strategies, his tactics, his outlook on life. I'm thankful he started this podcast and I'm thankful I get the chance to learn from him. I have no doubt the lessons he delivers each and every episode will help me continue to be succession my journey. Thank You Eric for making an impact on my life and making me realize I'm capable of so much more than I ever realized. Your support fuels my success. Good luck with the podcast!

Wholly Cow!!! Eric Is The Real Deal!!

by Supreme Dragon Slayer 69 from United States

Seriously.. Affiliate Marketing has been around for a LONG time.. However, it's always been associated with scams, and fly by night marketing tactics that are shady l, illegal or unethical at best. Until now. Eric runs his entire business (which is ultra successful btw) the same way he runs his life.. On pure integrity. Finally, a podcast that is teaching Affiliate Marketing based on being.. Ethical and Transparent. But the best part? This podcast is soooo much more than just Affiliate Marketing.. it's about running a successful business and successful life. So far Episode 3 is my favorite and I look fwd to each episode as soon as it comes out. Highly recommend this to anyone, regardless of where they are in their business!! Straight Gold Beb!

Dave

by Rothbone from United States

One of the best podcasts in a long time. Very insightful, had me at the first 2 minutes kept me for entire podcast. I am a entrepreneur myself and found it very interesting.

Eric Beer is a genius.

by Raera29 from United States

I've only briefly met Eric - but listening to his podcast (as well as his YouTube videos) - it's clear to me that he has an in depth understanding of how marketing should work. Brilliant podcast!!!

Beer podcast

by Bghbhhhggghugyhjjgtjporws from United States

So excited to get more info from Eric Beer to help further my career.

Great Stuff

by Dr TBA from United States

I have been a business owner and entrepreneur for over 25 yrs. I found the information both interesting and informative. I am a fan! Dr Todd Askenas

This dude is the real deal...

by gossjoh1 from United States

I'm in the internet marketing space and have heard about Eric Beer from other entrepreneurs and it's always about how much he crushes it. Over $100,000,000 in revenue... no joke. I had the good fortune to meet him this weekend at an event and he couldn't be more humble and genuine. Just listened to the first episode and it is awesome! Can't wait to learn and grow from you Eric and thanks for sharing your wisdom and experience with all of us!!

Awesome

by Archmatic from United States

Thank you Eric for all your motivation and confidence! This is a must listen. Eric is always on his game and ready for a challenge!!!'

Informative and relatable

by srg1113 from United States

I've listened to the first two episodes and found them useful and entertaining. Eric gives a lot of background to how he got to where he is in his career and the challenges he encountered and overcame along the way. He also shares his knowledge in a way that's easy to understand and would be useful both to people new to Internet marketing, and to people like myself who have some experience but are looking to expand their knowledge. I'm subscribed and looking forward to future episodes.

Outstanding!!!!

by casino exec from United States

This is an excellent podcast for entrepreneurs in any industry. Hearing Eric interview and discuss proven success stories is like getting a motivational fix within 24 minutes. Can't wait for the next episode!!!

High Five

by chris drazek from United States

This is good! Guy is well known industry veteran. In the age where it's hard to get 15 minutes with someone like that on the phone, these episodes have a permanent placeholder on my calendar. Well done and keep up the good work!

Amazing

by Rtfdghf from United States

Walked into the office inspired and motivated! Great listen.

Just discovered a GOLDMINE of information!

by ericamerica from United States

This is next-level marketing that EVERYONE needs to know. SO much value here! This is information people would be willing to pay BIG $$$$$$ to have, and he's just laying it all out here.

Insightful

by lonestar1818 from United States

Incredible insights from one of the best!

Entrepreneurial Gold

by girlfriendwithnutallergy from United States

This podcast is amazing an a must have for anyone looking to take their entrepreneurial endeavors to the next level. Whether you are interested in becoming involved in affiliate marketing, or are just a student of life looking to learn about one of the largest and least discussed industries, this podcast is for you. Eric makes his passion for entrepreneurship available to all with this podcast, and for that reason it is a must listen.

Knowledge bombs!

by Sheree Trask from United States

Eric is a wealth of knowledge, not to mention, incredibly humble! He's got the proof to show that determination, grit and perseverance pay off... and I love that he's shedding light on the world of performance (affiliate) marketing with tangible tools anyone at any point in their online journey can apply. Thanks for all you do, Eric! Excited for more!!

As Smart As they Come

by Lgoldberg1976 from United States

Eric Beer is a tremendous listen. His story telling and motivation have already driven me to work harder. Can't wait to hear what he has to say next.

Great content

by Sensei Victoria Whitfield from United States

Eric is a great guy, gives from the heart and is a wealth of powerful, profit-positive information. Rock on, brother!

So informative and easy to understand

by bergbusiness from United States

If you are serious about starting in this business this is the podcast to help kickstart your career. I highly recommend tuning in.

Powerful

by reebcire from United States

Never realized how mich money performance marketers make without taking much risk. Get excited to learn more

Eric Nailed It...

by Mark Duke from United States

You do not want to miss out on this podcast. Eric is absolutely brilliant at his craft. A MUST listen or anyone who is wanting to ethically up their game in the business + affiliate marketing space. Cheers!

I loved this podcast!

by DPG...123 from United States

I just listened to this not knowing what to expect and it was FANTASTIC! I am hooked and can't wait for more episodes. Looking forward to learning a ton from Eric 🙂

Eric's trainings will up-level your life!

by SwayBuckley from United States

Eric's level of transparency and REAL value is not only rare but transformative! Don't sleep! He's the real deal!

Got me hooked from the start

by Doc bus from United States

Hearing Eric's story and why he is looking to share his knowledge of starting a business was so motivational. Looking forward to hear what he comes out with next. Hoping I can use his coaching to take my own life and business goals/ideas to the next level.

Eric is a genius!

by Golden Oracle Ministries from United States

I had the pleasure of meeting Eric Beer in a high level mastermind that we are both a part of. I must say that every time he opens his mouth marketing gold falls out! I've made millions both online and offline, so when I hear someone talking about marketing I'm not usually that impressed, but with Eric I'm beyond impressed. I'm blown away!!! Learn from Eric, do what he say and watch your business grow.

Excellent

by JLRPS22 from United States

Very motivational!

Awesome content

by NickTheGreek83 from United States

I don't normally write reviews but this is a must listen for anyone considering starting a business. Eric thank you for taking the time to give away some of your secrets! Look forward to future podcasts.

Legend!

by Daxy111 from United States

SO excited for your content to come. You're advice and results is authentic which is rare now a days!

*****

by acrygvbh from United States

Fantastic relevant info !!!

The real deal

by Erin_Verb7 from United States

Eric Beer is one of the smartest media buying minds I know. Take this chance to learn everything you can about affiliate marketing from him. He will teach you an ethical way to make your life and your family's lives better through affiliate marketing. He's the real deal.

Genius marketing knowledge

by Nick349731 from United States

I can't wait to continue to learn rom Eric! So skilled and such a genuinely good person too. Keep putting out the great information Eric!

Great story and great info

by R-Rot from United States

This was a very interesting podcast. It was honest, informative and motivational. Eric has a great story that, everyone who is interested in starting a business, should listen to. Highly recommend!

Amazing

by Billion Dollar Cowboy from United States

I can't wait to learn more!! So so good!!

Awesome

by Eric X 2 from United States

Eric Really enjoyed listening to this. Keep up the great work!!!

Let's Market!

by hjdvikes from United States

As someone who has networked and marketed more over the past 2 years than ever before in my career, this Podcast is an absolute MUST listen for me. Eric makes it easy to listen, learn and apply.

Invaluable information!!

by lpro1111 from United States

Invaluable information. Can't wait to dive in.

Great information, tons of useful tips

by jonnygal77 from United States

These are great, so much useful information that I can use immediately and effectively. Thanks Eric

Great listen

by Xtra Medium from United States

I love listening to Eric's podcast on my way to work. Looking forward to applying some of these principles to my career.

Definitely worth a listen

by SBS776 from United States

I have had the pleasure of working with Eric and this podcast is a roadmap to success. He is a professional with years of experience and delivers results

Game Changer

by Jay Heydt from United States

Eric Beer is a game changer for your business. I had the privilege over the summer of taking an online marketing class with him. The daily interaction with Eric made me believe anything was possible as well as opened my eyes to an entire world that is online that I was missing. You will learn and earn with Beer. He is one of the best business coaches out there!

Performance at its best!

by Shm722 from United States

Eric has great ideas and insights!

Listen to a visionary....

by RobH60 from United States

Eric is a genius and visionary. Always looking to get ahead through hard work and drive to success yet he is super down to earth and willing to spend the time to share the secrets of his success with others.

Finally, coming out to teach the world

by RogerSmith! from United States

I've known Eric for quite some time and he has been the guy who is quietly CRUSHING it. I'm glad he is coming out to the masses to share all his knowledge!

Can't wait to dive into these!

by Arushi-315 from United States

I can't wait to learn from Eric so I can level up my marketing!
Transcript…
Read Full Transcript
Josh Latimer 0:00
The way that I see it when I look into the market is you have "you're not working hard enough, go faster" guys. And then on the other side of the spectrum you have, "well, money isn't everything, Josh", you know, you have those guys.
Eric Beer 0:10
Yeah
Josh Latimer 0:11
I don't buy in any of that money is incredibly important. We need to build wealth we need to grow, we need to challenge ourselves. But we don't need a burn our household to the ground in pursuit of it.
Eric Beer 0:21
I spent the last 17 years building my eight-figure performance business without using any of my own money, working with some of the most brilliant direct response marketers in the world today. Now I'm looking for entrepreneurs to join my affiliate army, built on ethics, transparency, and good old hard work. Join me to change the perception of how people view the greatest business in the world, affiliate marketing, and follow along, as I learn, apply, and share performance marketing strategies, working with some of the brightest people on the planet. My name is Eric Beer and welcome to the Performance Marketer Podcast.
Josh Latimer, welcome to Performance Marketer. How you doing, man?
Josh Latimer 1:09
Oh, I'm doing so good, Eric, I love your cave that you have, the Bat Cave going on over there.
Eric Beer 1:15
I actually just got a new background that's coming. So I'm gonna switch it up a little bit from time to time. But how are you doing? How's summer? What's going on? What have you been up to?
Josh Latimer 1:24
It's been a great summer, although it's been weird probably for everybody. COVID, travel restrictions... We had an event scheduled in Florida that we had to, you know, hit the eject button on. But a lot of good things. I was still able to take my oldest son to Alaska a few weeks ago, which is really, really cool. And I have five kids, so I can't remember how many kids you have Eric, but we've had a great summer as a family. Business wise, we had some bumps in the road. But overall, we're up and our customers are doing well and we're doing pretty well as well.
Eric Beer 1:55
That's great. Well, yeah, we're glad you're safe. Everything's alright and Alaska sounds awesome. We'd love to get into more detail with that whenever you you have more time, but yeah. I got two kids. So I'm about... Not even half of what you got going.
Josh Latimer 2:10
Yeah, that's a good starter pack.
Eric Beer 2:12
Yeah. Yeah. That's awesome. Well, it's all about family, right? So however you slice it up, it's just finding the time to spend with your family and that's why we work our butts off to be entrepreneurs, right? So that we can...
Josh Latimer 2:27
Oh, like, I don't... I don't think... The thing I love more than anything on the planet is any entrepreneur that has a family. So I'm not a believer that you're just supposed to be Mr. Dad hanging out at home all day. That's not what I mean. I think you're supposed to build a big business but like, loop your kids into what you're doing. Let them see you take risks, let them see you try to build things imperfectly fall on your face, get back up. We talk entrepreneurship and business and persuasion and marketing and mindset just kind of all the time in our house. It's not necessarily a structured curriculum, but entrepreneurial families are the best, best, best thing ever.
Eric Beer 2:59
I love it.
Josh Latimer 3:00
They're the job creators are the innovators. They're the inventors are all the things that are good come from people like that. So I'm a big fan. Yeah, totally.
Eric Beer 3:09
I find, I try to I try to do that with my kids. And, you know, they're young. So it's, it's hard to get them interested and say at times you want to force them. But on the flip side, you really have to let them have their own journey to get to that place where they want it or they're not gonna, they're not gonna want to do it. So I'm battling that. But I do believe at some point in time they are listening to even when they're not listening to you. So you don't give up on it. You know what I mean?
Josh Latimer 3:35
Yeah, well, you're a marketer. You're one of the best marketers in the world. In a way, you got to figure out how to market to your kids. How do you create a compelling offer? How do you position what you do as a positive thing? How do you play the long game? How do you ask the right questions, right, like with your survey ninja skills, and all that, you can do that stuff with your kids. when my kids were really little, we just asked lots of questions. They're watching a YouTube video and I say, Hmm, why did he say that? Why do you think this guy spent so many hours making these videos? What? Like, what do you think? And just kind of like, they're like, well, I don't know cuz he likes to make videos. I'm like, Yeah, I think there's more to it than that. And then teaching about monetization, the difference between producers and consumers like, like our mutual friend Russell always talks about. Those types of conversations are so cool.
Eric Beer 4:18
Yeah, that's smart. Yeah, I like it. Cool. All right. So for people that don't know who you are, do you want to give us your quick elevator pitch on who you are, what you're about?
Josh Latimer 4:28
I'll make it super super fast because probably no one knows who I am outside of the niche that I serve. My name is Josh Latimer. I am a hopeless romantic and a Scorpio I enjoy long walks in the beach at present though and just kidding. I I started out as a Domino's Pizza delivery driver and I bought a trailer, also known as it can dominium that my friends made fun of me call it a condominium. When I was 20 years old. I got married to my high school sweetheart. I was the quarterback of the football team. She was a cheerleader. I did not go to college. For more than five minutes. I stopped by Community College. I was Inspired by the guy that owned the pizza store to start investigating this entrepreneurship stuff I would drive around and my Chevy s 10. Listening to cassette tapes. Do you remember cassette tapes like a million years ago, and I listened to Robert Kiyosaki and Rich Dad Poor Dad and the guy that owned the Domino's Pizza franchise had a Corvette, you know, I didn't grow up with money. And I didn't know any entrepreneurs other than Him. And I'm like, Ashley, this is a thing, right? So we struggled, we were broke, but I was learning. I finally started a business I started cleaning windows and houses, right. So like homeless people will clean your window and like an intersection in the city. I was like, that's a great business. I should do that. My family thought I was nuts. I was nuts. It did not work for the first few years but ended up scaling that into a pretty nice business.
Eric Beer 5:45
You went all the way up to like those high rises?
Josh Latimer 5:48
Meh, no, we did less than five stories, five stories or less. But you know, a lot of residential. But that was my first real business. They call it my training wheels business and it did You know, just under $200,000 a month, cleaning windows, we had a small team and just south of Flint, Michigan, I sold that company to a national buyer from California that was kind of buying up all these businesses. I moved to Costa Rica, I started a software company, which I know you're getting into that. And yeah, I started a podcast and started an educational company. So I had my feet in two different worlds internet marketing side. But I started with a local brick and mortar style service company. And so I feel that that gives me some advantages, because there are a lot of differences. But there's a lot of similarities as well. So that's, that's my story. I've actually sold three companies now. We live back in Michigan now. We have five kids and a dog. And there you go.
Eric Beer 6:44
That's awesome. Wow. So you you've got a lot of experience three companies that you've already had exits on. That's impressive. So we can get into that at some point. But for today, I'd like to just talk about like, what are you focused on right now today? I know your family man. I know You're all about bringing people together. I know you have that project that's, that's out and give us some idea of like what it is right now and what you're doing.
Josh Latimer 7:09
Sure, actually, I hit connected with you a few months ago on trying to get some help for a new project. Right. So yeah, what my wife and I are doing now is we're starting a company called Honor & Fire. Honor & Fire is a little tiny little speck of an embryo of an idea. We're still creating products still trying to figure out what it looks like. But essentially, we want to serve entrepreneurial families, we want to have education. We want to help families understand the systems you know the way to scale and build a profitable business through systems and procedures and things. You can do that in your family like not in a robotic way, but in an epic way. You know, your company has a brand, your family can have a brand. So we've done a few things with that. We're really excited to do more. We're going to have live events for couples entrepreneurship focused on the relationship side and just educational resources and build communities around this idea. We don't really adhere to the whole Grant Cardone's style Gary V's style hustle grind kind of thing in the way that I see it when I look into the market is you have you're not working hard enough, go faster, guys. And then on the other side of the spectrum, you have, well, money isn't everything Josh, you know, you have those guys. Yeah, don't buy in any of that money is incredibly important. We need to build wealth, we need to grow, we need to challenge ourselves. But we don't need a burner household to the ground in pursuit of it. So we kind of want to fill that middle gap in terms of content and things like that.
Eric Beer 8:33
That's so cool. Yeah, I mean, doing something with your wife and your kids and your family and finding those people to have a lifestyle and earn I'm totally with you on that. I see. I think a lot of people get confused when they hear about making an impact. But they're afraid to talk about making money and there's nothing wrong with making money. That's no you need to make money and
Josh Latimer 8:56
People feel dirty making money. I ran a business coach I've coached over 1000 Small, mostly local brick and mortar businesses personally like we're doing right now, over 1000. And you start connecting dots in the way people view money and their relationship subconsciously and consciously with money is a huge factor in how successful they're going to be. When people have all kinds of false beliefs and weirdness growing up with it, they start self-sabotaging after they reach a certain level of success, or when they get a certain amount of money in the bank, they'll find a way to make it go away, either by buying things they shouldn't buy or reinvesting or making bad decisions, and you'll see it and the root causes your view of money.
Eric Beer 9:35
Totally. And I mean, at the end of the day, the whole goal in my personal opinion, is you want to earn and make money. You just want to find something that you can do that you love. You can make an impact and make money while you're doing it. And if you can create a win-win around that entire cycle, then everybody wins. And you're also getting paid for adding value and changing things. somebody's life, right? So it's like, I love what you're doing here. Because family, to me is the most important thing clearly to you also. But it's not stopping you from sitting home and not earning and building an empire. Right? I mean, that's ultimately where, where you're, you're going with this and I love it. I think it's great. So like, who should who's the person that you would work with in honor and fire? That would be a good fit for something like this in terms of like, like a dream, 100 style kind of thing, or people who are like, you know, like, I mean, I love I listen, yeah, you have a guy who's already exited from three companies, you've done things offline, you've done things online to be around someone like you is a massive value. And now you're out there helping families and entrepreneurs, which is somebody that wants to start a business or is it somebody that has and then you're taking them to the next level? What's the product look like?
Josh Latimer 10:58
I understand okay. So it's probably mostly the little guy, the little guy who knows that he's meant for more, but the business isn't really working, who's whose wife supports him, but there's some resentment there because they promised that he promised her the dream vacation and it hasn't happened in five years, and all the money they make goes into the business. I remember with my cleaning company, we had a fleet of like, 10 brand new vehicles, right of all these things. And but my wife was driving her broken minivan, right? So we're doing all this money, and she saw no benefit. So we like people like that help them how to communicate better, help them understand how to communicate better, how to build a vision and a plan, how to overcome their self-limiting beliefs. We like that too. Now, on the personal side, we love people like Eric beer to people that have already achieved a lot because those conversations are amazing. So 400 fire, probably to start with our target would be someone that has a company as a family. They're having some level of success, but it's a mess. There's a lot of stress in their life.
Eric Beer 12:00
All right, cool. So let's think about this in a way how we're looking for the who, which we've just identified now, right? So talk about how you go about creating your strategy around your customer acquisition, how you would go out to the marketplace and find these people. Get them to show some interest in you, is it? Do you have a hotlist of people that know who you are, and you're awesome already, you have people that kind of know about you, or you go out and no one knows anything about you, and you're able to tap in and find them. And then, you know, nurture them to a point where they get it, and then you can convert them into customers.
Josh Latimer 12:35
I do have a following from my other companies, not gigantic, but we have a list of over 40,000 small business owners that I've built up through content, you know, keynote speeches, by pot, you know, publishing consistently for over four years, going live on Facebook, just serving and giving and in helping so the strategy for us at this point, one of the main ones is content. It's slower, but the people that you are Build up as a tribe are so loyal. It's so sticky. You can end up creating better products because you're directly talking to these people, you're doing life with them. The money happens on the back end, the money happens automatically later when you're serving people at a high level. So the way I kind of looking at this is I'm comfortable going slow with it. And I want to lead with value, if that makes sense.
Eric Beer 13:22
Sure. Yeah. I mean, no doubt. So when you're doing that, I've seen some things online where you've done some awesome events, where you have people show up, I believe it's at your home. Is that right? Yeah, yeah, we did amazing video that tell us a little bit about like, how that all works is that just building the bond of people that are coming and hanging out?
Josh Latimer 13:42
It was super or like, organic, the way that it happened. Looking back, though, like that was one of the smartest things ever did for that company. The name of that business is AutomateGrowSell.com, and it's systems courses and events for local service companies, you know, anyway, so what happened was when I started my podcasts all these people would listen to me, but people consume podcasts is a form of entertainment. Right? And what was driving me nuts? I'm like, No, no, like, get a result like change your life and I'm telling them everything I know. And a tiny portion of people are getting resolved. So then I thought all right, I'm gonna make a course. So I made my first course many years ago when I was in Costa Rica. I made this 1200 and $50 course I put all my systems all these things do this, then do this, then do this. I sequence all the things and how to do it. And I'm like, Alright, so then I sold a bajillion courses. Well, then I noticed when I look at the analytics, only a portion of the people would get past the first four or five, six videos right? Which is the way that it is with courses, but I was just learning this at the time so then it was making my eye twitch again, I'm like, Oh my gosh, like I'm trying to change your life. Let me help you. You probably feel like that right now with the survey. 100% so hard to get people to do what's best for them. So So then I thought, okay, if the podcast isn't getting people across the finish line, although they love it, the course everyone loved it all reviews, and I would see these five-star reviews from people and I'd look in their account and my core software, and they hadn't even done 10% of it. But they're telling everybody how great it is. I'm like, well, that's nice for me, but it's driving me nuts. So then I thought, you know, what, if I can get in the same room with these people, and sit down at a table with them and fix their stuff, over three or four days, like literally, so that event we did was a small, intimate, higher ticket event, it was a $3,000 ticket to come to it. And I think we only had like 60 people at the first one. And I brought in all these other seven-figure, you know, service company CEOs, and we all sat in these mastermind tables and just fix their stuff, you know, like Mmmmm. And emotion was high, it was unbelievable people are crying. They have a clear crystal clear plan when they go home and then they go home, then this was the largest, you know, result that we got for people is doing that, but we're still talking maybe I don't know, 30 40% of the people actually executed on the plan that they left with. And then...
Eric Beer 15:56
How many people were there?
Josh Latimer 15:57
Oh, there's like 60 people, 60 businesses at the...
Eric Beer 16:00
That's not bad, so like over 50% of the people?
Josh Latimer 16:03
Well, no, like less than 50% like, like 40% of the people would get a result and I'm just making up numbers but okay, the point being that podcast low level of radical change course higher than the podcast is still low live event way higher than anything else, but still not that high. Yeah, we ended up launching another program that was a weekly mastermind for a year is a year contract. That's called their conquer program. That's the most powerful thing we've ever done. So now we're getting up to you know, the 80 90% of people radically changing stuff. So that was a long answer on the progression But no, I love it. People need accountability. They need sequencing, they need all the content. But the big thing I think really is accountability and community. That's where I've seen the biggest results come from people.
Eric Beer 16:49
Yeah, no, I love it. Because like for me, it's all about you know, I've been generating leads for 1718 years, right and I'm going out and finding people with where they are. I'm creating these pattern interruptions. And those are cold leads. But all of this stuff that you're talking about here is so important to taking that person from just opting in for your, for your free lead magnet or maybe going through a survey or quiz or whatever, right to the next level. And I think that's where a lot of people struggle, they do really well on creating their funnel on their front end and they can get people in, but then it's like, okay, now like, what do we do? And people talk about the follow-up and the money's in the list, right? And we all know that's true, right? But there's, there's more to it than that. Because you just set like you sell a course for 1250 people only watch four or five of the videos and then what? And now you're like, oh, man, like, What do I do? And people are telling you that you're awesome, but they still haven't completed the video. Right?
Josh Latimer 17:46
Right. I really knew the truth. You know, like, okay, you think I'm awesome, but I want you to change your life. I want you to scale your business and you're not even watching this stuff.
Eric Beer 17:55
Right? Well at the end of the day, to me, right. I hate talking about myself, though. The best marketing is the results of the people you're working with. Right? And if you're not getting people results, then it's all for nothing at that point, right? It's great that you're talking great about me. But it still doesn't feel real, right? When you really get somebody to make that transformation. That's the part and I think like to get people to that point is all around commitment and mindset. And, you know, I just, I remember seeing the video of that, and it just, you did such a good job with the video and it was just, I got goosebumps watching it when you were like showing that event and it still sticks out in my mind. And I saw it a few years ago, actually. So like, you know, you made an impression on me. And, you know, it's like those kind of things that I think bring somebody from this cold lead warm lead hot lead to another level. So when you're out and you're and you're buying these leads, I'm always struggling with how to connect the dots and this live event. That you're doing is, is beautiful. You're going to do that for honor and fire. Because Yeah, with that it's family, right?
Josh Latimer 19:07
Oh yeah, we're going to have insane events. My wife and I love events. There are a lot of work but our hearts in it, man, we do weird events, you know this, when you were just talking, it just reminded me of the importance of emotion. Everything's emotion, everything has to be emotion in the biggest toughest guy with the biggest wall who acts on top. He's still operating entirely on emotion without even realizing it. So like with marketing with our messaging, even with the way we structure the event, what I've realized is getting people a breakthrough has more to do with emotion than it does with like, the knowledge the raw data like oh, insert this system into your life and everything will be fixed now robot pepper, they won't do it, they have to feel it, they have to want it and so that that video that you would watch was heavy on emotion, right? Lots of you know, the sun hitting the screen the right way with the slow motion of the person laughing and that's the way to market that's what I do in a lot of my stuff is I focus on that because I'm, I'm a passionate person in general, but it gets results it gets big results.
Eric Beer 20:06
Yeah, it's just the question of like measuring it and that's I think the frustration of a lot of people that I talked to is that they're good at that and they're just missing that. All right, give them the ball now running down the field and now you got to put the person into the end zone and you actually get paid for it. In addition, and that's where I see a lot of the disconnect of what's happening
Josh Latimer 20:29
You know Ping June we both know Ping June from Russell's group too, but yeah, he did this awesome. teaching about the way that he structures his offers and basically, super simple you got do it yourself on your front end. Then he got done with you in the middle is like an upsell or the next year and your value ladder and then you have done for you. And if you think about it, the podcast and the course or kind of do it yourself right then we do the live event which is a done with you and then we both On a high ticket back end to that, which is a weekly year-long mastermind, which isn't technically done for you, but essentially, that's what it represents in this example. Right? So I think that helps to just having a clear path for people to go down.
Eric Beer 21:12
When you're having a weekly mastermind. What does that look like? Is that a Facebook group with once a week live event? That's group coaching? Are you doing one on one? How does it how do people get value out of it? And how do you actually serve all of these people?
Josh Latimer 21:28
Yeah, there's hundreds of people doing it. Yeah. Well, we have our model is groups of four with a conquer coach. So that's what we call our coaches. So we have a vetting process, and a training certification program for our coaches on the process. But essentially, the way it looks like each week is you meet on a zoom call like this, there's a total of five people on the call for business owners, one coach, and it's an accountability group. So the way to get the most results, isn't that sexy, to be honest, it's all about doing the little doing the boring things, piece by piece, brick by brick, installing the system, measuring the number cleaning up the financials, and the coaches there to help them with the expertise, but primarily just to cheer them on and keep them showing up. And when they're paying a lot of money, and they're showing up, the results explode, because now they have, you know, so much more skin in the game.
Eric Beer 22:20
And in this scenario, is there one specific business that someone's getting involved in? Like is it all info products where...
Josh Latimer 22:30
These, the people we serve are all local type of business. These are lawn care companies contractor Ah, back carpet cleaners, maid services that are trying to scale to several million dollars a year and they're stuck at two or three or 400,000 a year. That's the niche that I came out of. And so when I started my all my digital products, I'm the internet marketer. My customers are now the internet marketers. That's why I kind of have my foot in both worlds, but these are local service companies.
Eric Beer 22:58
Yeah. Well, I'd say you know if there's ever been a time they every person in that industry realizes they need to have some presence online with what's going on in the world today, right? Yeah. is are you seeing a huge influx of people say Josh help me now I don't know what to do I need to get online I but I don't know how like is that you're seeing...
Josh Latimer 23:19
I'm seeing a good time. I was gonna say a gajillion. So I said a good ton. I'm seeing a ton of people hit a million dollars with their lawn mowing business. Like this wasn't normal seven 810 years ago, 20 years ago. But so there's a lot of young people I'm working with a kid right now is 25 years old. He's gonna do 1.1 million he washes houses with pressure, right? He's scaling a huge company. So I don't know because of the way information is available and distel distilled online, in groups like this and the things we've done but also just other information that's out there. People are crushing it. So there's a lot of young people in this space that are just gonna steamroll the older generation that won't get with the times because the 22-year-olds already understand how to position themselves with Google with lead buying services, they understand tax there have better websites, they have just way more. Everything about what they're doing is coming through a different frame because they grew up with tech. But historically service businesses are owned by you know, the old guy who's stubborn he still has sticky notes all over his truck and is running his business the right way. You know, we in my day we did it. Those people are going to get killed if they don't get what the time they are getting. They're just getting removed and they're being replaced by 20 something-year-olds building huge companies in a fifth of the time it took the other guy.
Eric Beer 24:36
Yeah, which is scary because obviously if they've been doing it for 2030 years, they're very knowledgeable. And if they don't pivot and knowledgeable on their, on the technical side.
Josh Latimer 24:48
Like their way I call them artisans, you know, like Michael Gerber and the E myth uses this example of just because you're good at baking bread doesn't mean you should own a bakery. Like owning a bakery is a different thing than being really good at baking bread. And the people we work with. They're really good at mowing the lawn. They understand the technical side. I call it the technical perfection, deception. They think that the way to succeed in business is to be exemplary at the thing, the deliverable service. That's only a small piece of it. They forget about or are unaware of all this other stuff is psychology, the way to sell packages a way to nurture leads conversion, driving traffic, and the young people, man, they're killing it.
Eric Beer 25:27
Yeah. It's funny that reminds me of when I was younger, and we were figuring out what we wanted to do when we grow up, which I'm still trying to figure out. Me too. I just remember like a family friend became a lawyer. And they thought that everything was all around the law and going to court. And when they got accepted to get a job in this like big law firm, they didn't realize that a big, big responsibility was bringing in business, which had to do with sales. Right, the firm's look for you to bring in new business. They were like, well, I'm a lawyer, I just thought I needed to know the law and realizing that well operates with, you know, paying the bills, and they're looking for you to bring it in. And then like, it's just kind of like a reset of like, Oh my god, like there's, there's more to it. So maybe I should have taken that marketing class that I thought wasn't important because I wanted to do law, you know, like, totally, you know, you run into that a lot.
Josh Latimer 26:22
Yeah, the same thing with dentists and doctors, they don't teach business classes. I know several dentists, chiropractors, for some reason, they get this idea in their head that they're gonna make, you know, two or 300 grand a year. I'm a doctor, I'm whatever, but they don't realize that they have to become an entrepreneur, they have to become a marketer. And they don't they're just going to be an employee dentist at somebody else's entrepreneurial dentistry office, right. Oh, no. Yeah.
Eric Beer 26:49
So if you... If you bumped into a dentist right now, and you had five minutes with them. High-level framework. What would you tell him to do?
Josh Latimer 26:56
Be different serve your community play the long game Look at how you're following up, right? Because with any kind of local business or with any business, there's so much gold in your list. Most small businesses don't leverage and work their lists correctly. I actually met a guy in Texas who has millions of followers online, I won't say who he is. He has over 100,000 people on his list. He never emails them. He's not doing anything to monetize anything. And so I'm going to be helping them but it's, you'd be shocked at all these companies because they're scared to email the list or scared to get the one person that's mean that says, I hate you or whatever. So I would tell them that.
Eric Beer 27:32
Yah, it's interesting. I, I have a similar friend who does this. And they were asking me those questions. And some of them don't have lists. They don't capture the data. They don't have the people coming into their offices. Whereas another friend of mine, who was a chiropractor, every person that came in, he would have things set up already inside the waiting room, where he would ask them to fill something out while they're waiting and get Review. So if he saw 20 patients in a day, right, let's say 15 of them decided to say, Sure, for the most part, if you're there and you like them, you're getting good reviews and reviews clearly are a huge, huge value, you know?
Josh Latimer 28:15
Oh, yeah. So they have this gene. It's just a good system. Right? Yeah. The other thing I would tell the dentists is to actually be extraordinary at what you do, right? Like, everyone's so obsessed with money with it. And I was like this too. I mean, I lived in a trailer park, I wanted to make money. You're not a bad person, if you're trying to make money, but what I'm trying to tell you is, the money happens automatically. If you can deliver results and serve people and it's not some cheesy thing. I'm not saying oh, you know, follow your heart and serve people. What I'm saying is get a result for people actually be awesome at the thing, achieve some level of mastery or at your stuff, be friendly, play the long game, be patient, delay the gratification, but nurture your customers, you know, keep studying sales and marketing. But if you're really, really great at what you do, and you're just put yourself out there, you're If you're gonna do great, you can, it's not that hard. If you can deliver a great result, you just got to give somebody the ability to, to sign up in contact and give them the ability to sign up with you come to you be with you, right? A lot of them forget that I see that all the time. Yes, they do know that, like, they'll do everything right. But then they don't have a page for someone to buy anything from them. Right? Because they're freaked out they feel dirty doing that. Yeah, picture like the guy with the chest hair poking out with the gold chain. Like they use car salesmen like they feel like they're that guy when they try to sell their stuff, which is so silly, because you know what, what's interesting? Are you familiar with the Dunning Kruger effect? You ever heard of that? It's like a psychological thing. So basically, people with a low IQ tend to overestimate their abilities and people with a high IQ tend to underestimate their abilities and kind of a spin on that that I see with business owners is people that actually care about their customers that actually do the right thing when no one's looking. They have integrity and honor and character, those people are the worst at selling their stuff sometimes because they're overthinking everything. Well, I don't want someone to think this to me. I don't want to think that they're killing himself. But the lower integrity people that are just chasing the money, they go get paid, they make the money. And so what's happening by you holding back is in a way, you're inadvertently screwing over them your market because all the guys that don't care about your customers are going to swoop them up and sell them everything. They're not as awesome as you are. Right? So maybe that's an encouragement for someone.
Eric Beer 30:31
Exactly. And it's like whoever's the loudest wins.
Josh Latimer 30:35
Not who's the best.
Eric Beer 30:39
Yeah, you're out there and you're pushing something, but maybe you aren't delivering so. That's a good point. So Josh, if people want to hang out with you, and they want to join, Honor & Fire, come to your house, run around, how are they in contact with you?
Josh Latimer 30:52
Go follow me on Facebook, you know, just type in my name, look for my ugly face and click me and follow me or add me as a friend. The other thing you can do If you do have a family, you can just go to honorandfire.com. There's not a lot up there yet. But there's something there. There's a couple of resources that are fun. And there are some fun videos to watch and stuff. And you can connect with me that way as well.
Eric Beer 31:12
Yeah, love it. And we're going to be doing a survey for that also, right?
Josh Latimer 31:15
Yes, we are.
Eric Beer 31:19
So cool. Yeah, guys. So listen, Josh Latimer. He's awesome. He's one of the coolest guys I've met online. And if you have an opportunity to hang out with him, go follow him. Tons of value. And clearly, clearly smart. I mean, you're the man Josh. I really appreciate you giving me some time here in August when you should be out swimming with your kids. In any event, appreciate the time. You're the man. Thank you for coming on to the show.
Josh Latimer 31:47
Thank you, Eric. You're the man! Fist bump! High Five! Noogie! There we go!
Eric Beer 31:53
Take care, buddy!
Would you like to learn how I built my business using other people's money? If so, then go join my 21-day challenge at performancemarketersecrets.com. I look forward to meeting you and welcome you into my family. And remember, results don't lie, but the people who don't have any tier. Thanks for listening.