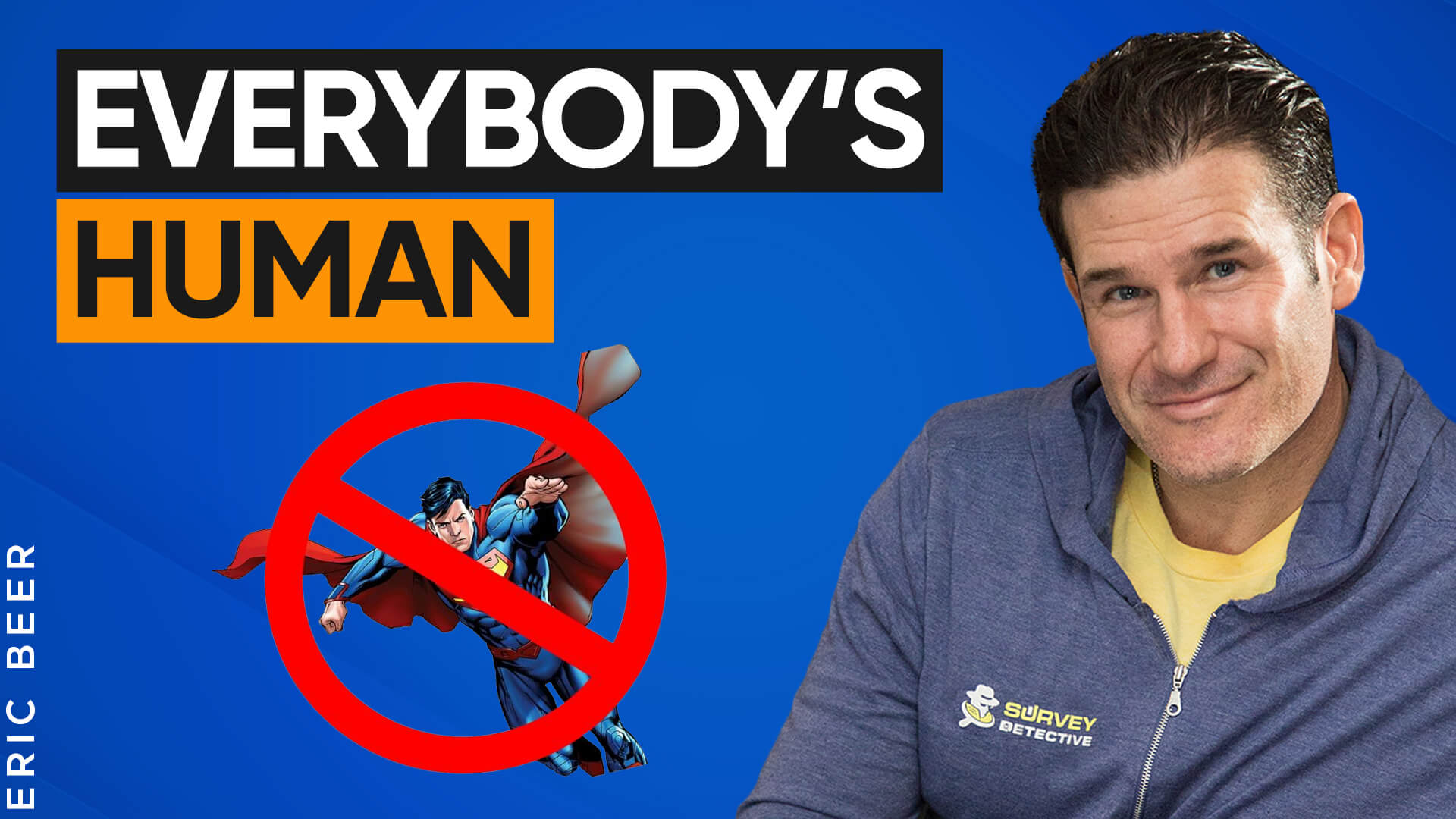 01 Jul

Everybody's Human: A Message That Every Entrepreneur Should Keep Close to Heart

I haven't taken a business trip in what felt like ages. But recently, I went up to Boise for this event, and it was exactly what I needed.

I attended a Russell Brunson event, and I witnessed something that inspired me to do this episode.

The seminar was great. I was locked up in my own house for so long, working all day, and I needed something to break out of that routine.

Not only did it provide me with a reset I desperately needed, but it was such a relief to see that other people were going through the same things I was. And in that, I found a great sense of camaraderie and belonging. Still, it's not exactly what I wanted to talk to you about today. 

At one point, we were all asked to share our thoughts and impressions. And this lady came up to the microphone and started crying. But when she explained what she felt – it was super clear to me.

It's something I experienced a long time ago, but a lesson I still keep very close to my heart. A message I turn to whenever self-doubt starts to show its ugly face.

Everybody's human.

Today, I'm going to share some of my deepest thoughts on this subject, and I hope my words find you well.



The Benefits of Spending Time With People You Look Up to
People say you shouldn't meet your heroes, but I'm afraid I have to disagree. There's this idea that if you get to know them, you'll learn they're not who you thought they were and get disappointed.
Even if that were the case, I still think it's a good thing.
Looking at successful people from afar creates a skewed image. You're only getting a select group of bits and pieces from their life. Usually, those where they're looking confident and doing what they're best at.
This is why people sometimes create the impression that business leaders are superheroes. But if you were to look closer and scratch behind the surface, you'd learn the powerful truth. You'd see they were very much human, just like yourself.
Why is this so important?
Idolizing people you know very little about can be very bad for you in more ways than one. For starters, you're overestimating their abilities and missing the point on why they are successful.
Still, that's not the worst part. It's also creating an unrealistic standard for the way you measure success. And in doing so, you're nurturing a less-than mindset, which is a factory for excuses.
"They did it because they're special – I'm not…"
And that's just not true. The furthest thing from it…
Why It's Important to Remember That Everybody Is Human
Seeing this lady standing in front of us crying shook me. We get so caught up in our own stuff; we forget others are dealing with theirs too.
She explained she was crying because she couldn't believe how normal everyone was. She'd been watching clips of Russell on YouTube for a very long time but never quite got the courage to start her own business.
But meeting him in person, along with some other people she'd idolized, helped her break mental barriers about herself. About what she was capable of doing.
Experiences like these can be quite powerful.
When I was young, I played baseball at a very high level. At 17, I got called up for the Junior Olimpic team. I was a part of a select group of 64 players gathered from all over the US. And we were all competing for our spot on the team. 
We were all terrified.
I didn't know him at the time, but one of the players was Alex Rodrigues, better known as A-Rod. He'd already gotten a pro contract, and even then, the signs were there. You could tell he was going to make it big. But he was scared too, just like the rest of us. 
We all get scared; we all deal with insecurities. And when you understand this, the mental barriers start falling off, and you realize what it takes. 
"Most things in life are teachable." – Eric Beer
Experts became experts because they kept doing the work despite those fears. And anybody can do this.
The only thing in your way is you. Move!
—
Thank you for joining me for this week's episode.
If you'd like to get more Performance Marketer content, feel free to sign up for my SurveyDetective VIP waitlist.
🕵️‍♂️ Sign up for the SurveyDetective VIP Waitlist HERE
See you next week!
Listener Love…
Warning! ⚠️

by Boz46747 from United States

Wear a helmet when you listen to the podcast. Eric will leave you feeling like you can run through brick walls. In all seriousness, this podcast is the absolute best!

Awesome

by Nevareze William from United States

Very interesting show.

FANTASTIC!!!

by cucklord101 from United States

My life changed after I discovered this podcast, 100% the number one on the platform.

Great Podcast !!

by Olivia Cousta from United States

I listen several days a week and am excited to have taken action with my first few steps. Thanks Eric!

Best Podcast

by faz12548 from United States

Thanks for everything. This show has been an amazing resource.

My favorite podcast

by Alison Riah from United States

This is my favorite podcast. I look forward to every episode and share it with everyone I know.

Awesome!!

by Brads Hook from United States

Love this show

Inspiring

by stevie h b from United States

Eric's energy, wisdom and experience get me pumped up to do more.

Eric changed my life, thank you

by Nicole Aliba from United States

Anyone who has a chance to listen, do it. Subscribe, download and listen. Eric is authentic, he truly cares about the people he comes in contact with. I know eric, I've tried to be around him and learn from him any chance I get. He's been successful in every stage of his life. Getting the opportunity to hear from him direct, how he thinks, how he goes about achieving his success, his strategies, his tactics, his outlook on life. I'm thankful he started this podcast and I'm thankful I get the chance to learn from him. I have no doubt the lessons he delivers each and every episode will help me continue to be succession my journey. Thank You Eric for making an impact on my life and making me realize I'm capable of so much more than I ever realized. Your support fuels my success. Good luck with the podcast!

Wholly Cow!!! Eric Is The Real Deal!!

by Supreme Dragon Slayer 69 from United States

Seriously.. Affiliate Marketing has been around for a LONG time.. However, it's always been associated with scams, and fly by night marketing tactics that are shady l, illegal or unethical at best. Until now. Eric runs his entire business (which is ultra successful btw) the same way he runs his life.. On pure integrity. Finally, a podcast that is teaching Affiliate Marketing based on being.. Ethical and Transparent. But the best part? This podcast is soooo much more than just Affiliate Marketing.. it's about running a successful business and successful life. So far Episode 3 is my favorite and I look fwd to each episode as soon as it comes out. Highly recommend this to anyone, regardless of where they are in their business!! Straight Gold Beb!

Dave

by Rothbone from United States

One of the best podcasts in a long time. Very insightful, had me at the first 2 minutes kept me for entire podcast. I am a entrepreneur myself and found it very interesting.

Eric Beer is a genius.

by Raera29 from United States

I've only briefly met Eric - but listening to his podcast (as well as his YouTube videos) - it's clear to me that he has an in depth understanding of how marketing should work. Brilliant podcast!!!

Beer podcast

by Bghbhhhggghugyhjjgtjporws from United States

So excited to get more info from Eric Beer to help further my career.

Great Stuff

by Dr TBA from United States

I have been a business owner and entrepreneur for over 25 yrs. I found the information both interesting and informative. I am a fan! Dr Todd Askenas

This dude is the real deal...

by gossjoh1 from United States

I'm in the internet marketing space and have heard about Eric Beer from other entrepreneurs and it's always about how much he crushes it. Over $100,000,000 in revenue... no joke. I had the good fortune to meet him this weekend at an event and he couldn't be more humble and genuine. Just listened to the first episode and it is awesome! Can't wait to learn and grow from you Eric and thanks for sharing your wisdom and experience with all of us!!

Awesome

by Archmatic from United States

Thank you Eric for all your motivation and confidence! This is a must listen. Eric is always on his game and ready for a challenge!!!'

Informative and relatable

by srg1113 from United States

I've listened to the first two episodes and found them useful and entertaining. Eric gives a lot of background to how he got to where he is in his career and the challenges he encountered and overcame along the way. He also shares his knowledge in a way that's easy to understand and would be useful both to people new to Internet marketing, and to people like myself who have some experience but are looking to expand their knowledge. I'm subscribed and looking forward to future episodes.

Outstanding!!!!

by casino exec from United States

This is an excellent podcast for entrepreneurs in any industry. Hearing Eric interview and discuss proven success stories is like getting a motivational fix within 24 minutes. Can't wait for the next episode!!!

High Five

by chris drazek from United States

This is good! Guy is well known industry veteran. In the age where it's hard to get 15 minutes with someone like that on the phone, these episodes have a permanent placeholder on my calendar. Well done and keep up the good work!

Amazing

by Rtfdghf from United States

Walked into the office inspired and motivated! Great listen.

Just discovered a GOLDMINE of information!

by ericamerica from United States

This is next-level marketing that EVERYONE needs to know. SO much value here! This is information people would be willing to pay BIG $$$$$$ to have, and he's just laying it all out here.

Insightful

by lonestar1818 from United States

Incredible insights from one of the best!

Entrepreneurial Gold

by girlfriendwithnutallergy from United States

This podcast is amazing an a must have for anyone looking to take their entrepreneurial endeavors to the next level. Whether you are interested in becoming involved in affiliate marketing, or are just a student of life looking to learn about one of the largest and least discussed industries, this podcast is for you. Eric makes his passion for entrepreneurship available to all with this podcast, and for that reason it is a must listen.

Knowledge bombs!

by Sheree Trask from United States

Eric is a wealth of knowledge, not to mention, incredibly humble! He's got the proof to show that determination, grit and perseverance pay off... and I love that he's shedding light on the world of performance (affiliate) marketing with tangible tools anyone at any point in their online journey can apply. Thanks for all you do, Eric! Excited for more!!

As Smart As they Come

by Lgoldberg1976 from United States

Eric Beer is a tremendous listen. His story telling and motivation have already driven me to work harder. Can't wait to hear what he has to say next.

Great content

by Sensei Victoria Whitfield from United States

Eric is a great guy, gives from the heart and is a wealth of powerful, profit-positive information. Rock on, brother!

So informative and easy to understand

by bergbusiness from United States

If you are serious about starting in this business this is the podcast to help kickstart your career. I highly recommend tuning in.

Powerful

by reebcire from United States

Never realized how mich money performance marketers make without taking much risk. Get excited to learn more

Eric Nailed It...

by Mark Duke from United States

You do not want to miss out on this podcast. Eric is absolutely brilliant at his craft. A MUST listen or anyone who is wanting to ethically up their game in the business + affiliate marketing space. Cheers!

I loved this podcast!

by DPG...123 from United States

I just listened to this not knowing what to expect and it was FANTASTIC! I am hooked and can't wait for more episodes. Looking forward to learning a ton from Eric 🙂

Eric's trainings will up-level your life!

by SwayBuckley from United States

Eric's level of transparency and REAL value is not only rare but transformative! Don't sleep! He's the real deal!

Got me hooked from the start

by Doc bus from United States

Hearing Eric's story and why he is looking to share his knowledge of starting a business was so motivational. Looking forward to hear what he comes out with next. Hoping I can use his coaching to take my own life and business goals/ideas to the next level.

Eric is a genius!

by Golden Oracle Ministries from United States

I had the pleasure of meeting Eric Beer in a high level mastermind that we are both a part of. I must say that every time he opens his mouth marketing gold falls out! I've made millions both online and offline, so when I hear someone talking about marketing I'm not usually that impressed, but with Eric I'm beyond impressed. I'm blown away!!! Learn from Eric, do what he say and watch your business grow.

Excellent

by JLRPS22 from United States

Very motivational!

Awesome content

by NickTheGreek83 from United States

I don't normally write reviews but this is a must listen for anyone considering starting a business. Eric thank you for taking the time to give away some of your secrets! Look forward to future podcasts.

Legend!

by Daxy111 from United States

SO excited for your content to come. You're advice and results is authentic which is rare now a days!

*****

by acrygvbh from United States

Fantastic relevant info !!!

The real deal

by Erin_Verb7 from United States

Eric Beer is one of the smartest media buying minds I know. Take this chance to learn everything you can about affiliate marketing from him. He will teach you an ethical way to make your life and your family's lives better through affiliate marketing. He's the real deal.

Genius marketing knowledge

by Nick349731 from United States

I can't wait to continue to learn rom Eric! So skilled and such a genuinely good person too. Keep putting out the great information Eric!

Great story and great info

by R-Rot from United States

This was a very interesting podcast. It was honest, informative and motivational. Eric has a great story that, everyone who is interested in starting a business, should listen to. Highly recommend!

Amazing

by Billion Dollar Cowboy from United States

I can't wait to learn more!! So so good!!

Awesome

by Eric X 2 from United States

Eric Really enjoyed listening to this. Keep up the great work!!!

Let's Market!

by hjdvikes from United States

As someone who has networked and marketed more over the past 2 years than ever before in my career, this Podcast is an absolute MUST listen for me. Eric makes it easy to listen, learn and apply.

Invaluable information!!

by lpro1111 from United States

Invaluable information. Can't wait to dive in.

Great information, tons of useful tips

by jonnygal77 from United States

These are great, so much useful information that I can use immediately and effectively. Thanks Eric

Great listen

by Xtra Medium from United States

I love listening to Eric's podcast on my way to work. Looking forward to applying some of these principles to my career.

Definitely worth a listen

by SBS776 from United States

I have had the pleasure of working with Eric and this podcast is a roadmap to success. He is a professional with years of experience and delivers results

Game Changer

by Jay Heydt from United States

Eric Beer is a game changer for your business. I had the privilege over the summer of taking an online marketing class with him. The daily interaction with Eric made me believe anything was possible as well as opened my eyes to an entire world that is online that I was missing. You will learn and earn with Beer. He is one of the best business coaches out there!

Performance at its best!

by Shm722 from United States

Eric has great ideas and insights!

Listen to a visionary....

by RobH60 from United States

Eric is a genius and visionary. Always looking to get ahead through hard work and drive to success yet he is super down to earth and willing to spend the time to share the secrets of his success with others.

Finally, coming out to teach the world

by RogerSmith! from United States

I've known Eric for quite some time and he has been the guy who is quietly CRUSHING it. I'm glad he is coming out to the masses to share all his knowledge!

Can't wait to dive into these!

by Arushi-315 from United States

I can't wait to learn from Eric so I can level up my marketing!
Transcript…
Read Full Transcript
Eric Beer 0:00
Everybody's human. And everybody has the same insecurities that you do. Everybody has the same fears as you do. They just may be a little bit further out from where you are today on whatever it is that they're focused on. And I will tell you that the simple way to do it is you just have to keep doing, you have to realize that if you keep doing every single day, it will get better and better.
I spent the last 17 years building my eight-figure performance business without using any of my own money, working with some of the most brilliant direct response marketers in the world today. Now I'm looking for entrepreneurs to join my affiliate army, built on ethics, transparency, and good old hard work. Join me to change the perception of how people view the greatest business in the world, affiliate marketing, and follow along, as I learn, apply, and share performance marketing strategies, working with some of the brightest people on the planet. My name is Eric Beer, and welcome to the Performance Marketer Podcast. Alright guys, what's up Eric Beer here.
Thank you for visiting my channel. Appreciate you being here. Today's episode, I don't have an agenda. I don't really have anything planned out, I don't have any framework set up to start talking to you guys about I just wanted to come on here today because I thought it was really important. And I know that entrepreneurs need to hear this. Because I had something that happened to me this week, that was pretty powerful. And I knew it, but it's just... It always... It just needs to continue to happen and happen to happen for me to a point where it's reminders, you know, everybody's human, we all we all go through life and journey and we we experience things and when you're when you're in it when things are good, and you're in it. It just seems like it's the easiest thing ever. Right? And you kick but you don't know how you can't be successful. But there's times where like, things aren't working out as well. And it's really interesting when you think about it, because it comes so easy when it's working well and when it's not working well, it just seems like it's just that much harder. And I think with COVID, and everything that just took place in the last year and a half, I think it affected more people than I realized. And I'll tell you this, and I'll tell you why. So I went to Boise earlier this week, right? Russell had a thing at ClickFunnels, he invited some of the people from the IC and some other people to come and he was going over his Perfect Webinar. And it was really great to go there. Like at first I wasn't sure if I was going to go or not with travel. And then just as crazy as it sounds, I had a little bit of a fear to leave. I haven't traveled for business in I don't know how long a year and a half. And I just kind of got like set in my ways. Like wake up in the morning, do my thing. Every day, boom, boom, boom, like clockwork. And I've been doing it for so long to a point where like, I was afraid to like break that routine. And because of that, I think that there's been a lot of things that have limited me into pushing myself to be uncomfortable. What I mean by that is that the only way you really could grow is when you do something that makes you uneasy, is the way that I look at it, right? Like, for example, if you want to go on stage and you're scared. Well, if you go on stage, and you're scared, you're uncomfortable. But if you go on stage, once you get there and you start talking, you start feeling comfortable. When you get off stage, you feel great. And you're like, I can't believe I was I was nervous for that. That was amazing. Wow. Right. But if you don't go on stage because of the fear and it stops you, then you never get that feeling. That makes sense. So when I went to this event down in Boise, he was great. I saw so many people I haven't seen in so long or a lot of people from the inner circle. And I just you forget how much motivation you get when you're around other people and you're around like minded people that are doing similar things as you and you here. What are they doing? What are they struggling with? Like how are they coping? How are they seeing success? Where was the some failures, but just that conversation itself being in a room of people that are doing all the same things that you are? It's just, it's powerful. I don't know how to describe it, like the energy that the motivation like it's like a regenerator it's like you have a battery inside you and it's kind of low and you've got to go and recharge it. The thing that stood out to me was because I know for me, I've been I've been down on myself a little bit being like calm and you're out of it a little bit. It seems like a lot of people are super, super successful people have gotten into some routine Where they may have fallen outside what they were doing for the last X amount of years. And they're trying to get themselves back trying to get themselves back on track to start working the way they did prior to COVID. And, listen, you never want to see anybody struggle whatsoever, right? But there is a sense of what's the word I'm looking for. belonging, I guess belonging would be a good word, a sense of belonging that, all right, I'm not the only one that was feeling that way. You know, some people were feeling way worse than I was, and haven't really done anything. And then there's others that, you know, struggle a little bit, just like me and focusing on, you know, on creating content, or building new offers or promotions, or promote, you know, just pushing things out and scaling the business, right. And like, the most powerful thing about it is, and this is the thing I wanted to, like, just come on and tell you guys about because I know a lot of people here are listening, or you're entrepreneurs, right? You're trying to grow your business, either you have a massive business, and you're listening to me, and you're just trying to pick up some ideas or, or maybe you're somebody that just doesn't have a business at all, and you're trying to figure out how to like, just get it going, just get it started. The takeaway that I want you to get from this episode, is that everybody's human, and everybody has the same insecurities that you do, everybody has the same fears as you do, they just may be a little bit further out from where you are today on whatever it is that they're focused on. And I will tell you that the simple way to do it is you just have to keep doing, you have to realize that if you keep doing every single day, it will get better and better. If you keep chopping down the tree, just keep on just digging to get that whole, whatever comparison you want to use. But the thing is persevering. And by you being able to persevere, and not letting all that doubt hurt, you will help you be successful. Okay, some of the most successful people in the world have insecurities, the tons of people that you would have been shocked with what you see on the internet, and they have these great videos and all these followers and, and they just want to like it looks like they're like killing it right? Well, the online doesn't tell at all. When you meet people in person, it's just like, Oh, my God, like they're human. You know, I'll give you another example of something that happened to me in my life, where I realized this at an early age. And I think it's something that has helped me become successful, and to raise the bar on what my goals are in life, right, and what I think I can attain and where I want to go. Right. And it was when I was 17. Going into my senior year 17. Going on to 18, I got selected for the Junior Olympic team to play baseball. That was one of 64 kids in the country to get selected. It was it was a great honor. Only 12 kids in the country that played outfield were there, right three from the north through from the south, three from the west, three from the east. I'm from New York. So I was on the US team. Everybody got shipped down to Texas, right. At that time, I had not heard of him. But there was a kid who was already drafted number one in the nation that was going there. He was 18 years the seniors name was Alex Rodriguez. And anybody that knows baseball, knows a rod, right? And all the success he had. But before all that, he was an 18 year old kid going to the trials to go play baseball, I was going to compete against him, right. And I just remember flying out to Texas, and my dad came with me. Thankfully, he came with me everywhere. And it was great. You know, like it was good support. But he couldn't come with me until the meetings, they just kind of got thrown into the fire. I remember the first day got there. And we had to sit in this big room. And there was 64 kids. And you see some people that are just like jumping around like laughing, looking like they knew each other forever, like super comfortable having fun. And I was just like, sitting in my seat just kind of like looking around, scared, nervous, excited, all kinds of things. I was also thinking like, which one's Alex Rodriguez, which was really cool. So like, I'm kind of looking around and seeing some of the guys and I'm thinking, you know, a few of the guys that are jumping up and laugh and having a blast for it starts is him. Surprisingly, he wasn't. Alex actually was really quiet. Sitting down in the back of the room just kind of mind his own business focus getting ready. And I thought that was really interesting being that he was the best player in the country at that time. He had already been selected as the number one draft pick for the Seattle Mariners. And he also had a full ride going to University of Miami. And it was the summer before and he had to make that decision. But So in any event, the point is, once we got going, there were people there. So I'm feel comfortable, some not everybody, there was a super talented. And the first day out, we started to go and take batting practice. We were catching balls in the field, just kind of going into a rotation. And I mean, nervous isn't even a word I could describe. There was this feeling inside of me, that was Yes. nervous. But there was this almost like this, this high of like, excitement, of like, opportunity of just like, wow, like, pinch yourself kind of thing. Like, dude, like, this is this great, you know, like, make this thing work. And all of a sudden, like, I started to feel pressure on myself. And I started to like, really, like want to do well for this. There was like 250 Pro scouts or 250 colleges at this thing. It was tons of people. We were in San Antonio, Texas. It was really hot. It was the summer I think like the on the field. It was like 115 degrees. It was hot. And these guys are taking batting practice. And all I hear is and these guys are like mashing the ball like just crazy mashing the ball. And they were big guys. I was probably one of the smallest guys there. At the time, I think I weighed about 155 pounds. I was 511. And I was tiny compared to these guys. And they were just smashing. And with every swing of the bat, I like crumbled. Because I was looking at how far they were hitting the ball. I just, it was unfathomable. Right like think of outriggers going to a cage with a metal bat. I would bet a metal bat and just taking batting practice. I mean, balls were flying, it might have gone over to two baseball fields. I mean, it was just massive, massive. And I started to doubt myself like do I belong here? I'm taking one swing, I have not even been on the field yet. And I had doubt in my mind. I started to get scared. I started to think I can't do this. How am I going to how am I going to do this? Right. And it really messed me up. And I'll tell you something that I did that really worked, which was I took everything that I had for preparation. And I went and I focused on me, I stopped watching other people hit I when I watched me, and only me, because by watching other people and the success they were having, it was hurting me. Because it was making me feel like I have to be like them. But I got there, because of who I am. How I played. I was selected because I was pretty good player. Right? I'm not them. But because I'm watching them and seeing all the success they're having. I'm thinking I have to be now what's going to happen is if I start to try to do what they do, which I can't do, right, it's just not my game, I'm going to fail, I'm going to try to do something outside the realm of what I'm good at. And I'm going to fail. And the moment I was able to just turn off everybody else and focus on me. Everything changed. I hit I did well. But I in my own way. Maybe I was the guy that hit line drives over shortstop. Maybe I was the fast guy that could steal basis. Maybe I was the intelligent guy, right? Baseball IQ. me just a lot of things that you bring to the table that are different than somebody that can just mash a ball over the fence. Right? And I did all right. You know, I did. I did. I did. All right, I held my own. When I was in the cage. And when I was throwing i was i was there like, I belong there. It wasn't like, oh, that kid sticks out. He's, he doesn't belong here. And it was really like a powerful thing for me to realize, really early in my life on how to try to be successful in high pressure situations where you don't let the moment define you. And it really is just staying within yourself and focusing on who you are, what you're good at. And just knowing your stuff. knowing who you are, knowing what you're good at. And then just doing it step by step. That's what got you there. You focus there, and you will be successful. If you try to be somebody else. That's where you get into trouble. And that worked out well. But the thing I'm you know, I I noticed was even a rod was insecure. I mean, POC Erica was there. Right another another homerun leader in American League. At one point I think it was a outriggers poking Erica and Mark tech share or the top three leaders in homeruns in the Al point, the major leagues, and I played all three of them. Right. And it was just it was kind of cool. At that time I was done playing baseball, and in the working world, but it was just it's cool to, to be associated with those types of people, right? And when you see there's three people in the world that are leading the entire American League in homeruns, and you are somebody that stepped on a few of those kind of people, it gives you this sense of, well, if they're successful, why can't I be successful? At one point in our lives, we were competing against each other. Some of these guys on my team, when I would talk to them were more insecure than I was. If I didn't talk to him. I had no idea. No idea. There's one kid it was a first round draft pick for the Montreal Expos time. And he had this like, he was huge and strong. And he had this like, this mean face, like, he wasn't mean, but he just looked scary. Like I was like, you don't want to pass this guy or be on his bad side. And meanwhile, like, as I got to know him, I mean, I can't, he couldn't have been nicer, like, like the opposite of me. And it was just wild to me. And then as I got to talking with them, he had gotten an injury, that he was a third baseman got pushed over to first base. They looked at him as he was going to be like George Brett, but now because of what happened with his injuries got to move to first as a play first. I mean, the guy mashes but he was so scared. First of all dropping George Brett, they were comparing it to, if anybody knows baseball, like one of the greatest players versus third baseman, right, he's the guy that ran out of the gate after the court, that incident which is really close to YouTube, that if you don't see it, where he hits a homerun with a wood bat, and then they check the bat. And after they, they say, Oh, it's cork, it's not a homerun anymore. They call him out. And he's come storming out of the dugout, and like, like crazy on the Empire. YouTube, but it's pretty funny. Always fun to watch. But the point is, is like this kid was scared. First on dressing going to be in the major leagues, no matter what, these guys were the best at their trade. At this time. It's 17, 18 year olds, there were 64 of the top players in the country. And every one of us was competing against one another. And we were all insecure, we were all scared. We all had fear. But that's what drove us to be excellent. And the same thing that happened in Boise was, which was really interesting. Most of the people there were from the inner circle, but there were a few people that were not, there were a few people in the room that were not. And at the end, we went around the room. And each person talks about their takeaway, right? Like, we two days of just learning a ton of stuff, like what was the number one thing that you learned today, we went around the room, and we got to this one person, and I didn't know her. And she gets the microphone. And she's, she's crying. And, um, I was kind of like, holy, holy, wow, like some people make jokes and have fun. And like, you know, they're comfortable in this setting. It's been my like, fourth or fifth meeting, they're being with everybody. So I felt more comfortable than the first time. And, but I still, you know, you still get nervous every time to talk in front of people. And I spoke about what my takeaway was. And it got to this girl, and she started crying. And it really was taken back. And she's like, naming people in the room. Like, just unbelievable, like Russell Brunson, right. She's like, you know, Rachel Peterson, and starts naming a bunch of other people. And she's been watching all these people online for so long. And they're all so successful. She's been struggling with her business. And she said something that was just like, Wow, she's like, you guys are real people, like, I can't believe it. And what happened was, by her being in this environment, and being around people that are super, super successful, but seeing that they, they're just real human beings, like everyone else here gave her the confidence, and for her to realize that she can do too. And she was like, her Aha, I was like, Oh, my God, like, for the first time, I really believe I can do it. And it was all around just believing in herself. Right? And it was just the fact that she, she put people on these pedestals that are successful, like they're they're super heroes, superheroes, right? Like, it's not the case. All us, entrepreneurs are all the same, right? We're all in different stages of our lives, or our business, may go about it a little bit differently. We may have different personalities. But we all wake up in the morning, and we all have our same insecurities in one way or another. And the way that you got to handle it is you got to understand it's normal. And you got to face those fears. And the sooner you do this sooner, I believe that you'll be successful with whatever it is you want to do, whether it's you starting a new business or even in your existing business, if you're trying to just kind of get it going or growing it or maybe pivoting to do something different. But I just think my takeaway on that was, it seemed like she was putting like a ceiling on on what she could do or how successful she can be, or if she really can do this, and there was this doubt. And by just seeing like that other people have some doubt. And it just the way that she thought about it was, there's no way. But now she's hearing that this person was, you know, struggling a bit to get back back going with, with whatever it is that they were doing, that gave her confidence. And she was just like, I can do this too. And like, she said, I can do this. I know, now I can do this. And it was it was it was really like, powerful for me, because she didn't change at all, like she was same person. But it was all around her just realizing it for herself on her journey. That. Yeah, you can. And she believed in herself. And it was just, I don't know, for me, it was just really powerful. Because I think that a lot of people do that. I think a lot of people stop themselves from being successful. I think that there are times where I believe in people more than they believe in themselves or in my life. I know that for sure. I got I'm an optimist, I believe you could do anything you want. I mean, you got to work hard, you got to put your mind to it, and go after it. But if you don't give up, I believe you can attain almost anything you want. I mean, could I play center for an NBA basketball team? Probably not. Right? Because I just not tall enough, right? But that's silly, right? But within some capacity, if you want to do something, I believe you can do it. I believe most things are teachable. There's models out there, everyday your life and anything you do. And if you see somebody that's successful, and you really just sit down and kind of just be a detective, right? SruveyDetective! Plug! But if you be a detective, if you just watch, see how they go about doing it, it's not as crazy as you seem. They're not. They're not geniuses, they're not these wizards. They just been doing whatever it is that's working for them for a really long time. And now it comes easy to them. So like I said earlier on, like I didn't have an agenda today. There's no frameworks, there's no, you should do this or that, because everybody has their own journey. But I did want to hit on that you can do this. I for one feel reenergized. Just going there, forget about what I learned, forget about the people I saw, it was good. It was really healthy for me to just, you know, get myself back up and going and excited for myself. It was just internally just being motivated to do certain things right and be excited about stuff. And the only thing that was stopping me was me, the only thing that's stopping you is you, I hate to tell you that because a lot of people like to point fingers that I'm not doing some because of this or because of that or because the minute you take responsibility of it's on you, you'll be that much closer to being successful. Because at the end of the day, making making excuses does nothing. If it's that you don't understand something, when you just got to keep on going at it until you do understand it. If it's working, if somebody is doing it, and it's working, and you just can't comprehend it. Just if you go and try to understand it for one time or two times. And you don't get it or five times you understand what the person that's doing it, they've probably been doing it for 10 years. 15 years. Right? Like, it's hard for you to see them when they were like that, where they didn't get it. Because now it just seems like oh my god and then then you call that person a genius, or an expert. And the funny thing is, and I can guarantee this my personal opinion based on me just explaining that when you see famous people, they're they're human. When you see super successful people, they're human. Right? They've all been through it in their journeys different but they all are human. The people that are super successful, and you look at them as these experts. Yes, they're smart. Yes, you know, bouton, but it really is just a matter of them just repeating what they've been doing over and over and over and over and over until they got it right. And they continue to just Polish their craft. And then when you go and talk to them with you not knowing anything. You look at them like oh my god, how do you know that? Holy Whoa. It's because they've been doing it forever. If you want to be like that, and you put the time and effort in you'll be like that might take you six months. It might take you a year might take you four or five years. Yeah, we're all different. But you can do it. You know, it's like, I'll just say one last like funny thing that I had, which was You know, I've been playing a little bit of golf lately, right? Like, first time getting out and playing well, but a golf and I should be pretty good. Two years ago, I was, I was alright, you know, I was unbelievable. But I could hold my own, I was probably anywhere from like a 10 to 12 handicap, I'd play from the back the tips, and I'd shoot anywhere from like, you know, on really good days, the low 80s to like, high 80s. Anything above 90 I was I was disappointed with one time I shot a 79. I remember when I put the score in the machines, like are you sure you want to put this in because they, if it's like a score that's different than most of the other scores you put in they, they stop you and just confirm. And I'm like, Yeah, I want to put that in. And like remember taking a picture of me like, I was like, you know, it was a big day for me. And I stopped playing during COVID took off a year. And I got back into it in the fall before 2021. So at the end of 2020, I started playing a little bit in the fall. And then we had a gap in New York, it's cold. So we stopped and I came back. And ever since I came back, I've been like, terrible. Like, terrible. I couldn't break 90, the few times I had hundreds and like what's going on here? It's like a little embarrassing. And then I thought to myself, like, why do you think you should be good? You can just gonna roll out of bed and be good in play in a year and a half. Right? You know? And when you play play once a week, do you think that you think that people that are good, just come and play once a week. And then when you play, you don't even practice, you just go to that course and just play 18 holes and expect to be good. I mean, when I was good in baseball, I got good because I just kept on swinging the bat, every single day of practice every day, took hundreds of swings. Maybe it took a few days off here and there. But it was muscle memory. Right? Same thing is like you learning something in business, my body learned certain things that I needed to do. And over time if I kept doing it, and it just came natural to me, wasn't natural, like I was born with it. But it was drilled into my body. And it's funny because I started to take a few lessons with my my prop my club, said, Jim, he's great. He really understands the golf swing. And for me, I need someone to explain that to me. So that if I'm then playing and I do something wrong, I need to understand why I did something wrong. Meaning like, if I'm trying to double straighten the balls going to the left, I want to know why you went left. It's something I did people always complain, oh, this the walls going that way? Because you're hitting it that way. I don't know why. Right, like, but I can tell you one thing that the club is facing that way if it's going that way. So not rocket science. It was facing that way to go that way. Right. That's the simple part of it. But really, there's the whole the whole swing, right there's there's a science to it. And you know, after a few lessons, he shown me some things. And every time after I took a lesson, the next day I was better. And then I took off a week. And I was terrible for about a week, when I went back to play a shot. I think 101 101 and like, I don't even know why I don't know. But but the score on that last time, I'm just losing my matches, I was upset. And nothing on myself, like, you know, if you want to be good, you probably should go and practice. I know crazy. And I was playing the following day. So what I do is that night, I went to the driving range. And I just spent an hour just hitting the ball, worked on just slowly hitting the ball, took a few clubs out was testing here and there. Just hitting the ball. This one on one day of practice, I went out, I think I shot an 84. And it could have been in the high 70s if a few things went my way. And it may not sound like a big difference. But from 101 to 84. That's massive. That's that's massive, especially when you're playing with handicaps. If you're playing in somebody else, and you're getting strokes, and it was fun one day of practice. So it's like, I joke all the time with guys like I often this game is that hard. But But you're terrible. Eric, I know. I know. It's funny that I say that, right? Because I'm terrible. And I'm telling you, I don't think it's that hard. And the reason why I don't think it's that hard is because I think that if you put the time and energy into practice, I'm not saying you're gonna go and be on the tour and be shooting below 70 in the 60s. But you can, you can pick your score up and be very, very good very, very quickly. If you just practice, listen, understand what you need to do. Learn, right I go to a pro, I learned what I need to do the same way. Like if you want to learn something in business, you go to a coach and they teach you whatever their skill set is whatever their framework is, and then once he shows me the right way to do it, then I go and I practice it. Now my body's not used to it right. So I just have to keep on doing the same thing, the same motions the right way. And I may not see success the first time. But over time, if I continue to do that, if I go to the driving range and just keep on hitting the weight He showed me, I have no doubt in my mind, I will easily be a 10 or 15, stroke, better golfer just on that alone, the fact that I can go out and just hit a ball without having to think about my hands, my arms, my legs, what am I doing? Instead, I'm thinking about Alright, well, the holes there, I want to, you know, maybe I'll keep the ball to the left, because I can put it there now, to put it where I want, and stay out of trouble. So I'm thinking about how to score and how to play the game, rather than thinking about how to just swing in hit, right? The mechanics of it. And it's the same thing in business, right? So in business, you know, there's the, you have to learn how to do it, right, the skill sets all the mechanics to get from A, B, C, D, E, whatever, whatever that framework is. But at some point, then it has to come pretty natural to you to where you're focusing on the strategy of being successful understanding like that, that the unspoken of, alright, I know what to do. I understand what to do the mechanics of it, I understand. But you still need to understand the strategy of it. People know the frameworks, they follow the frameworks, and they're still not successful. Because you don't understand each step in the framework of why you're doing it. It's like, if the ball is going left, I want to know why it's going left. I know that my my Club's facing that way. But what am I doing that's making the ball go left, if I wanted to go straight, and the frameworks when you're trying to learn, it's the same thing, right? within the mechanics? What? ABCDE, right, you're doing whatever, in those flows, you need to understand it, like, why are you doing it? Ask yourself why you can't answer that question. It's gonna be hard for you be successful. But when you can understand it and explain why you're doing each step. That's where you start to become the master. That's where you start to now innovate, right? You know, the baseline, you understand what you're trying to accomplish. And that's where growth comes, that's where the, the part inside you that no one else has, is just sprinkled on to that framework. And that's where it gets really, really special. And that's how you can now innovate off of somebody else's framework, and make it your own. So I'm rambling on guys. But I just want to come on here because I just, you know, I felt like it was a gift for me to be there and just kind of like, get this mindset back. And I wanted to, hopefully touched somebody that's struggling out there. That's just getting in their own way. So everybody's human. Remember that? what you're feeling, plenty of people are feeling. And that's okay, you can do this, you can do it, you just have to set your mind to make it happen. If you if you need to reset it, maybe break your routine. For me, that was huge. I said it to my wife, when I was in the airplane, I'm like, wow, like, just me flying from New York to Boise. My mindset, it was healthy for me to just get out of that every day routine, it was really healthy. And when I come back, it almost like starts over. So now it's like giving me the ability to just, you know, start some new things, right, and keep that momentum, don't fall back into like, some of the things that I was doing or recognize, maybe weren't helpful for me. And I said, you know, we got to do this more often, you got to do this, you got to like, just go somewhere, just out of your routine for a little bit just to reset your mind. It's super powerful. Plus, it also makes you appreciate what you have, I think a lot of people, they start to not realize what they have. And they, they focus on the things they want. But they it's hard to stop and look around and see like, Oh my god, this is wow. Actually, I you know, I'm doing okay. Don't worry more than okay. Right, you have a family of kids, but you're so anxious about the financial side of the business or growing your bit, whatever that is, and you like, lose sight of that know, when you get away from it. For me, I got for two days. I mean, I gotta tell you like, not that I don't appreciate my family. But it was super powerful for me. Like just how lucky how much I love them. And it's I didn't need to go away to realize that. But like, it really like it just hit me when I wasn't with them for for two days. And I was I've been with them since COVID. I feel like every day for the last like 400 days, right in a row. And I'm just thankful. So I just wanted to push this message out to all of you, performance marketers tell you entrepreneurs to all you guys out there, whether it's business or something else to relationship, it's your marriage. It's, you know, dealing with your kids or maybe you know, cousin family doesn't have to be just you performing in business, right? There's performance and you being a husband or wife, you can step up Be you of who you are. Or sometimes, you know, lose that a little bit. And it's, you need a wake up call and be your best you. And when you're your best you, you're pretty, pretty good, right? Like, you know, you're good. It's just how do you maintain that? And it's possible. It is. If you think you lost it, you did not. You did not. People don't change. You don't... Look, if you did something in the past that now you're like, "Oh, I don't even know how I did that." And then you're insecure, and you think you could do it anymore. And I get that that's very, very natural, right? I was younger than I can. I promise you, that you you're competing against yourself right now. It's like your doppelganger, whatever that thing is. That's you, you did it, you can still do that. Just whatever you did in the past, whatever you were successful with, you worked hard to get there. And now, you may forget that part that you worked so hard when you got there, and you had success and and you hit the finish line and wohoo. And now you want to just think you can go and do it today. You still got to work hard to get back to that. But you can do it. I can guarantee you can do it. You were the one who did it last time. If you've already done it, then that's... That's an easy one. Right? You just got to just got to go back and figure it out for yourself. But you can do it. And if you haven't done it, just keep going, man. Yeah, it's possible. So I'm gonna stop rambling. I hope that this message is going to touch somebody, one person that if it touches you, and it does, and you guys feel like I feel - let me know, you know, comment, comment below. Let me know what your what your thoughts are. And you know, if you, if you at some point in time felt like this. And if you have any solutions that weren't, you know, I'd love to hear, right. I'm always I'm very coachable. I love hearing like other people's ways of finding success. That's... That's really helpful for me. And then, you know, for me, I just, I like to look at it and then how I perceive it, I'll go about using some of those strategies, but in my own way, right? But so, guys, everybody's human, you could do it. So good luck out there. Appreciate your time. Thanks for watching. Subscribe, if you haven't subscribed, like it, push it to somebody that may need this, that it could be helpful for if they don't know what's out there. Get them to watch this. Listen to this. And yeah, just just keep being you. So alright guys, with that said, I'm gonna go and have some fun with my family. So peace out guys.
Would you like to learn how I built my business using other people's money? If so, go join my 21-day challenge at performancemarketersecrets.com. I look forward to meeting you and welcome you into my family. And remember, results don't lie, but the people who don't have any tier. Thanks for listening.