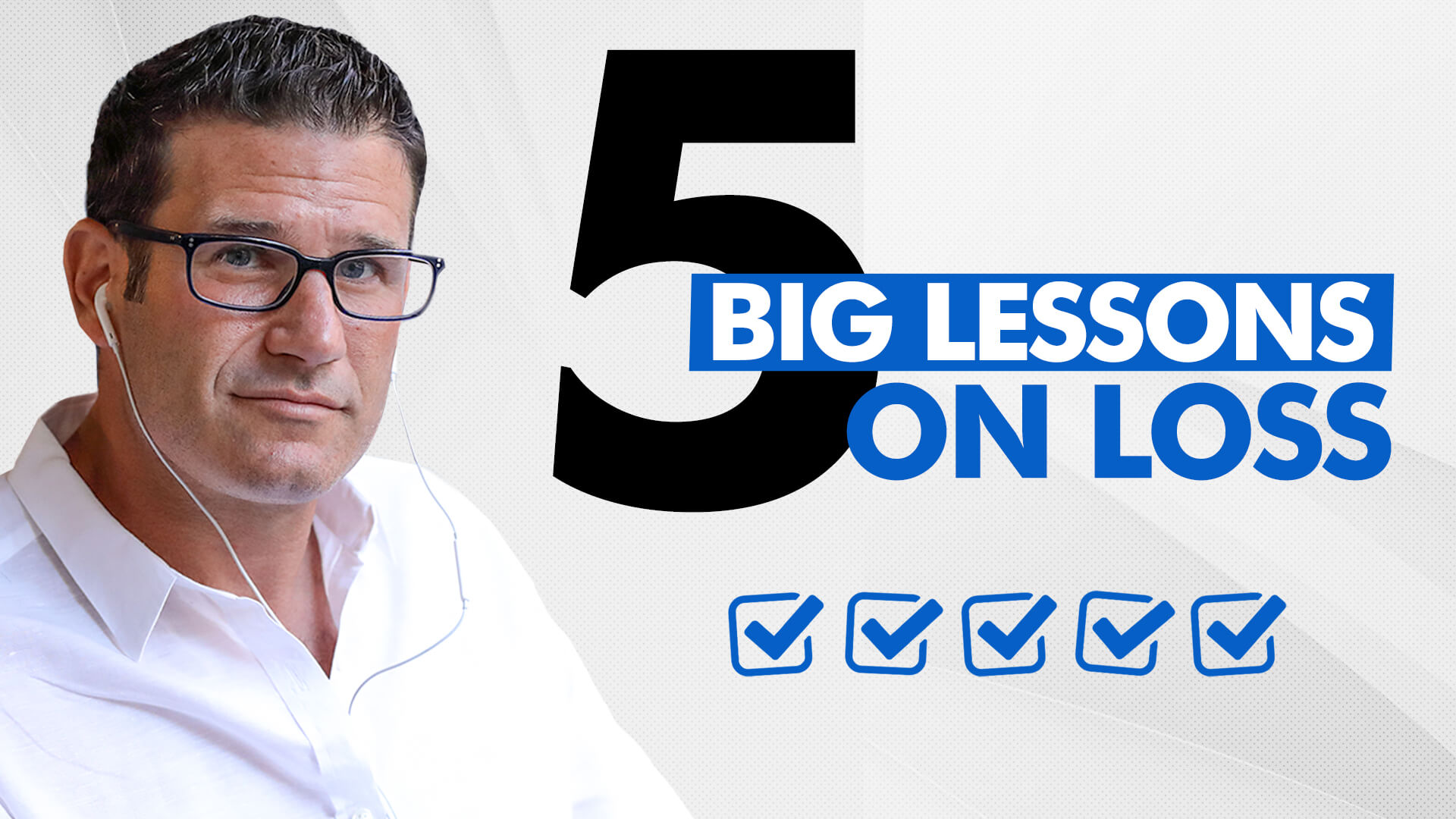 25 Dec

5 Lessons Learned From Making One of The Hardest Decisions Of My Life

Making tough decisions is a part of life. It's just that some take a much bigger toll than others.

Last week, I had to make one of the hardest decisions of my adult life. 

I know this year has been pretty rough on everyone, and we all can't wait for it to end. For my family, it's ending on a sad note.

About a month ago, our dog Cody, who has been with our family for 16 amazing years, was diagnosed with congestive heart failure. And a little over a week ago, his health started deteriorating rapidly.

He was really hurting, which put us in the position of asking ourselves a deeply heartbreaking question. 

How do you know if and when should you euthanize your beloved animal companion?

Since it's a very personal topic, I won't be going into too much detail. But I also feel it's a story I need to share.




We all face tough decisions in life at one time or another. These kinds of gut-wrenching experiences are devastating, but they can also teach us plenty – if we can find the strength and the courage to learn.

Today, I'm going to share with you the 5 lessons I've learned from all this. 

If anyone out there is facing a similarly hard decision – I hope this episode finds you well.
5 Biggest Lessons On Loss
1 – Emotions get in the way of us making difficult choices
We struggle with tough choices, even though we intuitively know the right answer more often than not. It's just that our emotions aren't letting us decide because we can't cope with the consequences.
That's why it's so important in situations such as this one to trust your gut. 
Our subconscious knows what's best for us. There are always signs along the way. Trust yourself to make the right call.
And once you make it, you have to let it go. Second-guessing yourself will do you bring you nothing but pain. What's done is done – there's no point in looking back.
Keep looking forward!
2 – There's no right or wrong way to grieve
We all grieve in our own way. Some prefer to cry it out, others to cheer themselves up by finding things to laugh about. For you, it might be something else entirely – and that's ok!
After you've suffered a heartbreaking loss, you're going to feel emotionally overwhelmed, at least for some time. And during that period, if you're surrounded by people who don't share your grieving style, you might get agitated. 
Unfortunately, that's when people start getting into fights, which won't help anyone. We're just adding to each other's pain.
Learning to accept that we all grieve differently will do you a world of good and allow you to heal quicker.
3 – Acceptance is key for coping with loss
There's a popular psychological model that describes five stages of grief.
Denial

Anger

Bargaining

Depression

Acceptance
And once again, this journey is not the same for all of us. Some go through these stages in a different order, go back and forth between them, or even skip some.
But we all have to end up at acceptance.
When you accept what happened, your sadness takes on a different shape. Even though you're still hurting, you started off a healthy healing process that will help you cope effectively.
4 – The pain never goes away; it only gets easier to carry
People who've experienced loss for the first time always come to the same question sooner or later.
When does the pain go away?
The truth is, sadly, it never goes away. You just learn how to deal with it. 
And over time, with proper healing, it can turn into something beautiful. Because whenever you think about a loved one that's gone, you'll start to remember all the good stuff. And it will warm your soul in a way you'll cherish.
It doesn't go away, but trust me – it does get easier.
5 – To never deal with loss is to never love
Cody died on December 17th, a date that will always be a part of our family's history. He was euthanized in our home and died peacefully within seconds of getting the injection.
We made sure that in his last moments, he was surrounded by love. Cody's been with us for 16 incredible years, and he meant the world to us.
People have said to me, "That's exactly why I will never get a dog." As if the hurt and the grief we're feeling now is reason enough to deprive yourself of experiencing love.
Let me tell you something. 
A life without loss is a life without love. And a life without love will always be hollow… Empty… Not lived to the fullest.
You only get one life, and for me, it's not even up for debate. I'll always choose love. Because all the great stuff you get will ALWAYS outweigh the bad.
Don't let fear of loss stop you from living the life you want.
—
R.I.P Cody ❤️
Listener Love…
Warning! ⚠️

by Boz46747 from United States

Wear a helmet when you listen to the podcast. Eric will leave you feeling like you can run through brick walls. In all seriousness, this podcast is the absolute best!

Awesome

by Nevareze William from United States

Very interesting show.

FANTASTIC!!!

by cucklord101 from United States

My life changed after I discovered this podcast, 100% the number one on the platform.

Great Podcast !!

by Olivia Cousta from United States

I listen several days a week and am excited to have taken action with my first few steps. Thanks Eric!

Best Podcast

by faz12548 from United States

Thanks for everything. This show has been an amazing resource.

My favorite podcast

by Alison Riah from United States

This is my favorite podcast. I look forward to every episode and share it with everyone I know.

Awesome!!

by Brads Hook from United States

Love this show

Inspiring

by stevie h b from United States

Eric's energy, wisdom and experience get me pumped up to do more.

Eric changed my life, thank you

by Nicole Aliba from United States

Anyone who has a chance to listen, do it. Subscribe, download and listen. Eric is authentic, he truly cares about the people he comes in contact with. I know eric, I've tried to be around him and learn from him any chance I get. He's been successful in every stage of his life. Getting the opportunity to hear from him direct, how he thinks, how he goes about achieving his success, his strategies, his tactics, his outlook on life. I'm thankful he started this podcast and I'm thankful I get the chance to learn from him. I have no doubt the lessons he delivers each and every episode will help me continue to be succession my journey. Thank You Eric for making an impact on my life and making me realize I'm capable of so much more than I ever realized. Your support fuels my success. Good luck with the podcast!

Wholly Cow!!! Eric Is The Real Deal!!

by Supreme Dragon Slayer 69 from United States

Seriously.. Affiliate Marketing has been around for a LONG time.. However, it's always been associated with scams, and fly by night marketing tactics that are shady l, illegal or unethical at best. Until now. Eric runs his entire business (which is ultra successful btw) the same way he runs his life.. On pure integrity. Finally, a podcast that is teaching Affiliate Marketing based on being.. Ethical and Transparent. But the best part? This podcast is soooo much more than just Affiliate Marketing.. it's about running a successful business and successful life. So far Episode 3 is my favorite and I look fwd to each episode as soon as it comes out. Highly recommend this to anyone, regardless of where they are in their business!! Straight Gold Beb!

Dave

by Rothbone from United States

One of the best podcasts in a long time. Very insightful, had me at the first 2 minutes kept me for entire podcast. I am a entrepreneur myself and found it very interesting.

Eric Beer is a genius.

by Raera29 from United States

I've only briefly met Eric - but listening to his podcast (as well as his YouTube videos) - it's clear to me that he has an in depth understanding of how marketing should work. Brilliant podcast!!!

Beer podcast

by Bghbhhhggghugyhjjgtjporws from United States

So excited to get more info from Eric Beer to help further my career.

Great Stuff

by Dr TBA from United States

I have been a business owner and entrepreneur for over 25 yrs. I found the information both interesting and informative. I am a fan! Dr Todd Askenas

This dude is the real deal...

by gossjoh1 from United States

I'm in the internet marketing space and have heard about Eric Beer from other entrepreneurs and it's always about how much he crushes it. Over $100,000,000 in revenue... no joke. I had the good fortune to meet him this weekend at an event and he couldn't be more humble and genuine. Just listened to the first episode and it is awesome! Can't wait to learn and grow from you Eric and thanks for sharing your wisdom and experience with all of us!!

Awesome

by Archmatic from United States

Thank you Eric for all your motivation and confidence! This is a must listen. Eric is always on his game and ready for a challenge!!!'

Informative and relatable

by srg1113 from United States

I've listened to the first two episodes and found them useful and entertaining. Eric gives a lot of background to how he got to where he is in his career and the challenges he encountered and overcame along the way. He also shares his knowledge in a way that's easy to understand and would be useful both to people new to Internet marketing, and to people like myself who have some experience but are looking to expand their knowledge. I'm subscribed and looking forward to future episodes.

Outstanding!!!!

by casino exec from United States

This is an excellent podcast for entrepreneurs in any industry. Hearing Eric interview and discuss proven success stories is like getting a motivational fix within 24 minutes. Can't wait for the next episode!!!

High Five

by chris drazek from United States

This is good! Guy is well known industry veteran. In the age where it's hard to get 15 minutes with someone like that on the phone, these episodes have a permanent placeholder on my calendar. Well done and keep up the good work!

Amazing

by Rtfdghf from United States

Walked into the office inspired and motivated! Great listen.

Just discovered a GOLDMINE of information!

by ericamerica from United States

This is next-level marketing that EVERYONE needs to know. SO much value here! This is information people would be willing to pay BIG $$$$$$ to have, and he's just laying it all out here.

Insightful

by lonestar1818 from United States

Incredible insights from one of the best!

Entrepreneurial Gold

by girlfriendwithnutallergy from United States

This podcast is amazing an a must have for anyone looking to take their entrepreneurial endeavors to the next level. Whether you are interested in becoming involved in affiliate marketing, or are just a student of life looking to learn about one of the largest and least discussed industries, this podcast is for you. Eric makes his passion for entrepreneurship available to all with this podcast, and for that reason it is a must listen.

Knowledge bombs!

by Sheree Trask from United States

Eric is a wealth of knowledge, not to mention, incredibly humble! He's got the proof to show that determination, grit and perseverance pay off... and I love that he's shedding light on the world of performance (affiliate) marketing with tangible tools anyone at any point in their online journey can apply. Thanks for all you do, Eric! Excited for more!!

As Smart As they Come

by Lgoldberg1976 from United States

Eric Beer is a tremendous listen. His story telling and motivation have already driven me to work harder. Can't wait to hear what he has to say next.

Great content

by Sensei Victoria Whitfield from United States

Eric is a great guy, gives from the heart and is a wealth of powerful, profit-positive information. Rock on, brother!

So informative and easy to understand

by bergbusiness from United States

If you are serious about starting in this business this is the podcast to help kickstart your career. I highly recommend tuning in.

Powerful

by reebcire from United States

Never realized how mich money performance marketers make without taking much risk. Get excited to learn more

Eric Nailed It...

by Mark Duke from United States

You do not want to miss out on this podcast. Eric is absolutely brilliant at his craft. A MUST listen or anyone who is wanting to ethically up their game in the business + affiliate marketing space. Cheers!

I loved this podcast!

by DPG...123 from United States

I just listened to this not knowing what to expect and it was FANTASTIC! I am hooked and can't wait for more episodes. Looking forward to learning a ton from Eric 🙂

Eric's trainings will up-level your life!

by SwayBuckley from United States

Eric's level of transparency and REAL value is not only rare but transformative! Don't sleep! He's the real deal!

Got me hooked from the start

by Doc bus from United States

Hearing Eric's story and why he is looking to share his knowledge of starting a business was so motivational. Looking forward to hear what he comes out with next. Hoping I can use his coaching to take my own life and business goals/ideas to the next level.

Eric is a genius!

by Golden Oracle Ministries from United States

I had the pleasure of meeting Eric Beer in a high level mastermind that we are both a part of. I must say that every time he opens his mouth marketing gold falls out! I've made millions both online and offline, so when I hear someone talking about marketing I'm not usually that impressed, but with Eric I'm beyond impressed. I'm blown away!!! Learn from Eric, do what he say and watch your business grow.

Excellent

by JLRPS22 from United States

Very motivational!

Awesome content

by NickTheGreek83 from United States

I don't normally write reviews but this is a must listen for anyone considering starting a business. Eric thank you for taking the time to give away some of your secrets! Look forward to future podcasts.

Legend!

by Daxy111 from United States

SO excited for your content to come. You're advice and results is authentic which is rare now a days!

*****

by acrygvbh from United States

Fantastic relevant info !!!

The real deal

by Erin_Verb7 from United States

Eric Beer is one of the smartest media buying minds I know. Take this chance to learn everything you can about affiliate marketing from him. He will teach you an ethical way to make your life and your family's lives better through affiliate marketing. He's the real deal.

Genius marketing knowledge

by Nick349731 from United States

I can't wait to continue to learn rom Eric! So skilled and such a genuinely good person too. Keep putting out the great information Eric!

Great story and great info

by R-Rot from United States

This was a very interesting podcast. It was honest, informative and motivational. Eric has a great story that, everyone who is interested in starting a business, should listen to. Highly recommend!

Amazing

by Billion Dollar Cowboy from United States

I can't wait to learn more!! So so good!!

Awesome

by Eric X 2 from United States

Eric Really enjoyed listening to this. Keep up the great work!!!

Let's Market!

by hjdvikes from United States

As someone who has networked and marketed more over the past 2 years than ever before in my career, this Podcast is an absolute MUST listen for me. Eric makes it easy to listen, learn and apply.

Invaluable information!!

by lpro1111 from United States

Invaluable information. Can't wait to dive in.

Great information, tons of useful tips

by jonnygal77 from United States

These are great, so much useful information that I can use immediately and effectively. Thanks Eric

Great listen

by Xtra Medium from United States

I love listening to Eric's podcast on my way to work. Looking forward to applying some of these principles to my career.

Definitely worth a listen

by SBS776 from United States

I have had the pleasure of working with Eric and this podcast is a roadmap to success. He is a professional with years of experience and delivers results

Game Changer

by Jay Heydt from United States

Eric Beer is a game changer for your business. I had the privilege over the summer of taking an online marketing class with him. The daily interaction with Eric made me believe anything was possible as well as opened my eyes to an entire world that is online that I was missing. You will learn and earn with Beer. He is one of the best business coaches out there!

Performance at its best!

by Shm722 from United States

Eric has great ideas and insights!

Listen to a visionary....

by RobH60 from United States

Eric is a genius and visionary. Always looking to get ahead through hard work and drive to success yet he is super down to earth and willing to spend the time to share the secrets of his success with others.

Finally, coming out to teach the world

by RogerSmith! from United States

I've known Eric for quite some time and he has been the guy who is quietly CRUSHING it. I'm glad he is coming out to the masses to share all his knowledge!

Can't wait to dive into these!

by Arushi-315 from United States

I can't wait to learn from Eric so I can level up my marketing!
Transcript…
Read Full Transcript
0:00
Hey everybody, what's up Eric Beer here with Performance Marketer Podcast. And today is going to be a very different theme than the normal show that we do here on the Performance Marketer Podcast. Performance marketers are people, we are people, we get faced with a lot of hard decisions in life. And for me, I had one of those this past week, and I thought it was important that we come, and we talk about it. So I'm going to talk about one of the hardest decisions I ever had to make in my life, and the five lessons that I learned from having to make this decision. Now, for many 2020 has been hard. COVID-19 is like nothing we've ever seen in our entire lives, since I was born. It's changed life. And we'll never, ever, ever know what it was like before again. This is something that made a change, and it's going to go on forever. It was a moment in life where this COVID-19 really rocked this world. And for a lot of people, they've, had some hard ways, some hard days, some losses in the family. Maybe work has been really bad, and you're struggling, and you're inside, and you're depressed. It's been hard. And most people I talk to you cannot wait for 2020 to end because of all we've been through. And for me and my family, it's ending on a sad note. 2020 has been... It hasn't been great. But this last week has made 2020 a year we'll never forget, December 17th. And what it is, our dog Cody, whom we've had for 16 years old, he was diagnosed with congestive heart failure about a month ago. And we were faced with the question of how do you know if and when we should euthanize our loving dog. So today, I'm going to talk about the five lessons that I learned when having to make one of the hardest decisions of my adult life when we come back.
I spent the last 17 years building my eight-figure performance business without using any of my own money, working with some of the most brilliant direct response marketers in the world today. Now I'm looking for entrepreneurs to join my affiliate army, built on ethics, transparency, and good old hard work. Join me to change the perception of how people view the greatest business in the world, affiliate marketing and follow along, as I learn, apply and share performance marketing strategies for working with some of the brightest people on the planet. My name is Eric Beer, and welcome to the Performance Marketer Podcast.
Some of you may be animal lovers, some of you may not the ones that are will understand this a lot more than the ones that are not. But before I get into this, and talk about all these decisions that we had to make, I got to give you a bit of a backstory, right. Growing up. I've always had pets. I've had dogs I had a when I was born. My parents have a dog like a glassy dog whose name is Tara. And then we had a two hour that was black with white stripes and called midnight. He used to eat all my friends feet running inside and outside my house and just he was a pretty nasty dog. But you know, we got along. But he was a tough one. But I love and he passed away in my mom's arms on the way to the ER many years ago. And then we ended up getting another dog a shitzu named Bailey my sister brought him home from college in that was many years ago. And Bailey lived for 18 years. And the beautiful thing about chits uses that they do live for a long time. But the thing is, is that when we got my dog Cody, it was different. And I loved all my dogs. I loved all my pets. We had a cat which I wasn't a big fan of we actually named the cat Lenny. If anybody saw Of Mice of men, and yeah, that was a an inside joke in our family but um for another day and it wasn't a fan. I'm not a big fanof cats. I'm big. A more of a dog lover. I get it. People love them. They're more independent, but for me dogs hit the spot and For Allie and I, we both grew up with dogs, and we want to, and we were just recently married. And Allie was pregnant with Ashley. And we were just kind of living that that newlywed life just running around. And one time we were at a pet store, and we saw all these shoes and cute dogs. And we were like, should we get one? Should we get one? And we're just like, no way. We're gonna we're gonna have a baby in like, eight months from now, six months from now. Oh, no way. That'd be crazy. And we didn't do it. We went home. And when I were lying in bed, and Natalie and I were calling and she just was laying there, me and she kind of like smacked my chest belly was like, man, we should Got him. He was so cute. That dog was so so cute. And of course, the minute she said that anybody knows me, I'm like, are going back to get this dog and trying to do it as as a surprise if I possibly can. All right. So we go to sleep. And one day after work. My dad and I, my dad comes with me and we we go to buy this, this dog. And it's taken forever. And I'm not telling I'm trying to surprise her. And she's calling me and calling me. And I'm not picking up because I know that she'll figure it out. And she's starting to like, get nervous. to a point where I'm like, Dad, this is crazy. And how my dad call her to just kind of give her a heads up that we were together doing something. But so we ended up buying this dog this little shitzu He's so cute. He's like this little thing. And she doesn't know this yet. And when at this time, we lived in a townhouse. And it was like different levels. And the kitchen was on the second level. And she was in the kitchen. And when I come home, I get there I walk in, I kind of walk up the stairs and I put this little this little thing onto the wood floor. And I want him to walk in to the kitchen. And the thing just sits there. Like, dude, go go like walk like you're ruining the surprise go. And he wouldn't walk. He just would sit there he was so freakin cute. But like he just wouldn't move. So So I, I took him like this. And I literally kind of just like, with like a shotput. I just like boom. And he he just kind of like slid across the floor. And our kitchen was to the right. Where alley was. And all of a sudden all I hear is Oh, my God. What did you do? Yeah, yeah, we did it. And she like was like free. Oh my god, what did you do a camp? Have you got him? I was like, he told me you wanted him? She's like, No, I didn't mean it. I was like, Yeah, you did. But so whatever it was, it was just kind of funny the way it all went down. She, she wanted them, but she would never pull the trigger. And that's why she married me so that I would pull the trigger. So that's how it all got started. And that was about six, eight months before we had Ashley. And you know, there's something about getting a dog in your adult life. That yours. It's different than when you're grown up with your dogs. It's just, you know, like, you've grown up with your dogs, your dogs all love, like your father, your mother. And they're the ones right. But when you get a dog all of a sudden, like, you're that dogs guy, right? You're the best friend they they love you. They'll do anything for you. They love everybody in the family, but they love you. And for Allie and I that was literally the first addition to our family at the time. And yeah, I mean, that journey since that time has been with Cody. And from literally he's he's been with us form from Ashley being born to Zach being born to living in a townhouse to another house to building a house to my many jobs to then me starting my own business. Holidays, new friends, terrible times, amazing times. I mean, it's just thinking about the amount of time we've had with him is is just 16 years of just, oh my god, you know, oh my god, like my kids don't know anything about what life's like without Cody. And thankfully, in the 16 years, that we really never anything that was so serious and he had some allergies, and he had these skin problems. Skin Problems was crazy. Believe it or not dogs. There are all these specialties and if he had a dermatologist, my dog, Cody, I would drive him out into middle jersey to this amazing veterinarian who's specialized in dermatology. And every time I went it was anywhere from like 500 to $700. And it would happen time in and time out for forever. It was crazy and he would get itchy and you'd have to take stuff and then his ears are getting affected. It was there's a whole whole to do and that was like the extent of any real issues. We ever had with him. And up until about a month ago, around November 14 1516 14th. And 15th was a weekend, right? So Saturday and Sunday. And he was just like breathing heavy. And you just saw like, he was uncomfortable. Something was up, and we're watching and we're gonna do much we ever thought much to it. We knew he's 16 years old, right? 16 in human years, that's 112 years old. It's pretty old. Right? But my other dog Cody Bailey lived till 18. So, you know, Shih tzus are known to live for a pretty long time. And, you know, I'm just watching him and he's breathing heavy, and it's weird. And I wake up on Monday morning, and he looks just, he looks bad. So I get nervous, I just start making some phone calls to different people. We have a family friends of that. So I asked her, and then she was like, you should take them to an ER. So ended up taking him to an ER across the bridge in Westchester. And it ends up where they're immediately. They're like, have you ever been told that he had a heart murmur? And he was diagnosed with congestive heart failure. And like, he was acting weird. Like he normally he's just like, he does everything for us. And he just like, just kind of lying there. Like if I, if I would go to pet him, his tail would would work. And you know anything, even when he was like getting a shot. If I if I pet him, his tail would work because I'm there and he just wasn't happening. He wasn't responding. And it was just he was breathing so heavy. I think like oxygen wasn't going to said they ended up keeping him there for two days. Overnight, he was in an oxygen tank. And before we left on that Monday, I actually called the kids anally down. And I didn't know if I was taking them home. I said, you guys should say goodbye. I don't know if this is the last time I'm ever going to see him. And it was set and the kids were like, what? Yeah, Ashley and Zach came down, Allie came down. And it was just like, kissing and hugging him. And, you know, it was like, holy cow just like saying goodbye to this dog. Like, forever. Like, whoa, whoa, give me a heads up. And I just I didn't know, right, I had no idea what was going on me 16 years old. So those two days go by he's there. And then the good news is they say that it's treatable. So that was encouraging. And I went to pick him up with with Zach, right, and Zach's 12 years old, and the vet says straight up to us, um, listen, he's coming home, he's got this congestive heart failure. But um, you know, he's got a year left to live tops, but he could die any moment. Like, whoa, like, I wasn't ready for that, you know, I thought like, we were out of the woods, when they were telling me it was treatable. And I was I was happy that that's what it was. But then they said that and I was like, Whoa, and that kind of freaked me out a little bit. But we took them home. And he was, he was lethargic, and just a little bit out of it. But the minute we started to pull into our driveway, and he saw our home, and he realized he was home, you know, you could tell like, his spirits got better. And he got excited. And as far as I was concerned, I looked at his his, we had some borrowed time with him, and how long but it was borrowed time. And I said that to the kids now and I was like, You know what, listen, we're lucky to, to have him here. We, we thought we were saying goodbye. You know, we don't know, for how long and it at this point now. He's not great. So like, I mean, we're like, watching him or freaking out the first night, he was not great. And I just I couldn't sleep. I was like watching him every like, every hour, get up and just make sure he was breathing. And he was okay. And it was it was scary. But he had this like miraculous recovery within like, you know, a day and a half to two days. He he was good. Like he was back to himself. I mean, it wasn't like a puppy running around. But like, you know, he was barking he was eating he was he was you know, jumping up and down. I take him out. And then he would not want to get his medicine run upstairs and I had to run after him. And it was just like I you know, he barked at me when he wants food off the table. And things were good. Things were going great. And until this past, this past weekend, on Saturday, he started to he started to look like he did that first time when he started breathing really heavy, really like his stomach was going in and out. And he was just out of it. And he started to have these seizures where he was just like, screaming and he would like like, oh, like if like just like, first his body would go like this and it would fall over to the side. And it was just one then it would start the next day would be two and then three and then to the point where it was like he would be sitting down his bowel movements, at least one to two times a night would be just everywhere and heating care. I take him out he couldn't even stand in his back legs weren't strong enough and fall over. And you know, it was just like, I Like, this is not good. And in my mind, I'm thinking myself, listen, he's 16 years old. And as much as I don't want them to go, I was hoping he would just like, if he was going to go like just peacefully in his sleep, I'd wake up one morning and he'd be wherever he is, he was going his next. Next stop, right? If you believe in haven't, and wasn't the case, He's a fighter. And he was a fighter. And what happens with these patches, they they fight it, right? Like, they start to see the decrease, and they're not damage just just die, they fight it. And that brought us to where we were faced with a question of, do we euthanize him? Before I even I don't know if anybody even knows what that is? euthanasia, which is a term that's commonly used in pets. And what is is it you're putting a live animal to sleep? You're putting them out of their misery to death. And usually, you know, it's done in dogs, cats, horses, things like that. And that's think about that, like, You're, you're making the decision that it's time. And like, I'm just not, I'm not a believer in that, like, I'm guy that like, I want to fight if I'm on a machine, keep me there. Let me fight someone to find my way back. Like I just I would, everybody has their feelings on it. Some people are like, just let me go and be hard for me if someone made me do that, because I'm a believer that you can come back and I'll wait till you come back. I love you. You know, I want you back. And, you know, we're gonna be there. I'll be by your side and you're gonna fight it. Right? And, you know, for me to make this decision. It was scary. So it's, I started to look at all the questions I started doing research on on these things. And it was asking yourself, has his behavior changed? answer's yes. How often? All the time now, right? Is his mobility declining? I mean, he couldn't he couldn't walk his back legs were were out where he would start to walk in. He just would like sit down because he couldn't, couldn't walk. How is his emotional state? He wasn't happy. He I mean, he wasn't happy. He was trying to be, you know, like, is a dog. Yeah, you come in your pet them and he's in his most pain in his in his tail wags and you're like, Oh, my God, man. Like, he's miserable. But he's, he's, he's tails wag, like he's happy because you're touching them. But for the most part, he was not the same. And doesn't play with us. He wasn't eating the last three days, he started to cry and whine. And that was telling us he was in pain. And all these questions are making us bounce back and forth of do we do this? Do we make this decision to euthanize him? And the answer was, Yes, we did. And that was on Wednesday, when we decided, and we didn't want to take him anywhere. We wanted them to come to our house, we wanted to do in our house, we don't want to get them in a car and make them start thinking like what's going on whatever. So we're able to get our family friend who's Yvette. Susan, who's great, and so appreciative that what she did for our family, and she was amazing. But she, um, she was one come over, but she was working that day. And so we had to wait another day. So that whole day, he was struggling a little bit, we started to like, think about what do we do? Like, how do we give him something that if it's your last moment, you know, like it's like, do you come steak Do you give, you know, let them run around, but like he was just in such a bad place that there was none of that. couldn't do anything fun with him. We couldn't give him anything. And for me, like it was good, like dragging it out. That helps make like, I needed validation that we were making the right decision. Because it's, it's hard. It's hard like you're, you're taking away a life. So, you know, before we were ever going to do this, all four of us needed to decide that we were making the right decision and we wanted to do this. So between Allie myself, Ashley and Zack, we all had to agree that we're going to euthanize Cody, otherwise, it wasn't happening. And Susan came the next day. We did it. And I'm not going to go into too much detail about it. It's personal with a family and we're sad. But you know, for the most part, it was first time ever seen something like this? It was fast. He didn't he didn't know what was happening. By the time they they injected him within seconds. I mean, under 10 seconds his heart stopped. So like he was okay. Right? Like, he finally like was like, at peace. Like we all four of us sat around and we were holding him. He had love while it was happening. Like he saw all of us as much as he could. But now he's now he's not suffer anymore, and there's no more pain. Now, to say that I was devastated about his loss is an understatement. All of us and I'm not depressed. But I'm just, I'm just sad. It's just, it's just a sad thing. And the decision by making that made me realize some things, the first lesson I learned. And that is, when you're making hard decisions, when life gets tough, and you have to make those hard decisions, you become emotional. And emotions will get in the way of you making these difficult choices. And you don't want to make them. But if you take a step back, and try to take the emotion out of the decision that you're making, there are signs, there's always signs on what you need to do. Right? Your, your subconscious knows what you need to do when you're making these hard decisions. And you may not want to admit it to yourself at first. But it doesn't mean it's not there. And you eventually figure it out, right? It doesn't mean that you have to like the decision that you're going to make, right? You make that decision when you're ready. But you do it, you got to do it. And when you do it, you have to trust your instincts, that you're making the right decision, you can't second guess yourself, right? And then when you do that, you never look back. And once you make that decision, you don't do the ifs and buts because that just does nobody any good. Could I have done something different to make him feel better? Could I have taken them to somewhere and they could have made him you don't do any of that? The lesson learned here is when you have a hard decision and you're making these, you make that decision, and you don't look back and you move on. That's number one. Number two, when you're grieving, it's a personal thing. And I I watched you know, my kids who I haven't seen really ever crave for it, anally, we all we're all different. Allie, Ashley, Zack, we all grieve differently, right? We're all deeply, deeply upset, right? But we all do it and show it in our own way. Right? Some, some might keep busy, some may just try to think of anything but what's going on. Others are crying their eyes out, others don't cry at all. Some people may or may get angry. But the lesson I learned is, there's no right or wrong way to grieve. Just because you feel a certain way on how you're gonna grieve from a loss of somebody, and somebody else does it differently, doesn't mean they're wrong. It's just the way that they handled the situation. So I thought that was really important just to bring up for if anybody's going through this kind of stuff. And you may think somebody is insensitive. It's just they're different. They're sad, they're just to said, but they're different. And you can see the difference between somebody who who really cares versus someone that doesn't care. And I know my family all love Cody. But we all we all grieve differently, we all handle it differently. In stressful times, we get upset, and you know, might get upset at each other and screaming and stuff like that. And it's not, it's just not worth it, right. You're all going through a hard time. And we were going through a hard time. And my lesson was that you have to respect that everybody grieves differently. And that's how they do it. And it's not a right thing or a wrong thing. You just, it is what it is. Now, the third thing that I realized, which, unfortunately, I've been through loss before, but just doing a little research and looking at, you know, how this all works, this frameworks to how people grief, there's a way that you learn to live with loss. And these tools that help us frame and identify how we're feeling our stages, there's five stages that they say there's an in no particular order. It's not linear, you don't have to follow it the exact, but there's the denial stage, there's the anger stage, there's the bargaining stage, there's the depression stage, and there's the acceptance stage, right, those five things are, how you're going to be feeling when when you're about to lose somebody or something in some way and you're upset. And for me, I'm in the acceptance stage. I'm accepting it, you know, I'm just, I'm just sad. I'm just like, really, really sad. Like, I, I just, I'll be in my office and look at where he used to sit next to me and I just start to cry. You know, and it's just sad, that we lost somebody that we loved. And I just can't believe he's gone. You know, it's like, um, we have these routines. I mean, it's still last night, like, I'm used to taking them out before we eat. And I'm just like, thinking about like, what I got to do, and I would have to give him his medicine and I'm like, I have this anxiety every time I give it to him. He wouldn't take his pills and like, it was still there. And I'm just like, most I know he's not with us, but it's still like, Oh my god, and I was saying, I feel like I like almost like I got laid off like I like I'm free of something, some responsibility. Right, welcome in Am I welcome to pm, I give him this medicine, I feed him the treats like all of these things that go along with a dog. And the responsibilities were gone now. And I still feel like I have to do it, but it's just, it's just weird. And you know, and I start to think about all these different moments, and it's just gets really, really sad. And the thing is with these dogs is like, they're part of every aspect of our lives. When you wake up, and they're there, you go to bed, your pets are there. They're there, when you have your good times, and they're there, when you have your sad times. things about these dogs is their, their constant. They're your cheerleader, they're your biggest supporter, right? Cody to me was like, my guy, like, he would look at me and we just get each other. You know, I feel like I'm talking I'm actually having a conversation with him. Obviously, my dogs never said a word. But I feel like we got each other, you know, and to him, I can do no wrong, I could be disciplining him. And he'll wag his tail, you know, like, it's just when I had to take him somewhere, if I took them to a vet, he would just stand there for me, and let them like, talk them with needles and do all these things. And I was just he was such a good dog. And, you know, I was looking at this, and I saw a study that that said that, for a lot of people, they call it a loss of a companion animal is often take a much greater toll on people than the loss of a family member. Now, I'm not sure about that. I know, like, people are passionate about their pets, right. But for me, for Cody, he wasn't a companion animal. He was so much more than that. He was he was part of our family. Right? And I get it some people, the people that don't care for pets, they're gonna say, dude, you need to just get over this. He was just a dog. Like, come on, man. But he wasn't just a dog to us. To us, Cody's family. He was our friend. He was a brother. He was a son. Right? He was an endless supporter of us when things were bad. When things are bad, you could hug this little thing and just make you feel better. Right? He went through a lot with us and a piece of me when he died, died with him. He was part of me. And he died. And I had a piece of me that went with him. And I think I feel like my kids anally feel the same way. I don't know if they would voice it that way. But I do believe that. And I'd say the lesson learned in this scenario. My third lesson here is I don't like to lose anybody actually hate it. I hate the hurt, hate the pain. For what I did learn is you have to accept it. There's loss, you're born and you're gonna die. And you have to accept it. And the sooner you accept it, the sooner you can kind of just let yourself grieve and get past it. But for me, it was all about accepting that this is happening and realizing this is what life's gonna be like from now on. And it's hard, but that that is what it is. That's life. Number four for me, was the question of, Okay, I accepted it. But when does the sadness go away? And for everyone, it's it's different. The timelines are different. Believe it or not, like my mom, my mom passed away in 2004. Right before Ashley and Cody are here. And it's been, you know, 17 years, since I say goodbye to my mom. And I don't openly cry, or get upset when people speak about her here or there. You know, moments happen where I'll, I'll kind of just smile to myself. I'll get this this feeling of like, nostalgia, or some, like happy wistfulness. But she's gone. Right? And when I cry, I cry. Not as much as because I'm sad because there's no doubt. I'm sad. But it's it's almost a crime from like, happy times, from like, happy memories. And we just had this with Cody. He just just happened yesterday. Right? I still think of like them. When you when you're done. His body was just there just like carried him out. And it was just like, such a bug out to me. Okay, I just was like staring at him and his body was there. He was gone. And the lesson that I learned and I kind of knew this already. So I think it's more For you guys that may. But when you ask yourself one on will it end? When will the sadness end? The answer to me is never. You're going to never ever, ever get over your loss. I never got over losing my mom. And I'm never going to get over losing Cody. And they're not the same thing by not even close, right? I'm my mom's my mom. But Cody, just different, but he's part of my family. And I know from from mourning my mother, that it gets easier, right? Young, it gets easier, it takes time. But it gets easier, it doesn't mean you don't care, you just learn how to deal with it better, he learned how to live life in a different way. Alright, PCU died a major part of your life changing. And you just, you kind of learn how to how to live life without that lovely. You know, something will come up. And every once in a while you might cry or laugh at me I love talking about my mom, I love when people bring up my mom. You know, some people are weird about deafness. And, you know, for me, it's like, I love it. But like when when people bring it up, I get this like feeling in my body. It's like, I don't even know how to describe it. It's just like this uncomfortable feeling of like, sadness and happiness. And it's just like, oh my god, or like, someone would be like, Oh, my God, your mom would be so proud of you. And and you know, I'll just think about that. And it makes me happy. Because I think about it as the more successful I can be, the more things I can do, the more good things I can do for people. And then maybe I change anybody's life, make an impact on your life and help you with whatever you need. And then people who know me who knew me when I was growing up, my mom will say to me, you will your mom would be so proud. Well, by me helping you and making an impact in your life. And then becoming successful, has triggered somebody to come up to me and talk about my mom. And that's part of a motivation for me. And it's meaningful, it's meaningful. And the same thing goes for, for coding in a completely different way. Like his legacy is going to live on within me, Allie, Ashley Zack. I just ordered like a figurine that they made these like 3d figurines of Cody. I did it before he passed away Actually, it was a frickin fortune. But I just wanted it I did it for for Cody and I did for a family. So I'm pretty excited to say not as another that's way that's like, She's like, three or four times as expensive. It's such a feeling as a robot, but I think it's something that'll be awesome. When I get it forever, we'll have it. And they do these like replicas of the dog exactly getting the pictures or your family. And I did it with him. And we're gonna get it we're gonna have Cody we have a they get a paw print. And we'll have that forever. But Cody, Cody still gonna be gone. We're never gonna forget at all, ever, you know, people are like, oh, will you ever get another dog? I can say with absolute certainty. The answer is yes. There's not even a question in my mind that we will get another dog. And it's not to replace Cody. No one can ever replace him. He was actually my first dog, my first adult dog. He was the dog that like my kids got introduced to loving a pet you know, a bit Zach's face like four or five times because Zach would just him into him. And Zach and Cody had this really ship where Zach would just put his face into Cody's face. And we tell Zach to stop and he'd say, I'm not gonna listen to you and put his face there, and he would bite him. And, you know, Cody was the nicest dog in the world, he would not bite anybody, but for some reason. Second, Cody had this thing. And he just wouldn't stop until like, up to this year, almost like a, I think like a month or two ago. He like Zach's face knows exactly how many times I gotta tell you not to put your face in his face. But he loved kissing him. He loved the dog. He just loved them. And, you know, like you put your face to get out of here, especially when you're eating something, but it's just funny. But we're not replacing Cody. It's going to be it's going to be different. We're going to love whatever comes next. But it's going to be different. And it's just bottom line is grief doesn't ever leave you if you love somebody and that sadness is going to be there. You're gonna, you may get a song may come on and you might start to cry. Or you might start to cry and laugh. And it's just this like feeling but that to me means like you're alive, that you have you're feeling something your emotions are there. And I don't ever want to lose that feeling. Right. I started feeling guilty at first when I when I wasn't crying as much for my mom. And I had to I had to like take a step back and think about it in a way that was like, I don't need to feel guilty. Right. My mom would want me to feel guilty. She wants me to move on. She would want me sitting in a room hysterically crying right Not what you'd want, I wouldn't want that. I want you to be celebrating me. Yeah, I want you to miss me and care that I'm not here. But I don't want you to like, be completely miserable. And I don't think if you guys have ever lost anybody, I don't think they'd want you to be down and out you, they'd want you to just pick yourself up and keep going, persevering and be strong, you know, and love them, but let them let them take that journey with you. So, I mean, I think the fourth lesson was just, it never ends. It doesn't just, it gets easier. And everybody moves at their own pace. And the fifth lesson that I learned from making the hardest decision in my adult life, our whole family's life, is when we ask to never deal with loss is to never love. Now, what that means is, I hear people all time, I'll hear families that will say, this is why I will never get a dog. Like I was going through this thing with Cody I was in the ER, and everything that was happening this week. And people would say, this is the exact reason why I would not ever, ever, ever get a dog. And I totally get it. Right. They'll say it's too much I get it, I respect it, I understand exactly where you're coming from. But if you ask me what I prefer to not hurt, or to never lose. I mean, of course, sure. I don't want to ever hurt, I don't want to ever lose. But if you also ask me that, if I know what it feels like to hurt, I know what it feels like to lose someone close. And I look back at all the things I've had in my life to my mom and my dog, would I change anything to avoid those those paints, and there's not a question in my mind that I would not change a single thing, not not even one hair. To me, the lesson for me and for for anybody that can learn from what I'm going through is a life without loss is a life without love. The pain and the sadness is hard. But I'll always, always choose to love, even if I know that there's going to be pain at the end of the road. Because that love outweighs the pain so much more. And I gotta tell you, I feel sad for the people that live their life that way. And if that's you, if you're that person listening to this, and you're so you're afraid, because you're afraid to lose, you're free to hurt, you're free to paint, then you're living a hollow life, you're not living to the extent that you can, you know, you get one life, you're one life, and you want to live it, you want to live in the moment, you want to live in the moment, and you want to love as much as you possibly can. And if you're hurting, it's inevitable, it's going to happen. But the love is it outweighs it so much more that I just hope anybody listening to this, if you're in that position, maybe rethinks their situation, and not just about being a dog, or getting a dog for your family. It's way deeper than that. It's all it's whether you're going to start a business, and you're afraid that you're going to fail, and you're going to lose something, or you're afraid to get into a relationship with somebody because you're starting to think of what if down the road, you know, these people are just everybody's thinking about what if, what if, what what, why are you thinking but what if you don't even you don't know what's going to happen. Could be amazing. And it may not. But that's life. That's that's your journey. So if there's anything to get out of what I'm going through, in my fifth lesson is love as much as you can. Because for me, as much as this hurts, I'm so upset. I'm so deeply saddened, I would not change a thing about having Cody, and I'm so thankful in the tears that I have today, which are sadness will turn into joy. And I'll look at it as a gift that I had. And we had as a family. So to summarize this in my five lessons, number one, when you're making a hard decision, the signs are there, you know, subconscious knows. You just just have to pay attention. And when you're ready, you can make that decision. It could be about what we just went through. Or it could be about maybe you want to start a business, or maybe you want to take a trip or something way more serious, where you have to leave a job, right. That's a serious, serious decision, a hard decision. How do you know when when the time's right? We got to ask yourself the questions that I asked myself and you know the answer already. The answers there but You just have to pay attention and take a leap of faith. And when you make that decision, do not look back, do not second guess what you're doing, make a decision and move forward. Okay? If it works out awesome, if it doesn't work out, oh, well, move on, you can't change the past. So stop thinking about it, because you can't do anything about it. second lesson, if you're grieving, everybody's different, there's no right or wrong. So just because you might want to bawl your eyes out, and someone else might want to laugh and not think about it, doesn't mean they don't care, right. It's just their way of dealing with things. You may not agree with it, you may not like it, and may not rub you the right way when you're around it. And I respect that. And I get it, because I feel that way at times. But it's just, it's their, it's their thing. And as long as you know, they're genuinely there, and then they care, then don't judge them. And everybody has their way of handling things. So just accept that people are different. The third thing is, when bad things happen to you, instead of soaking and going through these stages, right, and you can't help it you can't hit play feel. Sometimes you have to accept some things, like things that you don't want to happen, you have to accept it. And the sooner you can, can accept things, the sooner you can, you can work on dealing with it and handling it and getting past it. The fourth thing is when you're you're thinking about something that happened to you, that's bad. And you're trying to figure out when it's going to go away, and you're waiting, and you're waiting, and you're waiting, I'm telling you, if you really cared about a person, or a pet, or anything, that's something that hurt you so deep, it's never gonna go away. It's never, it was genuine, you're hurt for a reason. Because you love you cared so much. And that's why it hurts so much. So, don't think that you have to just like, completely stop caring. And that's the way you're going to get over it. And the opposite is, you accept it, you take it, you take that pain, you you, you face it time, they say heals everything, right. And I wouldn't say it heals everything because you don't heal from something, I lost my mom, I don't heal from losing my mom, I accept it. I don't heal from it, the more I like if I start thinking about moments, I'll get really upset. Right? I learned to deal with it, I accept it. But you shouldn't feel guilty that, that you're able to deal with it. And now maybe you don't cry as much. And now you're able to go and laugh and have fun. And I know a lot of people that that feel guilty about that. And I'm telling you right now you don't have to feel guilty. That one, there's no way that they want you to be upset forever, right? They love you. They know that you love them. Okay, it's your own inside thoughts that are going on that's making you think that but that's not the case, they were here with you today be like, Hey, stop it, get up, come on, go have some fun. I don't want you crying about me all the time. Yeah, they don't want you to forget, you're not you never forget, and you just have to deal with it, and learn from it. But you never ever, ever get over it. And you never forget. And number five is living without losing something is living without ever loving something. And that's sad for anybody that goes through that, and is afraid to take that chance because they're afraid of the loss or the pain. You're thinking about things in the future. You got to live in the moment, and you got to just let yourself be vulnerable. You know, as a parent, you like you just your kid you're running around on when you're younger, and you're doing all crazy things and then get married and your children and all of a sudden and like, it's like, one of the words I was thinking about for me is just vulnerability. I'm so vulnerable with my children. All parents are right, we love them. We don't want anything to happen to them. And we're vulnerable about it. But they're the most amazing things in the world. Right? They're my everything. You know, it's just like the dog that I have. I made myself vulnerable by getting a dog. If I get no dog, I'm going to make myself vulnerable, putting myself in that position. But I'm also putting myself in a position to get so much love out of that in happiness and joy. At some point, there's going to be loss. It's just that's the, that's the cycle thing with with dogs. They just typically the human outlives your dog. So you could have multiple dogs in your lifetime. And you're gonna be dealing with with those losses, and they're, they're hard man or hard. It said and people don't get it. Sometimes they like just a dog. It's not just a dog. Maybe you feel that way but it's not the people that are upset, it's not. And if you're out there and you have a dog, you know what I'm talking about. Don't get mad at the people that are the thing. It's just a diet. Some people, like they get really upset. And it's just, that's, that's their thing, man like, I can't, I can't get you to think what I think. But I don't get mad. You know, just, I respect it, just respect me and how I feel. But the lesson is love, man, love, don't worry about losing whatever it is in your life, love, take that chance, do it. And it goes from getting a dog to maybe a relationship with somebody, whether it's going out with somebody, or maybe it's your brother or sister haven't spoken to in a while, or a parent. Or maybe it's even take a deeper into making a decision in your life. That is scary. But if you do it, and you'd love it, and it can be amazing. Maybe you're scared to quit your job, because of all these things in your mind. But like On the flip side, why did you quit your job and amazing stuff happens. And now you love it? Do you love what you do? Everything in life? Ask yourself, do I love this? One life? Make sure whatever you're doing, you're passionate about that you love it? I mean, this the show today? Really, it's not. It's not about how to make money, and being a performance marketer. But performance marketers are people. And if you want to take anything from that, it's, you know, I love what I do. I think one of the reasons why I'm successful is because I like what I do. I love what I do. I'm passionate about what I do. And I'm just thankful that I found something that I that I enjoy to do. You know, it's like, I just don't know how people do it in school. I suppose I'm a great student, but I didn't like it. I didn't love it. I wasn't into it. So how can I be good at something that I don't like to do? How could you be good at something you don't like to do? So make sure let love come into your life become vulnerable. It's okay, there's gonna be a lot of good things that's gonna happen. So Cody, rip, Cody, I love you, man. You're gonna be in my heart forever. Here. Yeah, thank you for the memories. I love you. Thank you, my, we all love you, we're going to miss you. It's sad. I want to cry right now. So I'm gonna try to move on here. But for anyone else that's going through loss, I want you to know that I get it. I understand where you're at, because I'm there. It hurts. It's lonely, it said. And my advice to you is take all the time that you need to deal with it. Right? Everybody's different. And we're gonna, we're all going to handle it a different way. Do not let anybody tell you that you should stop hurting. When you should stop hurting. And there's there's a time limit on it. That's just, that's not right. And I'm here to tell you that it's okay. It's okay to hurt, right? But no, this, whatever is going on in your life. If something is bad, or you're hurting your pain, you're down. It gets easier. Time doesn't heal things. But time does help you learn how to cope and learns how to live with whatever's happening to you. Life changes, things changing all the time, that the sooner you realize that, that change is inevitable, the sooner you're going to be better off. A lot of people would just they want to like freeze time and hope that never, nothing changes. And I've been training myself to always accept change. And, yeah, it's great. But if you, if you can freeze time, it ain't gonna happen. Everything changes all the time, forever. And the more you embrace it, the more you embrace change, the better off you're going to be. And don't feel guilty for being okay. If you get yourself out of work. You're your sadness, you're here, your place of pain. And now you're okay. Don't feel guilty about it. You're not doing anything wrong. As a matter of fact, if you're mourning somebody, they're going to be thrilled that you're better. They're praying and rooting for you that you're going to be better and don't forget, never forget. We never, ever, ever stop loving. But we learn how to accept it and learn how to live with it. Because now your journey is their journey. Their legacy lives within you. And now, if you think about it, you should be stronger than ever. All right. So for me, our family, for Cody, who we just lost yesterday and had to make a ridiculously hard decision. He's gonna live with us forever. He's gonna live on with us. We're gonna get other dogs. And we're always gonna talk about Cody. They're not gonna replace Cody. It's gonna be different. And I'm sad right now, but I'll get better. I can't wait for 2022, and I'm ready. I'm ready for 2021 This is it. December 17. There's going to be a day for our family forever where we're going to think about Cody. But at some point in time, we're going to be able to do it in a way that we're going to celebrate him. Instead of being sad and upset, so I hope this touch somebody out there today, it's a little bit different than the normal show. But I'm going to do what I'm feeling and what I feel. And I feel like this is important. And I think this can make a difference in somebody's life. One person, if this makes a difference in one person's life, and it helps them, then it means everything. Right? It's not always about just making money. We all want to make money. Right? We all want to learn how to make money and do things. But you know, life is life, and I need to be me, and I want you guys to know who I am, what I'm about and where I come from, how I feel. So you can understand, you know, how I make decisions and how I get to wherever I go. And for the success that I'm having. You can see, you know, the mindset, because the secret to success is mindset. 90% of all success comes in here. It all starts there. Yeah, you got to be smart. Yeah, you got to work your butt off. Yeah, you got to be talented. Yeah, yeah, yeah, all the stuff. It all starts within here. You gotta convince yourself, you have to believe that you can do whatever it is that you want to do. And it's not a fake, "convince yourself", it's a real, "you believe". You believe that you can do it. And when you get to that point, it's powerful. There's no stopping you. If you believe in something, you find somebody that believes in something, think about it, that person is a force to be reckoned with. And I see it, I've seen people when they believe, and I know that they're going to make it. They just got to stay the path and persevere. Right? And it gets hard, but it's all in your mind. It all starts with you. People don't naturally want you to succeed, right? They're envious. Now, if some people out there are just not nice, you know. I want you to succeed. I'm rooting for you. Right? But the only one is going to get you to do it is you. So if there's anything to take away from this, from the performance marketing side, from the entrepreneurial side, is learned to love and go for it. Live in the moment, because you have one life, and you want to make it worth living. So, I hope this was helpful. I hope you guys got some value out of this. Good luck with the rest of the year. Hopefully, 2020 will treat you guys well. And let's kick butt. Let's get ready for 2021, it's gonna be a huge year for everyone. For all of us. everyone listening to this could be a huge year for me. Huge year for you guys. So have some fun for the last few weeks, and get ready for a big, big year. It's going to be amazing for you guys. All right. Thanks for listening. Take care.
Would you like to learn how I built my business using other people's money? If so, go join my 21-day challenge at performancemarketerssecrets.com. I look forward to meeting you and welcome you into my family. And remember, results don't lie with the people who don't have any tier. Thanks for listening.